Body Slimming Machines
There are many body slimming machines to lose a lot of weight fast. However, the best advanced body slimming machine is Cryolipolysis Slimming Machine.Cryolipolysis machine: a new, non-invasive way to gently and effectively reduce fat in targeted areas of the body that results in a noticeable, advanced-looking fat reduction in the treated areas.
As triglyceride in fats will be converted into solid in particular low temperatures, it uses cooling technology to selectively target fat bulgesand eliminate fat cells through a gradual process that does not harm the surrounding tissues,reduce unwanted fat, The contact cooling of the hand piece surface regulates the temperature of the skin and protects fine dermal structures, realizing the fast body-reshape effects while tightening skin!
Cellulite Removal Treatment Principle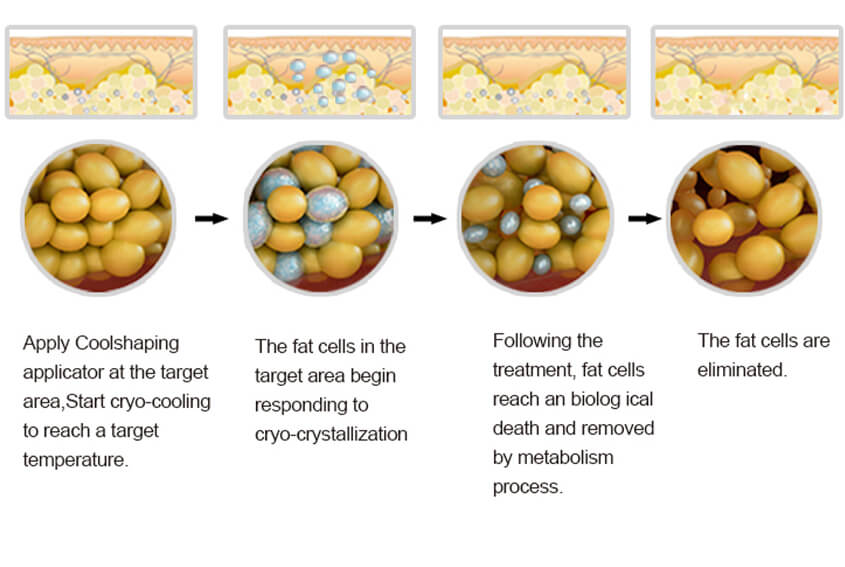 Cryolipolysis treatment is a non-invasive procedure, which uses a targeted cooling process to kill the fat cells underneath the skin, freezing them to the point of elimination. Only fat cells are frozen. Your healthy skin cells remain, well, healthy. No knives. No suction hoses. No needles. No scars. Once crystallized, the fat cells die and are naturally eliminated from your body.
Cryolipolysis Slimming Market
Cryolipolysis Slimming treatment is still one of the most popular aesthetic procedures. Cryolipolysis treatment has gained acceptance globally and has become the standard for both women and men of all ages from early teens upward. Proven as the most effective way for body shaping, slimming, and reduction of cellulite & fat.
Best Cellulite Removal
Due to technological advances, cellulite removal treatment is now even quicker, more convenient and more affordable than ever before – enabling the fast treatment of larger areas with minimal discomfort and no downtime. The fat freezing machine helps you to do body contouring because it is able to target and destroy fat cells safely in 25 minutes treatments.
Professional Cryolipolysis Machines
The benefits of professional cryolipolysis machines
Innovative, precise, controlled Technologies for Optimal Clinical Results
Cryolipolysis Machines are precise, controlled – The temperature on different treatment area is controlled, the fat freezing handle can gently and effectively target fat cells under the skin to help the fat cells convert into solid.
Exceptionally Versatile
Cryolipolysis Slimming Machines are versatile: whether the fat is on your belly or on your arms or other parts of the body, the fat freezing machine will be the best. the abdomen and waist/love hand are the common areas treated by fat freezing machines, actually, the upper arms, inner thighs, saddlebags, banana rolls or even double chin can enjoy this fat freezing treatment.
Pain-free & Safe
Cryolipolysis Slimming Machine is pain-free: it is a pain-free & safe method because it did not require any surgical procedures that are painful. It does not require any anaesthesia before the procedure, no blood wastage, no bandages, and no syringes. Besides, this popular treatment just requires anti-freeze membranes, which help you to protect your skin.
Non-invasive
The fat freezing, technically known as cryolipolysis, is a non-invasive technology of freezing fat cells to get rid of "love handles," and other stubborn bulges of fat such as belly, abdomen, the fat of inner thigh etc.
Cryolipolysis Machines Solutions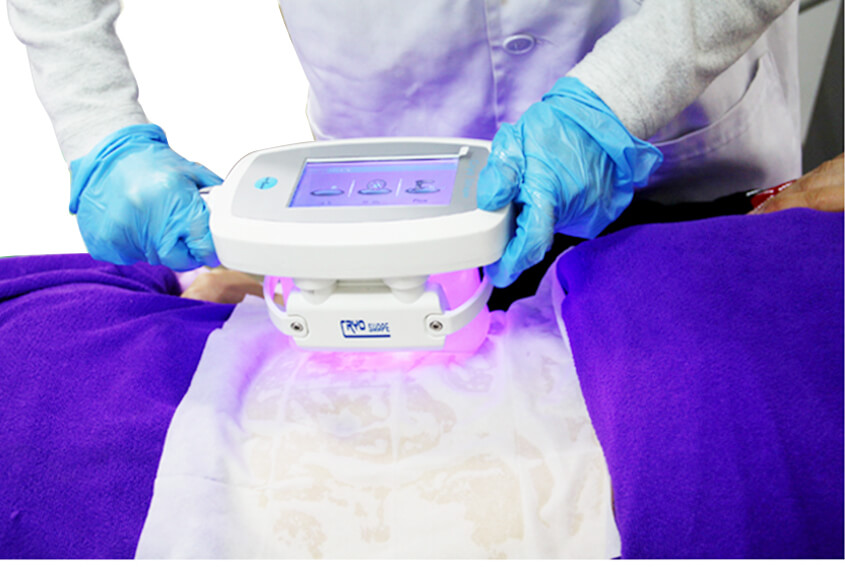 PrettyLasers offers powerful and versatile best cellulite removal solutions for aesthetic treatment providers:
If you wan to buy the professional cryolipolysis machines or best cryolipolysis machine for home use, Please fill in the contact form below and we will get back to you.