Microneedling for Skin Care Professionals
Microneedling stimulates the body's natural healing process to stimulate the production of new collagen and elastin in the skin to improve the appearance of scars, acne scarring, stretch marks, wrinkles, pigmentation, and rejuvenate the skin. This results in smoother, tighter, more youthful-looking skin.
What Is Microneedling?
Microneedling is a minimally invasive cosmetic procedure that's used to treat skin concerns via collagen production. Also known as collagen induction therapy, this treatment may help those looking to reduce the appearance of acne scars and stretch marks.
Microneedling is a dermaroller procedure that uses small needles to prick the skin.
The purpose of treatment is to generate new collagen and skin tissue for smoother, firmer, more toned skin.
Microneedling is mostly used on the face and may treat various scars, wrinkles, and large pores.
It's also used in certain anti-aging procedures, such as eyelid surgery and sunspots. Microneedling isn't effective for hair loss, despite the possible role of collagen in hair growth.
This may also be a final step before considering cosmetic surgery for anti-aging and other concerns. Learn more about microneedling and send us an email if this is the right option for your skin.
Microneedling System
Microneedling Technology
How does microneedling work?
Microneedling skin therapy is a multi-function treatment that uses small needles to cause tiny punctures in the skin.
These small contact points encourage the body to create a wound healing response and renew the skin cells. As your skin repairs, serum growth factors stimulate new collagen and elastin development. This treatment is most commonly used to combat acne and surgical scarring, enlarged pores, fine lines and wrinkles, loose and non-elastic skin, and stretch marks.
Micro-needling Treatment
This micro-needling treatment is based on the natural rejuvenating power of the skin. Shortly after any injury to the human skin, old and damaged skin tissue dissolves and is replaced by new cells. The gentle, controlled needling method used in the Microneedle skin therapy encourages this organic self-repair mechanism on a microcosmic scale.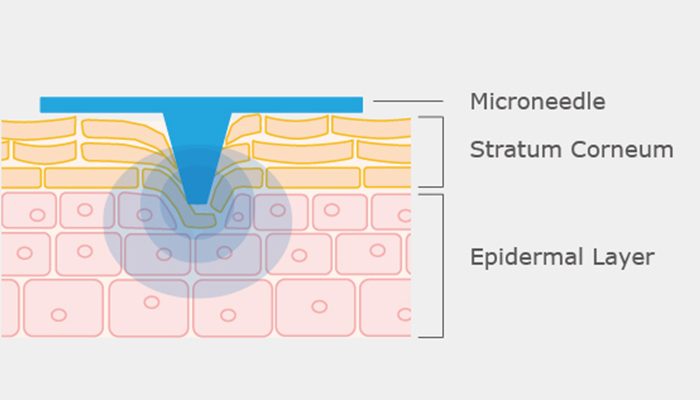 The thin needles are used to gently penetrate the skin and create micro-injuries that trigger the synthesis of new collagen. This method is extremely effective and is hugely popular with clients who prefer a rejuvenation method involving significantly less epidermal damage than alternative treatments.
PrettyLasers's Microneedling comes with disposable, sterilised individual micro-needling tips; each tip has multiple stainless steel micro-needles. The tip depth can be adjusted depending on your specific needs and different treatment areas. This allows the needles to be adjusted during your session for optimal results on facial contours and delicate features such as your eyes, nose, and mouth.
Treatment Areas for Microneedling
Microneedling is most often used on your face to target:
acne scars
large pores
other types of scarsTrusted Source
reduced skin elasticity
Improving elasticity
uneven skin tone
Increasing firmness
age spots (also called "sun spots")
fine lines and wrinkles
reducing excess pigmentation
In addition to facial concerns, microneedling is sometimes used to treat stretch marks in other areas of the body.
The procedure takes about 40 minutes for the full face to 60 minutes for the full face, neck, and décolletage. At the end of the treatment, growth serum and sunscreen are applied to the treated areas.
Scarring on other body parts may also be treated with this procedure. However, microneedling is primarily used on the face.
Micro-needling before and after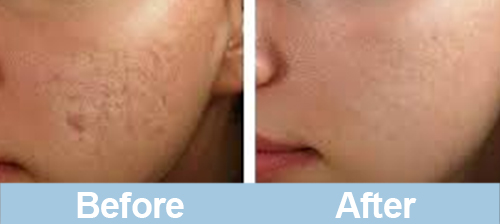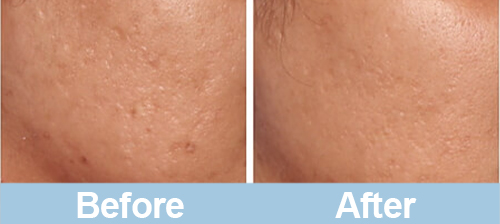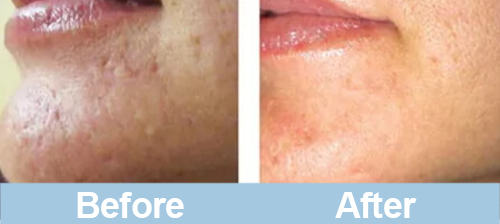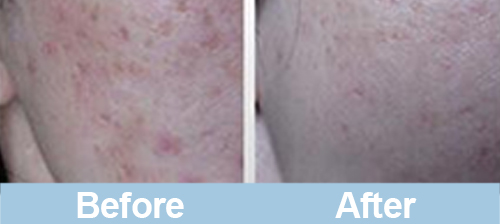 Microneedling reviews:
Can microneedling be combined with other treatments?
Microneedling can be combined with a liquid treatment on the skin surface– such as growth factors, vitamin C, or platelet-rich plasma (PRP)– to further improve skin quality, evenness, and texture. This is highly effective because the skin absorbs more of these growth factors as a result of microneedling treatment.
Why not just use a laser or chemical peel?
Microneedling is preferable to laser and chemical peels in many patients because it is safe for use in all skin tones, all parts of the body (including stretch marks on the abdomen), and all times of life (including pregnancy and breastfeeding). In addition, the downtime with Microneedling is quite short, with transient redness usually lasting less than a day (as compared to one week or more with peels or laser).
Microneedling Collagen Induction Therapy is also a great technique for those who are concerned with their complexions but are reluctant to try Botox or fillers. Because it is mechanical and doesn't involve any chemicals or neurotoxins, the technique is reassuring to many.
Does it hurt?
Although Microneedling sounds scary (thousands of needles going into your face!), it is actually quite painless. The experience feels similar to a deep facial with a bit of extra vibration. At the end of the procedure, your face will be slightly red and tingly, as the growth factors, vitamin C, or platelet-rich plasma absorb into your skin. By the next day, you will be able to return to work and play, with minimal downtime.
Improved skin appearance begins to occur almost immediately and continues for 4 to 6 weeks. For best results, Microneedling can be repeated as frequently as every 6 weeks, or as infrequently as 2-3 times a year, depending on your concerns.
Is Microneedling effective?
The before and after photos of Microneedling speak for themselves. Although individual results and situations vary, this technique has been demonstrated to be effective in facial wrinkles, acne scars, hyperpigmentation, burns, surgical scars, and stretch marks.
Microneedling is far more effective than at-home rollers.
It's considered effective in treating minor scarring related to acne, wounds, and aging. You'll likely notice brighter, firmer skin, too.
Ideal results are achieved after multiple sessions.
How soon will I see results after my skin microneedling treatment?
You will see visible results for skin rejuvenation between 6-8 weeks after your procedure and the results continue to improve over time. Your skin naturally heals itself every 45 days so with micro-needling stimulation changes will be fast.
If you are interested in learning more about a specific equipment or discussing purchasing microneedling device or other medical laser machines, fill out the form below and we will get back to you ASAP. Or simply call Phone: +0086 15001300057.