Professional Laser Hair Removal Device
Professional laser hair removal device PL-306X enables you to offer excellent outcomes for a variety of patients, with no disposables. You can select skin type according to your clients' skin condition for customizable hair removal treatment. Permanent hair removal device PL-306X use clinically-proven 808nm diode laser technology to permanently remove unwanted hair quickly, effectively and comfortably.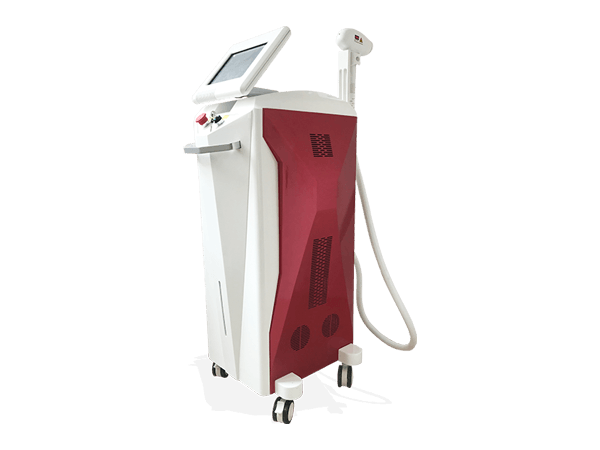 PL-306X has no strict requirements for water quality. PL-306X adopts the intelligent humanized treatment system, when you use laser hair removal device, selecting the skin color and to treat, and the system automatically adjusts to the appropriate treatment parameters. According to the different light absorption of different skin colors, the system sets standard and optional parameters for treatment.
Benefits:
High quality spare parts -all the core components are imported.
Laser shots-20,000,000 times.
Newly designed diode laser handle, more stable and convenient to use.
Long continuously working one day with constant temperature.
Automatical alarm system- once any problems happens, machine will stop working immediately. Protect the patient and machine firstly.
About Laser Hair Removal
Laser hair removal targets the entire structure, from the hair shaft, down to the follicle, meeting the principle of selective photothermolysis. Light energy with a specific wavelength is primarily absorbed by the endogenenous chromophore melanin resulting in rapid heating which is required for local thermal necrosis of the follicles's regenerative structures.
To achieve permanent hair reduction, the laser device must be able to effectively treat the different hair types and colors as well as the various skin types while providing maximum skin protection.
The laser's wavelength, pulse duration and spot size determine the effectiveness of the treatment on all skin types and also influence the depth of penetration and treatment speed.
These unqiue characteristics make the diode laser the most suitable technology for laser hair removal, enabling safe and effective treatment of all skin and hair types, in full body areas.
Treatments:
Featuring its unqiue technology, PL-306X uses the most effective laser wavelength 808nm which has long been considered the godl standard for permanent hair reduction. Permanent hair removal device PL-306X for all skin types.
Hair removal.
Suitable for all skin types.
Applicable to any hair color.
Applicable to full body hair removal areas, such as, upper lip hair, unwanted facial hair, bikini area hair removal, back hair, underarm hair…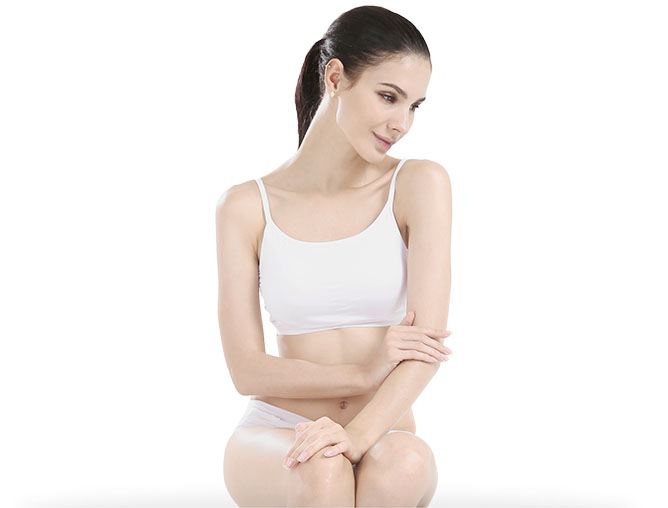 Technology
PrettyLasers' Diode Laser technology has been validated in numerous beauty massages and clinics and foregin customers. Our customers benefit from the best hair removal device PL-306X features and enjoy high pateint satisfaction. The PL-306X used high-power diode technology that can deliver high fluence. This is combined with option pulse duration for user, strong contact cooling. The best hair removal device PL-306X aslo offers a 20*25 mm spot size which allows for greater depth of penetration and significantly faster treatment.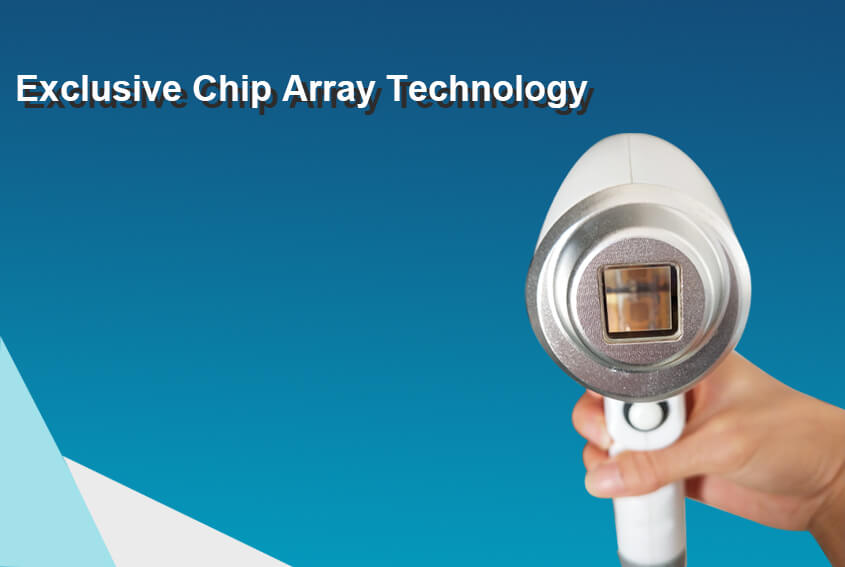 Exclusive chip array technology
PL-306X adpots Germany imported laser chips which is 150 watt every chip. These chips provide the high efficiency and Robust and durable performance for permanent hair removal device.
Sapphire Crystal
Sapphire crystal's one end face is coated with a cut-off filter film to cut off the light below 575nm and transmit 808nm.The light passing through the sapphire crystal is totally reflected around and finally emitted from another end face, and then radiated to the skin surface for laser hair removal.
The laser hair removal machine cooling head composed of sapphire crystal can limit the heat to the hair follicle and, meanwhile allow the heat to spread from the epidermis, so as to avoid damaging the skin. At the same time, it improves the comfort of patients.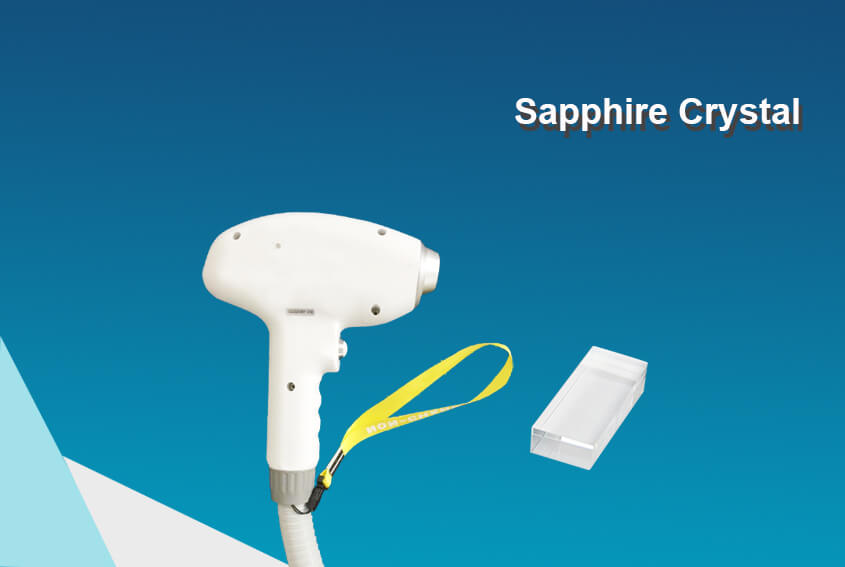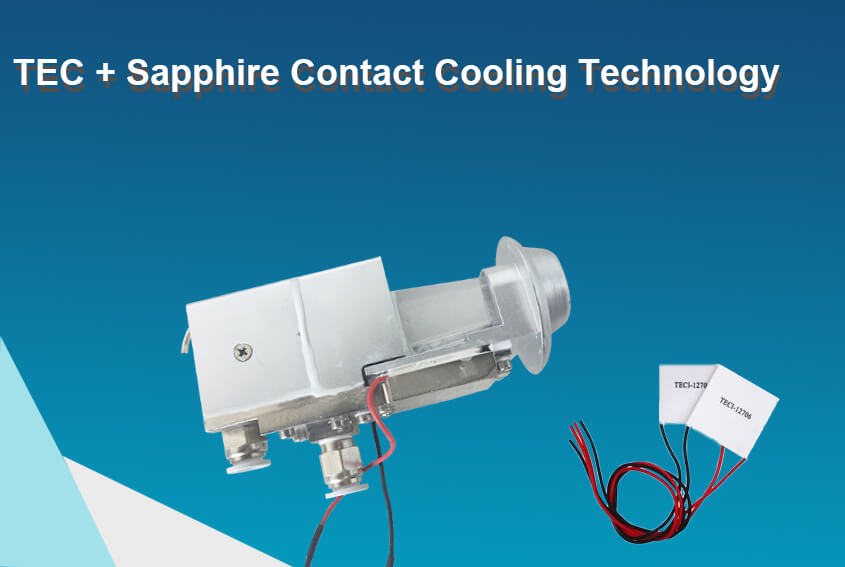 Strong TEC + Sapphire Contact Cooling Technology
The permanent hair removal device handpiece integrated TEC+Sapphire contact cooling provides epidermal protection for treatment areas requiring precision and higher fluence.
Intuitive LCD Touchscreen
Easy operation and fast learning.
Recommended treatment settings
Customizable treatment.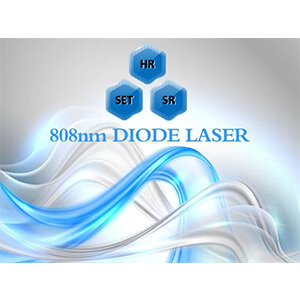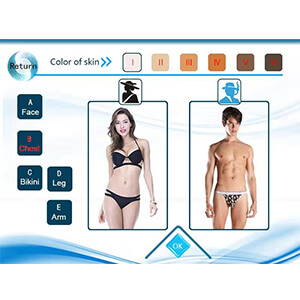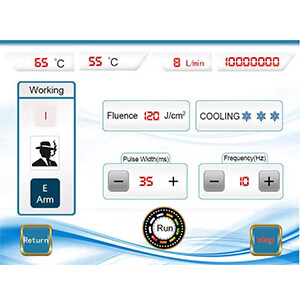 Professional laser hair removal device Cooling
Professional laser hair removal device includes 240×120 radiator(2 sets), 18 lines per radiator and four 220V mute fans, speed 3150r / min. Air-water cooler ensures longer good condition working. Water cycle and temperature checking system along with strongly heat abstractor extend its service life and warranty a safe use.

Technical Parameters:
Diode Laser Hair Removal Machine
Wavelength
808nm
755nm, 808nm, 1064nm optional
Working Frequency
1~10Hz
Maximum frequency 20 Hz
Energy Density
1-120J/cm² adjustable
OEM is ok
Handlepiece cooling
TEC+Sapphire
Sapphire OEM
TEC cooling
12V6A
TEC Power OEM
Spot size
15cm×15cm or 25 x31mm
Spot Size OEM
Output Power
600w, 900w
Laser power OEM
Laser Bars
Germany laser Jenoptik,150W/piece
Pulse Width
5ms~400ms
0~1000ms OEM
Output Mode
Pulse Output
Pulse Output
Language
Standard English
Can be made according to customer's requirements
Display
8' color touch screen
10.4' is available
Protective Temperature
55℃ interface select
OEM
Water Pump
DP-60 diaphragm rods 12V
Flow Sensor
3.5L/min flow requirement
Cooling System
240×120cooling line(2pc),18 pcs channel
Compressor plan,TEC plan
Cooling Fan
4pcs fans,speed 3150r/min
12v fans
Case Material
ABS shell/metal shell
OEM Metal Shell
Inter Structure
White zinc hob/color zinc hob
OEM
Water Tank Volume
vertical3.6L/table type 2.5L
OEM
Environmental Moisture
<80%
<80%
Environment Temperature
Air conditioning room,temperature≤28℃
voltage
220V/110V
Laser hair removal machines comparison
PrettyLasers's laser hair removal device is compared with other laser hair removal machines. Our advanatges as follows:
808nm laser hair removal device PL-306X enables the light to penetrate deeper into skin and is safer than other lasers because it can avoid the melanin pigment in the skin's epidermis. We can use it for permanent hair reduction of all color hairs on all 6 skin types, including tanned skin.
808nm professional laser hair removal device PL-306X allows fast repetition rates up to 10Hz(10 pulses-per-second), with in-motion treatment, fast hair removal for big area treatment such as back hair removal, chests hair removal and legs hair removal and so on.
Probe built in with excellent contact cooling technology, PAIN-FREE hair removal.
808nm laser hair removal device PL-306Xcan work continuously for a long time, especially solid and durable, basically there is no after-sales service, and the requirements for water temperature and quality are very low.
Laser hair removal device PL-306X features In-Motion technology and large spot size to short treatment time to save treatment time for patients.
Professional laser hair removal device PL-306Xincludes 240×120 radiator(2 sets), 18 lines per radiator and four 220V mute fans, speed 3150r / min for providing cooling for the permanent hair removal device.
Diode Laser Hair Removal Treatment Before & After Photos
Before and after Laser Hair Removal photos showing results of real clients who have used our medically Diode Laser Machine, Patients to achieve a smoother, hair free appearance in just a few sessions. These Hair Removal photos are unaltered and show the kind of results you can achieve when you use our diode laser system.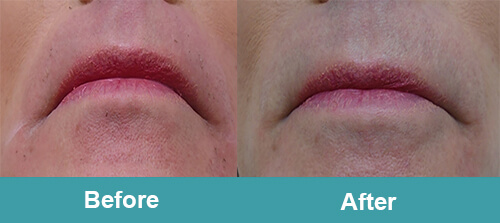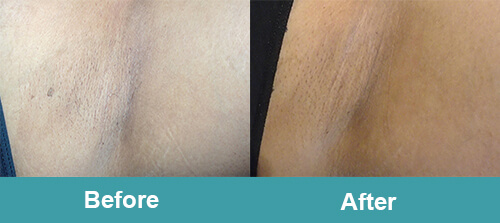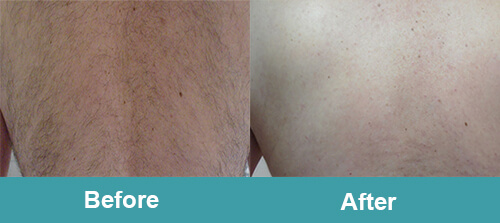 Is hair removal with PL-306X safe?
Absolutely. PL-306X's laser hair removal device has been proven in multiple clinical studies as the safest method of laser hair removal for all skin types. And PrettyLasers' laser hair removal device PL-306X has been tested in numerous clinics and beauty salon. With strong TEC+Sapphire contact cooling, hair follicles are damaged not by a single pulse of high energy which can injure the skin, but by repetitive short energy pulses. These pulses produce heat build-up which gradually raises the temperature of the dermis to the level needed for prventing hair growth, while minimizing the risk of burns. So the PL-306X is safe and best hair removal device for permanent hair reduction.
Is hair removal with PL-306X safe for dar skin?
Yes, it is safe to remove unwanted hair with PL-306X for dark skin. While the melanin in dark skin is exponentially more sensitive to the heat used in laser treatment, PL-306X In-motion technology integrated strong TEC + Sapphire contact cooling has been clinically proven to be the safe for dark skin types. Rather than exposing the hair follicle to a single high ennergy pulse which can cause the trauma to skin with a high melanin count, In-Motion gradually heats the skin until the required heat energy is delivered to the hair follile. This makes treatment more safety, including for dark skinnned patients.
Does hair removal of different areas require the same number of treatments?
No, depending on the area of hair removal and condition, different number of treatments will be applied, also laser of different energy levels will be used. This is because hairs in different areas have different thicknesses, density, and ability of regrowth.
In general, the denser the hairs, the thicker the hairs shaft, the higher energy level of the laser light is required, and the more treatments are needed.
What is the laser hair removal process like?
Prior to laser hair removal, the thickness of hair follicles and the density of hair should be measured with instruments, based on which a hair removal plan can be made. Laser hair removal requires skin preparation (removal of surface hair), application of gel, laser hair removal (20-30 minutes of treatment), and ice compression of the area after treatment (to ease the discomfort).
Laser Hair Removal Machine Cost
You can click here the professional laser hair removal machine cost for your reference or discussing purchasing aesthetic laser machines or other medical laser machines, fill out the form below and we will get back to you ASAP. Or simply call Phone: +0086 15001300057.
---
Related Products