9D HIFU Machine
9D HIFU machine with 12 press line ultrasonic body slimming & face lifting, more than 21,000 shots according to quality inspection and clinical tests, ensuring that each shot effects into the right depth set by default. And max of 12 lines of shots in one time saves your treatment time.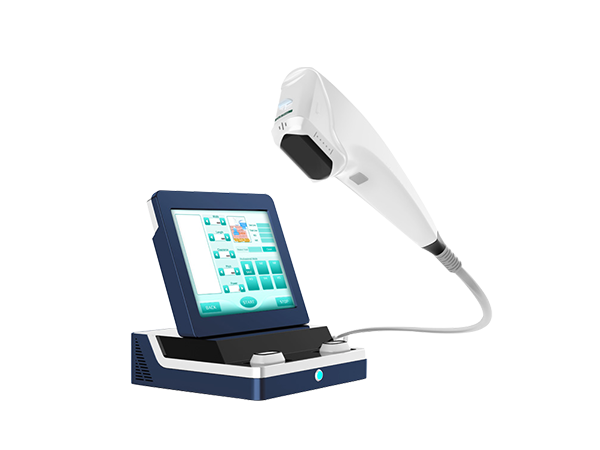 High-Intensity Focused Ultrasound (HIFU) is an effective non-surgical treatment for skin tightening and face lifting. Currently, this particular type of treatment is extremely in demand. So the 9D HIFU machine was produced by hifu machine manufacturer – PrettyLasers.
Benefits:
The state-of-the-art 9D HIFU technology, 8 hifu cartridges are for your choice.
With more than 21,000 shots per cartridge, each shot can make 12 lines.
Quick & Short Treatment Time: 30 minutes for one face treatment.
Germany imported motors.
Japanese imported chips.
Equipped 3 heads (1.5mm, 3.0mm, 4.5mm), precisely acting on different depths of the skin. The energy will skip the epidermis, leaving no damage.
Easy to control and operate, no consumables, cost-saving.
One face treatment required 25 shots, so one cartridge is available for over 200-260 customers' use!
What is 9D HIFU machine?
High-intensity focused ultrasound (HIFU) uses precise medical-grade ultrasound energy for non-surgical face lifting and skin tightening. The 9D HIFU is a ninth-generation HIFU machine offering higher power, lesser discomfort, increased safety, and clinically proven results.
It literally achieves the results of a facelift or a body lift without any invasive surgery or injections, moreover, an added bonus of this procedure is that there is no downtime. This technique can be applied to the face as well as the whole body, and also, it works equally well for people of all skin colors, in contrast to that lasers and intense pulse lights.
HIFU Treatment is the first choice for non-invasive face lifting.

Facial treatment
The HIFU machine can be done to firm skin while pulling the muscle layer, and thin the face up to the progressive effect. What is SMAS? Lift operations at present by plastic surgeons do operation layer, the SMAS layer, which is (the superficial musculoaponeurotic system, referred to as the fascia (fascia) SMAS) layer on the skin depth is about 4.5mm, subcutaneous fat and muscle.
Body fat removal
Apply high-intensity focused ultrasound, generate focused energy, and go deeper into the cellulite to break cellulite. it is an invasive, impressive, and long- last effective treatment to reduce fat, especially for the abdomen and thigh.
Technology
High-Intensity Focused Ultrasound (HIFU) is a revolutionary new technology that's designed to painlessly tighten or tighten and de-volume without the need for surgery.
HIFU technology rapidly heats up the deeper layers of the skin using ultrasound energy. Once the specific temperature is reached, the results begin. This process stimulates collagen production, resulting in tighter, firmer skin.
HIFU technology is fast becoming the preferred choice amongst patients due to its affordability, convenience, and effectiveness. Let us take a closer look at the overall technology of 9D HIFU systems.
9D HIFU ultrasound machine has 8 different cartridges:
1.5mm, 3.0mm, 4.5mm, 6mm, 8mm, 10mm, 13mm, 16mm
1.5mm, and 3.0mm are for the dermis layer.
4.5mm is for the SMAS layer.
6.0mm/ 8mm/ 10mm/ 13mm/ 16mm for the body fat layer.
21,000 shots per cartridge, each shot can make 12 lines, one step 10MM treatment width, more efficient than the traditional HIFU.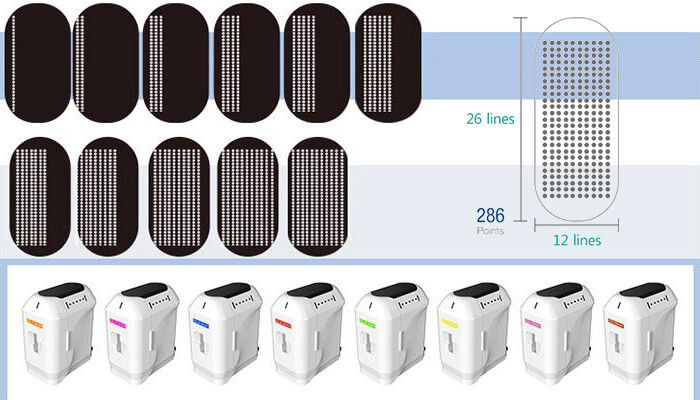 Transducer DL-4.5mm, 4MHZ frequency used to transmit high-energy focused ultrasound to the skin, subcutaneous tissue, the ultrasound to penetrate the skin to a depth of 4.5mm, direct subcutaneous SMAS layer, forming "heat coagulation" regional, targeted to thicker skin, such as cheeks, etc.
Cartridge DL-3.0mm, 4MHz frequency, used to release ultrasound energy into the dermis layer of 3.0mm, is responsible for activating the skin's dermal layer of collagen, effectively enhancing the effect of the consolidation of the outline, but also improving large pores and reducing the appearance of wrinkles.
Transducer DL-6.0mm, 8.0mm, 10mm, 13mm and 16mm are responsible for transmitting 4 MHZ high-intensity focused ultrasound subcutaneous fat layer to melt the fat cells. Then the metabolites of fat cells will be excreted by the human body's metabolism. It is targeting the body.
Note: DL-6.0mm,8.0mm,10mm,13mm, and 16mm transducer is ONLY done for body fat reduction, and skin tightening.
| | |
| --- | --- |
| Cartridges | Treatment site and energy reference |
| 1.5mm cartridge | Neck:0.6J, Temple/Crow's feet:0.5J, Forehead:0.5J |
| 3.0mm cartridge | Neck:1.0J, Chin:1.0J, Jaw:0.8J, Cheek:1.0J, Temple:0.7J, Forehead: 0.6J. |
| 4.5mm cartridge | Apple muscle:0.8J, Chin:1.0J, Jaw:0.7J,Cheek:1.0J, Temple:0.7J, Forehead 0.4J. |
| 6mm cartridge | Back: 0.8J, Chest: 0.6J, Abdomen: 1.0J,Hand : 1.0J. |
| 8mm cartridge | Chest: 0.7J, back: 0.8J, abdomen: 1.0J. |
| 10mm cartridge | Chest: 0.7J, back: 0.8J, abdomen: 1.0J. |
| 13mm cartridge | Abdomen: 1.0J, leg: 1.0J, buttocks: 1.2J. |
| 16mm cartridge | Abdomen 0.8J, buttocks: 1.2J. |
The above cartridges are default, PrettyLasers provides standard 2 cartridges (3.0mm, 4.5mm), you can choose any four cartridges or any 8 cartridges you want. If you need the other cartridges, you can leave a message info@prettylasers.com when you place the order. (Such as 8 cartridges 3.0mm*2, 4.5mm*3, 8mm*2, 16mm).
15 Inch Big Touch Screen
User-friendly operation interface.
2 Modes: Professional Mode, To Guide The Mode: The basic interface is suitable for junior beauticians or operators who are new to HIFU.  The professional interface is suitable for experienced beauticians to operate and adjust the treatment parameters more precisely.
One shot do 1-2 lines adjustable.
More accurate operation area, male and female.
The professional mode can save six setting parameters.
6 preset parameters.
Users can adjust parameters as per their demand.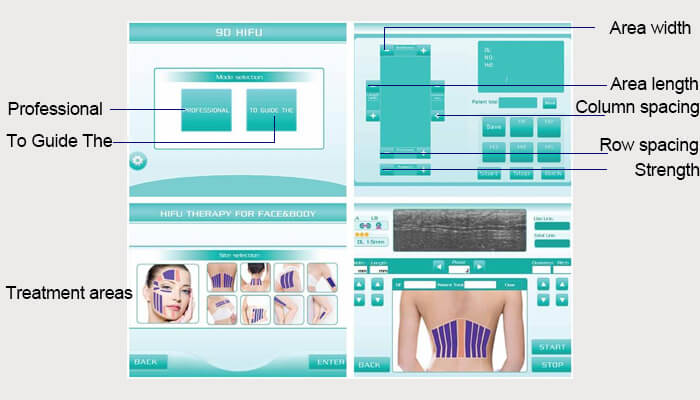 Technical Parameters
9DHIFU Machine
HIFU cartridges
standard: 3.0mm, 4.5mm (1.5/3.0/4.5/6.0/8.0/10/13/16mm optional)
HIFU shots
21,000shots
Voltage
110V-220V 60HZ
Energy
0.2 – 2.0J
Power of complete machine
200 watt
Frequency
4MHZ
Lines
12
Net weight
16kg
Size
42 * 47 * 30cm
Applications
Wrinkles or fine lines that appear on the skin are the most obvious signs of aging, and through the process of aging skin loses its natural ability to synthesize collagen and loses its laxity. The best approach to restoring the effects caused by aging is to get to the root causes of skin problems. Skins tend to lose their laxity and wrinkles appear due to a lack of collagen. Hence, empowering the cells to boost collagen levels in the skin helps to restore the signs of aging and gives the skin a firmer appearance and structure. One of the best non-invasive treatments for skin to restore its natural look and enhance beauty is through HIFU treatment. High intensity focussed ultra-sound or HIFU is the most advanced and efficient cosmetic treatment to enhance the texture of the skin by boosting the collagen levels in it by using ultrasound waves technology. HIFU facials have widely replaced facelift procedures since it is non-invasive and has more long-lasting results.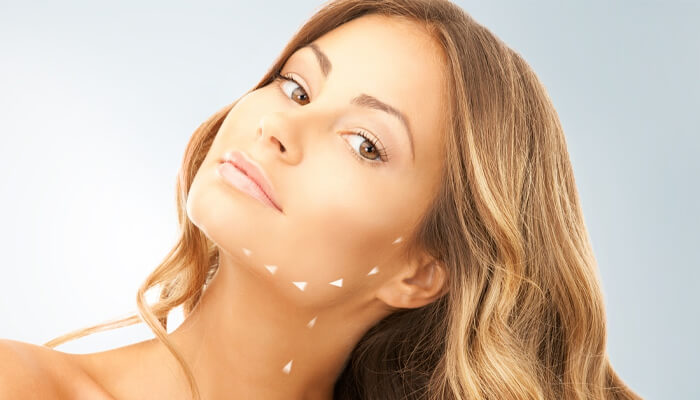 HIFU is a non-surgical process that gives results equivalent to those of having facelifts. Focussed ultra-sound energy is used to target the layers of the skin, causing heat up the surface. After reaching a particular temperature the skin cells tend to absorb ultra-sound energy and are ruptured. These ruptured cells are rejuvenated by the production of collagen as a counter-intuitive reaction to the process. The collagen produced makes the skin firmer and bright. HIFU can be used on other parts of the body like the neckline, upper chest, or thighs…
Remove wrinkles on around the forehead, eyes, mouth, etc.
Lifting and tightening both cheeks and skin.
Improving skin elasticity and shaping contour.
Improving jawline, reducing "marionette lines".
Tightening the skin tissue on the forehead, lifting the eyebrows lines.
Improving skin complexion, making the skin delicate and bright.
Match with injecting beauty like Hyaluronic acid, and collagen, to resolve more aging problems.
Removing neck wrinkles, protecting neck aging.
Body slimming & shaping.
Portable HIFU Ultrasound Machine Treatment Before And After Pictures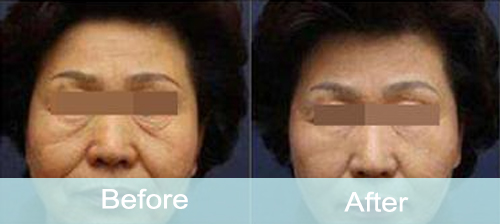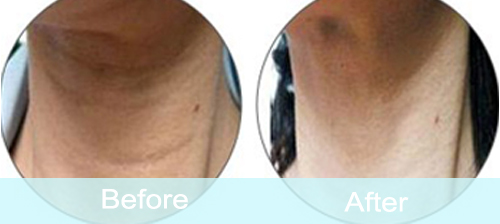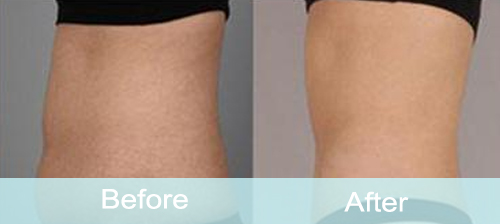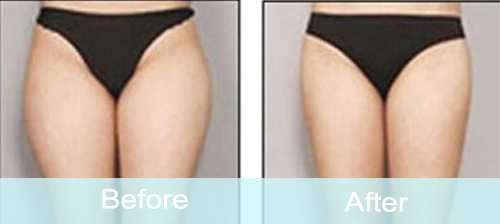 You May Also Like:
---
Professional HIFU Machine Reviews
Why choose PrettyLasers's 9D hifu machine for sale?
One shot do 1-12 lines adjustable
Make energy points more uniform and better curative effect
Quick& short treatment time improve the effectiveness
More accurate operation area, male and female
The professional mode can save six sets of parameter
Users can adjust parameters as your demands
High-quality low consumables
6 Preset parameters easy mode operation, more convenient and safe
No down time normal life and work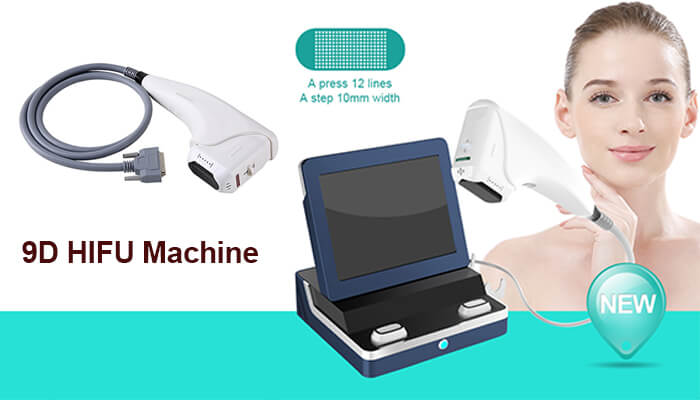 How does HIFU work?
As the name suggests, HIFU uses ultrasound energy to heat up the tissues below the surface of the skin. As soon as your skin cells get to a certain temperature, they will end up sustaining damage. While this may sound terrible, it actually forces your cells to produce more collagen (an element that gives a definition to your skin).
A large number of collagen results in healthier and tighter skin. HIFU is considered to be a safe treatment because the ultrasound energy targets only the tissue that is present below the surface of your skin. This way, patients can rest assured that HIFU will not cause any damage to the upper layers of their skin. However effective the treatment may be, it is important to note that HIFU may not be a suitable treatment option for everyone. The doctors usually recommend this procedure for people aged 30 and above. While this may be the case, elderly people with sagging skin are not ideal candidates for an ultrasound. Instead, a face-lift surgery would yield better results.
what are the differences between traditional, 3D, 4D, and 9D hifu?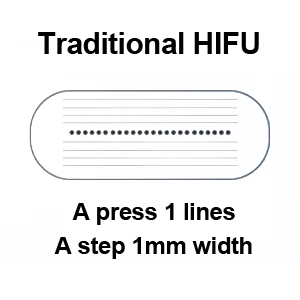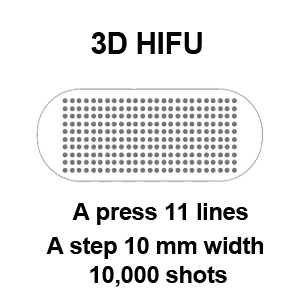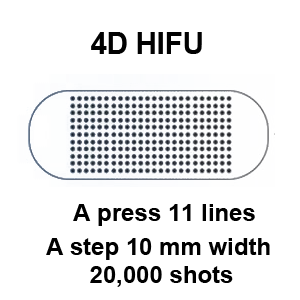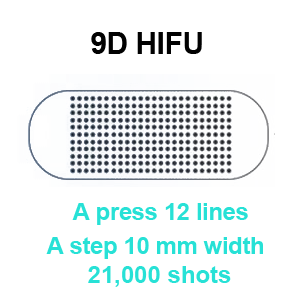 Traditional HIFU: A press 1 line and a step 1 mm width, 10,000 shots.
3D HIFU: A press 10 lines and a step 10 mm width, 10,000 shots.
4D HIFU: A press 11 lines and a step 10 mm width, 10,000 shots.
9D HIFU: 1 shot =12 shots (other traditional HIFU), 9D HIFU ultrasound machine, up to 12 lines can be hit in one shot and the maximum energy area width is 10mm. Make the energy points of the skin more uniform and the effect is better. Superior to 4D Hifu in that we can have higher energy with less pain, more treatment lines mean a more thorough treatment plus includes radar to treat sensitive hard-to-reach areas ie: eyes, nose around the mouth, and jaw.
Benefits of HIFU treatment:
Studies suggest that alternatives to face-lift surgery have gained immense popularity over time. HIFU is one such alternative as a non-surgical treatment that has seen a rise in popularity within the past few years. Some of the common benefits you can expect from High-intensity Focused Ultrasound treatment are:
Elimination of wrinkles and fine lines
A better and more prominent jawline
Smoother skin
Lifted eyelids, cheeks, and eyebrows
Tightened skin (especially in saggy areas like the neck)
It may take up to weeks before you notice the results, but HIFU can be a great solution to skin aging issues.
How much does HIFU cost?
Unlike face-lift surgery and other cosmetic procedures, HIFU is a non-surgical treatment that won't leave behind any incisions or scars. The HIFU treatment cost can vary case by case, but the average cost is approximately $1700. This stands in stark contrast to the surgical face-lift procedure which goes for approximately $7550.
Other than mild redness and inflammation, there are no serious side effects to HIFU. It is, however, crucial to note that HIFU may not be a suitable treatment for everyone. It is advisable for those with severe discoloration of the skin to undergo a laser for hyperpigmentation issues instead.
What is the HIFU machine price?
If you want to know the portable HIFU machine price or purchase other HIFU machines or other medical laser machines, fill out the form below and we will get back to you ASAP. Or simply call Phone: +0086 15001300057 You will get the latest HIFU machine price for your reference.