Portable Diode Laser System For Permanent Hair Removal PL-203
Portable Diode Laser system for permanent hair removal PL-203 is mainly designed for the clients who are going to start their beauty business, own their beauty working studio or expend with various hair removal treatments. The professional portable diode laser treatment for hair removal with 808nm wavelength provides permanent hair removal results for different skin types.
The transportable diode laser system for hair removal is the specialist for permanent body hair removal. Due to imported diode laser bars from Germany and outpower optional 300 watt, 600 watt, and 800 watt, it is durable and effective for full body laser hair removal. More assured the mechanism performance, clinical results, safety, etc. Meanwhile, more than 20,000,000 shots ensure a longer lifetime than other hair removal machines.
Benefits:
Non-ablative
Non-painful
Simple and quick treatment
No downtime post-treatment
Applicable to all skin type
Easy to transport
Save space for your beauty salons or clinics
Strong sapphire contact cooling system can make momentary epidermal anesthesia, no any painless during hair removal, increase comfort during treatment.
Diode Laser Handpiece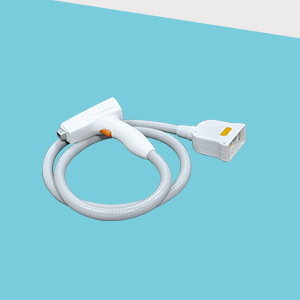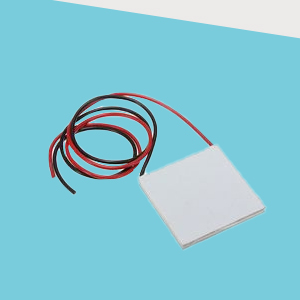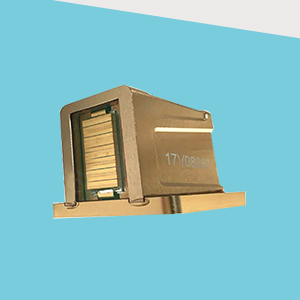 Laser Cooling System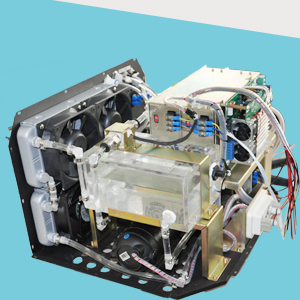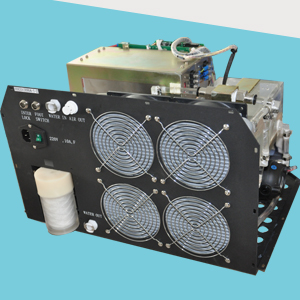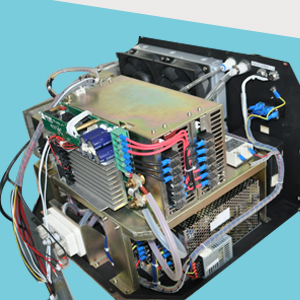 Intuitive Color LCD Touchscreen
Cooling level 1-4
Current counter
Customizable full body laser hair removal treatment
Essay to learn
A professional custom operating system will make it more convenient to use.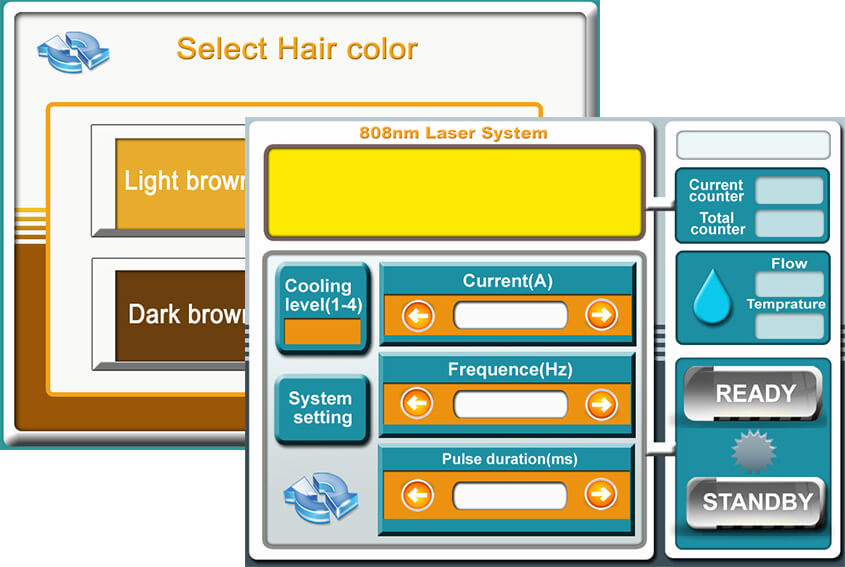 Parameters
| | |
| --- | --- |
| Wavelength | 808nm |
| Output power | Optional 300 watts, 600 watts, 800 watt |
| Display | 10′ color touch LCD screen |
| Spot size | 12x10mm2 |
| Pulse width | 10-350ms adjustable |
| Energy | 1-120J/cm² adjustable |
| Frequency | 1-10Hz,20HZ |
| Cooling | Water + air + Semiconductor |
| Package size | 55*57*55cm |
| Voltage | AC 220V/50Hz; AC 110V/60Hz |
| Cooling System | water cooling +wind cooling+ Semiconductor |
| Weight ( G.W) | 38  KG |
Guarantee
12 months warranty or 2000,0000 shoots numbers. Macro-channel Diode Laser System with semiconductor cooling system provides the best lifetime.
Accessories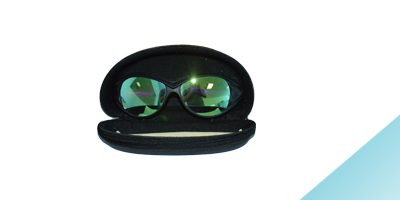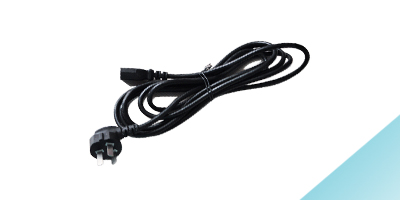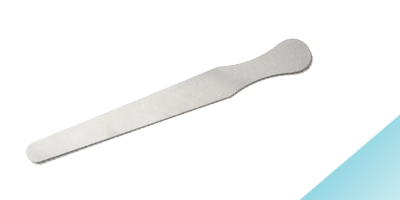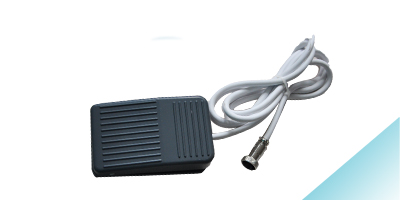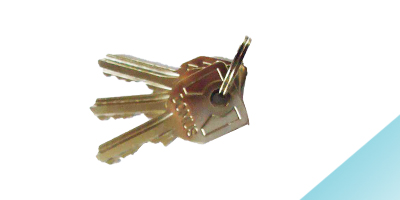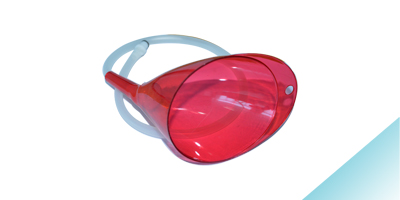 Hair Removal Treatment
To achieve permanent full body laser hair removal, the Portable Diode Laser System For Hair Removal must be able to effectively treat the different hair types and colors as well as the various skin types while providing maximum skin protection. The laser's wavelength, pulse duration, and spot size determine the effectiveness of the diode laser treatment for hair removal (on all skin types) and also influence the depth of penetration and treatment speed.
Safe permanent body hair removal on all skin types; no pain, very comfortable during the treatment.
Suitable for any unwanted hairs on areas like face, arms, armpits, chest, back, bikini, legs…
Permanent hair reduction
Diode Laser Treatment For Hair Removal Before & After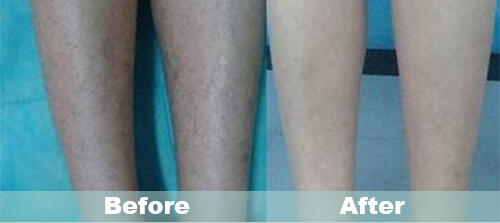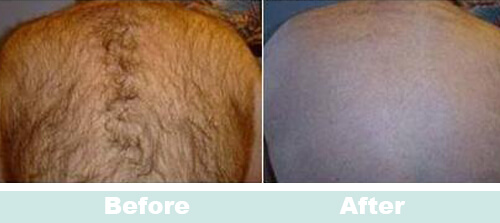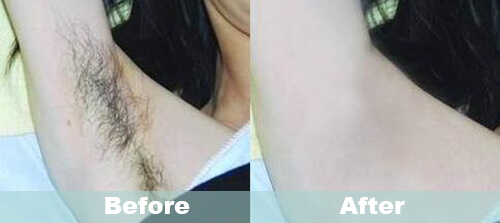 Portable Diode Laser Hair Removal FAQ
What is the best portable diode laser hair removal machine on the market?
Portable Diode Laser System For Hair Removal PL-203
please find our detailed portable diode laser PL-203 parameters, you will see its features:
1. 808nm wavelength
2. lightweight compact design save your home space
3. Quick: big spot size, just move the probe on skin only which can achieve a big area treatment
4. Efficiency: 808 nm is in the spectrum of near-infrared (0.75~1.50 μm) region, effective to absorbing melanin and goes through the dermis to reach adipose tissue, acting on different areas and depths of hair. Excellent treatment results can be expected at the first treatment and are suitable to all types of hair
5. Comfortable: painless—sapphire temperature cool, comfortable in the whole treatment; also no scar in/after treatment
6. Perfect cooling system: semiconductor + air + water, good performance for a long time working.
Do-it-yourself laser hair removal at home has become the method of choice for many women and men.
Easy operation steps
What is diode laser hair removal?
A diode laser hair removal machine is a laser that produces a larger beam of highly concentrated light. The laser beam is well absorbed by the pigment located in the hair follicles. During the procedure, the laser pulses for a fraction of a second, allowing the hair to absorb the energy and heat up. As it heats up, the hair shaft and bulb are damaged which significantly impedes its ability to re-grow. And with the large spot size, the process treats numerous hair follicles simultaneously, making the treatment much faster than traditional IPL and other hair removal alternatives.
What is the difference between portable diode laser hair removal and IPL hair removal?
IPL needs 6-10 times for hair removal treatment while portable diode laser only needs 3-4 times. 808nm diode laser wavelength is the golden standard for hair removal. Compared to IPL hair removal, patients feel less pain and are more comfortable and safe. Read More…
How many times should I take for clear hair removal?
The interval between every treatment is 3 or 4 weeks. 3 to 4 times are needed for permanent hair removal by our portable diode laser machine.
Is laser hair removal painful?
It is certainly a lie to claim that laser hair removal is not painful. After all, it works on the very deep hair follicles' roots.
However, the pain is not unbearable. Individuals have different tolerance for pain, hence they will feel different degrees of pain during treatments. Usually, pain is not clearly felt when the hair on the limbs is being removed. Slight tingling pain may be felt when armpit hair or facial hair is being removed.
What are the side effects of laser hair removal?
Side effects
A few different side effects can appear after laser hair removal. Most side effects are minor and temporary. Anyone experiencing lasting side effects should consult their dermatologist.
Redness and irritation
Full body laser hair removal damages the follicles of the targeted hairs. The body reacts to this, and many people experience redness and irritation in the affected areas. The skin may tingle or feel tender, and may even appear to swell slightly.
The symptoms are usually short-lived. The affected area may look similar to skin that has just been waxed or plucked. Some dermatologists use a topical anesthetic to reduce how much a person's skin reacts to the process.
Irritation should ease after the initial reaction, usually within a few hours of the treatment. Swelling and redness may respond well to ice packs or a cool bath.
Crusting
Some people may experience skin crusting in the affected area. This is typically a minor issue but can be inconvenient.
Crusting can sometimes lead to scabbing or scarring. By taking care of the treated area after laser removal, such as by using a moisturizer, a person may prevent any lasting issues from this treatment.
Changes in skin color
Some people may notice minor color changes to the treated area of the skin. It may get slightly darker or lighter, following laser hair removal.
People with lighter skin may be more likely to experience darker pigmentation changes. People with darker skin tones may be more prone to lighter pigmentation changes. These changes tend to fade away over time, and the skin returns to normal.
Portable Laser Hair Removal Machine Cost
Here's where at-home laser hair removal devices come in – It's so easy to use and so cost-effective, If you are interested in learning more about diode laser hair removal machine prices or discussing purchasing portable diode laser permanent hair removal machines or other medical laser machines, fill out the form below and we will get back to you ASAP. Or simply call Phone: +0086 15001300057.
---
Related Products