Triple Wavelength Diode Laser 755nm+808nm+1064nm For Hair Removal System PL-M17
Triple Wavelength

– Suitable For All Skin Types

Best laser hair removal machine for light skin, powered by the 808nm, 755nm and 1064nm, can more effectively and safely achieve permanent hair removal for light hair outcomes in a much wider variety of patients and all Fitzpartrick skin types. This multi-wave-length platform combines the benefits of the Alexandrite wavelength with the treatment coverage, comfort and low maintenance of the diode laser.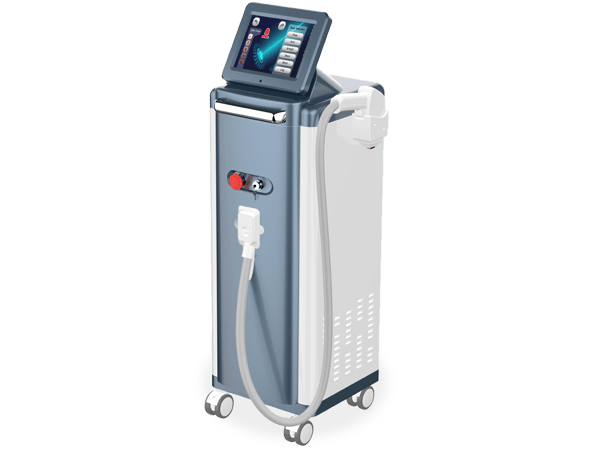 Due to this new technology of the best laser hair removal machine for light skin is designed to work with 3 different wavelengths (Alexandrite 755nm, 810nm, ND:YAG laser 1064 nm), being able to adapt hair removal treatments to the needs of all kinds of patients during each season of the year.
As a result, it can work with all skin types and with all kinds of hair type.
Benefits:
It comes with gold standard 808nm, 755nm and 1064nm laser diode or semiconductors technology. they are assembled together by the diode laser hair removal machine manufacturer to produce light for hair removal/hair reduction/depilation/epilation treatment! 3 in 1, triple wavelength laser hair removal.
Germany import laser bar.
Most importantly, more than 20,000,000 shots ensure longer life time than others.
15*15mm² Big Spot Size – Save patients treatment time and treat more patients.
"Plug & Play" Technology – no need technician.
International hair removal standard technology .
Strong cooling system.
Triple Wavelength Diode Laser Parameters
Professional Diode Laser Machine
Voltage
220V/50Hz or 110V/50Hz or 110V/60Hz
Wavelength
808nm &755nm &1064nm
Output power
600 watt
Mode
Pulse Mode
Spot Size
15*15mm²
Temperature
0-30 degree
Energy Density
20-70J/cm2(≤±2%)
Pulse Width
5-400ms
Frequency
1-10Hz
Input Power
2000W
Screen
10.4inch touch screen
Cooling System
Water cooling+ Wind cooling+ TEC electronic cooling
Package size
117cm*52cm*56cm
The 3 most effective wavelengths for hair removal
Alexandrite Laser 755nm Wavelength
For all kinds of hair types and color.
The Alexandrite Laser Hair Removal wavelength offers more powerful energy absorption by the melanin chromophore, making it ideal for the widest range of hair types and color- especially light-colored and thin hair.
The best laser hair removal machine for light skin with more superficial penetration, the 755nm wavelength targets the Bulge of the hair follicle and is especially effective for superficially embedded hair in areas such as the eyebrows and upper lip. So the 755nm wavelength is the best laser for light hair removal.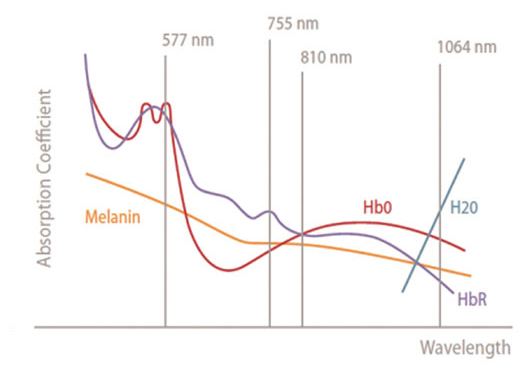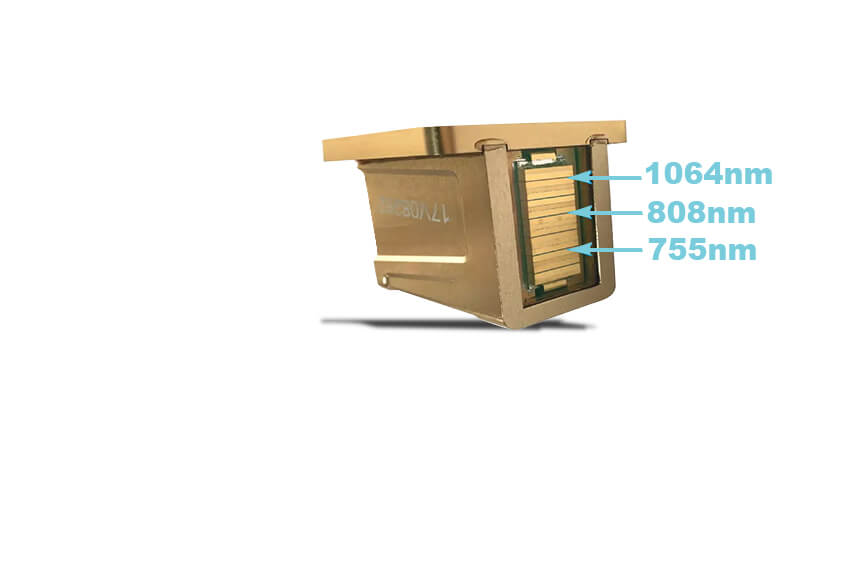 Fast 808nm Wavelength
Half the treatment time
The classic wavelength in laser hair removal, the 808 nm wavelength, offers deep penetration of the hair follicle with high average power, a high repetition rate and a large spot size for fast treatment. The 808 nm has a moderate melanin absorption level making it safe for darker skin types. Its deep penetration capabilities target the Bulge and Bulb of the hair follicle while moderate tissue depth penetration makes it ideal for treating the arms, legs, cheeks and beard.
If you want to know, please send us an inquiry

YAG 1064nm wavelength
Specialized for darker skin types
The YAG 1064 wavelength is characterized by lower melanin absorption, making it a focused solution for darker skin types.At the same time, the yag 1064nm offers the deepest penetration of the hair follicle, allowing it to target the Bulb and Papilla, as well as treat deeply embedded hair in areas such as the scalp, arm pits and pubic areas. With higher water absorption generating a higher temperature, the incorporation of the 1064nm wavelength increases the thermal profile of the overall laser treatment for most effective hair removal.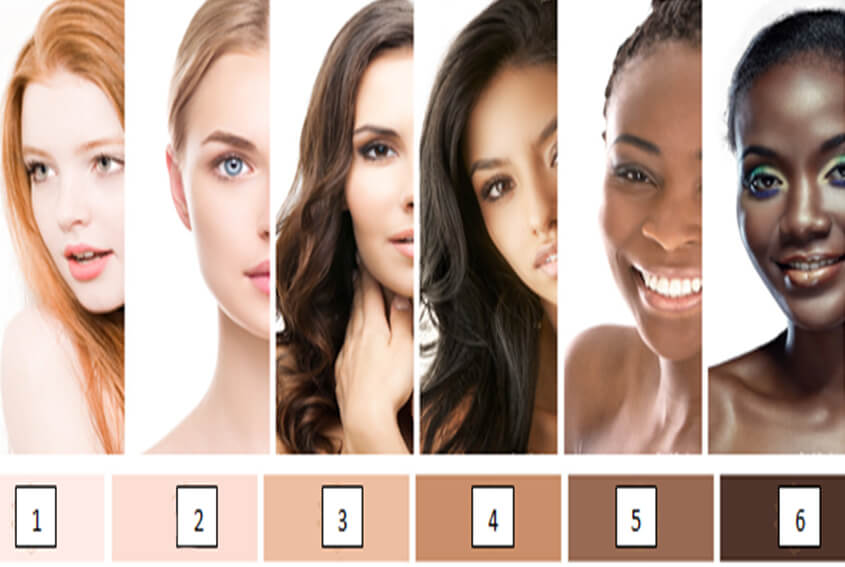 Triple Wavelength Laser Hair Removal Machine Advantages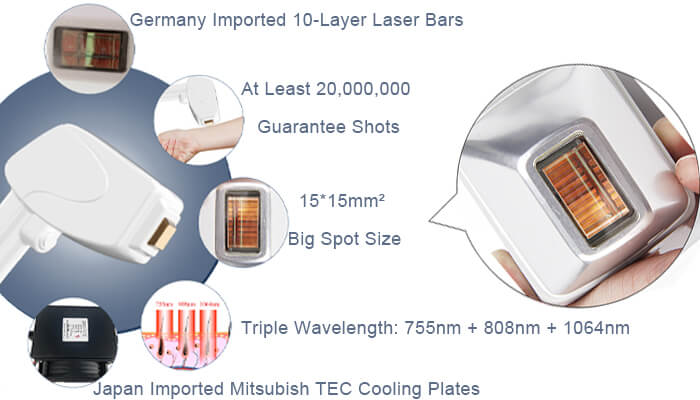 Macro-channel technology –Macro cooling system makes diode module working much safer.
High quality spare parts –all the core components are imported .
Germany imported macro-channel laser bars.
Japan Imported Mitsubish TEC Cooling Plates, insures the machine continuously working 24 hours without any stop.
USA CPC water connector & Germany Harting electronic connector.
Italy water pump, no noise and larger water flow for better cooling, prolong laser life.
Newly designed diode laser handle, more stable and convenient to use.
The best laser hair removal machine for light skin is developed and produced by the Professional diode laser hair removal machine manufacturer.
Intuitive, User Friendly Large Screen
Its operation is simple and easy to learn. You don't need to spend a lot of time to learn it.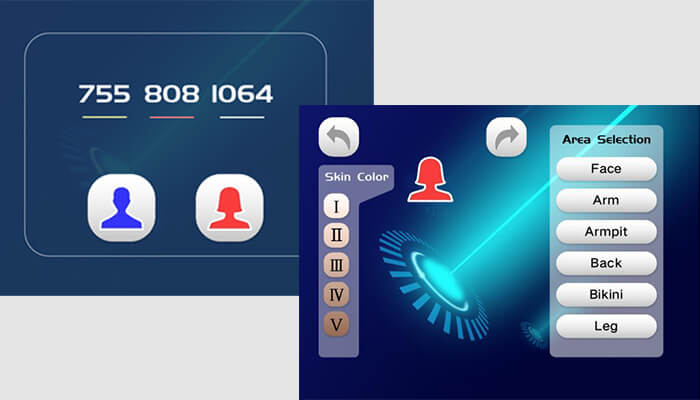 Application
PL-M17, the 3 most effective wavelengths for hair removal, produced by the diode laser hair removal machine manufacturer, each targeting different structures within the hair follicle. The 3 main anatomical targets include the Bulge, Bulb and Papilla.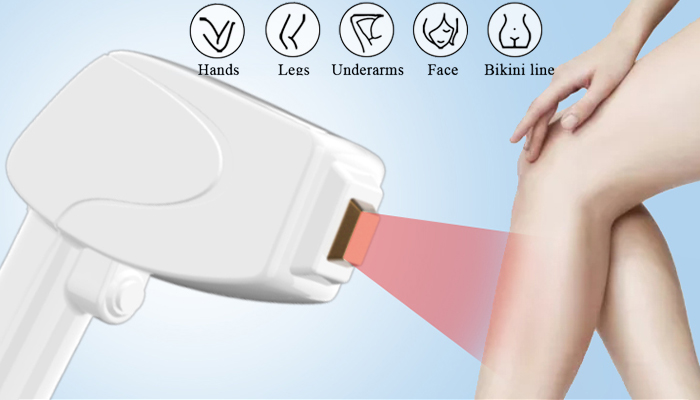 Suitable for all kinds of skin type: super white, white, normal, brown, Black, etc.

755nm

for white skin (fine, golden hair removal)

808nm

for yellow neutral skin (brown hair removal)

1064nm

for black skin (black hair removal)
Removal hair of different type: Fine, medium, coarse.
All part of the body: Lip hair, beard, chest hair, black hair, arm hair, leg hair, and unwanted hair outside the bikini line.
Permanent Hair Removal For Light Hair.
Laser Hair Removal Before & After
View Laser Hair Removal Before and After Pictures of Real Patients who had Hair Removal treatments. View Photos Now!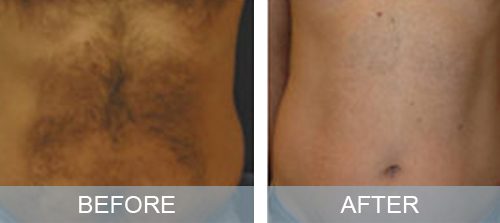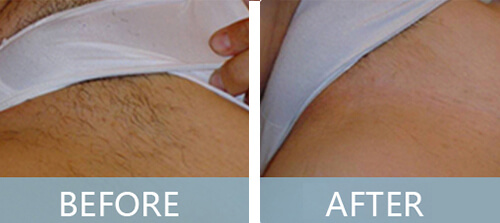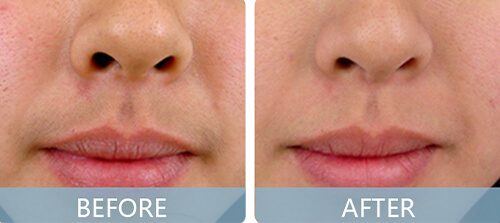 Our laser hair removal before and after pictures are segmented into light skin types and dark skin types. This is because they each have different needs and requirements when it comes to laser hair removal. Our clients use an Alexandrite laser to treat light skin types and the YAG laser to treat dark skin types.
Laser Hair Removal FAQs
Is Laser Hair Removal Permanent?
"Is laser hair removal permanent?" It's one of the most common questions about laser hair removal and its ability to minimize unwanted hair. And it's also one of the biggest misconceptions about this treatment.
The answer to this question is not exactly. Many people confuse the idea of laser hair removal with the idea of never shaving again. However, these are 2 different things. In reality, laser hair removal isn't actually "removing" the hair at all. Instead, it provides long lasting hair reduction by destroying the hair follicles.
While patients will never get rid of 100% of all hair follicles, the number of hair follicles that produce hair can be reduced by about 75%-90%. Once the follicles are destroyed they do not regenerate, resulting in lasting hair reduction in the treated area.
Why Choose Triple Wavelength Diode Laser Hair Removal Machine By PrettyLasers?
You needn't worry about the ability of diode laser hair removal machine manufacturer.
PrettyLasers is established since 2006,over 15 years Production Experience of Beauty machine all of the R & D team are Master's degree or above. Annual sales of our beauty machines are over 1000 units, diode laser hair removal machines prices are affordable, and also our customers are all over the world more than 200 countries.
Our production process is according to ISO13485 standards strictly,Has obtained TUV SUD ISO13485 quality management system certification.
You will get the highly effective and professional service.
Our salesman have the experience more over 10 years. Our language service are including English, Russian, Spanish, Arabic and others, all of them are professional . We offer 24*7 hours online services, It's better to answer your questions as soon as possible.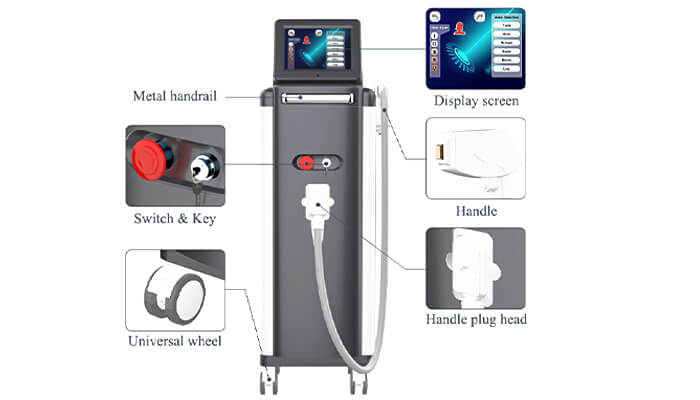 You needn't worry about the packing and shipping problems.
We use wooden case to pack the machines which is the most safe and convenient. In addition, we are VIP of DHL Express which provides fast door to door service with best discount prices. Besides, we provide also shipment by air, by sea, by truck, or any other shipping methods according to customer's demand.
OEM And ODM are available.
Any rquests welcome to CONTACT US

If you are interesting in learning more about Multi Wavelength Diode Laser 755nm+808nm+1064nm For Hair Removal System PL-M17 or discussing purchasing aesthetic laser machines or other medical laser machines, fill out the form below and we will get back to you ASAP. Or simply call Phone: +0086 15001300057. YOu will get the lastest cost of Multi Wavelength Diode Laser 755nm+808nm+1064nm For Hair Removal System PL-M17.
---
Related Products