Professional Portable Cryolipolysis Machine
A professional portable cryolipolysis machine is the specialist for body contouring, body slimming. With Cooling temperature: -16~5 degrees, low temperature depending on the thickness of the fat tissue (which is measured before each treatment with special calipers), is then applied to the area in a controlled process, 'freezing' the localized area for a controlled period of time. Once the cooling procedure is completed, the fat cells crystallize, and after melting the broken fat cells release the lipids into the lymphatic system, which will gradually eliminate them by natural metabolism.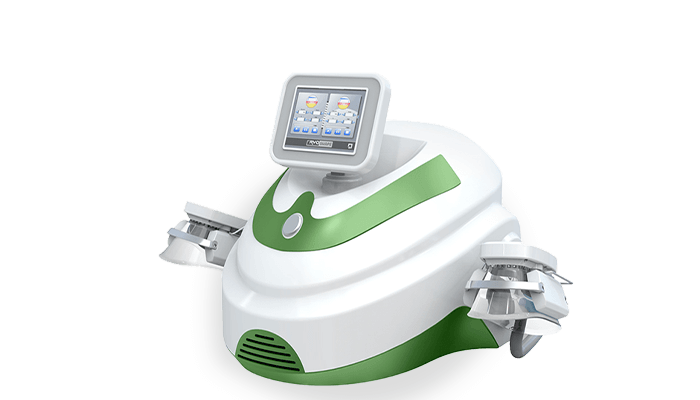 Skin is not damaged, but subcutaneous fat, which is more sensitive to targeted cold, begins a two to three-month-long dissolution after each fat freeze slimming machine procedure. A professional portable cryolipolysis machine is lightweight with a compact design. Consequently, a portable cryolipolysis slimming machine can thus be used in different treatment rooms or offices. Thanks to its Plug & Play technology, no setup after transportation is required – Therefore, PL-18 is immediately ready for use.
Benefits:
Effective radiators to ensure machine working till 10 hours
8-inch color touch screen.

Power supply imported from Taiwan Meanwell

.
Taiwan air pump.

Germany proportional valve

.

Japan EMC Solenoid valve

.
Cooling temperature: -16~5 degrees.
Cooling pads, semi-conductor cooling system.
Contact skin parts: Medical use silica gel, soft to make customers feel comfortable during treatment.
Professional inner electronic structure, to ensure a stable working.
One course is successful to reduce 16.42 kg of fat.
Cryolipolysis Machine Working Principle
Cryolipolysis is a medical treatment used to destroy fat cells by freezing. The functional principle is the controlled application of cooling, within the temperature range of +5 to −5 °C, for the non-invasive, localized reduction of fat deposits, in order to reshape the contours of the body. The degree of exposure to cooling causes the apoptosis (cell death) of subcutaneous fat tissue, without apparent damage to the overlying skin.
As a medical procedure, cryolipolysis is a non-surgical alternative to liposuction. Etymologically, the term cryolipolysis (freezing of fat) is derived from the Greek roots cryo, meaning cold; lipo, meaning fat; and lysis, meaning dissolution or loosening.
One suction and cooling heads with large surface areas are placed on the areas to be treated. The fat freeze slimming fat machine cooling head generates a vacuum that temporarily decreases blood flow to the treated area, immobilizing the fat tissue, and isolating the treated area from surrounding tissue.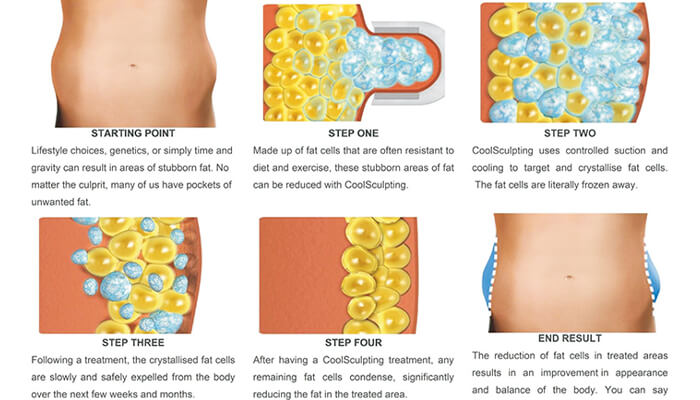 Cryolipolysis Machine Applications
One Treatment One Hour One Inch Smaller
Effectively improve the body, focus on targeted fat precisely and fat reduce and body reshaping.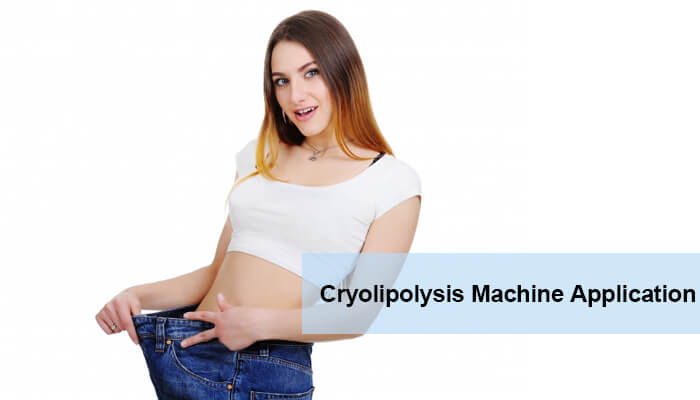 Abdomen shaping

– Fat Belly, beer belly, postpartum fat, post-natal stretch marks removal

Waist tighten

– Tighten loose skin of waist and abdomen, remove "swimming circle"of abdomen and waist to meet the requirement of shaping beautiful waist curve.
Arm firming – Say goodbye to bye-bye arm, firm slack skin of the inner arm

Thigh slimming

– Tighten skin of the thigh, effectively shape legs

Hip lifting

– Buttocks lifting, tighten loose skin of sagging buttocks

Leg reshape

– Fat loss of a leg, improve bandy legs
The cryo lipolysis treatments are safe and effective and provide reliable, long-term results.
Technology
Gas control adopts the Japanese EMC brand proportional valve, which is less noise than an ordinary solenoid valve, faster reaction speed, and accurate control. Taiwan air pump, more than other brands, stable quality, fast adsorption, accurate control. Contact skin parts, medical use silica gel, soft to make customers feel comfortable during treatment. The big handle, mid handle, and small handle cover a wide range of treatment areas.
A professional portable cryolipolysis machine offers cooling temperature -16~5 ℃ and four different cryo handles for perfect adjustment to patient treatment areas. With Plug & Play technology, the cryo handle is easy to change, no technician is needed. The Professional Portable cryolipolysis machine for home use PL-18 is lightweight, compact, and portable allowing it to be used in different treatment rooms or offices.
Real pressure and temperature sensor;
Pressure release function;
Softer pipes with better material, cable as long as 2M;
Three different size handles:25*12cm, 20*10cm, 13*7cm, for different treatment area;
Water circulation sensor on the machine display, if there is any problem with the water circulation, the machine will alarm.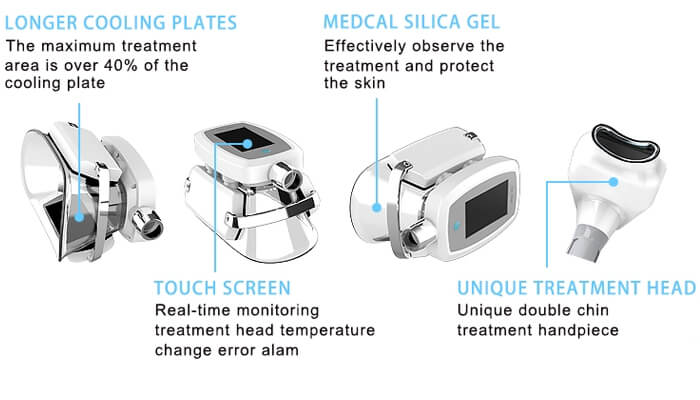 Ideal Cryo Handle Sizes For Cryolipolysis Treatments
To effectively treat all body areas, the PrettyLasers offer intelligent system precise temperature control, accuracy up to 0. 1C, precision negative pressure, and a variety of cryo handle that can be easily switched.
Big handle: treat area(250mm*120mm) —for belly, back, buttock etc;
Mid handle: treat area(200mm*100mm) — for waist, thigh, etc;
Small handle: treat area(130mm*70mm) —for thigh, arm, crus etc.
360° Mini cryo handle: treat area (76mm * 40mm) — for double chin, arm.
Operation Interface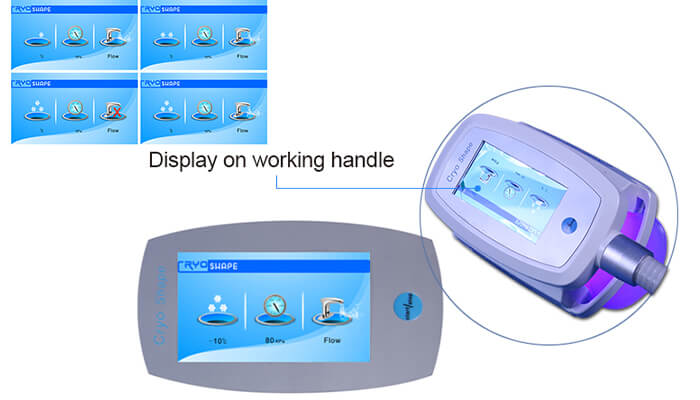 The PrettyLasers cryolipolysis machine for home use is designed to provide an advanced user friendly interface and effective user support:
Advanced Graphical User Interface – intuitive presets for fast learning curve and easy treatment delegation.
Note: when the water circulation is disabled, the handle will keep alarming for 30 seconds, after that the red cross won't disappear, the handle will keep working.
Technical Specifications
Voltage
220v/110v; 50Hz-60Hz
Cooling device output temperature
5 ℃ ~ -16 ℃
Cooling liquid
Pure water, with 9L
Default working time
0-60 minutes
Power Consumption
≤ 400W
Weight
27 NW/47 GW
Output Vacuum pressure
0-110KPa
Fuse size
F3AL250V
Ambient temperature
5°C-+42°C
Relative humidity
≤85%
Atmospheric pressure
80KPa-106KPa
Handle size
18*6cm*7.5cm

18*5cm*7.5cm

Package Size
73.5* 62*63.5cm
Effective Cryolipolysis  Treatment Results
The procedure can reduce the treated fat layer by 20 to 40 percent, the average reduction of 20 percent. Visible differences in contour emerge after about three weeks, however, the most dramatic results take up to two months to show. These real effect results are from our customers' feedback as follows:

You May Also Like:
Cryolipolysis Machine Reviews
What are the details of a portable cryolipolysis machine?
Four therapeutic handsets are optional and suitable for different treatment sites. Installation of film panels for remote operation, safety, and convenience
Special ice film, suitable for different hand tools, patient exclusive, safety and hygiene
Handle built-in filter, easy to install, easy to clean
8-inch vertical touch screen, easy to control;
The system has a number of safety protection functions(water flow, overheating), intelligent monitoring, and high equipment safety factor.
Provides OEM customization services.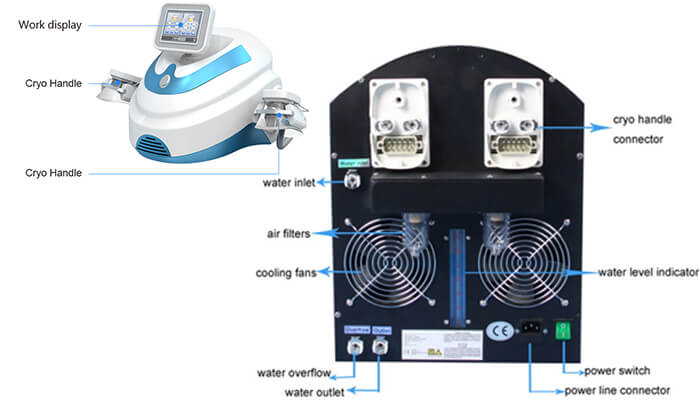 Does cryolipolysis machine really work?
Professional cryolipolysis machine is safe and effective. The risks are few and rare. There's no damage to your liver. Side effects are mild, too, and go away after a short time. On average, it lessens the amount of fat in targeted areas by 10%-25%.
How much does CoolSculpting cost?
Cryolipolysis is considered a cosmetic treatment. That means insurance won't cover it.
How much you'll pay for cryolipolysis depends on several things:
How many sessions you have
Who does your procedure, and your location
The body part you want to treat (smaller areas cost less)
Cryolipolysis for the arms, for example, may take only one session per arm and would cost less per session than larger areas, such as the stomach or love handles. According to the CoolSculpting data, a personalized treatment plan typically costs between $2,000 and $4,000.
What are the results?
Clinical studies demonstrate that the Cryolipolysis procedure provides noticeable, measurable fat reduction in properly selected patients over the course of two to four months after the procedure. Additional procedures may be administered two to four months after the initial procedure to achieve greater fat reduction.
How long do the results last?
Patients experiencing fat layer reduction show persistent results at least six months after the Cryolipolysis treatment. Longer-term studies have not yet been completed. It is known that exposure to cooling causes the fat cells to begin a process of natural removal, which gradually reduces the thickness of the fat layer. The fat cells in the treated area are gently eliminated through the body's normal metabolism process, like fat from food. The elimination of fat cells as a result of the Cryolipolysis Procedure is expected to last about as long as fat cells are removed by invasive procedures such as liposuction.
What are the common effects after the procedure?
The Cryolipolysis procedure is completely non-invasive, which allows immediate return to normal activities such as work or exercise. Redness may appear in the treated area and may last from a few minutes to a few hours. Some localized bruising or swelling may occur, which clears within a few weeks. Many patients experience a temporary dulling of sensation in the treated area, lasting one to eight weeks.
Which patients are the best candidates?
Ideal candidates for the Cryolipolysis Procedure are relatively fit but have some modest-size fat bulges that are not easily reduced through diet and exercise. They are seeking spot reduction for specific areas of fat, but are not considering a surgical procedure. The Cryolipolysis procedure is not intended for weight loss or obesity, and it is not a substitute for invasive methods such as liposuction.
How is the Cryolipolysis Procedure different from other procedures?
The controlled cooling of the Cryolipolysis Procedure targets and eliminates only fat cells. Other treatment modalities, such as lasers, radiofrequency and focused ultrasound, affect fat cells and may affect other adjacent tissue in a way that is not comparable to Cryolipolysis.
How often can you do Cryolipolysis?
More than one session may be needed to achieve a person's desired results. If more than one treatment session is needed, the next session can't be performed until 6 to 8 weeks after the first session. This is because it can take this long for damaged fat cells to be eliminated from the body.
How much does a CoolSculpting machine cost?
The cost of a portable cryolipolysis machine is one of the most frequently asked questions but the price is not the only factor you need to consider. Similarly, the effect of machines and quality of service is also important.
The cost of getting cryolipolysis machine through an aesthetic laser supplier can be a major consideration when deciding whether to buy the portable professional cryolipolysis machine. If you want the actual price of cryolipolysis machine, fill out the form below and we will get back to you ASAP. Or simply call Phone: +0086 15001300057.