808nm Diode Laser Hair Removal Machine
808nm diode laser hair removal machine can emit laser light of 808nm wavelength. Diode lasers use the principle of selective photothermolysis to target specific chromophores in the skin, usually melanin or blood. The lasers damage the chromophores by selectively heating them while leaving surrounding tissue unharmed. When treating unwanted hair by the diode laser hair removal machine 808nm, for example, the melanin in the hair follicles is targeted and damaged which results in the disruption of hair growth and regeneration.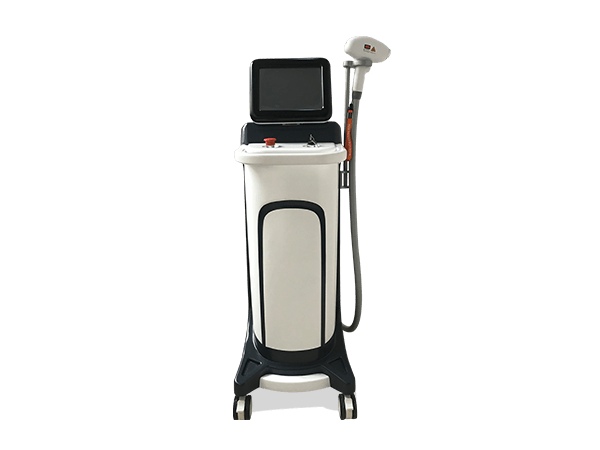 Thanks to its large spot size and advanced cooling system, permanent hair removal treatments are now much faster and pain free – offering a significant improved solution for patients and practitioners. A diode laser can be complemented by cooling technology, or other pain reducing methods which improve treatment efficacy and patient comfort. Then the unwanted hair can be removed completely and permanently.
Benefits:
Hair Removal completely and permanently, pain free, safe, fast effective
Large spot size for quick treatment
Excellent Sapphire continuous cooling system
Pain-free – the tip of handlepiece cools down to 0~3℃, makes treatment comfortable and effective.
"Plug & Play" technology
Smart clinic data center
Intuitive, user friendly large screen
Virtually pain-free contacted with sapphire of Real -5℃ more incomprarable comfortable and safety.
I-VI skin tones and tanned skin
No consumables
Does diode laser hair removal work?
The vcsel diode laser hair removal machine uses a wavelength of 808nm, which has special effectiveness for melanocytes of hair follicle without any damage to the surrounding tissues. The laser can be absorbed by melanocytes of hair shaft and hair follicles and converted into heat to increase the temperature of hair follicle. When the temperature rises to certain level that can irreversibly destroy the structure of hair follicle, the hair follicle structure will disappear after a natural physiological process of the hair follicle, thereby achieving the purpose for removing hair permanently.

VCSEL Diode Laser Hair Removal Machine Technology
The spot size, power and technical specifications of a diode laser hair removal machine china will be simply accustomed assist you will choose the correct model for your business.Diode laser permanent hair removal machine is that the most powerful diode optical maser hair removal system (up to 1200W watts) with big spot sizes (25mm*31mm² )which means you'll be able to quickly and effectively treat all skin and hair varieties in clinic.
Golden Standard 810nm Diode Laser Hair Removal
808/810nm diode laser hair removal machine is the golden standard for hair removal. Light at the wavelength of 810nm is absorbed by melanin in follicle and greatly reduce the absorption by water and hemoglobin. Treatment is safe and painless for epidermis. Patients will feel painless during hair removal treatment.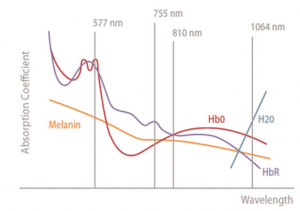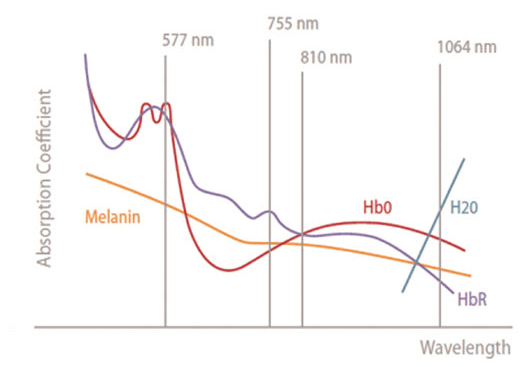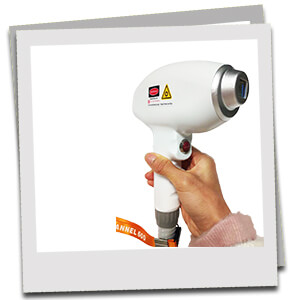 Diode Laser Handlepiece
Professional diode laser handlepiece is based on traditional laser technology, which adds the cooling head on the handpiece to strengthen the cooling intensity.
Patients feel less pain as the cooling head much reduce the temperature of the treatment area.
"Plug & Play" Technology
Quick American-made "plug-and play"connection plugs, 2 million times to plug-in/plug-out, long lifespan.
Due to "Plug & Play" technology, no need technician.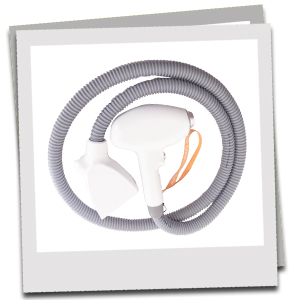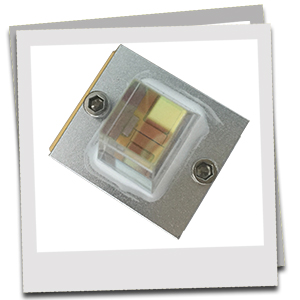 Diode Laser Chips
100% Germany imported laser chips.
Per laser chip is 150 watt.
Air + Water + TEC + Sapphire Contact Cooling System
Tec + sapphire +contact cooling system can make the treatment safer and no harm to the skin. The temperature of skin can be arrive at 0~5℃. Tec + sapphire +contact cooling system of diode laser hair removal device can ensure the doctor using the maximum ennergy but not to hurt normal skin. This cooling system can make no hurt to the skin when patients are given more pressure. It is reported that the pressure can increase 30%~40% of lumenis ennergy.
6L big water tank (8L for vertical)
4*24V big fans from Japan
2 thickest (50mm) radiators
Latest DC brushless water pump from Italy
TEC cooling tips
Sapphire crystal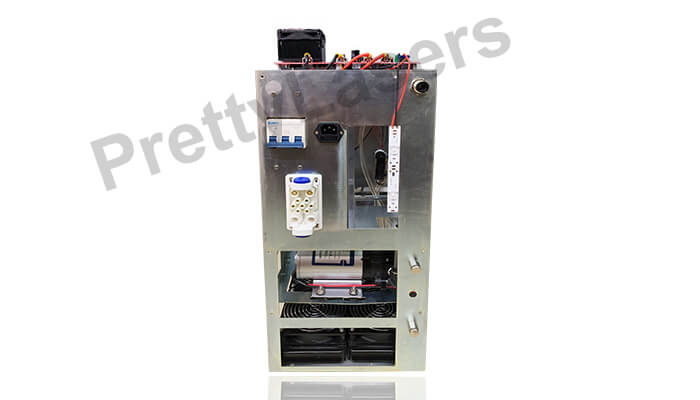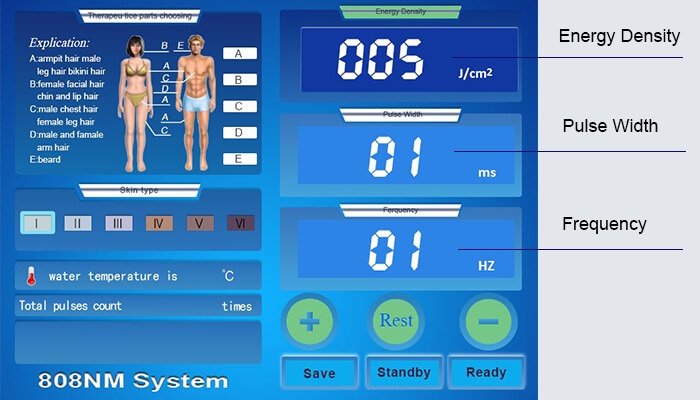 User friendly interface, easy for operation
When doctors choose the skin type, hair area and thickness before treatment, Proposed parameter will be uploaded. Doctors should adjust based on the proposed parameters and patients' feeling during treatment as different patients has different reaction.
Technical Parameters
Diode Laser Hair Removal Machine
Wavelength
808nm
755nm, 808nm, 1064nm optional
Working Frequency
1~10Hz
Maximum frequency 20 Hz
Energy Density
1-120J/cm² adjustable
OEM is ok
Handlepiece cooling
TEC+Sapphire
Sapphire OEM
TEC cooling
12V6A
TEC Power OEM
Spot size
15cm×15cm or 25 x31mm
Spot Size OEM
Output Power
600w, 900w
Laser power OEM
Laser Bars
Germany laser Jenoptik,150W/piece
Pulse Width
5ms~400ms
0~1000ms OEM
Output Mode
Pulse Output
Pulse Output
Language
Standard English
Can be made according to customer's requirements
Display
8' color touch screen
10.4' is available
Protective Temperature
55℃ interface select
OEM
Water Pump
DP-60 diaphragm rods 12V
Flow Sensor
3.5L/min flow requirement
Cooling System
240×120cooling line(2pc),18 pcs channel
Compressor plan,TEC plan
Cooling Fan
4pcs fans,speed 3150r/min
12v fans
Case Material
ABS shell/metal shell
OEM Metal Shell
Inter Structure
White zinc hob/color zinc hob
OEM
Water Tank Volume
vertical3.6L/table type 2.5L
OEM
Environmental Moisture
<80%
<80%
Environment Temperature
Air conditioning room,temperature≤28℃
Voltage
220V/110V
Applications
If you're not happy with shaving, tweezing, or waxing to remove unwanted hair, laser hair removal may be an option worth considering.Laser hair removal is one of the most commonly done cosmetic procedures. It beams highly concentrated light into hair follicles. Pigment in the follicles absorb the light. That destroys the hair.
Diode Lasers are useful for removing unwanted hair from the face, leg, chin, back, arm, underarm, bikini line, and other areas. PrettyLasers produced diode laser hair removal machine. The exact number of maintenance laser treatments varies by individual. Most people need between four and six laser therapy sessions. You also need to space these out by six weeks each. This means that the full treatment cycle can take up to nine months.
Facial hair removal
Chin & lip hair removal
Beard removal
Armpit hair removal
Arm hair removal
Leg hair removal
Chest hair removal
Bikini hair removal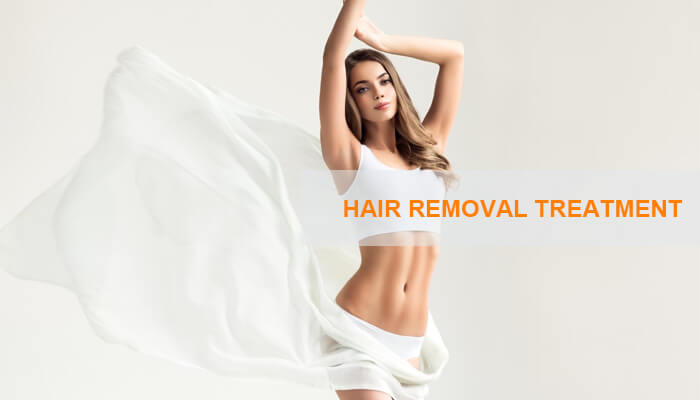 You might be wondering:
Diode Laser Hair Removal Clinical Results Of Before & After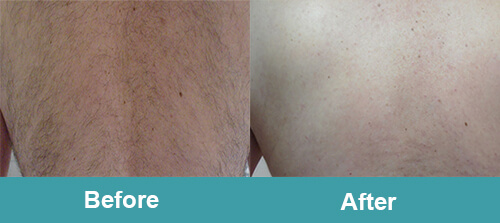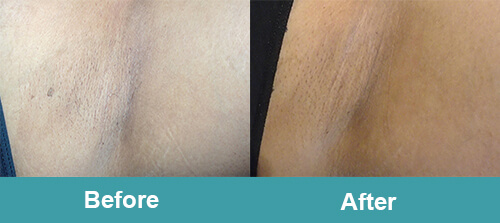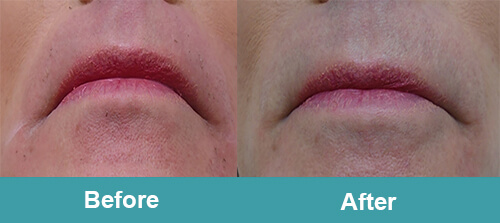 Diode Laser Hair Removal Machine Reviews:
What are the features of diode laser hair removal machine for sale?
Fast
The repetition rate from 1HZ to10HZ, 1-10pulses per second(adjustable) with mutiple spot sizes for your option.
Our diode laser hair removal machine for sale use the "IN-Motion" intelligent mode to bring the fastest treatment speed to 10 shots per second. It's fast especially for body hair removal. Diode laser hair removal system also adopts Thermo-electric cooling (TEC) and real sapphire, which get amazing contact cooling. It is really pain-free laser machine. You will get most comfortable treatment.
Effective
Steady energy is achived by:
German non-channel laser chips, super energy, permanent hair removal
Water filter; Copper radiator; High speed DC pump made inItaly; TEC cooling system for best cooling system.
Painless, No down time
3-4 times per cycle to permanently removal hair.
Suitable for 6 skin type and any parts of body
High power and high energy, short treatment time(about 20minutes for arm), shorten the course of treatment.
Easy Operation
We are using TEC cooling system for water tanks and TEC for sapphire in hand piece, so you can get 24 hour working with machine.
Auto intelligent mode design for users with different presets for different patients, so that it is safe and effective.
Do laser hair removal procedures cause scarring?
Any laser-based hair removal procedure can cause some scarring. This is included as a risk in the consent forms that need to be signed before laser treatment begins. But the risk of scarring from laser hair removal treatment is rather small. The risk is a function of many factors including the following.
The skill, experience, training and knowledge of the laser technician.
The type of laser used for the treatment.
Your body ability to heal.
The amount of melanin pigment in the skin. Darker skin tones have a greater risk of getting scarred.
Temporary Pigment Changes
Many people experience some pigment changes following a laser treatment procedure. This may be darkening or lightening of the skin. Many people believe this is the same as scarring, but most of the time it is not. The pigment changes that may occur after laser procedures usually resolve themselves within a few weeks or months.
Experienced Clinics reduce the Risk
The risk of getting scarred from a laser treatment is very small. You can minimize the risk by choosing an experienced laser technician for your laser treatment. You may also get the procedure supervised by an on-site doctor.
Is the laser hair removal procedure painful?
During the initial stages, you will feel a light stinging sensation, which indicates that the laser has been activated. Then a series of impulses are produced and may cause a slight burning sensation and some prickling. Your technician may apply a topical anaesthetic to the body area under treatment, in order to minimize the discomfort. But most people do not need the anaesthetic. Some people have said that the feeling is like that of a rubber band snapping against the skin. More testimonials…
You also need to remember that, depending on the body area under treatment, the process can take anywhere from a few minutes to a few hours.
Why our diode laser hair removal machine for sale provide the most effective treatments?
The effectiveness of a laser for hair removal depends on two main parameters:
The Wavelength and the Fluence of energy to get rid of the hair.
The Diode laser wavelength is the gold standard in laser hair removal as it has been scientifically proven to be the optimal for all skin types, including dark and tanned skin, unlike other wavelengths such as Candela Alexandrite that can't treat tanned or dark skin; or the ND:Yag which is good for dark skin but less effective in white skin.
In terms of Fluence of energy our lasers are unbeatable. Facts: our lasers can provide 1-120J/cm² adjustable in a large spot size.
What is the difference between laser and IPL?
IPL is not a laser and is significantly less effective than laser for permanent hair removal.
Are all types of lasers the same?
No, our lasers have the highest power in the market in order to eliminate the hair growth cells more effectively and with faster treatments, and unlike other types of lasers our lasers can treat all skin types, even suntanned skin. The other main difference between lasers is the way the device cools the skin during treatment, which affects comfort levels and the level of protection for the skin. Our lasers are one of the few lasers that uses a fully integrated ultra-cold sapphire tip that is constantly in contact with the skin during the whole treatment, meaning the treatment is nearly painless and skin is highly protected . Most other lasers just have a separate tip that only cools the skin after the laser shot.
If you are interesting in learning diode laser hair removal machine for sale or discussing purchasing aesthetic laser machines or other medical laser machines, fill out the form below and we will get back to you ASAP. Or simply call Phone: +0086 15001300057
---
Related Products