Portable Permanent Diode Laser Hair Removal Machine
Portable permanent at home diode laser hair removal machine PL-O2 is more and more popular aesthetic permanent hair removal therapy for home use. PL-O2 is a powerful, portable permanent laser system with the optimal 808nm wavelength which has long been considered the gold standard for permanent hair reduction therapy.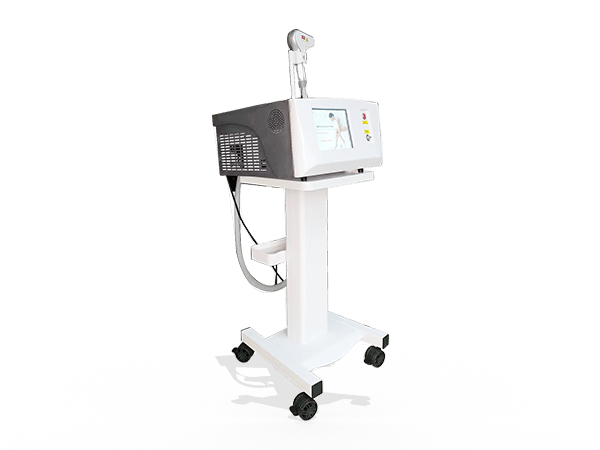 PL-O2 reliably removes the unwanted hair such as upper lip hair, facial hair, full bikini hair,back hair, underarm hair and full body hair. PL-O2 offers both 5ms~400ms adjustable pulse width and pulse output mode. Its flexible pulse width and 6 different spot sizes from 10*10mm, 15*15mm …to 25mm*31mm for your option offer the ideal prerequisites for the treatment of large or small areas hair removal.
Benefits:
6 kind of handpiece spot sizes for your option.
I-VI skin tones and tanned skin.
User-friendly LCD Touchscreen.
Compact design, stable technology.
Flexible and economic due to transportation.
Portable Permanent Hair Removal Working Theory
Portable permanent Hair Removal Machine uses a wavelength of 808nm, which has special effectiveness for melanocytes of hair follicle without any damage to the surrounding tissues. The laser can be absorbed by melanocytes of hair shaft and hair follicles and converted into heat to increase the temperature of hair follicle. When the temperature rises to certain level that can irreversibly destroy the structure of hair follicle, the hair follicle structure will disappear after a natural physiological process of the hair follicle, thereby achieving the purpose for removing hair permanently.
Applications:
PL-O2 features high peak-power and TEC +Sapphire Contact cooling prevents burns and allows for more comfortable treatment and a specialized handpiece allows you to treat large areas in less time.
Whether you have light, dark or tanned skin, fine or coarse hair, PL-O2 can remove the unwanted hair.
Hair removal, permanent hair reduction.
Facial hair removal
Chin & lip hair removal
Beard hair removal
Armpit hair removal
Arm hair removal
Leg hair removal
Chest hair removal
Bikini hair removal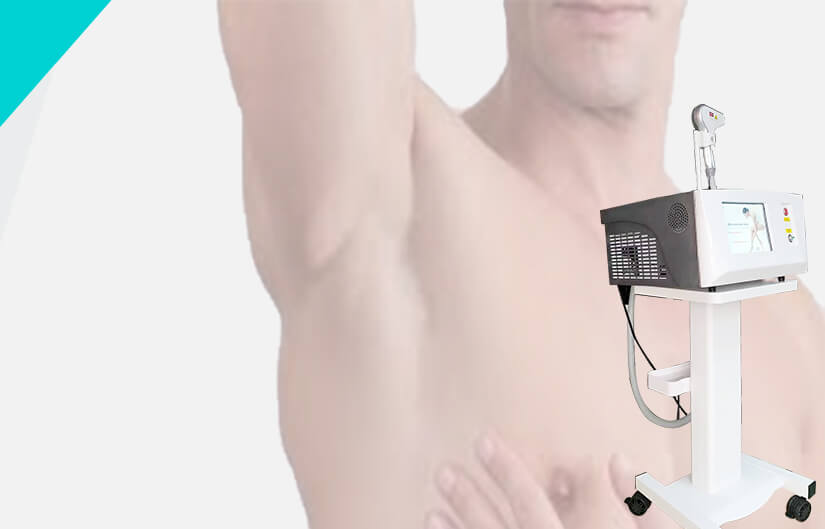 New Permanent Hair Removal Technology
Germany Imported Laser Chips
Germany imported laser chips- every laser chip is 150 watt. The chip's peripheral dimension is 10 * 10 mm, and there are 5mm protrusions in the middle. There are 60 light-emitting points on such protrusions, and only 19 light-emitting points on a common laser bar. Therefore, when the laser chip lights, the energy is more focused. The storage point of the laser chip's peripheral protective layer determines that it is more heat-resistant than the laser bar.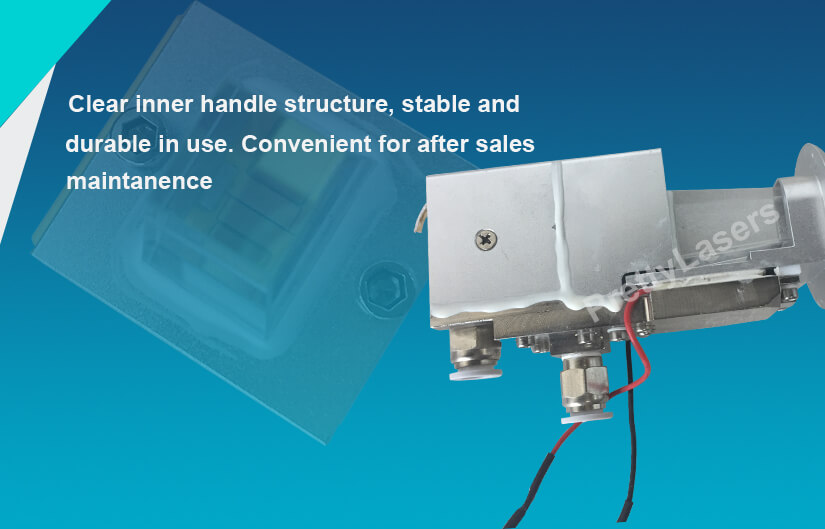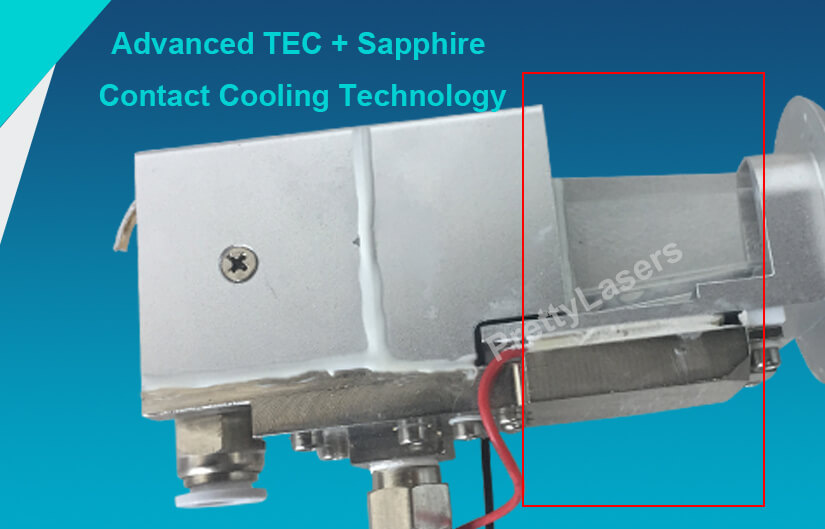 Advanced TEC + Sapphire Contact Cooling Technology
PrettyLasers's advanced TEC + Sapphire contact cooling technology provides further comfort, virtually eliminating the need for cool gel. The TEC+Sapphire handpiece cools the skin during hair removal treatment, preventing superficial burns while maintaining heat within the dermis where hair follicles are treated.
User-friendly LCD Touchscreen
Easy operation and fast learning – It is the best choice for permanent hair removal for home use.
Recommened hair removal treatment parameter settings.
I-VI skin types for your option.
Hair removal for men and women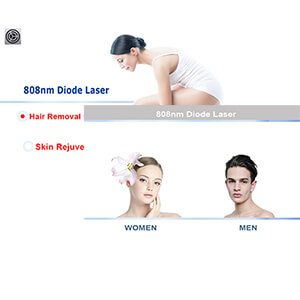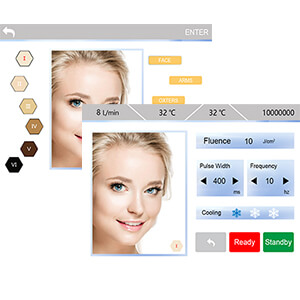 6 Kind Of Handpiece Spot Sizes For Your Option According To Your Needs

Before & After Pictures For New Permanent At Home Hair Removal Technology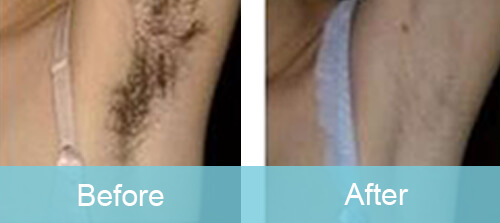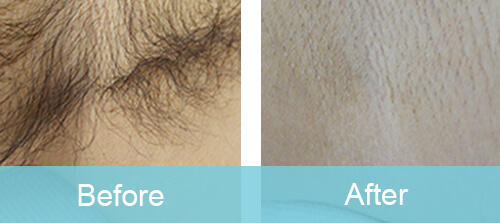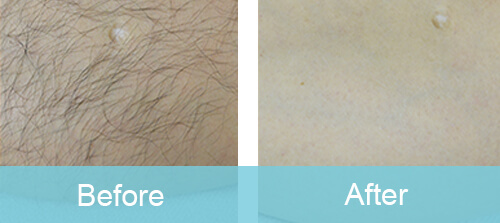 Technical Specifications:
Portable Permanent Hair Removal Device
Wavelength
808nm
755nm, 808nm, 1064nm optional
Working Frequency
1~10Hz
Maximum frequency 20 Hz
Energy Density
1-120J/cm² adjustable
OEM is ok
Handlepiece cooling
TEC+Sapphire
Sapphire OEM
TEC cooling
12V6A
TEC Power OEM
Spot size
15cm×15cm or 25 x31mm
Spot Size OEM
Output Power
600w, 900w
Laser power OEM
Laser Bars
Germany laser Jenoptik,150W/piece
Pulse Width
5ms~400ms
0~1000ms OEM
Output Mode
Pulse Output
Pulse Output
Language
Standard English
Can be made according to customer's requirements
Display
8' color touch screen
10.4' is available
Protective Temperature
55℃ interface select
OEM
Water Pump
DP-60 diaphragm rods 12V
Flow Sensor
3.5L/min flow requirement
Cooling System
240×120cooling line(2pc),18 pcs channel
Compressor plan,TEC plan
Cooling Fan
4pcs fans,speed 3150r/min
12v fans
Case Material
ABS shell/metal shell
OEM Metal Shell
Inter Structure
White zinc hob/color zinc hob
OEM
Water Tank Volume
vertical3.6L/table type 2.5L
OEM
Environmental Moisture
<80%
<80%
Environment Temperature
Air conditioning room,temperature≤28℃
voltage
220V/110V
ODM/OEM Beauty Laser Design Service Avaliable
Solution for laser sources, including laser diode chips, laser stacks and handle
Prefessional Solution for electronic parts, including laser diode drivers, control board and LCD screen
Solution for standard OEM systems and also customize whole machine

You May Also Like:
Is Portable Permanent Hair Removal Therapy Painful?
Based on diode laser technology, TEC +Sapphire Contact cooling head in the handpiece, cooling has been much strengthen. Diode laser hair removal is pain-free and safe.
Can I Have The Hair Removal Therapy While I Am Taking Medicine?
The only forbidden medications are Accutane and Retin-A, which must be stopped before hair removal treatment.
When Can I See The Hair Removal Results?
You will see immediately results after treatment.  The smell of burned hair and a little red around the removed hair is the clinical endpoint.
How Many Times Should I Take For Clearly Hair Removal Treatment?
Patients with lighter hair may require more treatments than others, but will still see effective results by the end of their treatments.
Most patients need 6 to 8 treatments to achieve permanent hair reduction results. Treatments are spaced 4 to 6 weeks apart to target follicles during the growth stage. Regardless of the technology being used, patients will experience results at different rates, depending on their skin type and hair color.
How to Prepare For Your Epilation Treatments?
Select the area you want to depilate
First of all, you must decide on the area of interest for the procedure. Laser hair removal can be done in variety of areas of your body such as the face, legs, arms, underarms, bikini line, and a few other areas.
Taking care of the skin
Taking care of the skin is the most important thing. Six weeks prior to treatment, avoid plucking, waxing, shaving, or any hair removal to the area the procedure will be performed. During this time, avoiding sun exposure would be beneficial. Exposure can lessen the effectiveness of the procedure and possibly complicate it.
What's The Benefits Of Laser Hair Removal Therapy?
The benefits of laser hair removal as follows:
The unwanted hair is removed quickly, typically painlessly, and permanently.
Laser treatment is a great procedure to go with due to its precision and accuracy.
It's praised for its effectiveness and speediness. It's guaranteed to remove the unwanted hair within several treatments.
Laser hair removal offers a comfortable, convenient and effective method for permanent hair reduction.
Where To Buy Portable Laser Hair Removal Machine In China?
If you want to buy a portable at home laser hair removal device in China, please send an inquiry to info@prettylasers.com or directly conact us. PrettyLasers will reply to you withing 24 hours.We, a manufacturing and trading combo, produce and export aesthetic laser machines for more than 15 years.
What's the difference between the non channel with Micro channel and Macro channel?
Micro-Channel Diode Laser:
The micro-channel has a high packaging process and good visual effect. The water temperature and water quality requirements are relatively high. The water temperature is higher than 35 degrees and cannot work. Below 17 degrees, it cannot work. The micro channel must use deionized water.
In order to ensure heat dissipation, microchannels generally use compressor refrigeration to ensure a constant temperature.
Compressor Advantages And Disadvantages:
The advantage is that it can ensure the water temperature is low to protect the laser, but it is more troublesome when exporting. It is not easy to clear the customs. Then the compressor made by the manufacturer. The 808 machine is not proficient in the structure of this compressor. Once there is a problem, the 808 machine will not work.
Macro Channel Diode Laser:
The macro channel is much larger than the micro-pass, and the requirement for water temperature is reduced. However, due to the waterway, the probability of burning the gun is increased. The products of the macro channel in the market are mostly, and the customers are generally fancy.
6 Things You Need to Know Before You Purchasing for Your Portable Laser Hair Removal Device
There are a lot of factors that go into determining which system is the best for you, and these are but some of the vast number of systems that are available in the aesthetic laser manufacturers and online. Each of these systems offers benefits for the consumer, and the portable laser hair removal system that you buy will depend on your specific needs.
Based on the objective facts, and taking the majority of the population into consideration, the best laser home hair removal system is the Portable permanent at home diode laser hair removal machine PL-O2, with its ease of use and low operating costs.
Diode Laser Hair Removal Machine Cooling System
Diode laser hair removal technology is based on traditional laser technology, which adds the cooling head on the handpiece to strengthen the cooling intensity. Patients feel less pain as the cooling head much reduce the temperature of the treatment area.
Skin Color Selection
You can select the Fitzpatrick skin type I-VI on the touch screen, according to your requirements. In this way, you can treat the different skin color's patients.
Affordable Price
The upfront price of a home system might seem shocking at first, but when you compare it to several trips to the doctor for treatments, you actually come out ahead. Be sure to invest in a quality system, otherwise, you do run the risk of skin damage and ineffective removal. A good starting point is around $2000 for a professional laser hair removal machine.
Ease of Use
Look at the machine that you are purchasing to see if the operating interface is easy to use. There are several different systems across different machines some of which are better than others. In some cases you have to input treatment parameters from tables and this can be cumbersome and make it possible for you, or your staff, to make mistakes resulting in bad clinical outcomes.
Portable permanent at home diode laser hair removal machine PL-O2 has a simple and professional user interface. It has a simple programming which is suitable for all operators where they simply have to enter which area they treatment and the skin type of the paitient. Portable permanent at home diode laser hair removal machine PL-O2 will set up the machine for treatment. You start with the default safe value and trying more effective parameters by keeping asking your patients how they feel. When found, you can simply save it and it will be even easier next time.
Handpiece Spot Size
Intuitively the smaller the treatment head the more shots you need to fire to cover the same area. Consequently the smaller the head, the more likely it is that you will miss areas and the treatment will therefore be less effective. The converse is also true.
The delivery of light across the entire treatment area (especially over larger areas such as the back) is more uniform and less likely to create uneven results when using the larger treatment head. The added advantage of larger treatment heads is that their depth of penetration can be greater than that of smaller sizes.
High Output Power
A large spot size on an underpowered machine can result in the light energy being dissipated over the large spot size resulting in ineffective treatments. If you do want a larger spot size for the reasons discussed make sure the machine you are looking at has the power to handle the larger spot size.
In the case of portable hair removal PL-O2, its total power is 900 Watts. There are 6 laser chips in the head and the power of each is 150 Watts. As a result, it can easily handle the 15*15 mm² spot size with no doubt.
What Is Involved With Laser Hair Removal?
The area is shaved and cleaned, and an anaesthetic cream applied. The laser then produces pulsed beams of highly concentrated light which is absorbed by the pigment located in the hair follicles, damaging the surrounding follicle.
The procedure can be uncomfortable, but it is not usually painful. The length of a laser session may be a few minutes to an hour or more, depending on the size of the area being treated. Any redness and swelling of the affected areas usually disappears in a short time. And most people return to normal activity right away.
---
Related Products