Professional laser Hair Removal Machines for all skin Types
Professional laser hair removal offers a comfortable, safe, painless, convenient, and effective method for permanent hair reduction in the cosmetic & medical fields.
Using a safe, painless, comfortable blast of energy made to destroy hair follicles, we target the unwanted hair to become thinner, sparser, and slower growing.
We use a Diode type of laser to remove hair. Our painless laser hair removal is truly amazing, as no numbing cream is needed, and it's safe for all skin tones. Plus you do NOT need to stay out of the sun before and after our laser treatments.
Laser hair removal is one of the most commonly done cosmetic procedures. It beams highly concentrated light into hair follicles. Pigment in the follicles absorbs the light. That destroys the hair.
Based on the principle of selective photothermolysis, laser hair removal targets the entire hair structure, from the hair shaft down to the follicle. Light energy with a specific wavelength is absorbed by the endogenous chromosphere melanin, resulting in the rapid heating and subsequent local thermal necrosis of the follicles' regenerative structures.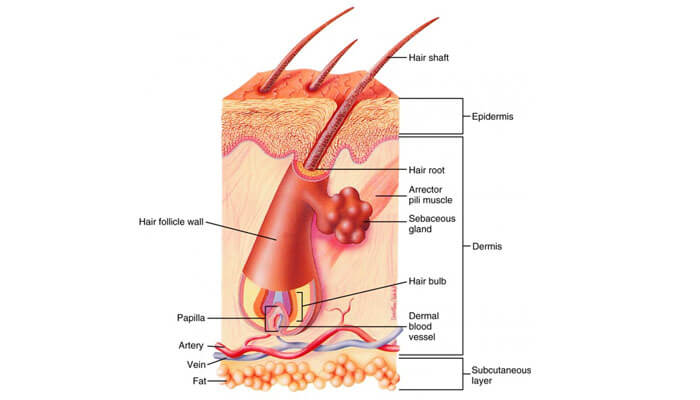 To achieve permanent hair reduction, the laser system must be able to effectively treat all skin types, while providing maximum skin protection.
Lighter skin types are mainly treated with 755nm (Alexandrite Laser) or 808 nm (diodes laser) while darker skin types are mainly treated with Long Pulse 1060/1064 nm, which is available on both diode and solid-state lasers.
The laser's wavelength, fluence, pulse duration, and spot size determine the effectiveness of the treatment and also influence the depth of penetration and treatment speed.
(prettylasers.com)PrettyLasers's newest diode lasers combine all of these wavelengths simultaneously which makes them suitable for all skin types.
---
Benefits of Laser Hair Removal
Lasers are useful for removing unwanted hair from the face, leg, arm, underarm, bikini line, and other areas.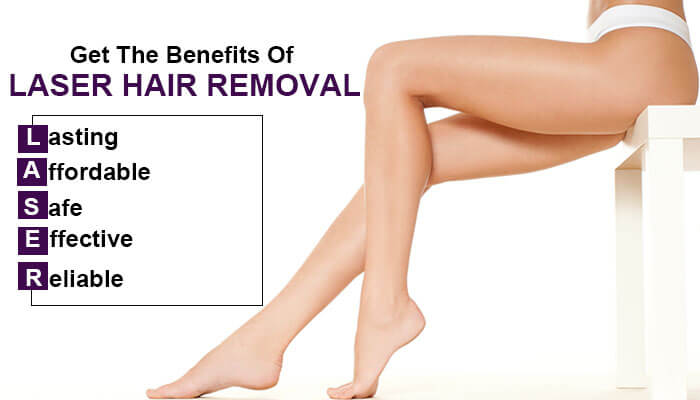 Benefits of laser hair removal include:
Precision. Lasers can selectively target dark, coarse hairs while leaving the surrounding

skin

undamaged.
Painless. Lasers System uses excellent sapphire contact cooling to guarantee pain-less for patients.
Predictability. Most patients have permanent hair loss after an average of three to seven sessions.
Fast. Each pulse of the laser takes a fraction of a second and can treat many hairs at the same time. The laser can treat an area approximately the size of a quarter every second. Small areas such as the upper lip can be treated in less than a minute, and large areas, such as the back or legs, may take up to an hour.
Laser Hair Removal – Virtually painless, Safe, Fast, Effective
Unique Heating And Energy Delivery 
The unique heating and energy delivery method effectively damage the hair follicle while preventing injury and pain to the surrounding tissue.
Strong Contact Cooling 
Simultaneous contact cooling, with professional diode lasers, prevents burns and allows for more comfortable treatment. The specialized handpieces allow you to treat large areas in less time than before.
All Hair Types
Whether you have light, dark or tanned skin, or coarse or fine hair, PrettyLasers's hair removal solutions achieve maximum results for all areas of the body with treatments that are safe, quick, and best of all virtually painless.
IPL Hair Reduction
Intense Pulsed Light (IPL), most commonly employed by medical practitioners and estheticians working under the guidance of a physician, is a method of hair removal from the body. It involves the use of a specially constructed xenon flash lamp and focusing optics.
The Intense Pulsed Light hair removal process has become very popular due to its cheaper and faster procedure compared to laser hair removal. The comparison of effectiveness between Intense Pulsed Light and Laser Epilation is debated by scientists, equipment manufacturers, and practitioners, but results are generally accepted to be roughly equivalent.
IPL is generally advertised as "permanent hair reduction" as opposed to "permanent hair removal" (these phrases are misnomers when applied to laser or IPL hair removal). It is also used for the treatment of the skin in a process known as photorejuvenation.
The focused, broad-spectrum light is applied to the surface of the skin by way of either a hand-held wand or an articulated arm. This light travels through the skin until it strikes the hair shafts or the bulb (root) of the hair. The bulb is usually where the highest concentration of melanin is located, as opposed to the rest of the hair shaft. As the light is converted to heat energy, the bulb and most of the hair shaft are instantly vaporized. The intense heat radiated by the hair also destroys the hair-producing papilla or the entire hair follicle. It is also claimed that direct light-heat conversion occurs directly in the darker-colored capillaries that bring nourishing blood to the follicle.
SHR Hair Removal
SHR is a new technology of permanent hair removal which is having a sweeping success.
Gradually Heating
The working theory is heating the dermis to a target temperature gradually, at that target temperature, it damages the hair follicles and prevents re-growth effectively, meanwhile avoiding injury to the surrounding tissue.
A High Repetition Rate
A high repetition rate of single pulses is delivered deep into the dermis, achieving high average power and therapeutically effective heat build-up, without the risk of injury and no pain virtually.
Laser Hair Removal Results Before & After Photos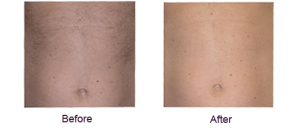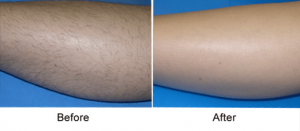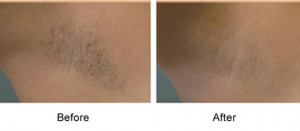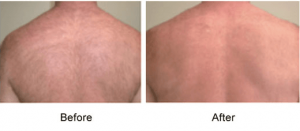 Read Our Aesthetic & Medical Blog
---
Related Products