Professional Facial Spa Equipment PL-68 Plus
Professional Facial Spa Equipment PL-68 Plus is good to treat patients to the best facial treatment for your skin by a professional spa facial machine.
Save time and money when you purchase a Professional Facial Spa Equipment PL-68 Plus from prettylasers.com. These professional all-in-one units offer a wide range of features, including the best of what's currently available to spa professionals. Facial Spa equipment is multi-functional equipment which includes high purity oxygen mask, bio photoelectric, three polar RF, bipolar RF, ultrasound work head for face, oxygen injector, ultrasound work head for an eye, skin scrubber, oxygen spray gun, hydrafacial. It can save time and money when you treat the face area. Don't buy a separate facial brush machine and steamer when a 10 function unit will do everything that you need!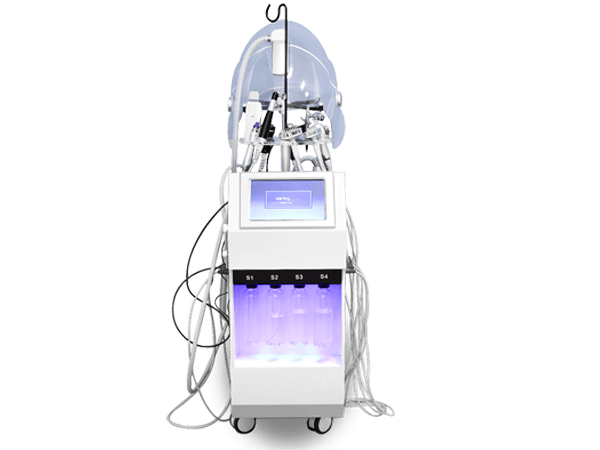 A good facial massage does not just make your face glow; it also stimulates your entire body and keeps you upbeat.
Benefits:
Suitable for all skin types, for all skin colors.

Equipped with 11 handles high purity oxygen mask, bio photoelectric, three polar RF, bipolar RF, ultrasound work head for face, oxygen injector, ultrasound work head for an eye, skin scrubber, oxygen spray gun, hydrafacial.
High cost-effective: buying 1 machine is equal to buying 9 machines.

Oxygen Mask

– Oxygen facial mask for calming and soothing the face and body. Rejuvenates and tightens after facial treatments.
2 years free warranty + whole life technology support +7/24 hours after-sale service.
We can help you add a free logo on the touchscreen.
Stimulates blood flow and stalls aging.
Easy-to-use and convenient.
High ROI, Risk Minimal.
What is SPA equipment?
Multifunctional SPA equipment completely changed the traditional way, which perfectly combines the technology of hydro-dermabrasion, BIO microcurrent, skin scrubber, oxygen spray gun, oxygen injector, ultrasound work head for face, ultrasound work for eye, oxygen mask, bipolar RF and photon therapy, can deep clean and maintain your skin in all directions.
Oxygen Mask
Oxygen facial mask for calming and soothing the face and body. Rejuvenates and tightens after facial treatments. Facials are a workout for your skin. So imagine all the nasty stuff successfully accumulated in your skin when you don't go to the skin gym, aka facial spas. Your skin's now all clogged with no room to breathe. And this is where oxygen facials will come in handy.
This non-invasive procedure does not make use of any chemicals but ensures that the skin cells are fully oxygenated to make it look bright and healthy. The standard facial begins with cleansing and exfoliation before a wand is used to deliver high-pressurized oxygen into the skin surface. A serum containing hyaluronic acid will then be applied all over the face to plump it up.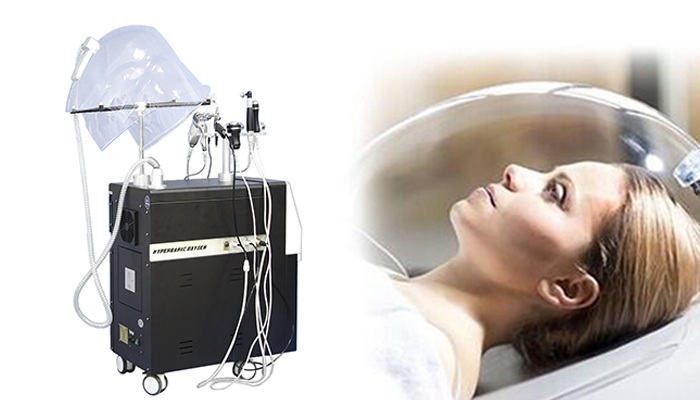 There are four treatment options, each solution featuring a targeted blend of botanical extracts, hyaluronic acid, antioxidants, peptides, and/or vitamins:
Rejuvenate – it diminishes the appearance of fine lines and wrinkles while enhancing overall hydration.
Opulence helps an uneven skin tone look brighter and more luminous.
Clarity calms acne while restoring moisture balance and defending against further breakouts.
The oxygen mask is a needle-free alternative that helps to soften and firm expression lines, define the eye contour, and plump your lips.
The infusion of your choice is first sprayed on your skin and then the oxygen is delivered via a wand.
The whole process takes about 30-60 minutes.
Hydrafacial dermabrasion

Hydra Dermabrasion
Hydrafacial dermabrasion is the latest in skincare technology. Hydradermabrasion utilizes the natural healing powers of water and oxygen to effortlessly exfoliate the skin without the use of hard crystals or abrasive textured wands, generating deeply hydrated and healthier-looking skin.
Skin Scrubber
Skin scrubber vibrates 25000 times per second, can instantly decompose the blackheads, white pimples & acne, remove cuticles, and export out of the skin. The ultrasound therapy can raise the temperature in deep skin to promote metabolism, speed up the nutrition importing. The thermal effect of the vibration will produce a series of biochemical reactions in the human body, like drug release, changes in ion state, etc, thus achieving the beauty effect.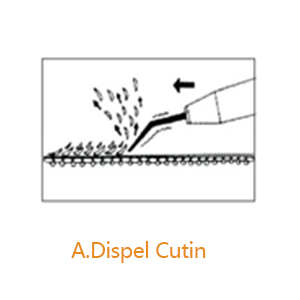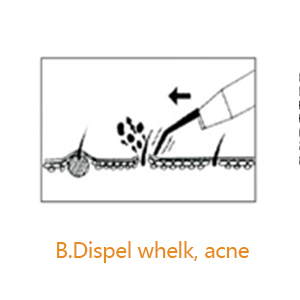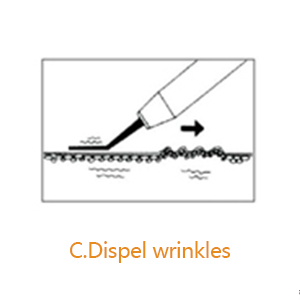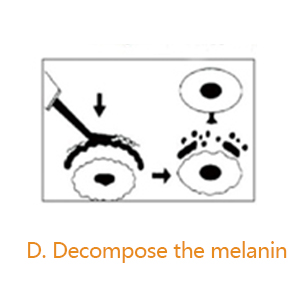 Oxygen spray gun, oxygen injector, oxygen jet peel
The Jet Peel treatment combines 100% oxygen and sterile saline to gently cleanse and hydrate the skin. The combination is delivered much like an airbrush treatment (mini pressure wash) and the effect is amazing. This gentle cleansing unclogs pores and removes dirt and makeup that can build up on the skin's surface over time. The infusion of oxygen acts like a dose of Vitamin E to refresh.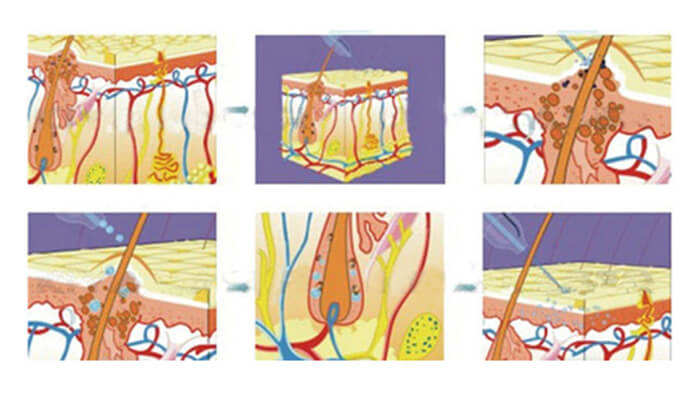 BIO Micro current
Microcurrent is a low level of electricity that mirrors the body's own natural electrical impulses. It is a non-surgical, non-invasive cosmetic technique that safely and effectively improves the health and appearance of the skin. When used in conjunction with specialized products manual manipulation, these tiny microcurrent impulses encourage your body's currents at a cellular level. The signs of aging are greatly reduced, while skin tone and elasticity are dramatically improved.
Photon Therapy (7 Colors)
Bio-Light Therapy is the interaction of light, delivered through Light Emitting Diodes (LEDs), to cause bio-stimulation on cell receptors. Bio-Light therapy encourages natural cell renewal and healing. By stimulating these actions, damage caused by the sun, the environment, natural aging, and other external factors can be safely and painlessly remedied. Various studies around the.
Technology
This SPA equipment combines 11 handles: oxygen spray gun*1+ hydra dermabrasion*1 + oxygen injector*1 + Bipolar RF*1+ Three polar RF*1+ Ultrasound for face*1+ Ultrasound for eye*1 + Bio photoelectric*2+Skin scrubber*1+Oxygen mask*1. It can meet your different requirements.
High purity oxygen mask
Oxygen masks mainly have oxygen, phototherapy, and other effects. The blue light wavelength of 470 nm, can improve acne, repair skin, the red wavelength of 630 nm, known as (biologically, active light) can improve cell activity promote collagen formation, improve skin increase elasticity, firm skin, not easy to oxidize, and other effects.
PHOTON LED
LED light therapy can promote lymphatic circulation and body metabolism, improve the body microenvironment, and help excrete toxins, fatty acids,s and glycerin out of the body.
Cold Light

: Blue light can inhibit oil secretion, anti-inflammatory, and sterilization, eliminate acne bacteria, and treat acne and scars.

Red Light

: Red light stimulates blood flow, accelerates blood circulation, enhances cell vitality, improves metabolism, promotes collagen fiber synthesis, and increases skin elasticity and luster.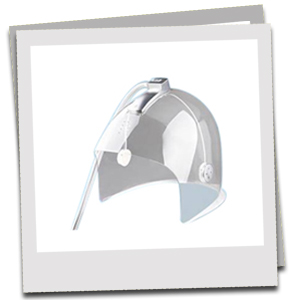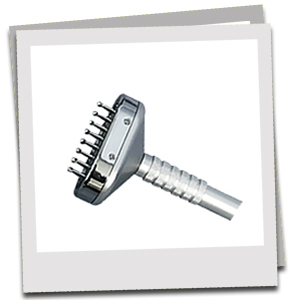 Microcurrent – Bio photoelectric
Bio Photoelectric can reach into the cell, active cell, improve the cell's metabolism and circulation, and then enhance the rehabilitation capacity of the cell tissue At the same time, do shrink and release sport to every muscle. It can renew muscle's length and spring. It can improve the aged skin fundamentally.
Three polar RF
This is the facial radiofrequency, mainly based on heat therapy to make the skin tissue absorb a lot of heat energy and then combine.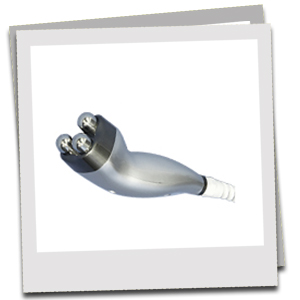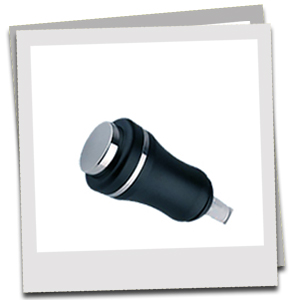 Ultrasound for face work handle
Ultrasound (face) Divided into face and eye, this is a face. Ultrasound work handle for face mainly used for product introduction, improve skin texture, large pores and thick horny. Purifies the skin, reduces excess thick keratin, cleans pores, breaks down grease, and tightens pores.
Ultrasound  for eye work handle
Ultrasound (eye)Divided into face and eye, this is the eye. Ultrasound for eye work handle mainly used for product introduction, improving skin texture, large pores, thick horny, clean and decompose grease and tighten pores, etc.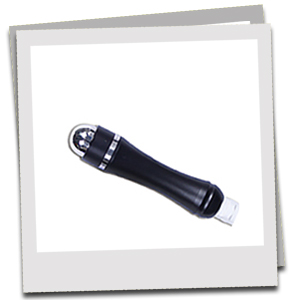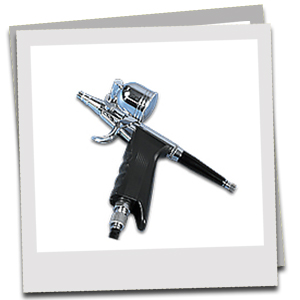 Oxygen Spray Gun
Spray Mist Gun Put the Nutrient solution into the work head, let the product spray directly on the skin, let the skin absorb better, inject oxygen and hydrate, activate cells.
Oxygen injector
Through the pressure of the Oxygen injector gun to the product into the bottom of the skin, So that the skin is better absorbed, introduce the essence, activate the cells.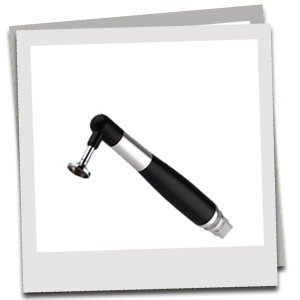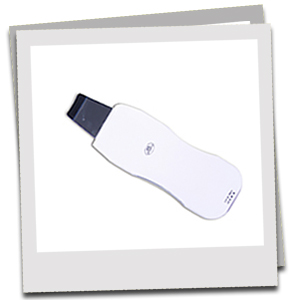 Skin Scrubber
Using about 2.2 million Hz microwave vibration, deep into the pores, import and export to improve the skin, deep cleansing to remove keratin, dilute fine lines, improve the skin's dark yellow pores, make the skin elastic.
Bipolar RF
This is the radio frequency for the eye, mainly to heat the skin tissue to absorb a lot of heat energy and then combine with new collagen, smooth wrinkles, tighten the skin, and delay skin aging.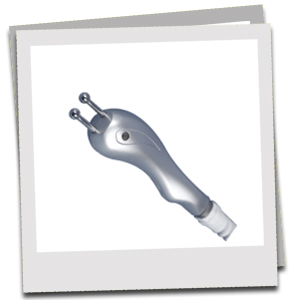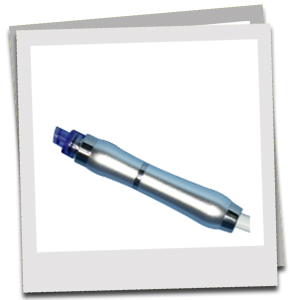 Hydrafacial dermabrasion handle
Professional Hydrafacial dermabrasion, the latest in skincare technology. Hydrafacial dermabrasion utilizes the natural healing powers of water and oxygen to effortlessly exfoliate the skin without the use of hard crystal or abrasive textured wands, generating deeply hydrated and healthier-looking skin.
User-friendly Touchscreen
Advanced Graphic User Interface – Intuitive presets for the fast learning curve and easy treatment delegation. Touch screen controls make it easy for users to set up treatments and control every function.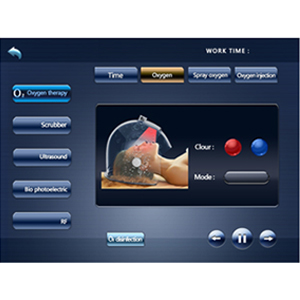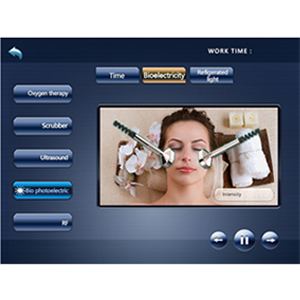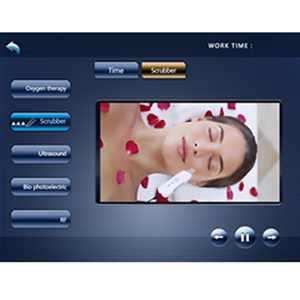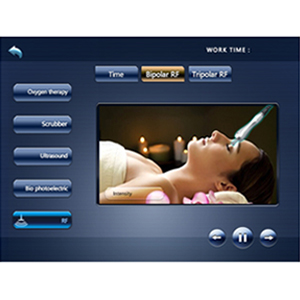 Spa Equipment Technical Parameters
Professional Spa Equipment
RF frequency
5MHz, 75Khz
Voltage
AC 110/220V
Supersonic frequency
1MHz
Power
<=450 W
Wavelength
330-990nm
Gross Weight
75 kg
Screen
8′ inchs color multimedia touch screen
Packing size
143cm *82cm*43cm
Working handles
Hydra dermabrasion with 8 tips,
Spray mist gun,
Bipolar RF for eye treatment,
Skin scrubber,
Ultrasound handles ,
Bio Photoelctric handle,
Three polar RF for face treatment,
Supersonic for eye,
Oxygen injection gun,
Oxygen mask
Warranty
1 years for main machine and 3 months for spare parts
Indications For Use
Spa equipment makes customers feel comfortable they are getting the best quality treatment.
1. To improve facial skin:
Improve the aging skin dull lack of flexibility;
Dilute pigmentation, whitening uniform color;
Rapid skin tissue regeneration, calm facial wrinkles, make the skin smooth and soft;
Can refine pores, remove blackheads, make the skin fresh and elastic;
Improve the eye of fat particles fine lines dark circles and bags under the eyes, the eyebright eyes bright reply.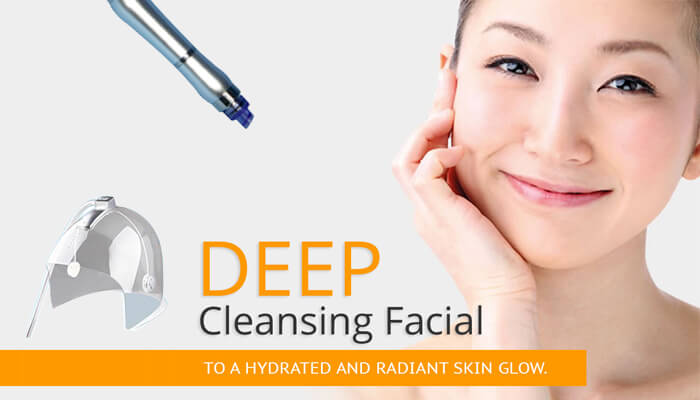 2. Eliminate acne, pock:
Hydra dermabrasion skin can completely remove dead skin cells, promote skin cell renewal, improve the pore permeability, thereby reducing the generation of acne.
3. Deep cleaning, Oily skin improvement, water replenishing to the skin, weary skin, and gloom yellow skin improving.
Treatment Images For Spa Equipment Before And After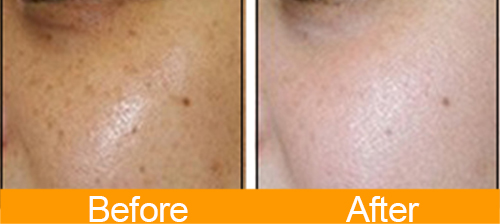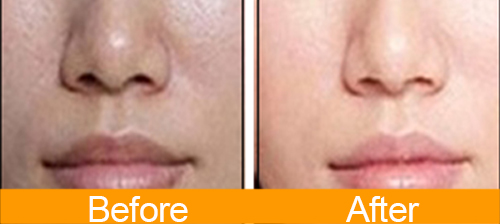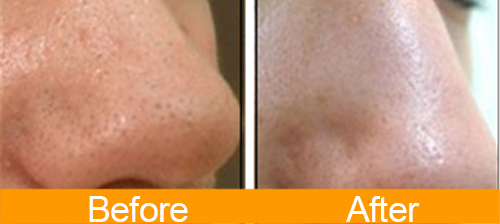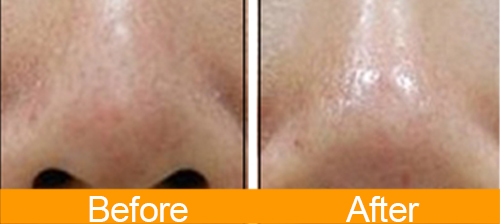 You May Also Like:
Beauty Spa Equipment For Sale Reviews:
What do you need in a spa?
The equipment typically needed for a day spa includes massage tables, professional spa equipment and diode laser hair removal machine, and reclining facial chairs.
Do Oxygen Facials really work?
Yes, the results are instant and noticeable. You really do glow when you use beauty spa equipment for sale PL-68 Plus.
What does a Hydrafacial machine do?
For the few remaining humans still unfamiliar with the Hydrafacial. It's a medical-grade hydrafacial machine that carries out a patented three-part regimen — cleansing, exfoliating, and then infusing skin with intensive concentrated solutions. This facial is a one-size-fits-all approach and is suitable and safe for all skin types.
What are the benefits of Hydrafacial machine?
The Hydrafacial machines are super achievers when it comes to skincare treatments. They deep clean your pores …
Benefits Of Hydrafacial:
Zero Downtime – Unlike other facials that may irritate your skin, you need not worry about recovery time with the Hydrafacial. You can see results in 30 minutes and resume regular activities almost immediately.
Virtually Painless – This procedure does not involve pulling or scraping the skin. It can be a pleasant and relaxing experience for some users.
Safe On Sensitive Skin – Most facials that use steam to soften your pores before extraction can cause excessive redness in sensitive skin types. As no steam is involved in Hydrafacial, it is safe and non-irritating for all skin types.
Imparts Healthy, Glowing Complexion – The Hydrafacial can treat fine lines, wrinkles, age spots, enlarged pores, uneven skin tone, and dullness. The overall result is improved skin texture and healthy and radiant skin.
This treatment at a salon will cost you a bomb. Why not invest in a hydrafacial machine for home and use it according to your convenience.
The spa equipment for sale PL-68 Plus is an easy-to-operate hydra facial machine that provides various treatments to give you healthy skin. The eleven treatment handles offer deep cleansing and exfoliation to remove dirt and blackheads effectively. It also provides intense moisturization and repairs damaged skin, making it bright, smooth, and hydrated. It boosts blood circulation and stimulates collagen production, giving you firm and youthful skin.
What Is An Oxygen Facial?
This treatment is designed to nourish your skin and promote collagen growth. It involves a machine that is used for spraying highly concentrated molecules of oxygen right into your epidermis (the outer layer of your skin). The oxygen that's applied to your face and neck is infused with vitamins, minerals, essential nutrients, and botanical extracts. This technique is for smoother and plumper skin.
It is obvious that the oxygen facial has a lot of benefits. Let's take a look at them.
Benefits Of Oxygen Facial:
Your cells need oxygen to stay healthy and nourished. The oxygen facial delivers oxygen to the deepest layers of your skin and makes it glow. Here are some of its benefits:
Detoxifies The Skin
The oxygen facial helps the skin utilize the oxygen and the nutrients and vitamins infused in it. This boosts the detoxification process of your skin, negates the effects of pollution, sun exposure, and diet fluctuation, and helps in the repair and regeneration of the skin cells.
No Painful Side Effects
This process is exceptionally gentle on your skin and doesn't cause any side effects, such as irritation, redness, swelling, stinging, and a burning sensation. It is suitable for people who have sensitive skin and those who want to avoid chemical beauty treatments.
Boosts Collagen Production
Collagen is the protein that makes the cells stick together, providing strength and elasticity to your skin. When the collagen weakens (with age), wrinkles appear. One of the biggest benefits of an oxygen facial is the collagen boost it gives to your skin, making it firm and reducing fine lines and wrinkles.
Makes Your Skin Super Radiant
This facial removes all impurities from the epidermis (top layer of the skin), boosting the oxygen content. It also removes the dead cells from the top layer, opens up clogged pores, and brings out that natural blush on your cheeks.
Fast Recovery Time
Usually, in the case of other procedures and skin treatments, you have to wait for a specific period before you can go back to your regular skincare regimen. But in the case of the oxygen facial, there isn't any particular recovery time. You can start applying creams, lotions, or makeup to your skin almost immediately.
Treats Uneven Skin Tone
The serum used for oxygen facial is rich in hyaluronic acid, peptides, vitamins, and botanical extracts that treat uneven skin tone and make your face look bright.
Speeds Up Cell Turnover
Our skin cells have a limited lifetime. They die, and new cells replace them. Oxygen is crucial for cell regeneration. It increases the rate at which new cells grow, which, in turn, helps in scar (from acne) healing. The oxygen facial gives an extra dose of oxygen to your skin cells, thus aiding faster cell turnover.
Moisturizes Your Skin
Constant exposure to the sun, dust and pollution rob your skin of its natural moisture content. This makes it extremely dry and lifeless. And if you have dry skin, these issues can make your skin worse. The oxygen facial deeply moisturizes your skin, restoring its pH balance and shielding it from sun damage.
Heals Acne
Acne is formed when the skin cells are clogged, trapping dirt and oils in them, causing the pores to get enlarged. The oxygen facial helps in shrinking the pores and doesn't let your skin accumulate dust and dirt. As a result, it remains glowing for longer, and you won't get annoying pimples, zits, and acne.
Results Are Instant
You will notice immediate results after the oxygen facial. The benefits of oxygen facial include healing issues such as acne, wrinkles, and blemishes and it makes your skin younger-looking and glowing.
How often do I need to get a hydrafacial?
Depending on your skin type, you can opt for a hydrafacial treatment once every 2-4 weeks.
How many hydrafacial treatments do I need to see results?
A treatment per month is recommended, and while you will see immediate results with every treatment, 6 sessions will give you the desired results.
How long do the results of a hydrafacial treatment last?
Each treatment leaves provides you with smoother and more hydrated skin that lasts for 5 to 7 days.
Where to buy spa equipment?
Professional spa facial equipment for sale, Find Quality spa machine and Buy hydra facial machine from Reliable Global hydra facial machine Supplier from PrettyLasers, fill out the form below and we will get back to you ASAP. Or simply call Phone: +0086 15001300057. to get the best hydrafacial machine price.