Professional Medical Grade LED Light Therapy Machine
Medical Grade LED Light Therapy Machine PL-MD1 is a skincare treatment that uses varying wavelengths of light, including red led light, blue led light, yellow led light, green led light, purple led lamp and cyan led lamp. LED light therapy for skin is now used by some aestheticians to help regenerate the skin from aging. It's also used for acne.
Red led light is primarily used for anti-aging, while blue is used for acne treatment. Green light has the effects of neutralization, balancing and calming, it can ease strain, dredge lymph and useful in edema elimination.
Green and blue light for those who want skin firming. Penetrate the skin deep, speeds up the living tissue of metabolism, decompose splash, improve the appearance of fine lines and sagging skin.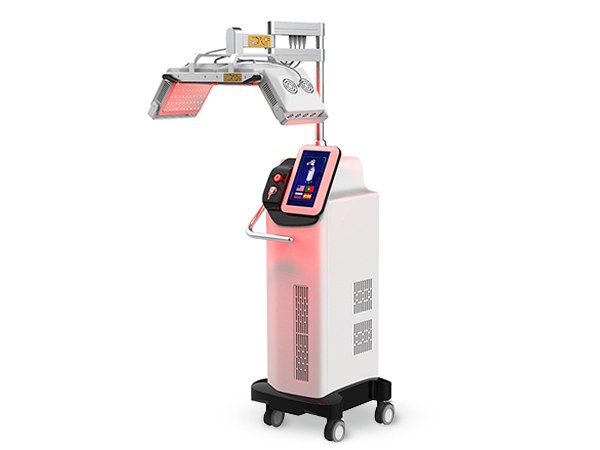 Red and green light supply energy for skin cells, promote gland effect, assist digestion, cure skin diseases and enhance immunity ability.
Red and blue light is the dual-band light: it combines both the effectiveness of light therapy, especially useful in treating and repairing acne and acne-scars.
Benefits:
Extra-long, adjustable treatment arm to deliver maximum coverage of the face, neck and décolleté.
Versatile LED panel that can be adjusted completely straight for unique, non-facial services such as back and stomach treatments.
Treatment can be performed with a single strategic wavelength or layered with multiple wavelengths for customised LED services.
Optimal Wavelength – 620nm~625nm, 520nm~525nm, 460nm~465nm.
Working mode – Continuous mode and pulse mode treatments for customized, touch-and-go services.
Easy to use system thanks to a 10.2″ color touch screen interface.
Wheeled system for easy mobility from room to room.
Unlike other types of light therapy, LEDs do not contain ultraviolet rays. Therefore, they're safe for regular use.
LED light therapy doesn't cause burns compared to other anti-aging treatments such as chemical peels, dermabrasion, and laser therapy. It may be safe for all skin colors and types.
Treatments
PL-MD1 is the latest evolution in complete LED PDT (Photodynamic Therapy) light technology to enjoy the clinical-grade devices at the PrettyLasers technology.
Researched and developed by our expert team, PL-MD1 delivers unprecedented service power and treatment scope – allowing clinicians to push their LED service potential higher than ever before.
With 6 LED wavelengths, clinicians can target and address a greater number of skin concerns and meet a wider range of client objectives.
Treating acne,acne marks and folliculitis.
Improving red streaks, acne rosacea, stolid.
Improving pore bulky, rough skin and skin color gray.
Repairing the damaged and replanted skin.
Recovery of facial neuropathy.
Elimination of fatigue,relieve stress,improve sleeping quality.
Revitalizing the skin.
Tightening the skin.
Repairing the sequelae of burns, blisters, pigmentation.
Cleaning the red blood streak.
Dispelling the wrinkles.
Reduce inflammation.
Promote anti-aging effects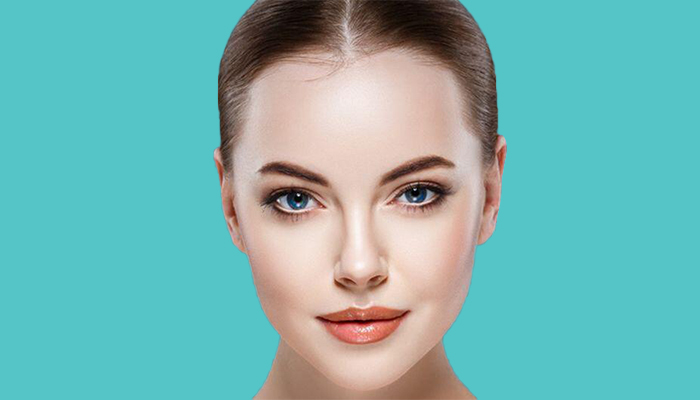 Technology
LED PDT Light Therapy Working Principle
PDT emits light of a specific wavelength, penetrates the surface of the skin, reaches the subcutaneous fat layer, converts the light energy into intracellular energy, accelerates the cell growth process, increases blood circulation, and stimulates fibroblasts to produce collagen. Easy to achieve acne removal, wrinkles removal, increase skin elasticity and restore skin vitality.


It has been proven to be effective for the treatment of various aspects of aging of the skin. Multiple studies have shown the improvement of fine wrinkles, hyper-pigmentation and roughness. These results are responded to by the increase in collagen production.
Red LED Light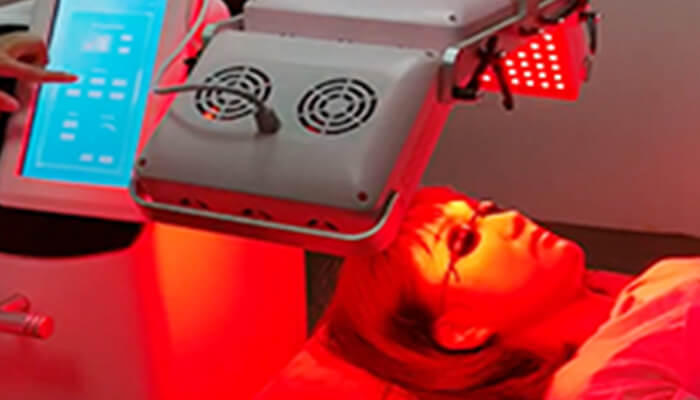 (620 nm-625 nm)Red light therapy is used for treating the epidermis, which is the outer layer of skin. When the light is applied to your skin, the epidermis absorbs it and then stimulates collagen proteins.
In theory, more collagen means that your skin will look smoother and fuller, which can reduce the appearance of fine lines and wrinkles. Red LED light is also thought to reduce inflammation while improving circulation, which can give you a healthier glow.
Green LED Light
(520 nm-525 nm) Green light is absorbed into the skin where it has a calming effect. It helps to lighten hyper-pigmentation spots revealing a brighter complexion. The calming effect also has anti-inflammatory properties that soothe the surface of the skin. Green LED Therapy is used to treat dilated capillaries, sagging skin around the eyes, under-eye circles, hyperpigmentation and sun spots.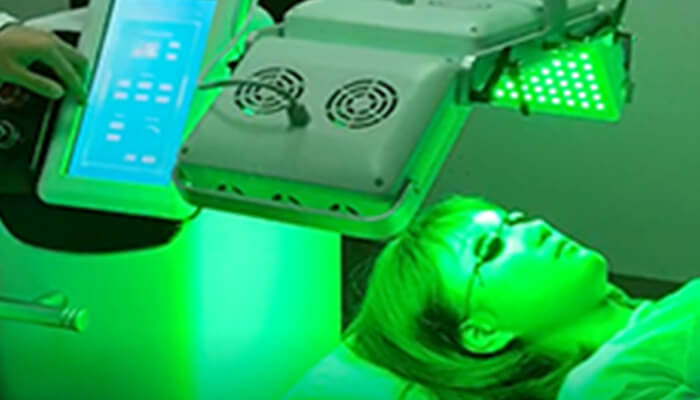 Blue LED Light
(460nm-465nm) Blue LED light therapy, on the other hand, targets the sebaceous glands, which are also called oil glands. They're located beneath your hair follicles.
Sebaceous glands are necessary for lubricating your skin and hair so that it doesn't dry out. However, these glands can become overactive, leading to oily skin and acne.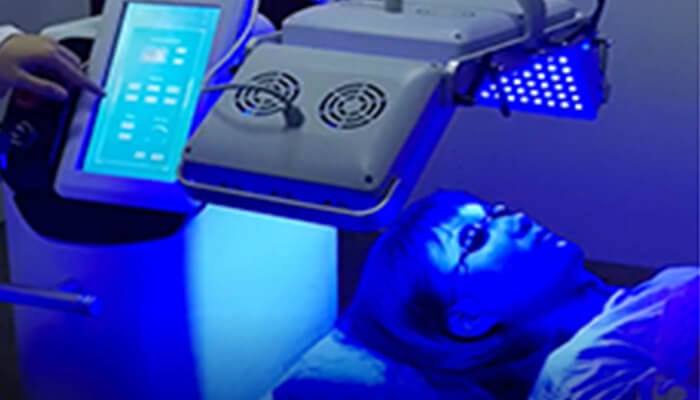 The theory is that blue LED light therapy can target these oil glands and make them less active. In turn, you may see fewer acne breakouts. Blue light can also kill acne-causing bacteria beneath the skin, which can help treat severe acne pimples, including cysts and nodules.
Oftentimes, blue LED light is used in conjunction with red LED light to:
Help treat acne
Decrease scarring
Promote anti-inflammatory effects
Treatment Panel
The different color wavelengths of PrettyLasers best professional led light therapy machine have different benefits. The PrettyLasers LED light photon therapy machine can also be done some sessions that combine a few minutes of every color to give you a spectrum of skin help!
Adjustable treatment arm,automatic lifting to deliver maximum coverage of the face, neck and décolleté.
Technical Parameters
Medical Grade LED Light Therapy Machine
Wavelength
620nm-625nm; 520nm-525nm; 460nm-465nm
Light Color
Red; Green; Blue
Treatment Panel
4pcs
Lamps
240pcs
LED Light Photon Therapy Machine Power
1000W
Treatment Area
170 mm*170 mm*4
Working Mode
Continuous Mode and Pulse Mode
Touch Screen
10.2 Inch Touch Screen
Cooling Requirements
Air Cooled
Voltage
AC 110V/220V, 50/60Hz
Package Size
115cm*65cm*52cm
Photon LED Light Therapy Before and After Photos
If you're curious about the treatment results achieved via LED light therapy, check out the following led light therapy before and after pictures.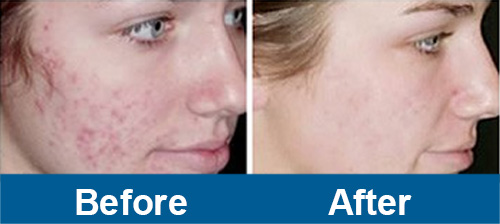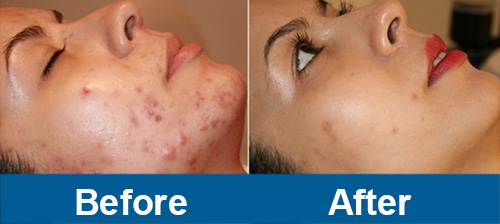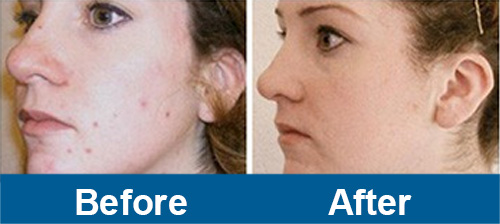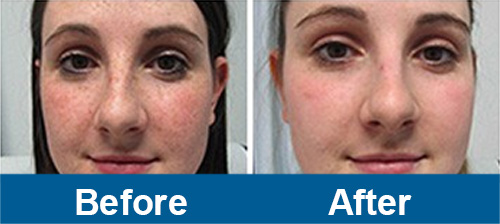 Medical Photon Light Therapy Reviews:
Why Choose Anti Aging Phototherapy PDT LED Light Facial Machine?
When you look at all of the aesthetic technologies available on the market, PrettyLasers best professional LED light therapy machine is arguably the most versatile, user-friendly and client-friendly of them all.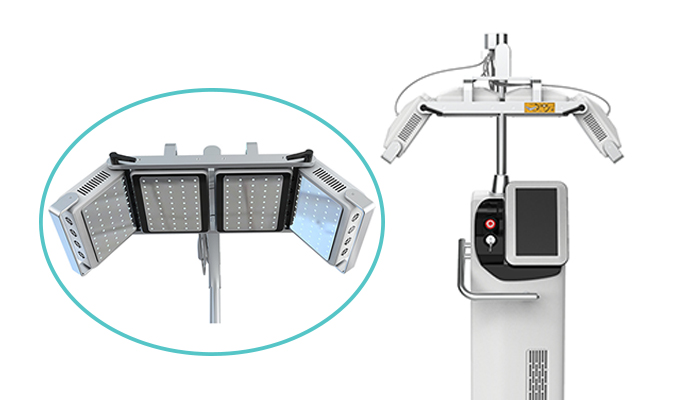 LED is so versatile that it can be integrated into virtually any facial service as an upgrade to intensify the final results and can even be offered as an add-on service to soothe, calm and fast track skin healing following example laser, IPL and injectable treatments. These factors alone show how LED plays a pivotal part in the upselling strategies of the most successful skin clinics and medispas around the globe.
A Comprehensive, Professional Training Program is Included with Your Order!
Highly developed training programs are provided FREE for you and one other staff member with your purchase. We provide on request detailed user manual and training operation video by expert technicians for our clients to understand the working of the provided equipment to you in an effective manner and make you self-reliable.
IS LED Light Therapy For Skin Safe?
Not only is LED effective, but it also has the added benefit of being painless and relaxing, with no recovery time required. LED can also be done on all skin types, regardless of ethnicity. Contraindications for light therapy include pregnancy and epilepsy, photo-allergy, and medications that cause light sensitivity (such as Tetracycline). Also, if you are currently taking steroids or cortisone injections, you should not receive light therapy.
Cool and Comfortable
It remains cool and comfortable for the client because it uses spectral light instead of heat to activate the skin's own biochemical healing processes. Although the light will seem very bright for the first couple of minutes, you will barely notice it when you start to relax. LED has also been proven to help users get into a meditative state, so the 20-minute sessions are a perfect way to still your mind and can be more relaxing than a long nap! Your eyes will be covered with a medical-grade eye shield and goggles. There is no heat emitted from the light and you won't feel a thing.
What Is LED Light Therapy for Skin?
LED light therapy is a skin treatment that doesn't use ultraviolet light. Instead, it uses skin-safe, low-level light in different wavelengths and colors. These include:
Sometimes different LED lights are combined with a photosensitive drug called 5-aminolevulinic acid. This medicine is applied to the skin and used in combination with the LED light. While this might make your skin more sensitive to light, it helps the treatment — also called photodynamic therapy — work better.
LED Light Therapy For Skin Benefits:
LED benefits tired, aging skin:
It helps with the softening of lines, folds, and wrinkles, healthier circulation, increased moisture and radiance, accelerated skin repair, improved elasticity, and skin texture, as well as stimulating the collagen process. Infrared LED light can also assist in the repair of acne and blemishes because it stimulates the skin's natural healing process, and helps to kill bacteria caused by acne.
Cellular Benefits Include:
Increased energy, increased circulation, increased nutrient transfer, decreased inflammation, and acceleration of evacuation of waste and free radicals
Visible Benefits Include:
Increase in collagen production, tightening of elastin layer, decrease in the appearance of pores, reduction of scars and blemishes, and pigmentation.
How Often Should I Use Red Light Therapy?
Red light therapy is becoming a go-to for people seeking relief from chronic skin conditions, muscle and joint pain, and for those who want to reduce the visible signs of aging. If you're wondering how often you should use red light therapy for the best results, the short answer is that there is no one-size-fits-all solution. But most people get good results with a 15-minute daily session 3-5 times per week for several months.
How Much Does Medical Grade LED Light Therapy Machine?
If you want to purchase this medical-grade light therapy device, you will need to ask about the full costs up front so you can budget wisely. We guarantee to beat any genuine competitor's quote on our full range of machines. If you want to know more information of cost of LED PDT light therapy machine, Please fill out the form below and we will get back to you ASAP. Or simply call Phone: +0086 15001300057  And Let us help tailor a custom made solution to suit your individual business and budget.