Professional Radio Frequency Machine
Radiofrequency skin tightening machine PL-RF01 uses the latest monopolar RF technology, no side effects, and reverse the effects of aging for a rejuvenated, younger-looking appearance. Thermal energy (heat) warms the deep layers of the skin to stimulate collagen production and promote tissue contraction for improved skin quality and appearance.
Radiofrequency skin tightening machine with a rated frequency 2MHz, the RF waves deeply penetrate skin tissue, heating it up and stimulating collagen and elastin production, resulting in smoother, tighter, and youthful skin.
PrettyLasers's radiofrequency for the face probe is adjustable at 160W and the body probe is adjustable at 160W. The RF triggers your skin's own healing process and stimulates the skin to produce elastin fibers and collagen that you have lost over the years, so you can enjoy long last results.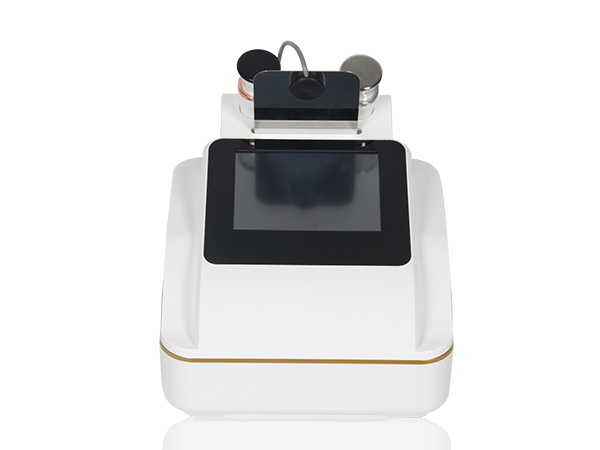 VISIBLE RESULTS IN AN AVERAGE OF 40 – 60 DAYS! Results from 60,000 customers aged between 25 and 70 from cooperative beauty salons show that 73.3% saw visible facial skin improvements in only 4 weeks, and 12.6% saw visible results within 60 days.
Benefits:
Facial and Body Skin Tightening.
The latest monopolar RF technology.
Rated frequency 2MHz.
High power – High power means that the internal components must be of good quality.
RET and CET Technology – RET and CET really have deep and shallow differences. The deeper penetration of RET can reach 10CM without energy loss.

Patent appearance

– Unique appearance design.
Pain relief – 87% Result.
Rehabilitation – 83% Result.
Sports injury treatment – 89% Result.
Muscle relaxation – 85% Result.
Edema reduction – 80% Result.
Postpartum recovery – 80% Result.
Anti-Aging.
Lose weight.
Technology
Capacitive Electric Transfer (CET)
Capacitive Electric Transfer (CET) is a method that allows the RF electrical current to be transferred "by capacity" (principle of the electrical capacitor) to the patient's body via a moveable external application electrode. This is covered with an insulating film that acts as a dielectric and the body acts as a second plate of the capacitor. A return plate closes the circuit. The electric circulation through the resistive medium formed by the live tissues increases its temperature.
CET concentrates the energy in the muscles and other tissues' fluid. The action is localized surface or half deep. Selective heating of tissues stimulates the fibroblasts and promotes the production of collagen and elastin to achieve a firming effect, transferring heat to a deep subcutaneous fat layer, the technique of gentle massage followed by deep body massage activates circulatory exchanges and accelerates the elimination of fat.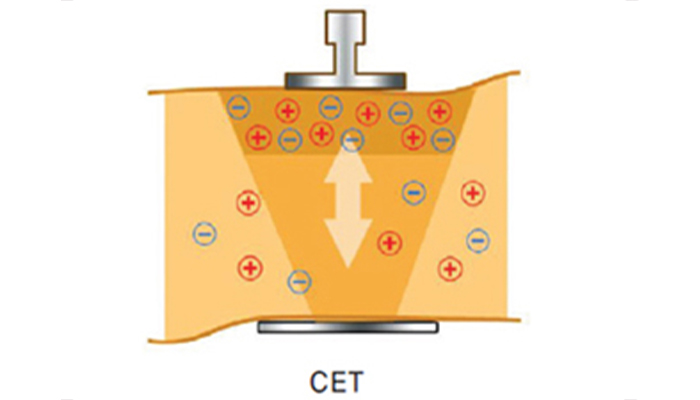 Resistive Electrical Transfer (RET)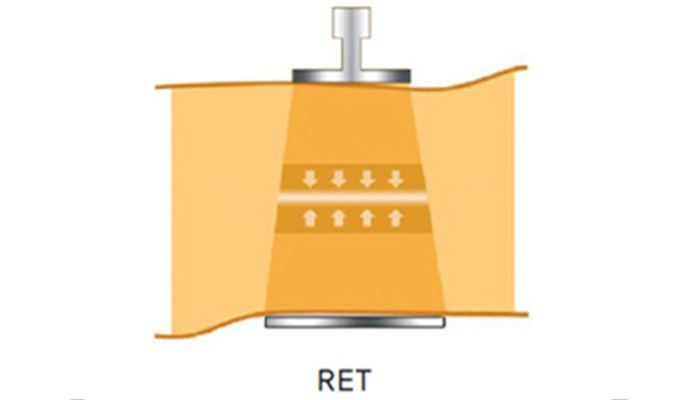 The Resistive Electrical Transfer (RET), introduced in 1994, is different from the CET in that basically the application electrode is not insulated, allowing the current to be transferred directly to the patient with less dispersion, thus obtaining an increase in temperature at a greater depth.
RET focuses energy on all hard tissues such as joints, tendons, and bones. The action is poly-articular and deep. It stimulates intra and extracellular ion exchange restoring physiological cell electrical activity and accelerating the natural repair mechanisms of the tissue in a safe and secure way, and the patient recovers as soon as possible. For both acute and chronic pathology fundamental goal of treatment focuses on reducing pain and inflammation and accelerating the healing process of tissue.
It transfers high-frequency electromagnetic energy through the tissues of the body creating selective tissue hyperthermy, it can decompose body fatty cells, so as to lose weight.
Applicators – 2 core technologies in a powerful combination
RET (Resistive Electrical Transfer) Working Heads
Stainless steel electrode (not insulated)
Current to be transferred directly to the patient
Go into 9~12cm depth of the skin
Effective for the subcutaneous fat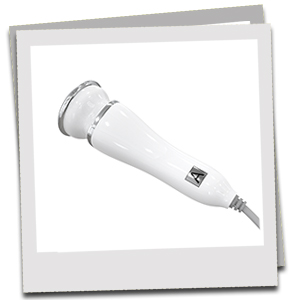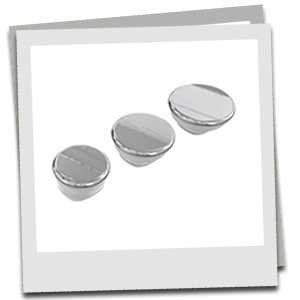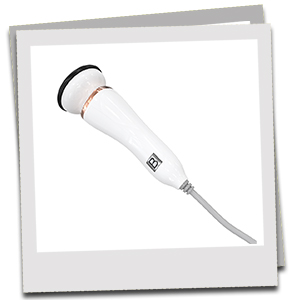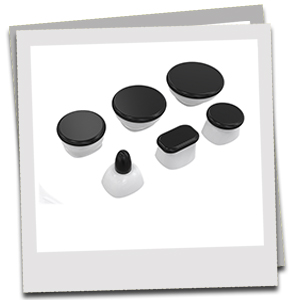 CET (Capacitive Electric Transfer) Working Heads
Insulated electrode

Current to be transferred by Capacity to patient
Go into 3~5cm depth of the skin
Effective for skin lifting, pain relief
Tecar Therapy Technology
Endogenous Thermotherapy based on the principle of capacitive and resistive energy transfer (Capacitive-Resistive Diathermy) has an effect on the biological tissues, activating the body's natural repairing and anti-inflammatory processes from within.
Tecar Therapy is a physical therapy that is part of endogenous thermotherapy, able to significantly reduce recovery and rehabilitation time by stimulating the activation of all the body's natural repair processes. All these are thanks to the application of radiofrequency current that causes a thermal reaction in the tissues that stimulates the body's natural healing response with immediate anti-inflammatory and analgesic effects on muscles, tendons, cartilage, or bone ligaments. The two systems, capacitive and resistive, allow the operator to easily adjust the therapy according to the type of pathology. Capacitive transfer for tissues with high water content (muscles), resistive transfer for tissues with the highest resistance, and low water content (bones, tendons, adipose tissues).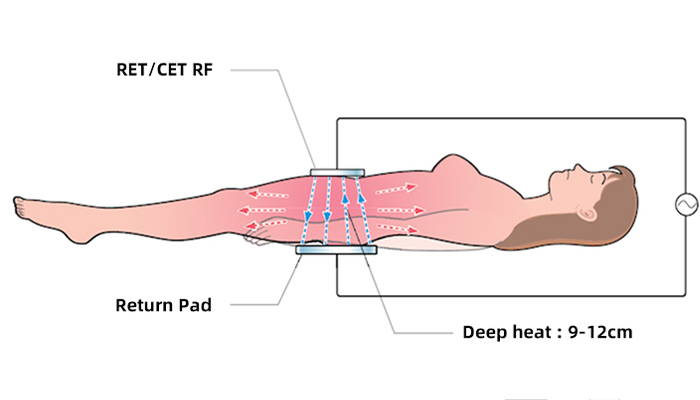 Technical Parameters
Portable Radio Frequency Skin Tightening Machine
Model
PL-RF01
Voltage
220V/50HZ; 110V/60HZ
Power
MAX 160W
RF Frequency
2MHZ
Work Heads
Match 9 heads, 6 Ceramic heads, 3 metallic heads
Technology
RET and CET RF
Touch Screen
8-inch touch screen
Environment Requirement
10℃ to 40℃ Non-condensing
Humidities Below
75%RH
Package
Carton Package
Package size
41*38*32 cm
Applications
Radio Frequency Facial Treatment: Anti-aging, Cutaneous Sagging, Bags under the eyes, Double chin & neck.
Body: Flabby arms, Saddlebags & buttocks, Abdomen care, Cellulite reduction.
Physiotherapy care: Joint pain, Muscle pain, Neck pain, Backache, Rheumatism, Oseto Arthrosis, Rehabilitation.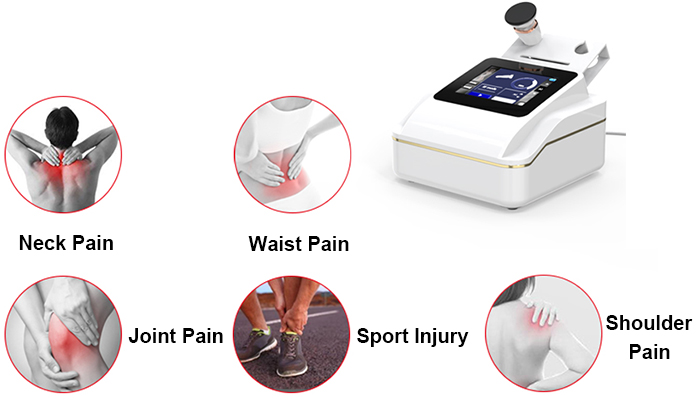 PAIN RELIEF
The principal effect of Targeted Radiofrequency Therapy–pain relief–results from muscle relaxation, edema reduction, tissue regeneration, and healing.
MUSCLE RELAXATION
The precise and aimed effect of Targeted Radiofrequency Therapy on the hypertonic muscle fibers causes their immediate relaxation. The effect of myorelaxation is primarily based on vasodilation, which occurs immediately during the therapy and is responsible for a higher supply of nutrients into the tissue.
TISSUE REGENERATION AND HEALING
The improvement of tissue metabolism is a natural and valuable secondary outcome of the therapy. It leads to faster healing of the traumatized soft tissue and faster reabsorption of post-injury hematomas.
EDEMA REDUCTION
The walls of the arterioles are enlarged and the precapillary sphincters are relaxed, allowing increased local blood perfusion. This leads to an increase in the lymphatic processes (drainage) and subsequently to the reduction of the edema.
Professional Radio Frequency Skin Tightening Machine Treatment Before & After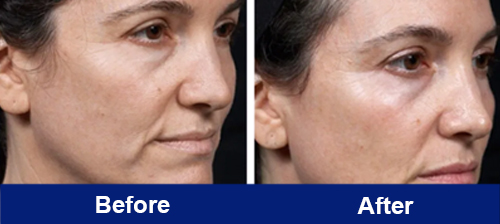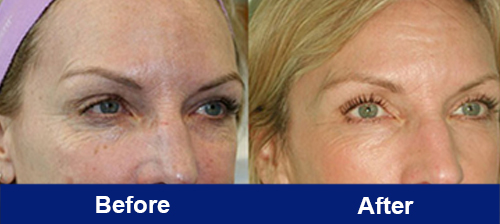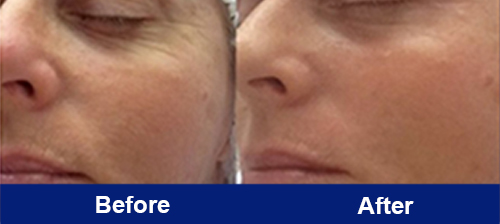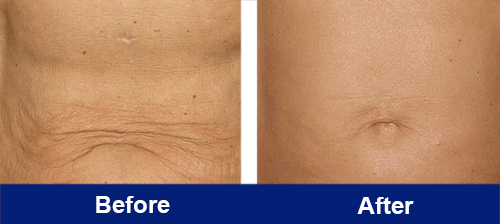 Professional Radio Frequency Skin Tightening Machine FAQ
What is Tecar Energy Technology?
Tecar energy is a high-frequency current oscillating between 300 kHz and 2 MHz. It accelerates "the natural regeneration" of organic tissue. Its low intensity means the energy is completely non-invasive and 100% natural for the human body.
Studies conducted over the last thirty years have shown that its therapeutic effects naturally stimulate tissue regeneration and reduce pain.
Tecar energy (a high-frequency current) is very popular with athletes and many other patients at Physioneeds due to its therapeutic benefits.
Tecar is an energy technology delivered by physiotherapists that promotes faster functional recovery.
Are radiofrequency treatments painful?
Radio frequency treatments are not painful. During the treatment, the patient feels a pleasant warm sensation, which makes the therapy extremely comfortable.
What areas of the body can radiofrequency treatments be used on?
Sagging skin under the chin
Nasolabial folds
Wrinkles around the mouth
Lines or folds between the eyebrows
Lines on the forehead
Crow's Feet
Lines or sagging skin under the eye
Loose or crepey skin on the body (including the abdomen, chest, and under the arms)
Is Tecar Therapy dangerous?
Tecar Therapy is absolutely not dangerous. Tecar Therapy supplies energy to biological tissues generating a pleasant warmth. Therapy is comfortable and relaxing.
What are the key benefits of Tecar?
Accelerates pain reduction in comparison to other electrotherapies such as ultrasound
Accelerates the natural healing mechanisms of the body, thereby reducing recovery time
How many Tecar Therapy treatments are necessary?
The number of treatments required depends primarily upon the pathological condition of the patient and how the patient reacts to the therapy. For some acute pathologies, 3 to 5 treatments may be sufficient, while for chronic pathologies a greater number of treatments may be required. Obviously, in order to optimize therapeutic results, correct diagnosis is of fundamental importance.
How long does treatment take?
The Tecar Therapy treatments can vary in duration from a few minutes to some tens of minutes, depending upon the pathology, the required effect and the size of the area to be treated.
What are the advantages for patients?
Faster functional recovery. (The beneficial effects are apparent after just a few sessions and improvements can be observed even 24 hours after treatment.)
Treatments are safe and have high therapeutic efficacy.
Treatment is painless and relaxing.
Promotes a sense of well-being, predisposing the subject towards post-treatment physical activity
Faster rehabilitation.
Treat all skin types.
No side-effect.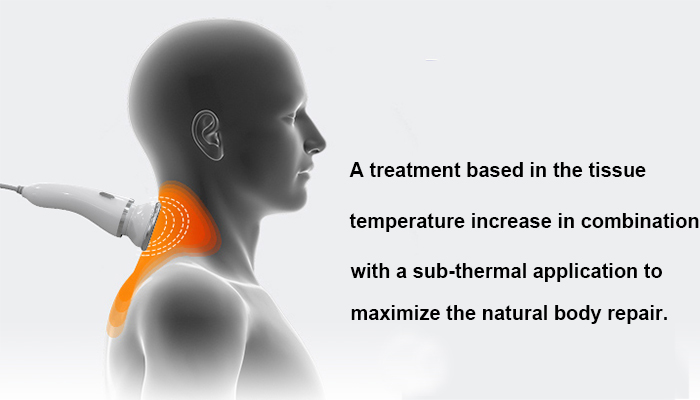 Do you have any warranty?
Yes, we have. One year warranty on the host machine is given. Six months free replacement warranty for handles, treatment heads, and parts.
What certification do you have?
All of our machines have CE certification which ensures quality and safety. Our machines are under strict quality management to ensure good quality. Because we fully understand that it will be a great trouble if the machine has any problem during working at oversea.
Will you teach me how to use the rf skin-tightening machine?
Yes, we can provide a complete user manual and usage video for instruction and application. And 24/7 online consultant service ensures you whatever problem and whenever you meet, you can solve it easily. It is easy to operate by anyone with instructions.
Why should you choose us?
Powerful factory, giving the competitive price and best technology support
More than 15 years of experience in producing beauty machines, strong R & D
7×24 online after-sale service
CE Certification is the key for you to legally use and sell the machine
Diversity of customized service, strong OEM & ODM capability available.
How much does the radio frequency skin tightening machine PL-RF01 cost?
Well-known brands of radio frequency machines in the United States are Lumenis, KDW Laser, and Syneron. Outside of the US, the top-selling is Cynosure and Ellman. But it may cost as much as 68 000 USD. This price is very expensive for individuals or start-up beauty salons. PrettyLasers offers the best professional radiofrequency skin tightening machine. PrettyLasers provides the best price for radio frequency machines. For more detailed information, please fill out the form below and we will get back to you ASAP. Or simply call Phone: +0086 15001300057. You will get the latest RF machine price for your reference. Or WhatsApp