High Intensity Focused Ultrasound (HIFU)
Hifu is truly a remarkable breakthrough in technology, offering a truly non-invasive alternative to surgical lifting, a MUST have treatment option with the specific intent for improvement of lines and crape skin on the Neck (Includes Jawline), Decolletage (Upper Chest), Upper Arms (Bingo Wings), Upper and Lower Abdomen, Inner Thighs and Knees. Penetrating to depths only previously possible with surgery.
HIFU Skin Tightening Principle
High Intensity Focused Ultrasound (HIFU) directly delivers heat energy to skin and subcutaneous tissue that can stimulate and renew the skin's collagen and thus consequently improving the texture and reducing sagging of the skin. It literally acheives the resutls of a facelift or a body lifts without any invasive surgery or injections, moreover, an added bonus of this procedure is that there is no downtime. This technique can be applied to the face as well as the whole body, and also, it works equally well for people of all skin colors, in contrast to that of lasers and the intense pulse lights.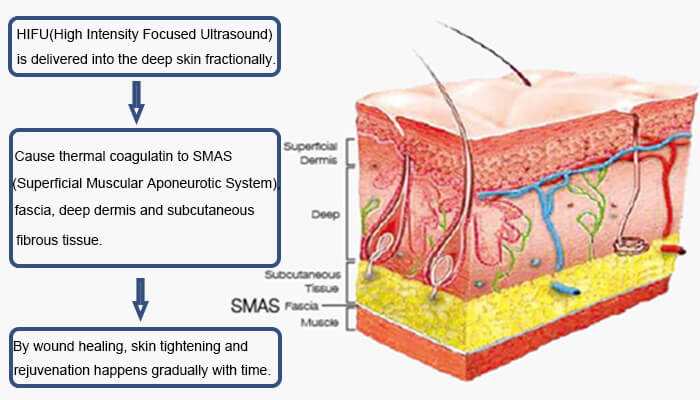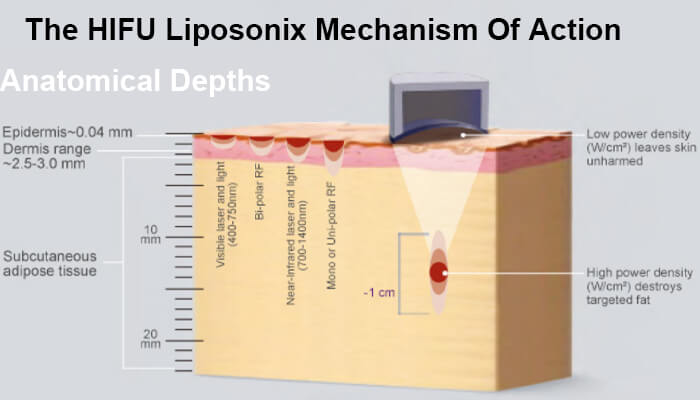 HIFU Fat Removal Principle
Apply high intensity focused ultrasound, generate focused energy and go deeper into the cellulite to break the cellulite. It is an invasive, impressive and long-last effective treatment to reduce fat, especially for abdomen and thigh. High intensity focused ultrasound target at fat of 13mm(depth of penetration), heating up the fat tissue, combine with high energy and good penetration to resolve the fat, during the treatment, the triglyceride and fatty acid excrete by the process of metabolism, and the vessal and nurve will not be damaged.
What are the benefits of High Intensity Focused Ultrasound (HIFU)?
As a completely non-surgical, non-invasive procedure, High Intensity Focused Ultrasound offers patients many benefits over other procedures –
Clinically Proven
Safe and Effective
Cost Effective Alternative to a Surgical Face Lift
No Need for Anaesthesia or Sedation
Non Incisions or Risk of Infection
No Downtime
Comfortable and Painless Treatments
Results can be seen after just one treatment
Results can last for 2 years plus
With the advantage of 2 depth cartridges (13mm and 8mm), Hifu has the capability of penetrating to depths only previously possible with surgery.
Who Is Suitable for Hifu?
Anyone with drooping skin, or considering a lift but isn't ready for surgery is a good candidate.
All Skin types and tones can be treated.
How Many Treatments Are Required?
The number of sessions depends on the clients age and skin condition. One treatment is usually sufficient on light to moderate skin laxity.
How long is the treatment?
Each session is dependent on the treatment area, but we advise around from 30 minutes to an hour per area. Your treatment will be tailored to your individual requirements which will be discussed in your pre-treatment consultation. Additional time will be required if you require more areas.
Results we can achieve with High Intensity Focused Ultrasound:
Look Years Younger with One Treatment
Increase Blood Circulation
Increases Elastin & Production of Collagen
Re-educates the Muscles
Stimulates Skin Cells
Rejuvenates Skin
Improves, Firms & Tightens Muscles
Improves & Tightens Sagging Skin
Double Chin Reduction
Fat Deposit Reduction
Fine Lines & Wrinkle Reduction
Scar & Stretch mark Reduction
Do I have to do anything before my treatment?
A consultation is always needed as this will give us a chance to assess your requirements and will help us to understand what results you are looking for so we can find the perfect solution for you.
What areas can be treated?
Neck (Includes Jawline) Decolletage (Upper Chest) Upper Arms (Bingo Wings) Upper and Lower Abdomen, Inner Thighs and Knees. This treatment also works very well on reducing stretchmarks.
---
Related Products