Ablative CO2 Laser Resurfacing
How Does A Ablative CO2 Laser Work?
Ablative CO2 lasers produce light at a 10,600nm wavelength, which is absorbed by water in the tissue. The laser energy heats up the water until it reaches a boiling point causing the evaporation of the affected tissue. Some heat is absorbed by tissue adjacent to the ablated target area, causing tissue coagulation which induces hemostasis (the cessation of bleeding) as well as thermal stimulation of deep skin layers, which induces fibroblast stimulation and neocollagenesis (the formation of new collagen). The laser beam can also be transmitted through a scanner which is a device used to further control the delivery of energy. The scanner regulates the configuration of energy delivered onto the skin, which can range from covering the entire treatment area or just a fraction of it (leaving the areas in between untreated); (also referred to as fractional ablation). The overall effect of ablation and coagulation, either full or fractional, is the removal of skin and the stimulation of the body to replace it with newer, younger skin.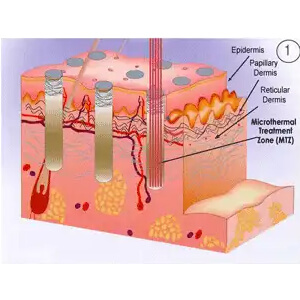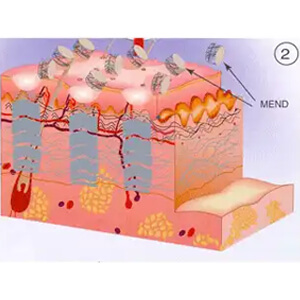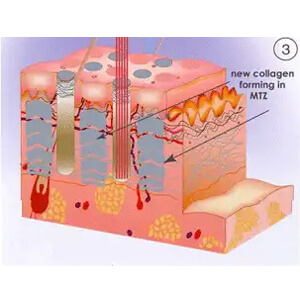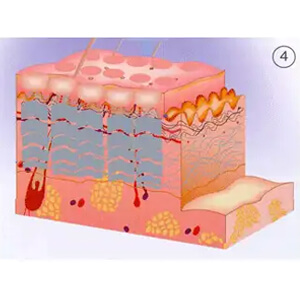 What Are Ablative CO2 Laser?
Ablative CO2 lasers generate beams of coherent light that are absorbed by the body's tissue as energy. The energy is delivered through a narrow range of wavelengths, and in the target area, the energy causes temperature elevation which results in tissue evaporation or ablation. Ablative lasers effectively treat a broad range of skin conditions by removing all or part of the skin. The body's natural healing processes then replace the damaged skin with new and healthy tissue. Although several types of ablative lasers exist, differing mainly by wavelength, CO2 lasers have long been considered the industry's 'Gold Standard' for ablation, delivering an exceptional ratio between ablation and coagulation (heating tissue without evaporating it).
What is the difference between ablative and non-ablative laser resurfacing?
ABLATIVE VS. NON-ABLATIVE
The basic difference between ablative and non-ablative treatments is that ablative lasers remove the top layer of skin, while non-ablative fractional lasers work by heating up the underlying skin tissue (without harming the surface) so that your body will produce new collagen.
Ablative Laser Resurfacing
Ablative lasers are more invasive, making them a great option for treating mild to moderate wrinkles, facial scarring, and skin discoloration.
Dramatic improvements can generally be seen after a single treatment, but most patients need two weeks or more of recovery time. During recovery, it's common to experience some discomfort accompanied by swelling, oozing, and crusting of the skin.
Ablative laser resurfacing is the best choice for patients who:
Show signs of significant facial aging
Have deep or pitted facial scars
Want to see significant results fast
Non-Ablative Laser Resurfacing
Meanwhile, non-ablative lasers are best at improving skin texture and tone. In some cases, they may also be used to improve the appearance of fine lines, mild wrinkles, and pigmentation issues as well.
A number of separate treatments are usually needed to see significant results, but recoveries are generally mild (especially when compared to ablative treatments). Other than some mild redness or swelling, the skin is not visibly affected, and most patients can resume normal routines right away.
Non-ablative laser resurfacing is the best choice for patients who:
Are relatively young (between 25 and 65 years of age)
Have mild to moderate signs of aging (with minimal skin sagging)
Are willing to undergo multiple treatments before seeing results
Can't afford to take time off from work
The PrettyLasers Ablative CO2 Laser Solution
The PrettyLayers offer the professional advanced CO2 laser device which uses high-power-short duration pulse technology that maximizes the treatment and patient comfort.