Laser Lipo machines
Professional laser lipo, technically known as laser lipolysis, or diode laser lipo, is FDA-approved a minimally invasive procedure that uses heat from fiber-optic lasers at various wavelengths to melt body fat. This is a different process from ultrasonic cavitation liposuction, which involves removing fat from the body using vacuum suction and ultrasonic waves.
Laser lipo is a non-surgical aesthetics technology, and it is very convenient for fat removal treatment. For this reason, we call it lazy slimming.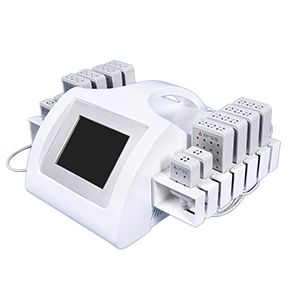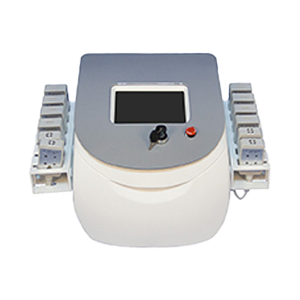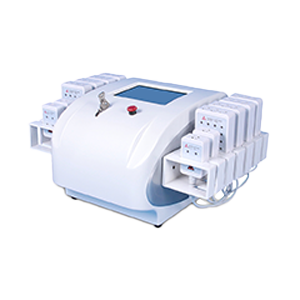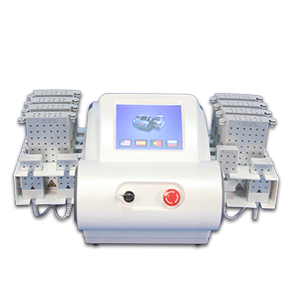 How does laser lipo machine work?
Unlike conventional liposuction, the idea of a laser lipo machine is not to remove fat cells—it's to shrink them.
A technician places pads equipped with diodes laser directly onto the skin, allowing emit low levels of laser energy, which creates a chemical signal in the fat cells, breaking down the stored triglycerides into free fatty acids and glycerol and releasing them through channels in the cell membranes.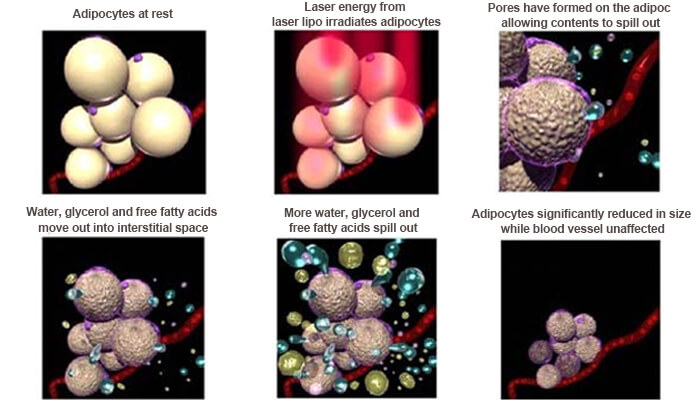 This causes the fat cells to release their stored fatty acids, glycerol, and water into the body and then shrink, potentially resulting in lost inches. The body then flushes out the expelled fat-cell contents via the lymphatic system or burns them for energy.
This treatment is not creating any unnatural reaction in the body nor does it affect or damage any surrounding structures such as skin, blood vessels, or peripheral nerves.
A period of exercise post-treatment will ensure the complete elimination of the freed fatty acids from the body.
Technology
The Mitsubishi diodes of laser lipo machine for sale used diodes ML101J27 with best quality.
ML101J27 is a high-power,high-efficient AIGalnP semiconductor laser which provides a stable, single transverse mode oscillation with an emission wavelength of 658nm and standard pulse light output of 350mW.
High Output Power.
High Efficiency.
Visible Light.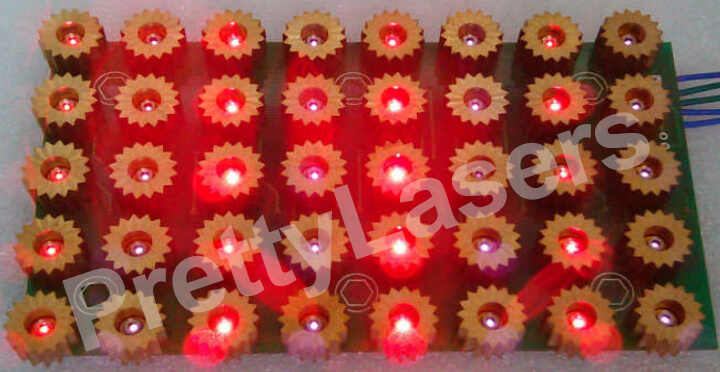 The Diode Laser body sculpting procedure uses 635nm-650nm and 980nm Diode Laser that heats the fat cells in the targeted area causing them to break down. Over a short period of time, the fat deposits are simply absorbed and expelled through our body's natural metabolic process. During the procedure, the laser seals off minor blood vessels significantly reducing bruising and patient downtime. The introduction of heat into the treated area stimulates collagen production to give a smooth, tightened and sculptured result.
Lipo Laser Machine Treatment Areas
Lipo Laser is a non-surgical aesthetics technology, and it is very convenient for fat removal treatment. For this reason, we call it lazy slimming.
Both the dual-wavelength lipo laser and single lipo laser machine can be used on many body areas, such as the face, arms, belly, legs, but remember, when used on the face, we must protect our eyes by wearing glasses.
These lipo laser machines are quite convenient, cause most time you can do it yourself at home, and they are a popular lipo laser machine for home use.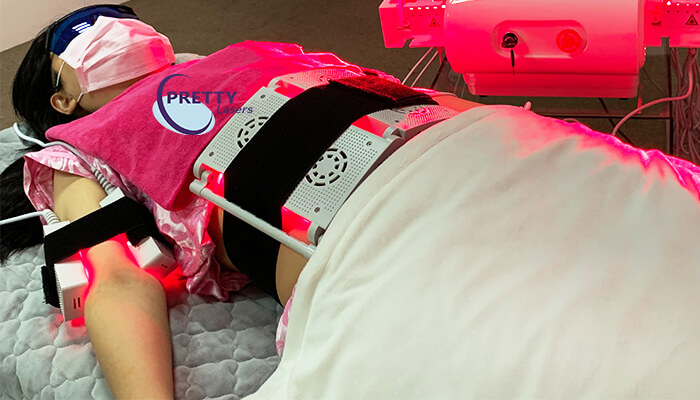 The Non Surgical Lipo Laser treatments can be used effectively on the parts of the body where localized fat deposits exist that are resistant to diet and exercise. These areas include:
belly,
love handles,
lower back,
inner and outer thighs,
arms (bat wings),
chin,
face jowls
Each treatment is in the length of 15 minutes.
Laser Lipolysis Before And After Pictures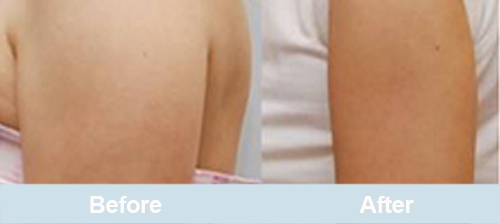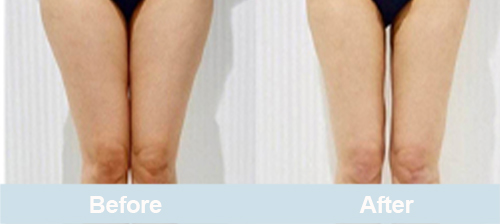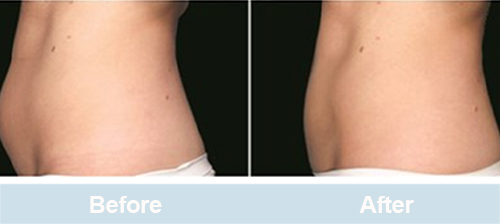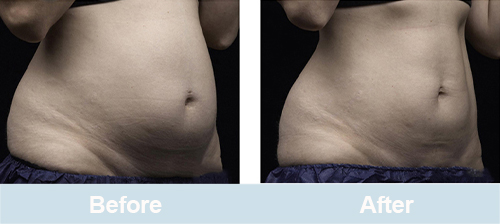 Lipo Laser Machine Reviews:
Is this laser lipolysis procedure safe?
Yes, there are no known risks involved in using the low-level laser therapy and it is considered a safe alternative to invasive procedures such as tumescent liposuction, lipo-dissolve, and other non-invasive devices like the Accent, EMSculpt NEO, Vela Shape, and Thermage, which rely on heating the tissue and can cause discomfort. None of these have proven data showing how fat cell size is reduced like the laser. The treatments are 100% non-invasive and cause no bruising, scarring, and zero downtime. During the treatment you will feel no discomfort, no anesthesia will be used, and you can resume normal activities immediately following each treatment.
Is it effective?
Yes, with treatments and by following the recommended guidelines for success, you can expect to experience a combined loss of 3-9 inches from your waist, hips, and thighs, and a reduction in clothes size! Additionally, patients notice an improvement in the appearance of cellulite and stretch marks.
Are there any side effects?
No. The treatment process is completely non-invasive and there are absolutely no side effects beyond loss of inches and fat! The exception to this is if you do not hydrate properly, you will feel "sick".
How long does it take to be seeing results?
Most of our patients can see results after just one treatment. We highly recommend that each of your areas treated has two treatments per week until your desired results are achieved. Many actually see significant differences after 2-3 sessions.
Is everyone a good candidate for the treatment?
Most are good candidates. Even people who are not overweight can lose inches. If you grab your fat and you cannot "squeeze" it, you are not a candidate. Fat must be "soft". Your Counselor will tell you if you are not sure.
Is there any downtime?
Absolutely ZERO downtime. During the treatment, you will feel no discomfort. No anesthesia will be used and you can assume normal activities immediately following each treatment.
How is Laser Lipo different than liposuction?
Liposuction is an invasive procedure that removes the entire area of fat cells from deposits beneath the skin using a hollow stainless steel tube (called a cannula) with the assistance of a powerful vacuum. Liposuction can be accomplished either with the use of general anesthesia, with I.V. sedation or totally by local anesthesia. In contrast, these non-invasive laser lipo treatments are 100% non-invasive through the use of a low-level diode laser-like lipo frequency. These are applied externally to stimulate the fat cell and emulsify and release fat. There is no use of anesthesia, nor any pain, gels, creams, numbing agents, needles, and no downtime! As with liposuction, results are not guaranteed. If recommended proper diet is not followed you will not sustain the inches you lose.
Where can I buy a laser lipo machine?
If you want to know the latest price of laser lipo machines for sale or discuss purchasing aesthetic laser machines or other medical laser machines, fill out the form below and we will get back to you ASAP. Or simply call Phone: +0086 15001300057 A wide variety of laser lipo machine options are available to you, such as warranty, application, and after-sales service provided.