Testimonials
A collection of recent PrettyLasers feedbacks by leading industry customers who work with our products. You will get real client feedback.
Diode Laser Hair Removal Machines Customers's Feedbacks: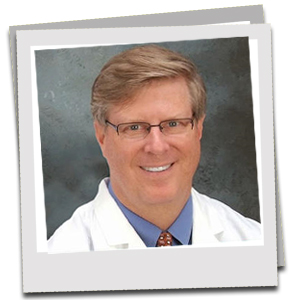 In my clinic there is a high-demand for hair removal from large body areas. With Professional 808nm Aesthetic Diode Laser Hair Removal Machine PL-110's FHR I can complete a leg or back treatment in less than 10 minutes. The hair removal results are consistent with other devices that associated with much greater discomfort. Over the years I have tested many hair removal technologies and I strongly feel that PrettyLasers Pl-110 is in a class of its own.

Ali Reis, M.D.
The Portable Facial Laser Hair Removal Machine PL-212 sets the laser bar for hair removal. With three wavelengths and different treatment methods to choose from, I have the freedom to tailor treatments to best meet the needs of each patient. I see excellent reuslts every day and the treatments are comfortable. Most importantly, I can treat all skin types all year long.

Marissa Channer, M.D., Ph.D.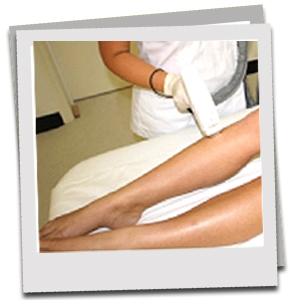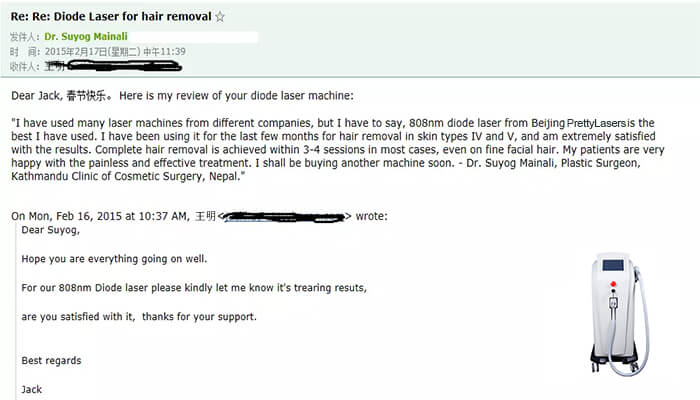 I have used many laser machines from different companies, but I have to say,

808nm diode laser hair removal mahcine 

from Beijing PrettyLasers is the best I have used. I have been using it for the last few months for hair removal in skin types IV and V, and am extremely satisfied with the results. Complete hair removal is achieved within 3~4 sessions in most cases, even on fine facial hair. My patients are very happy with the painless and effective treatment. I shall be buying another machine soon.

Dr. Suyong Mainali
My cosmeticians love how easy it is to operate. We pleased to find out the 808nm Diode Laser Hair Removal Machine PL-308N was foolproof for all skin and hair types. My customers are very satisfied with hair removal effect. It attracts clients who are willing to spend more on their beauty regimen.

I believe PrettyLasers diode laser is the best laser hair removal machine. We are now able to treat all skin types safely, with less pain.

Diana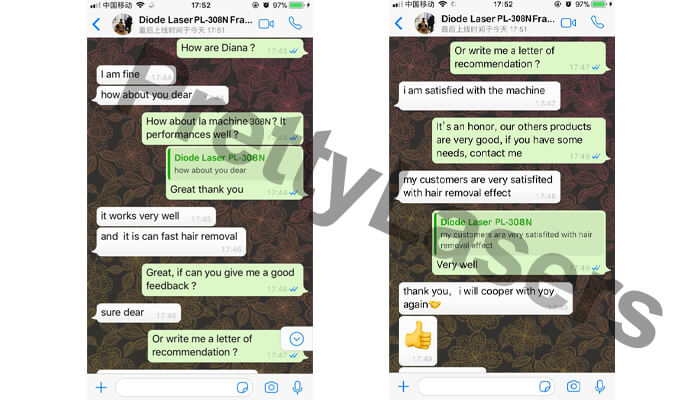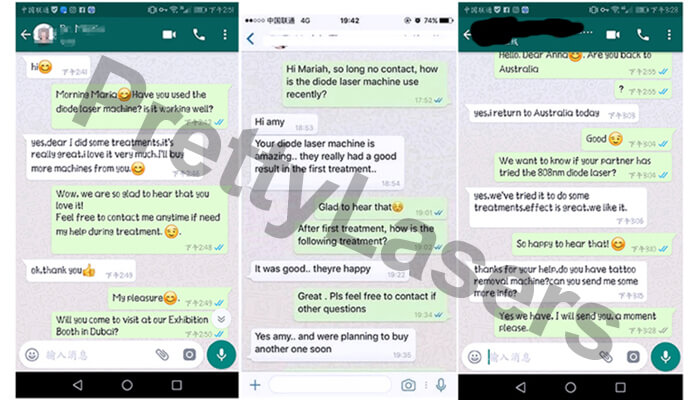 We were really impressed by the diode laser hair removal system's reliability, robustness and effectiveness. Our patients have a good result in the first treatment. With its power, wide range of settings, skin colors option and really painless, the machine is top in its class.

Dr. Maria
HIFU Machines Testimonials
I belive that in the long run. Liposonix machine would be more beneficial to me. I'm very happy with PrettyLasers's services and communications.

Veronika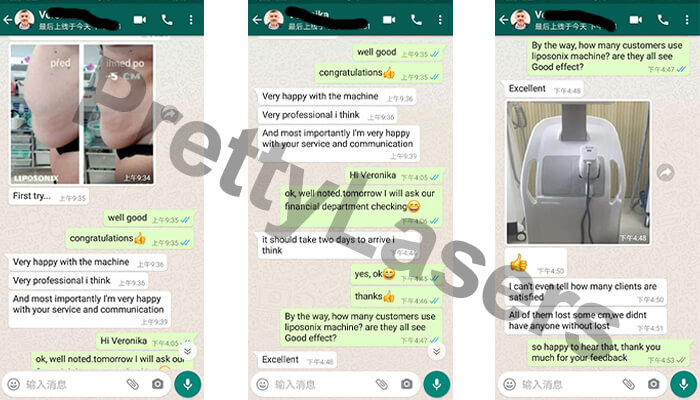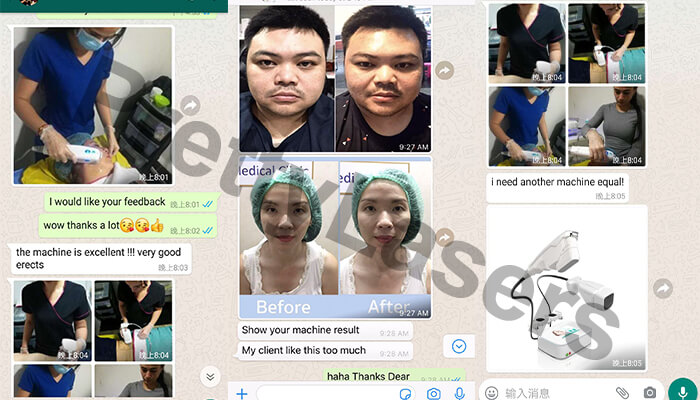 I love dealing with sam absolute asset! this is the second 2 in 1 hifu liposonix machine I've bought from him not only do I ove the products but my clients love the results! will be buying more soon! highly recommended company and representative speedy delivery well before the due date.

Jodie
Cool Sculpting Machines Feedbacks
Excellent product and exellent customer service! The experience start to finish as a very one. Nina was very attantive and provided anwsers to all of my questions in a timely fashion. I live the coolsculpting machine. It works well and I am seesing positive changes already. The shipping time was less than a week! I would def recommend this product and this company.

Kathleen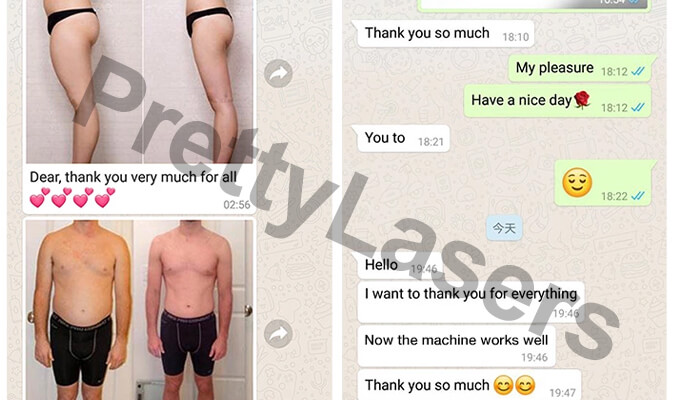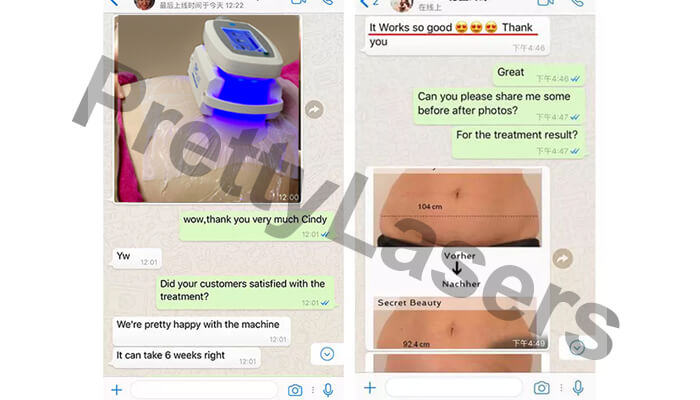 This coolsculpting machine is excellent customer service thru emily was very hlepful as well. i will order from this seller again and the shipping speed was 6 days and thats counting the weekend very pleased!

Maximilian
Eric was absolutely amazing. I was updated every step of the way. and treatment is obvious. fast shipping great communication great product great customer service.

Claudia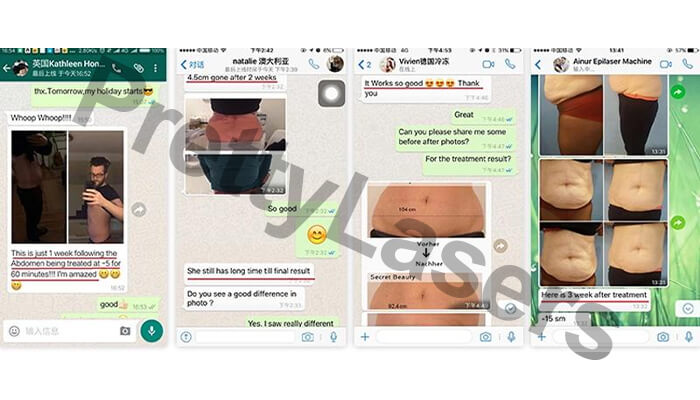 980nm Diode Laser Spider Veins Treatment Machine Feedbacks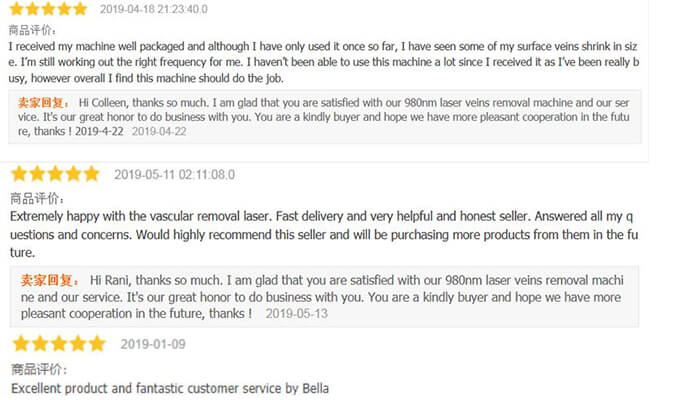 Customer: I received my machine well packaged and although I have only used it once so far, I have seen some of my surface veins shrink in size. I'm still working out the right frequency for me. I haven't been able to use this machine a lot since I received it as I've been really busy, however overall I find this machine should do the job.

Clleen

Clerk: Hi Clleen, thanks so much. I am glad that you are satisfied with our 980m laser veins removal machine and our service. It's our great honor to do business with you. You are a kindly buyer and hope we have more pleasant cooperation in the future, thanks !

Customer: Extremely happy with the vascular removal laser. Fast delivery and very helpful and honest seller. Answered all my questions and concerns. Would highly recommend this seller and will be purchasing more products from them in the future.

Rani

Clerk: Hi Rani, thanks so much. I am glad that you are satisfied with our 980nm laser veins removal machine and our service. It's our great honor to do business with you. You are a kindly buyer and hope we have morepleasant cooperation in the future, thanks !
Hydrafacial Machines Feedbacks
I was amazed at how quickly this unit got to me ! but first and foremost from PrettyLasers is the reason why I choose this company. her customer service skills were EXCEPTIONAL! I was doubtful and very nervous to order something like this from China, but over and over again she was patient with each and every doubting questions until I finally decided to get this machine.

I am excited to try this with my customers.  If l need any assistance she WILL be there for me. if l order other products it will only be with her because I trusther, thank you for great experience.

Lumia Canada

Very good machine. I have used it on my costumers and they are very happy. Good communication with the seller, and the product arrived in time. Recommended.

Alicia Cacioppo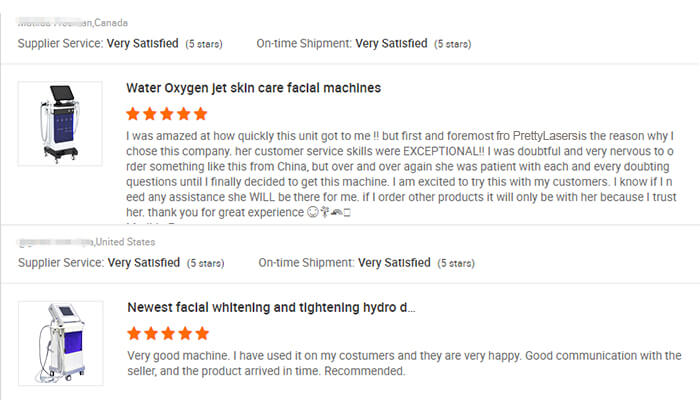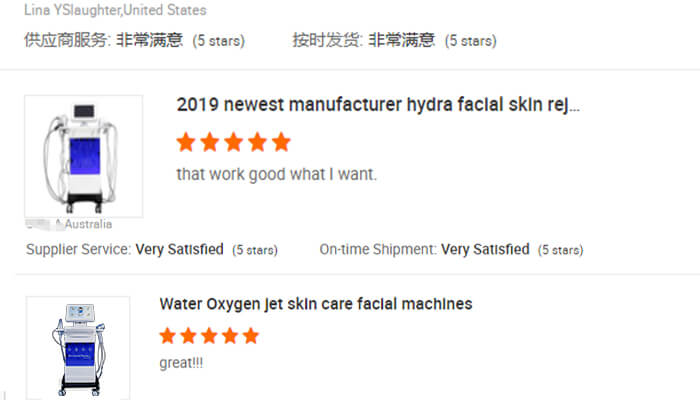 that work good what I want.