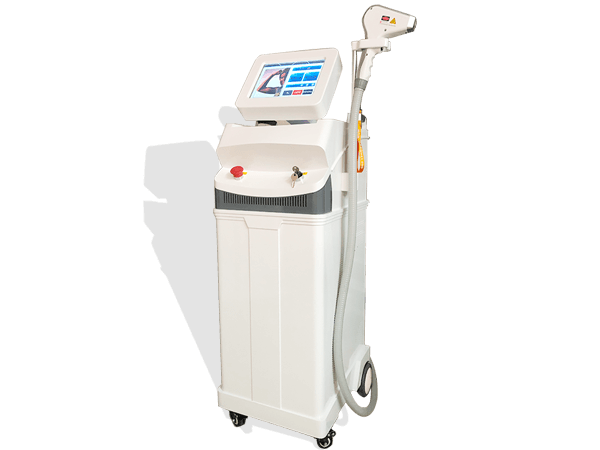 New Laser Hair Removal Machine
New laser hair removal machine PL-307N for all skin types. 808nm laser PL-307N allows fast repetition rates up to 10Hz(10 pulses-per-second), with in-motion treatment, fast hair removal for big area treatment. PL-307N provides 25 working modes, which are five modes for men and five modes for women, the men or women mode includes face, arm, chest, Bikini and leg mode respectively for different treatment part.  The difference for each mode is only the default paramter, but all parameters for each mode can be adjustable in the parameter range.
Benefits:
Exculsive chip array technology.
Medical professional power supply.
Large spot size for quick treatment.
Strong TEC + Sapphire Contact continuous cooling system.
Intuitive, user friendly LCD Touchscreen.
I-VI skin tones and tanned skin.
What's the new best laser hair removal machine?
The best professional laser hair removal machine PL-307N features the optimal wavelength 808nm which has long been considered the gold standard for permanent hair reduction.The best laser hair removal machine PL-307N uses the principle of selective photothermolysis to target specific chromophores in the skin, from the hair shaft down to the follicle, usaully melanin or blood. The lasers damage the chromophores by selectively heating them while leaving surrounding tissue unharmed.
When treating unwanted hair, such as, the melanin in the hair follicles is targeted and damaged which results in the disruption of hair growth and regeneration. The PL-307N can be complemented by TEC+Sapphire contact cooling technology method to improve treatment efficacy and patient comfort. These unique characteristics make the laser the most suitable and best technology for laser hair removal, enabling safe and effective treatment of all skin and hair types inculuding the tanned skin.
Technology
Medical Professional Power Supply
In addition to the high efficiency up to 89%, with the built-in long life fan,  Our power supply can work under ~25+70℃ with full load. Delivering an extremly low no load consumption (less than 0.75 watt), it allows the end system to easily meet the worldwide energy requirement. Our medical professional power supply has the complete protection functions and 5G anti-vibration capability. it is complied with the internationl safety regulations such as UL60950-1.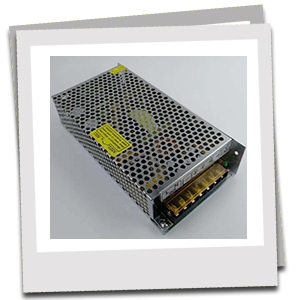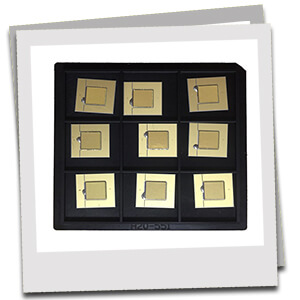 Germany Imported Laser Chips
Germany imported laser chips- every laser chip is 150 watt, which highly improve the efficacy, making the laser hair removal more effectively.
Refrigeration system without compressor
The powerful water-cooling heat dissipation, combined with air cooled heat dissipation and large capacity water tank, ensures that the laser in the handpiece can be used to release heat and safely use. The TEC+ Sapphire system makes the treatment more cool and comfortable.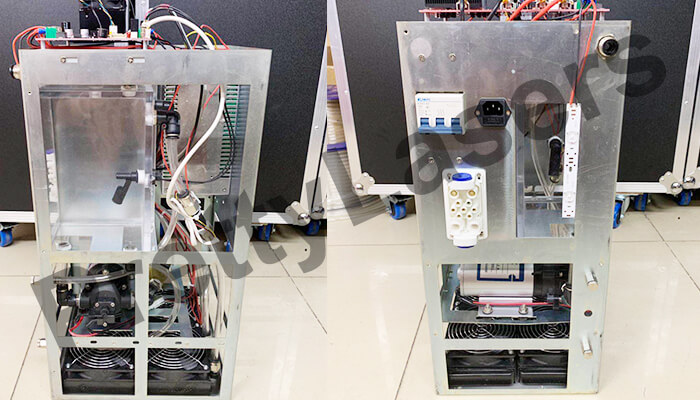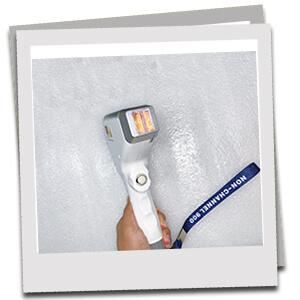 Advanced TEC + Sapphire Contact Cooling
The advanced TEC + Sapphire contact cooling provides epidermal protection for treatment areas requiring precision and higher flence.Temperature remains controlled and constant which contributes to the diode's efficiency. Patients can now enjoy a completely pain-free, cool and comfortable experience throughout the session. These unique technolog for pain reduction offers effective and comfrotable treatment.
6 Kind Of Handpiece For Your Option
The hair removal treatemnt handpiece of PrettyLasers defaults to 600 watt. However, the power can be customized according to your detailed needs, the highest can be 1200 watt. The wavelength can be 755nm, 808nm or 1064nm optional or combined. The spot size can be 10*10mm, 15mm*15mm, 15mm*20mm, 15mm*20mm, 20mm*25mm , 25mm*31mm optional.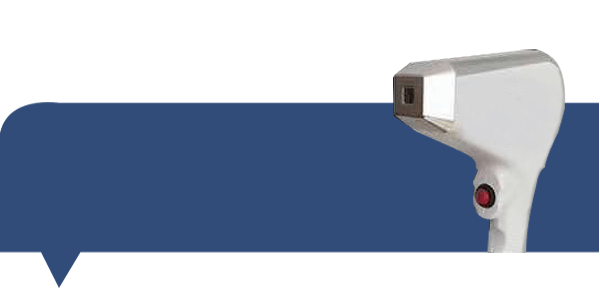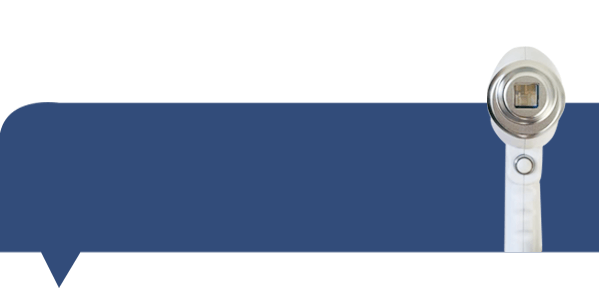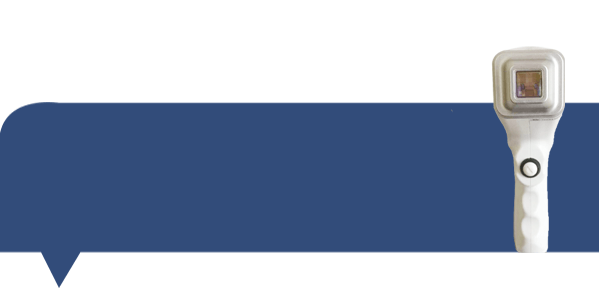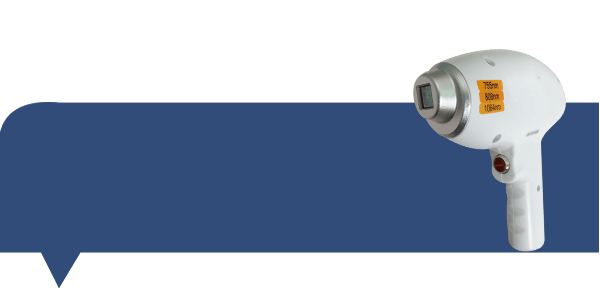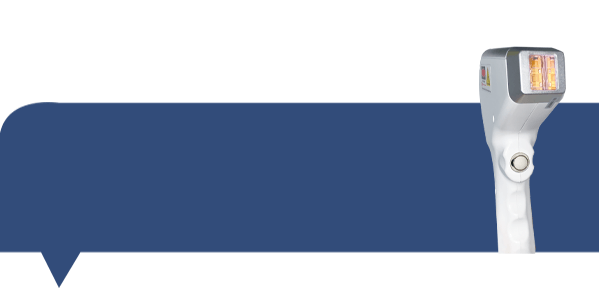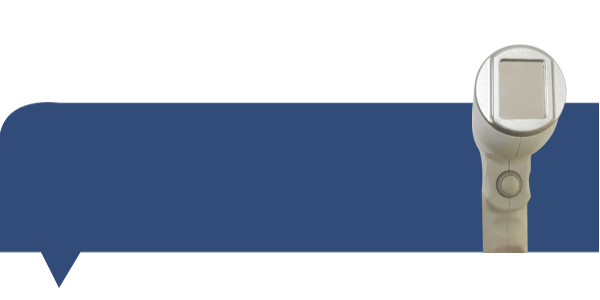 Intuitive, user friendly LCD Touchscreen
Recommended treatment settings.
Esay operation and fast learning.
The skin types I-VI can be selected.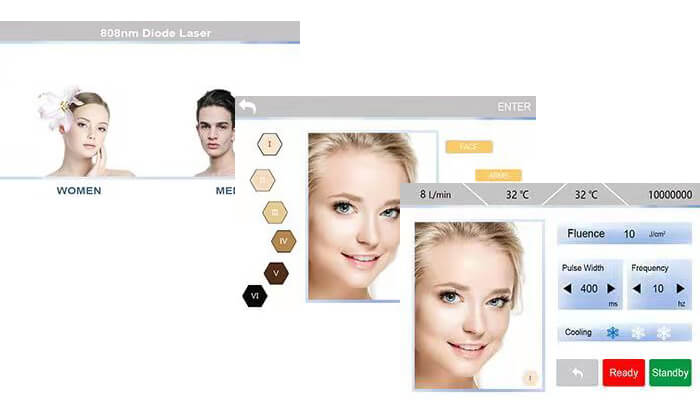 Technical Specifications
Laser Hair Removal Machine
Wavelength
808nm
755nm, 808nm, 1064nm optional
Working Frequency
1~10Hz
Maximum frequency 20 Hz
Energy Density
1-120J/cm² adjustable
OEM is ok
Handlepiece cooling
TEC+Sapphire
Sapphire OEM
TEC cooling
12V6A
TEC Power OEM
Spot size
15×15mm² or 25 x31mm²
Spot Size OEM
Output Power
600w, 900w
Laser power OEM
Laser Bars
Germany laser Jenoptik,150W/piece
Pulse Width
5ms~400ms
0~1000ms OEM
Output Mode
Pulse Output
Pulse Output
Language
Standard English
Can be made according to customer's requirements
Display
8' color touch screen
10.4' is available
Protective Temperature
55℃ interface select
OEM
Water Pump
DP-60 diaphragm rods 12V
Flow Sensor
3.5L/min flow requirement
Cooling System
240×120cooling line(2pc),18 pcs channel
Compressor plan,TEC plan
Cooling Fan
4pcs fans,speed 3150r/min
12v fans
Case Material
ABS shell/metal shell
OEM Metal Shell
Inter Structure
White zinc hob/color zinc hob
OEM
Water Tank Volume
vertical3.6L/table type 2.5L
OEM
Environmental Moisture
<80%
<80%
Environment Temperature
Air conditioning room,temperature≤28℃
voltage
220V/110V
Applications:
PL-307N is a laser that produces a larger beam of highly concentrated light. The light emitted is well absorbed by the pigment located in the hair follicles. During the hair removal treatment, the laser pulses for a fraction of a second, allowing the hair to absorb the light and heats up.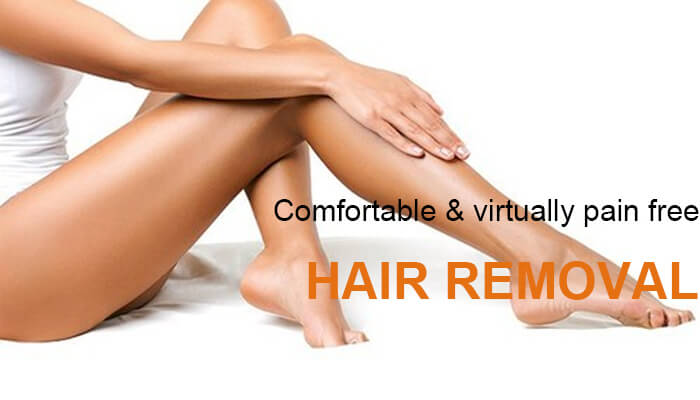 As it heats up, the hair shaft and bulb are damaged which significantly impedes its ability to re-grow. And with the TEC+ Sapphire Contact cooling, making the procedure more comfortable. And with the large spot size, the process treats numerous hair follicles simultaneously, making the treatment much faster.So PL-307N is the safest and most efficient hair removal treatment available today.
Permanently remove lip hair, beard hair, chest hair, armpit hair, limbs hair and unwanted hair on any parts of body. It is suitable for all skin and hair types.
Skin rejuvenation and tightening.
You might be wondering:
The Laser Hair Removal Treatment Before & After Pictures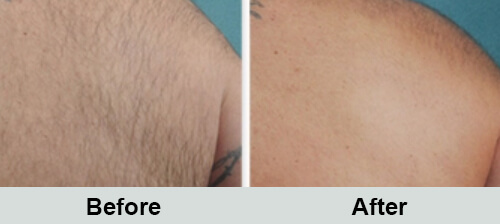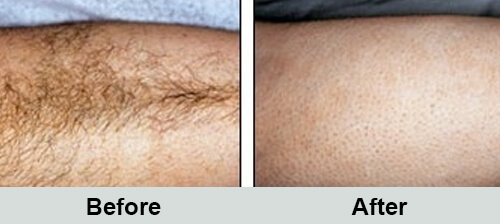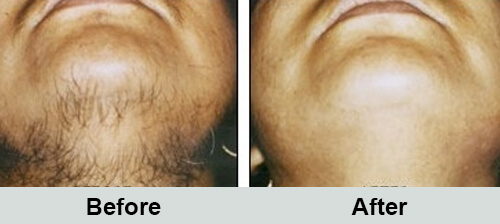 Laser Hair Removal Machine Reviews:
What's the different between the no channel with micro channel and macro channel?
Micro-channel
The micro-channel has a high packaging process and good visual effect. The water temperature and water quality requirements are relatively high. The water temperature is higher than 35 degrees and cannot work. Below 17 degrees, it cannot work. The microchannel must use deionized water. It is filtered with PP cotton. This PP cotton needs to be replaced frequently, once a month. If it is not replaced, there will be more impurities in that place, and the machine will burst when the pump is running. In order to ensure heat dissipation, microchannels generally use compressor refrigeration to ensure that the water temperature is maintained at a constant temperature.
The advantages and disadvantages of compressor
This compressor has advantages and disadvantages: the advantage is that it can ensure the water temperature is low to protect the laser, but it is more troublesome when exporting. It is not easy to clear the customs. Then the compressor is also made by the manufacturer. The 808 machine is not proficient in the structure of this compressor. Once there is a problem, the 808 machine will not work.
It is also very troublesome when clearing customs. Once the micro-channel is burned, the after-sale cost is similar to that of a new one. The after-sale cost is very high.
Macro channel
As the name implies, the macro channel is much larger than the micro-pass, and the requirement for water temperature is reduced. However, due to the waterway, the probability of burning the gun is increased. The products of the macro channel in the market are mostly, and the customers are generally fancy. Its price, but the after-sales of the smoldering gun is very hurting custome
What's the difference between IPL and Laser treatment?
ipl vs laser hair removal
IPL hair removal
Intense Pulsed Light (abbreviated IPL) describes the use of intense pulses of non-coherent light distributed over a range of wavelengths; from 550nm to 1200nm. The technology utilizes specific wavelength ranges to target various chromophores in the skin. This enables effective treatment of a broad spectrum of conditions, including vascular and pigmented lesions, skin photoaging treatments and hair removal.
laser hair removal
Lasers produce a single, concentrated wavelength of light to specifically target melanin in the hair. Diode technology typically uses a wavelength around 800 nm to 810 nm. 808nm laser wavelength offers the deepest penetration levels and superior melanin absorption. These unique characteristics make the laser most suitable technoogy for laser hair removal, enabling safe and effectiv treatment of all skin and hair types, in all body areas.
808nm diode laser technology
Diode laser equipment adopts 808nm wavelength, which is particularly effective to hair follicles melanocytes without any injury of surrounding tissue. The laser light can be absorbed by melanin in the hair shaft and hair follicles, and then converted into heat, thus increasing the hair follicle temperature. When the temperature raises high enough, the hair follicle structure will be damaged irreversibly, and then disappeared after a period of natural physiological processes, and thus achieve the purpose of permanent hair removal.
What areas can be treated?
PL-307N removes unwanted facial hair (except around eyes),backs hair, chests hair, arms hair, underarms hair, bikini lines hair and legs hair.
Am I a good candidate for this treatment?
Diode laser hair removal is available for all skin types, including very light and very dark skin, and most hair colors. So you will be a good candidate for this treatment.
How many treatments?
The amount of treatments can vary from person to person but usually 4-6 treatments will give you a reduction of up to 80-90% and then maintenance treatments 2~3 times a year. If there is a hormonal imbalance you may be required for more maintenance treatments.
How much time between each treatment?
Depending on the area being treated it can be anywhere from 4-6 weeks in between treatments. The hair growth cycle on the face is usually four weeks while the legs is normally six weeks but this can vary from person to person.
Are laser hair removal machines suitable for everyone?
Since the light is absorbed by melanin (dark pigments found in hair), laser hair removal machines tend to work better with medium-to-dark hair. However, there are some machines particularly suited for fairer hair, of which we've included a couple below.
It can be dangerous to use laser hair removal machines on dark skin, as they can cause discolouration and hyperpigmentation.
Delivery Methods
PrettyLasers can offer the door to door service by air or by sea, just depend on your actual request. Such as DHL, UPS, TNT, FEDEX…by air; and the sea transportations to all over the world, including: America, Canada, Brazil, Russia, Mexico etc…
Delivery Time
After we get the payment within 3-7 working days.
After Sales Service or Technology Supports
PrettyLasers have a professional technology supporting team for your timely services. We prepare the technical documents for you, also you can contact us by telephone, online chat (googletalk, MSN, skype, yahoo…
We offer user manual and Youtube operation video as your guidance. 12 month for host machine, providing long maintenance service. Well- trained engineers will offer you any technical support ,any machine problem, will provide professional solution soon .Professional training team offer service in thousand of salons ,beauty centre,clinics in china, and will provide reliable setting date reference and operation advices.
What certification do you have?
All of our machines have the CE, ISO 13485 certification which ensures the quality and safety.
Our machines are under strict quality management to ensure good quality. Because we fully understand that it will be a great trouble if machine have any problem during working at oversea.
Will you teach how to use the machine?
Yes, we can provide a complete user manual and usage video for instruction and application. And 24/7 online consultant service ensure you whatever problem and whenever you meet, you can solve easily.
It is easy to operate by anyone with the instructions.
OEM & ODM service
PrettyLasers offer professional services on software & hardware design and production.
How to buy the new laser hair removal machine?
If you want to know how to buy the new laser hair removal machine or discussing purchasing aesthetic laser machines or other medical laser machines, fill out the form below and we will get back to you ASAP. Or simply call Phone: +0086 15001300057
---
Related Products