Professional Coolsculpting Machine For Sale
Coolsculpting machine for sale is advanced equipment using the newest coolsculpting technology(the same as cryolipolysis) to noticeably eliminate fat without surgery. Cool sculpting is a non-invasive procedure,  which uses a targeted cooling process to kill the fat cells underneath the skin, freezing them to the point of elimination.
Only fat cells are frozen. Your healthy skin cells remain, well, healthy. No knives. Non-suction hoses. No needles. No scars. Once crystallized, the fat cells die and are naturally eliminated from your body. Especially the belly fat, the effect is very obvious.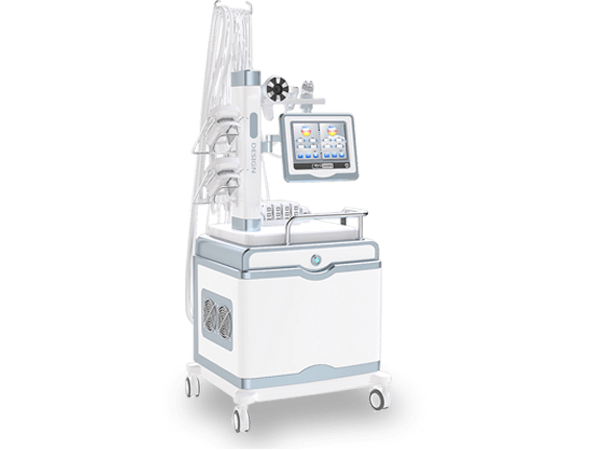 The cool sculpting machine is indicated for cold-assisted lipolysis (breakdown of fat) of the submental area, thigh, abdomen, and flank, or "love handles" in individuals with a Body Mass Index (BMI) of 30 or less. Cool sculpting is the latest new technology for body slimming, body shaping, body contouring, weight loss, belly fat reduction, cellulite reduction etc.
Benefits:
The most popular way in losing weight In the market!
Special design for the handpiece, no any pain feeling when finished the treatment.
No surgery, no anesthesia, no needles, no scarring, no downtime.
A single treatment can reduce 20-30% reduction in the fat layer.
The coolsculpting Procedure is comfortable for most patients. They can read, work on their laptop computer, listen to music, etc.
Automatic adjustment of vacuum pressure control, very little noise at work.
Touch screen handle operation
3 handpieces for different treatment areas.
Lowest temperature reach to -13 degree.

Cryolipo+Heating System+Photon Therapy+3 Handpieces+CE Europe+Appearance patent.

Deep muscle massage, meridian massage, pain point therapy, deep penetration, relax the body.
CE Europe, RoHS, LVD, EMC.
How does a cool sculpting machine work?
CoolSculpting uses a procedure known as cryolipolysis. The cryo handle can absorb the fat in the treatment area to the cooling plate by a vacuum pressure, which cools the fat to a freezing temperature. And the treatment probe can control the cooling temperature precisely during the treatment, which can eliminate fat cells in a particular part of the body, such as the belly fat. When the fat cells are in the cooling environment which is precisely controlled, it will begin to do natural decomposition and clearance, to make the fat layer become thinner gradually.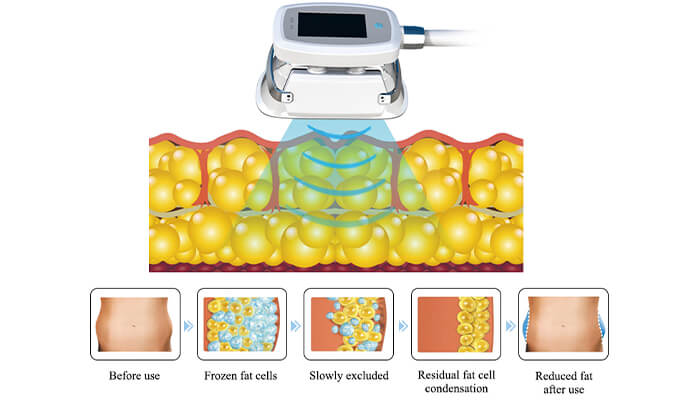 Coolsculpting machine can reduce the treated fat layer by as much as 25 percent. The results were still present six months after the treatment. Frozen, dead fat cells are excreted out of the body through the liver within several weeks of treatment, revealing full results of fat loss within three months.
Some people who do CoolSculpting opt to treat several parts of the body, usually:
thighs
lower back
belly
sides
It can also reduce the appearance of cellulite on the legs, buttocks, and arms. Some people also use it to reduce excess fat underneath the chin.
It takes an hour to treat each targeted body part. Treating more body parts requires more CoolSculpting treatments to see results. Larger body parts may also require more treatments than smaller body parts.
LipoLaser
Laser for fat reduction, use the 660nm and 980nm soft laser to destroy the deep fat cells, break the cell membrane, change the fat to tri-glyceride, then leave out the body, thanks to metabolism.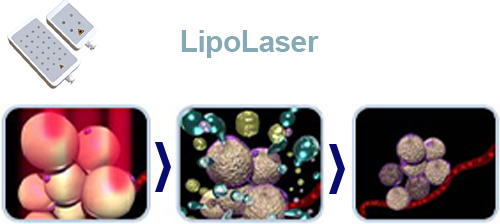 Shock wave
The shock wave at a frequency of 1-16HZ up to8cm under the skin, causing strong resonancerotation of each tissue cell, local heat increase, and the instantaneous temperature rise reaches43 "C. Promotes blood flow, stimulates damagedcells, activates collagen cells, and promotes thereorganization of fibrous connective tissue.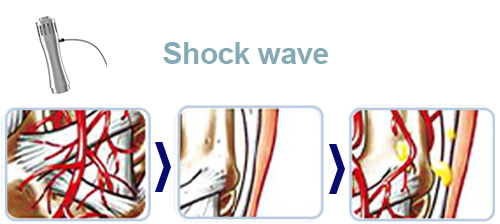 Cavitation
Using strong Ultrasound to shake fat cells, reducing fatty acids, enhances blood circulation, and finally lets fatty acids excrete through lymphatic drainage, thereby reducing body weight. It can also lighten cellulite and firm skin.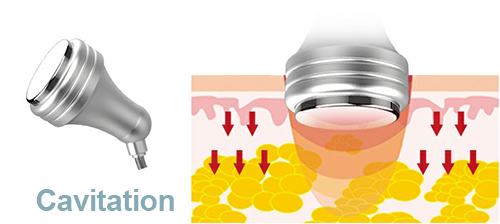 Three polar RF
Radio frequency radio waves enter the deep part of the skin, and the internal natural resistance movement causes the skin to heat up. The use of dermal collagen cellulose immediately produces a contraction principle at 45-60C', which can smooth wrinkles, tighten the skin, and delay skin aging.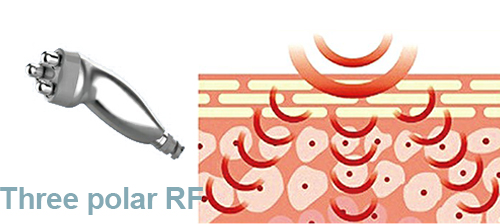 Vacuum RF
A vacuum elevates the target tissue, bringing it closer to the energy source. Directly heats the targeted areas, Bi-polar radio frequency (RF) energy safety guides heat throughout the targeted area so that it heals faster without damaging the skin.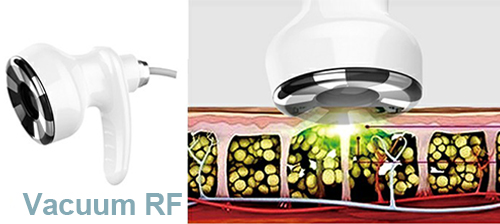 Applicators
Cryo handles
Normal shipment just matches two cryo handles for this cool sculpting machine. (Two cryo handles work at the same time).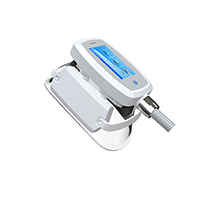 The Largest Applicator
This is the largest applicator used to treat belly hangover and larger areas on the abdomen, it allows for maximum fat reduction. This applicator can be used on the arms, hips, and men's chest area.
The Largest Applicator: treat area (250mm *120mm) for belly, back, buttock etc.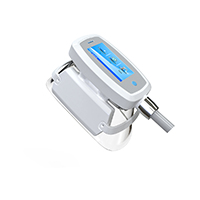 The Medium Applicator
Medium Applicator is great for those annoying flanks. So, this applicator on how it curves around your sides to adds a more defined waist.
The Medium Handle: treat area (200mm * 100mm) – for waist, thigh, etc.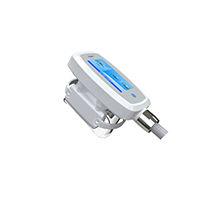 The Small Applicator
This is excellent for underarm fat-blasting. This applicator is great for those tiny pockets of fat that won't go away around the knees, arms, and back of thighs. Sculpting banana rolls and bra bulges has never been so simple.
Small Handle: treat area (120mm * 60mm) – for thigh, arm, crus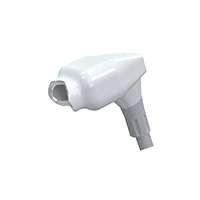 360° Mini Cryo Handle
The 360° Mini Cryo Handle is the smallest applicator. we're getting amazing results for double chin fat reduction with this applicator. Combine with three polar RF for a non-surgical neck lift and fat reduction. Three polar RF tightens the neck, while the 360° Mini Cryo Handle removes the fat.
 360° Mini Cryo Handle: treat area (76mm * 60mm) – for double chin, arm
Cavitation Handle
The cavitation handle also plays a role in shaping your target areas, "chiseling" and breaking down tissue to give you a slimmer appearance.
Remove fat
Lose weight
Full body available.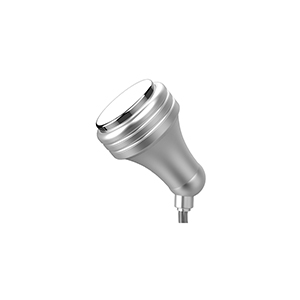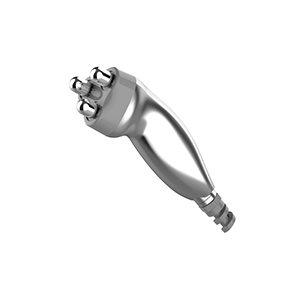 Three Polar RF Handle
RF handle can deep direct fat body, has the directional positioning RF output excellence, make fat cells organizations in fast active state, produce the cell body heat of the friction heat, in order to achieve the effect of dissolved fat.
Body slimming
Lifting contours
Tightening skin
LipoLaser
The laser lipolysis opens and releases glycerol, water and free fatty acids, thus, causing to lose weight and inches.
Reduce cellulite
Relieve physical fatigue
Remove excess fat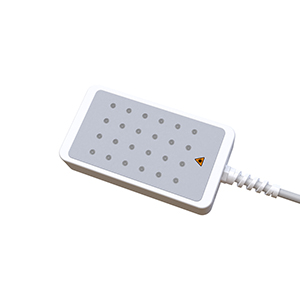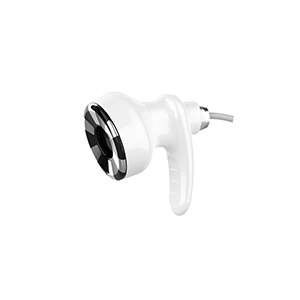 Vaccum RF Handle
The Vacuum RF handle uses suction and pressure to release the fluids in the fat cells that cause cellulite.
Dredge the meridians
Speed up metabolism
Promote absorption
Shock Wave Probe
Shockwave is delivered by placing a probe up against the areas of cellulite, as it passes over the area it emits Radial Waves through the skin.
Meridian massage
Pain point physiotherapy
Deep penetration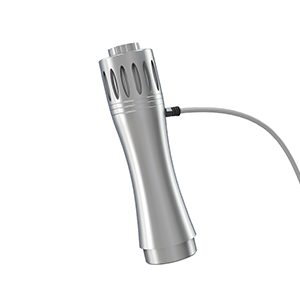 Technical Parameters
Coolsculpting Machine
Working handles
Working handle: two cryo handles (four sizes can be chosen), one cavitation, one RF, one shock wave handle, 6pcs lipo laser paddles(4pcs big paddles, 2pcs small paddles, total 104pcs diodes), one vacuum RF handle
Three polar RF
5 MHZ
Cavitation
35-40 kHz
Shock wave energy level
60mj-185mj
Cooling output temperature
5 to -16°C
Output Vacuum pressure
0-100KPa
Cooling liquid
pure water, with 13 litres+air cooling+effective radiator
cryo handle number
4 handles and work simutaneously
Shock wave lifecycle of an applicator
4 over 1 million shots
Power consumption
<1800W
Applications
CoolSculpting is a non-invasive fat reduction treatment approved by the US Food and Drug Administration (US FDA). It utilises cryolipolysis technology (cooling temperature) to remove unwanted fat cells from the body by freezing them. The frozen and crystallised fat cells are then passed out from the body naturally. With CoolSculpting, the doctor can perform spot reduction and body contouring with the kind of precision that is impossible with any spot toning exercise. The results are natural and there is no downtime. And the cool sculpting machine combines the vacuum rf, cavitation, three polar rf, and shockwave that making the treatment more effective.
Skin Tighten

– Lifts and tightens skin restores skin elasticity andrejuvenates skin.

Lose Weight Fast

– Slimming and shaping, Painless, non-invasive, no side effects, obvious effect.

Stimulate lymphatic detox

– Promote metabolism activate subcutaneous blood circulation.

Reduce cellulite

– Smooth skin, tighten skin, relieve skin sagging, reduce orange peel.
Physical relaxation – Relieve physical fatigue Meridian massage, improve blood circulation, stimulate acupuncture points.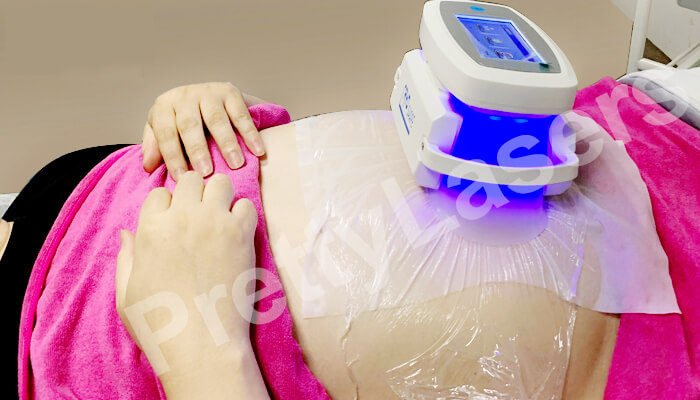 Coolsculpting Before And After Pictures
The procedure can reduce the treated fat layer by 20 to 40 percent, an average reduction of 20 percent. Visible differences in contour emerge after about three weeks, but the most dramatic coolsculpting results take up to two months to show.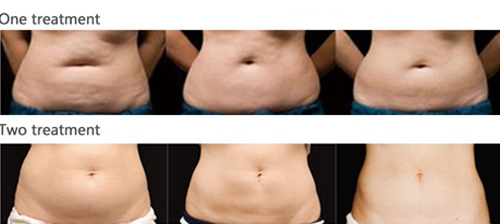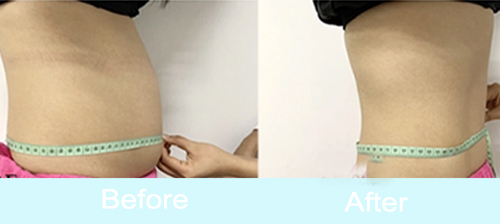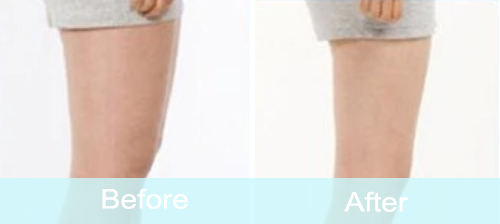 You May Also Like:
---
Coolsculpting  Machine Reviews
Why choose the PrettyLasers's Zeltiq coolsculpting machine?
The zeltiq coolsculpting machine for sale features two cryo handles and four cryo handles, two models configured to meet different customer needs. Slim and delicate design of the main body.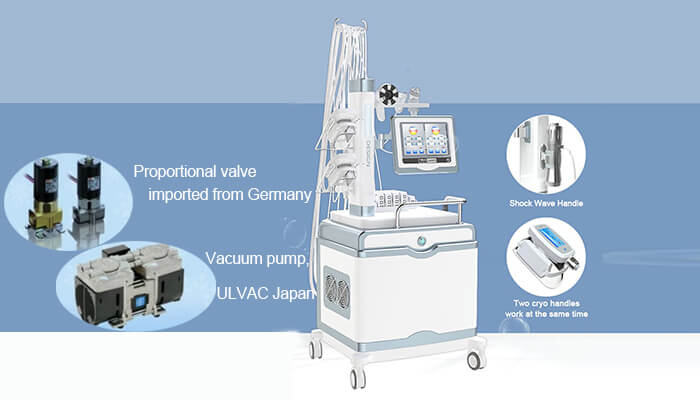 Proportional valve – Imported from Germany, compared to ordinary solenoid valve, lower noise and faster response, precise control.
Two effective and powerful radiators to ensure Zeltiq coolsculpting machine works for 10 hours.
8-inch color touch screen.
Power supply Taiwan.
Taiwan water pump.
Double air pump, imported from Taiwan.
Japan EMC Solenoid valve.

Cooling temperature: -16~5 degrees.

Cooling pads, semiconductor ceramic. Handle size: 18*5.5*5.7cm and cool plate size: 5*7.8cm.
Contact skin parts: Medical use silica gel, soft to make customers feel comfortable during treatment. More testimonials… 
Pumps – Japan ULVAC brand, negative efficiency significantly improved , more rapid absorption.
The lowest temperature
Coolsculpting is a method intended to remove fat by freezing. It involves the controlled application of cooling within the temperature range of -11 to +5 °C for the localized reduction of fat deposits, intended to reshape the contours of the body. However, The PrettyLasers's Zeltiq coolsculpting machine for sale can reach the lowest temperature -16℃, full ice freeze on the entire cooling plates. The degree of exposure to cooling causes cell death of subcutaneous fat tissue, without apparent damage to the overlying skin.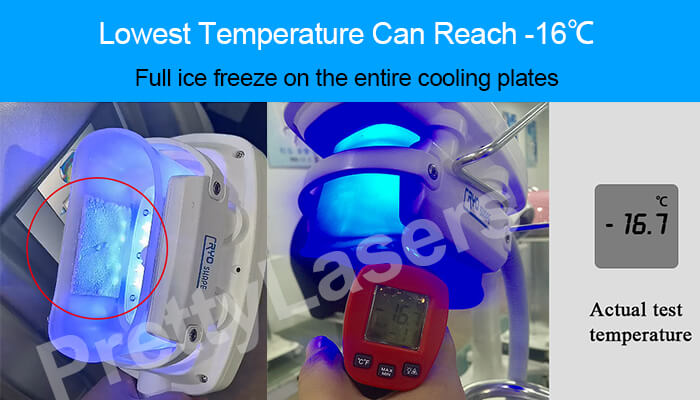 How long do the Cool Sculpting results last?
After your CoolSculpting treatment, results will begin to develop a few weeks after the procedure. You should notice a visible fat reduction in three to four weeks, but dramatic improvements will be seen about eight weeks following your treatment. At this point, about 90 percent of targeted fat cells will have been removed, but for some, results can continue to develop for six months. If you have multiple areas to treat or are targeting a broader region, you may need additional treatments for optimal results. CoolSculpting can be safely repeated in the same area with procedures spaced about three weeks apart.
Since CoolSculpting technology destroys targeted fat cells, the results will be permanent. Once fat cells are removed, they can't migrate or regrow. This does not mean, however, that you can't regain weight; it's still important to maintain a healthy diet with good habits and regular exercise. CoolSculpting is best used in unison with a healthy lifestyle and is most effective at removing small-to-moderate amounts of fat from stubborn areas. It is not meant to be used as a replacement for diet and exercise, but rather as that extra nudge to help you reach your fitness goals.
The benefits of fat freezing machines:
Precise
Fat freezing is precise, controlled – The temperature on different treatment area is controlled, the fat freezing handle can gently and effectively target fat cells under the skin to help the fat cells convert into solid.
Versatile
Fat freezing is versatile: whether the fat is on your belly or on your arms or other parts of the body, the fat freezing machine will be the best. the abdomen and waist/love hand are the common areas treated by fat freezing machines, actually, the upper arms, inner thighs, saddlebags, banana rolls or even double chin can enjoy this fat freezing treatment.
Painless
Fat freezing is pain-free: it is a pain-free &safe method because it did not require any surgical procedures that are painful. It does not require any anesthesia before the procedure, no blood wastage, no bandages, and non-syringes. Besides, this popular treatment just requires anti-freeze membranes, which help you to protect your skin.
How is CoolSculpting different from liposuction?
CoolSculpting is a unique body contouring procedure because, unlike other treatments, it doesn't involve surgery and has no recovery period. CoolSculpting is different because it:
Doesn't require surgery
Is noninvasive
Delivers permanent results
Requires no downtime or recovery
Produces few to no side effects
Delivers results with more comfort and no anesthesia
Cool sculpting is done with an external applicator that delivers cold temperatures to the areas of fat you want to eliminate. The tool applies a vacuum or suction effect and you may notice some numbness, but the procedure is relatively painless and each treatment only takes about 30 minutes. There is no need for incisions, anesthesia or pain relief. Cool sculpting treatment areas includes:
Thighs
Arms
Love Handles and Flanks
Back Bulge and Bra Area
Under Buttocks (Banana Roll)
Double Chin Under the Neck
Male Chest (Pseudogynecomastia)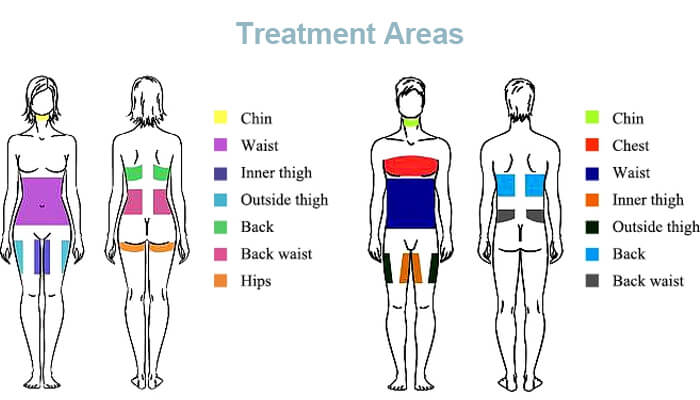 Liposuction is a surgical procedure that uses a hollow tube (called a cannula) to remove unwanted bulges through suction. This is done by making small incisions to insert the cannula so that it may siphon out fat from the targeted areas. Although minimally invasive, liposuction, under anesthesia and requires a recovery period of about three days. A return to strenuous activity such as exercising may take up to three weeks following a liposuction procedure.
How much does a coolsculpting machine cost?
If you want to buy coolsculpting machine or discussing other cryolipolysis slimming machines or other Ems Sculpt machines, fill out the form below and we will get back to you ASAP. Or simply call Phone: +0086 15001300057 You will get the latest cost of cool sculpting machine for your reference.