Tattoo Removal Treatment
Tattoo removal treatment is a procedure done to try to remove an unwanted tattoo. Common techniques used for tattoo removal include laser surgery, surgical removal, and dermabrasion. laser treatment for tattoo removal works to break up pigment for permanent removal of the ink.  As laser energy works to slowly break up and release the pigment from the skin. With each treatment, your tattoo will slowly fade away. After a course of treatments, your tattoo will be virtually unnoticeable, without harm to your skin.
How Does Laser Tattoo Removal Work?
Our PrettyLasers Q-Switched laser produces short pulses that pass, without harm, through the upper layers of the skin to target and break up the unwanted tattoo pigment. This energy from the Q-Switch laser shatters the tattoo pigment into small nano (thousands of tiny molecules) sized particles that are then removed gradually by the body's regular metabolism and lymphatic drainage system. Over the course of your treatment series, your tattoo will gradually fade away. The laser tattoo removal process is a non-surgical and non-invasive treatment and can be performed with virtually no downtime.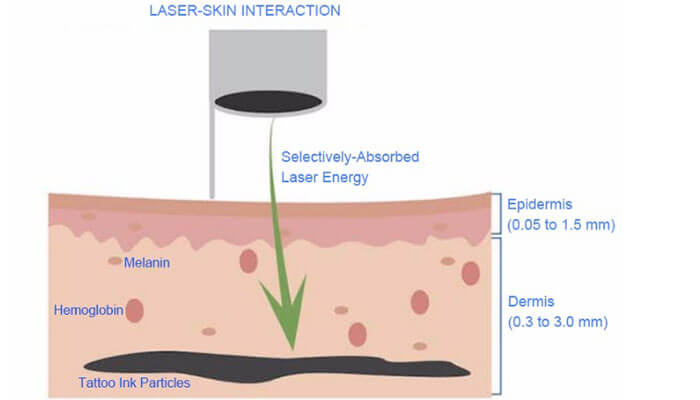 532nm:

for treatment of epidermal pigmentation such as freckles, solar lentigo, epidermal melasma, etc.(mainly for red and brown pigmentation)

1064nm:

for treatment of tattoo removal, dermal pigmentation, and treating certain pigmentary conditions such as Nevus of Ota and Hori's Nevus. (mainly for black and blue pigmentation)

1320nm:

skin whitening, freckle, acne, face blackhead/black spot removal.
---
How Often Can I Receive Laser Tattoo Removal Treatment?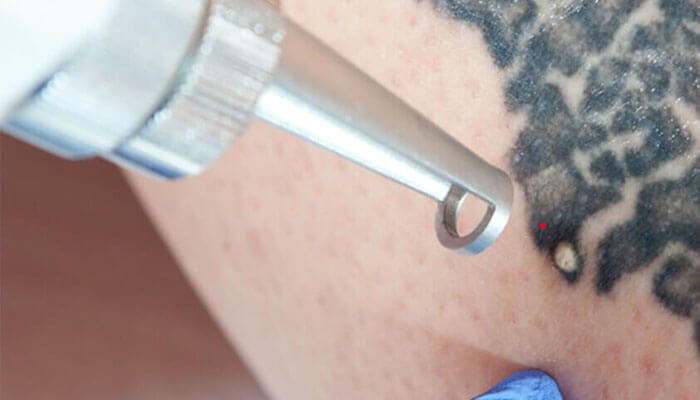 Your next permanent tattoo removal should be no sooner than 8 to 12 weeks. When the laser works its magic to break up the pigment. Your body is responsible for eliminating the ink. It does this as a natural process of metabolization and blood flow, but it needs 8 to 12 weeks to fully resolve targeted ink molecules. Each laser session breaks up only a certain amount of the tattoo, so you will need to return for successive treatments until the tattoo fully resolves.
---
How Many Sessions Of Tattoo Removal Treatment do I Need?
With all laser tattoo removal treatments, we suggest a minimum of 6 sessions at least, spaced 8 to 12 weeks apart. While many may see sensational results after just a few treatments, there are cases/types of tattoos where one may require more treatments to fully resolve. Our technology, the (prettylasers.com) PrettyLasers Q-Switched tattoo removal laser targets pigment, so the particular color and type of ink to be removed largely determines how relatively easy or challenging the tattoo removal process may be for your unique tattoo. How many treatments you will need to vary on a couple of factors of the tattoo you want to be treated with: -The color of the ink -Your skin tone -Any scarring that may be present -The amount of ink that was used.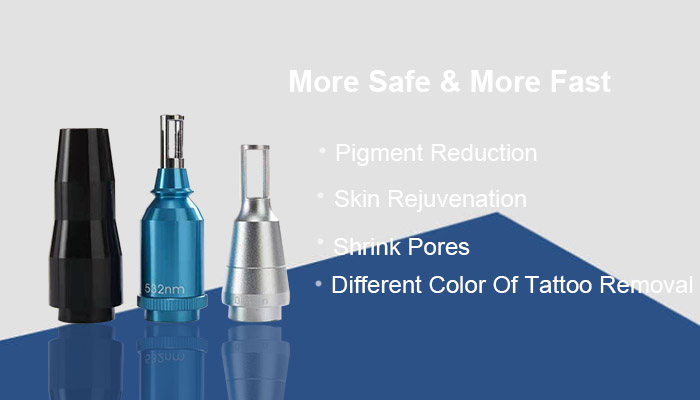 ---
Who Can Be Treated With Tattoo Removal Lasers?
Generally, anyone with an unwanted tattoo can be treated, with the following exceptions: Pregnant or nursing women. Those with an active infection at or near the desired treatment area.Those with heart problems, cancer, history of seizures, and immune system disorders.Those with implanted medical devices. Those with a history of Keloid Scarring as tattoo removal may cause keloid scarring.
---
Is Laser Tattoo Removal Treatment Painful?
When the treatment is initiated, you may feel a sensation similar to tapping or a rubber band snapping. The process is fast and simple and once treatment is done, there is no more pain. So it is painless tattoo removal.
---
What Should Be Noticed During The Tattoo Removal Treatment?
During permanent tattoo removal treatment, the operator should make a right angle between the handle and the treatment area to make sure the light could shoot upright and avoid losing the energy of light as least as possible. Painless tattoo removal treatment for a tattoo in the eyebrow, eye line and lip line, the spot of light should lap over a little to move in line. During treatment for spot or nevus, the operator should treat a small area at one time, the best result should be that the treatment area seeps a little blood.
---
What Is The Aftercare For Laser Tattoo Removal?
We ask that you refrain from hot tubs, swimming pools, dips in the ocean, or water sports until the skin's surface has completed healed and sealed up again-meaning there should be no openings in the area targeted. We will ask that you continue to keep the treated area moisturized. Do not pick peel or scratch the treatment area. Let the area heal on its own. Cover the treated area with a thick bandage if you are planning on being in the sun. It is important to protect the treated area afterward from the sun.
---
Laser Tattoo Removal Before And After Photos
View our Abundant gallery below of tattoo removal before and after photos provided by leading dermatologists and aesthetic providers from around the world.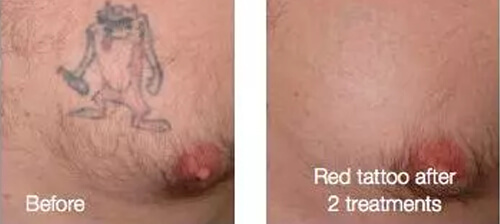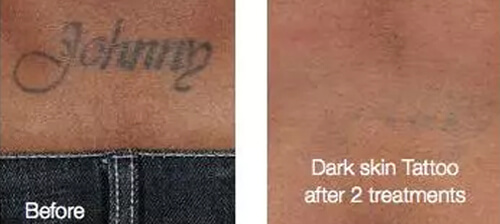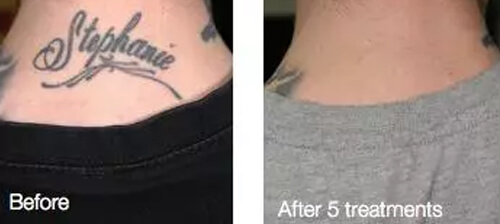 Read Our Aesthetic & Medical Blog
---
Related Products
Tattoo Removal can be found on the following platforms: