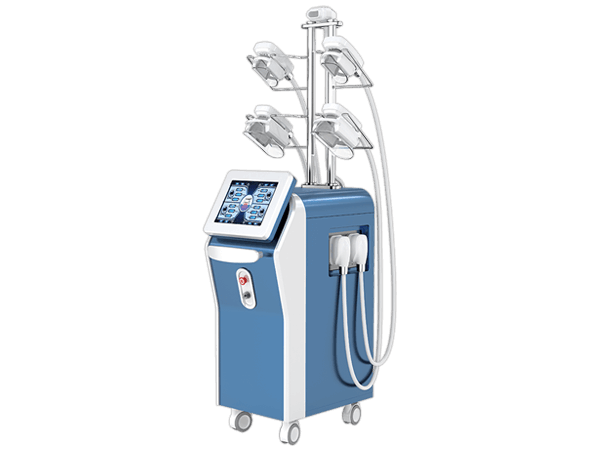 5 Handles Professional Cryolipolysis Slimming Machine
5 Handles professional cryolipolysis slimming machine is a non-invasive procedure, which uses a targeted cooling process to kill the fat cells underneath the skin, freezing them to the point of elimination. This professional machine features 5 handles for body sculpturing, five treatments are by fat freezing application, including a 360-degree double chin cryo handle, two small handles, mid handle, big handle.
Benefits:
5 Handles work together or separately.
Self- protect program, stable temperature control.
Temperature can fast reach -10 degrees.
Fat freezing for body slimming.
25% fat reduction with a one-time treatment.
Interchangeable cryo handles, small head, middle head, and big head.
No side effects,non-invasive.
Suitable for all types of skin.
360-degree handle for double chin removal.
Now, get back your swagger! You deserve to look good, and feel your best without surgery or downtime!
Cryolipolysis Slimming Machine for Optimal Body Contouring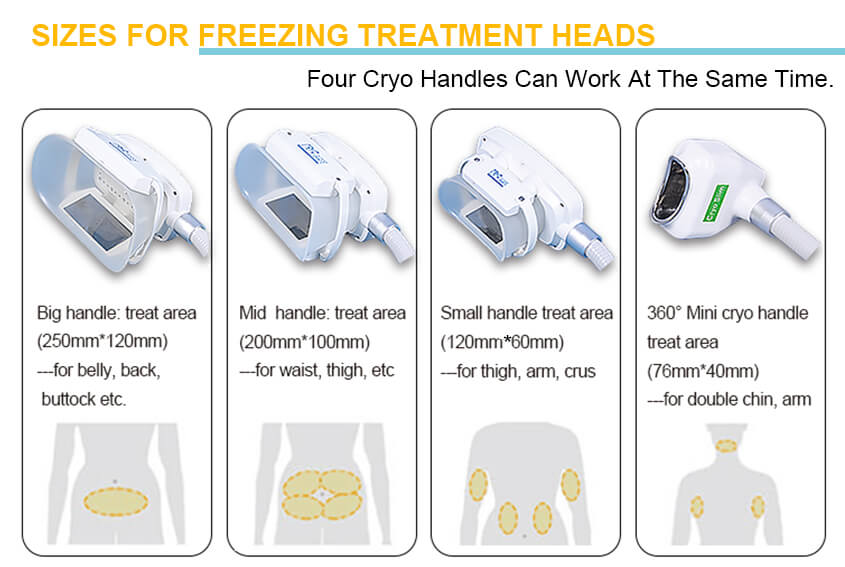 This professional cryolipolysis machine features with 5 handles for body sculpturing, five treatment is by fat freezing application, including 360 degree cryo handle, two small handles, mid handle, big handle.
The single fat freezing machine is most targeted to the medium-sized area of our body, such as the belly, inner or outer thighs, buttocks, double chin arm, or your back, fat freezing machine can selectively target troublesome areas of them.
What is cryolipolysis?
Cryolipolysis, also known as "fat freezing" or by the product name CoolSculpting, is a new procedure that involves the non-invasive cooling of body fat to break down fat cells, resulting in a reduction of body fat without damage to other tissues. The effect takes several months to be seen. The result over 2 to 4 months is a noticeable, natural-looking reduction in fat.
Through cooling technology, triglyceride in fats will be coverted into solid in particular low temperature. Fat cells premature aging and death. Through the normal metabolic processes to increase the fat layer and achieve the purpose of partial melting fat.
During the CoolSculpting procedure:
A vacuum applicator is placed on the skin to bring it into contact with cooling panels.
Patients feel a cold sensation for a few minutes, as it produces an anesthetic effect.
The fat is cooled for up to an hour.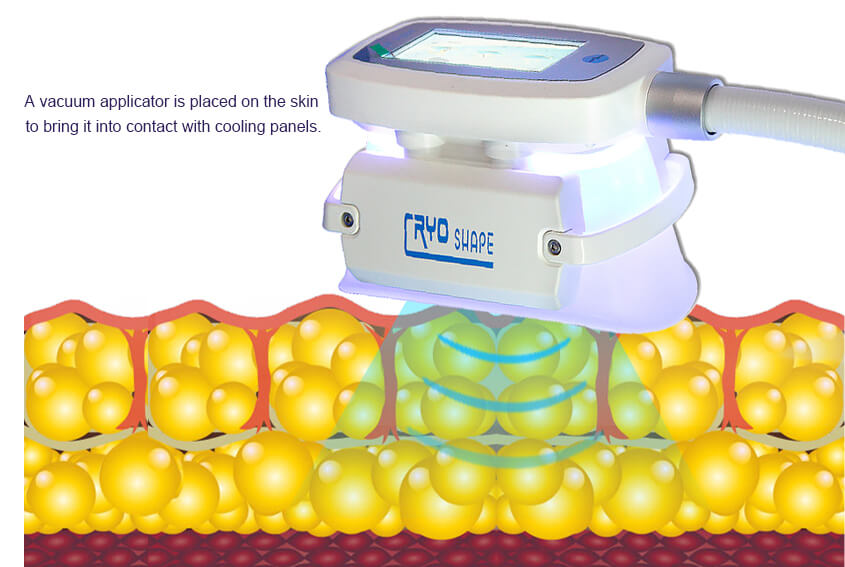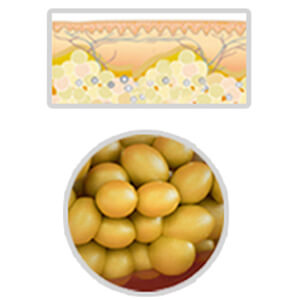 Apply CoolSculpting applicator at the target area, start cryo-cooling to reach a target temperature.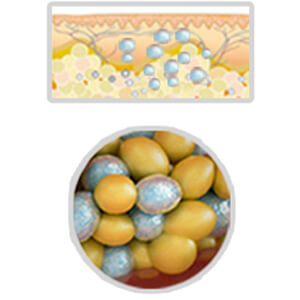 The fat cells in the target area begin responding to cryo-crystallization.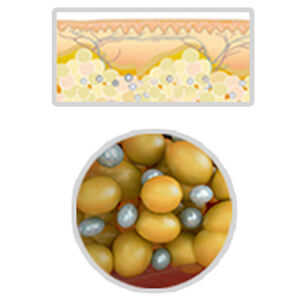 Following the treatemnt, fat cells reach an biological death and removed by metabolism process.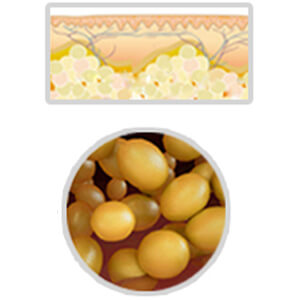 The fat cells are eliminated.
This procedure can reduce unwanted abdominal fat, love handles (flank), and back fat. When fat cells are exposed to precise cooling, they trigger a process of natural remvoal that gradually reduces the thickness of the fat layer. And the fat cells in the treated area are gently eliminated through the body's normal metabolism process, to eliminate unwanted fat.
Through the freezing effect, remove the fat cell triglyceride off heat, and will remain at 5℃, so the cold coagulation, and therefore premature aging and death. Fat cells in the cold will start clearing the natural decomposition process, so that gradually thinner fat layer. Through the normal metabolic process, decreasing the fat layer, to achieve the purpose of partial melting fat. Fat cells can be significantly reduced, the fat layer also will become thinner, so that the fat blocks will be killed one by one.
Cooling Skin protection while lifting and tightening. The contact cooling of the handpiece surface regulates the temperature of the skin and protects fine dermal structures, realizing the fast body-reshape effects while tightening the skin.
Treatments
All areas of the body can be effectively treated with Cryolipolysis Slimming Machine. These include areas that are not easily accessible using conventional cryolipolysis such as the chin, face, and neck as well as larger areas with extensive fat deposits.
Body Shaping–  Face legs and arms hip and stomach slimming, chest and hip skin tightening
Body Slimming – Reduce fat cells, fat slimming, improving lifting skin.
Fat reduction.
Relieving Pressure – Relax muscles and stimulate blood circulation
Skin Tightening – Strengthen the firming skin, remove wrinkles stretch wrinkle removal.
Removal stretch mark effectively.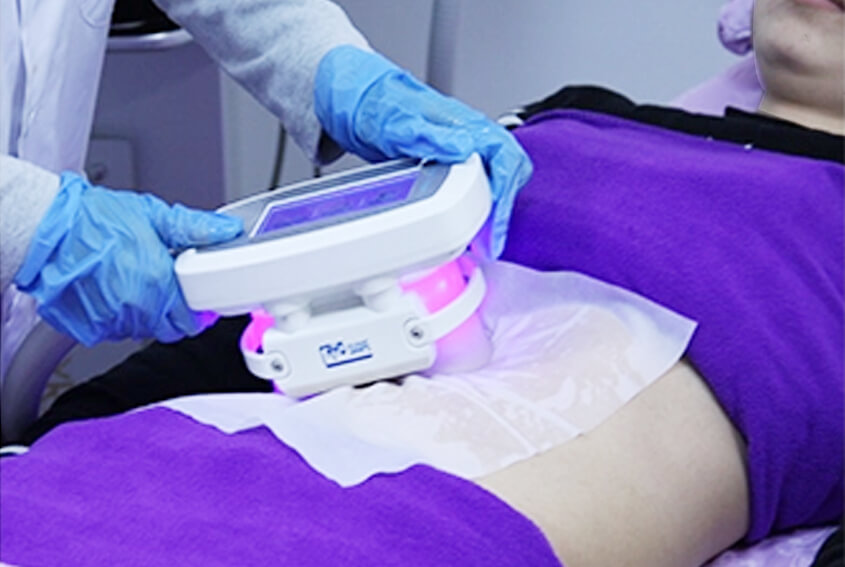 State-of-the-art Technology
Through cooling technology triglyceride in fats will be converted into solid in particular low temperature. Fat cells premature aging and death. Through the normal metabolic processes to decrease the fat layer and achieve the purpose of partially melting fat.
Freeze Mini Applicator for Double Chin for Optional
Innovative coolsculpting machine for sale, 4 Handles Work Simultaneously, at some time, some smaller areas such as the chin or upper arm can be treated together at one fat freezing machine.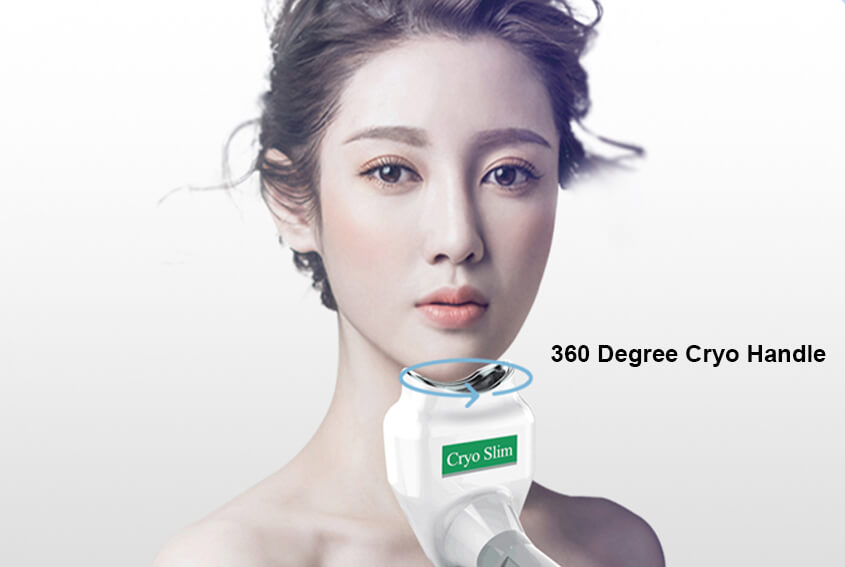 You May Also Like:
CoolSculpting Machine For Sale Treatment Handles
LONGER COOLING PLATES – The maximum treatment area is over 40% of the cooling plate.
MEDICAL SILICA GEL – Effectively observe the treatment and protect the skin.
TOUCH SCREEN – Real-time monitoring treatment head temperature change error alarm.
UNIQUE TREATMENT HEAD – Unique double chin treatment handpiece.
Cryolipolysis Slimming Machine Technology Advanatges
Proven as the most effective way for body shaping, slimming, and reduction of cellulite  & fat.
5 optional treatment handpieces, 12-inch high sensitive touch screen.
A safe non-invasive way. No surgery, no special diets, no supplements, no influence on your normal activities including your everyday life and your work hour routine.
Power supply, imported from Meanwell, Taiwan, to ensure the machine to keep working over 12 hours.
Electromagnetic valve, imported from the USA, to control the suction and release precisely and stably.
Cooling system Water cooling + Wind + Semiconductor.
Contact Skin Parts: Medical use silicon, soft to make customers feel comfortable during treatment.
Proportional valve, imported from Germany, to control the vacuum power.
Four Air pumps, imported from Taiwan, Four drainage systems, double water pumps.
Cooling temperature: -16~5 degrees.
Vacuum Power: 100KPa(max).
Quality ABS case
Four cooling systems with 14L water tanks ensure the machine can be working non-stop 12 hours etc.
Four Cro handles can work at the same time. Professional inner electronic structure to ensure a stable working.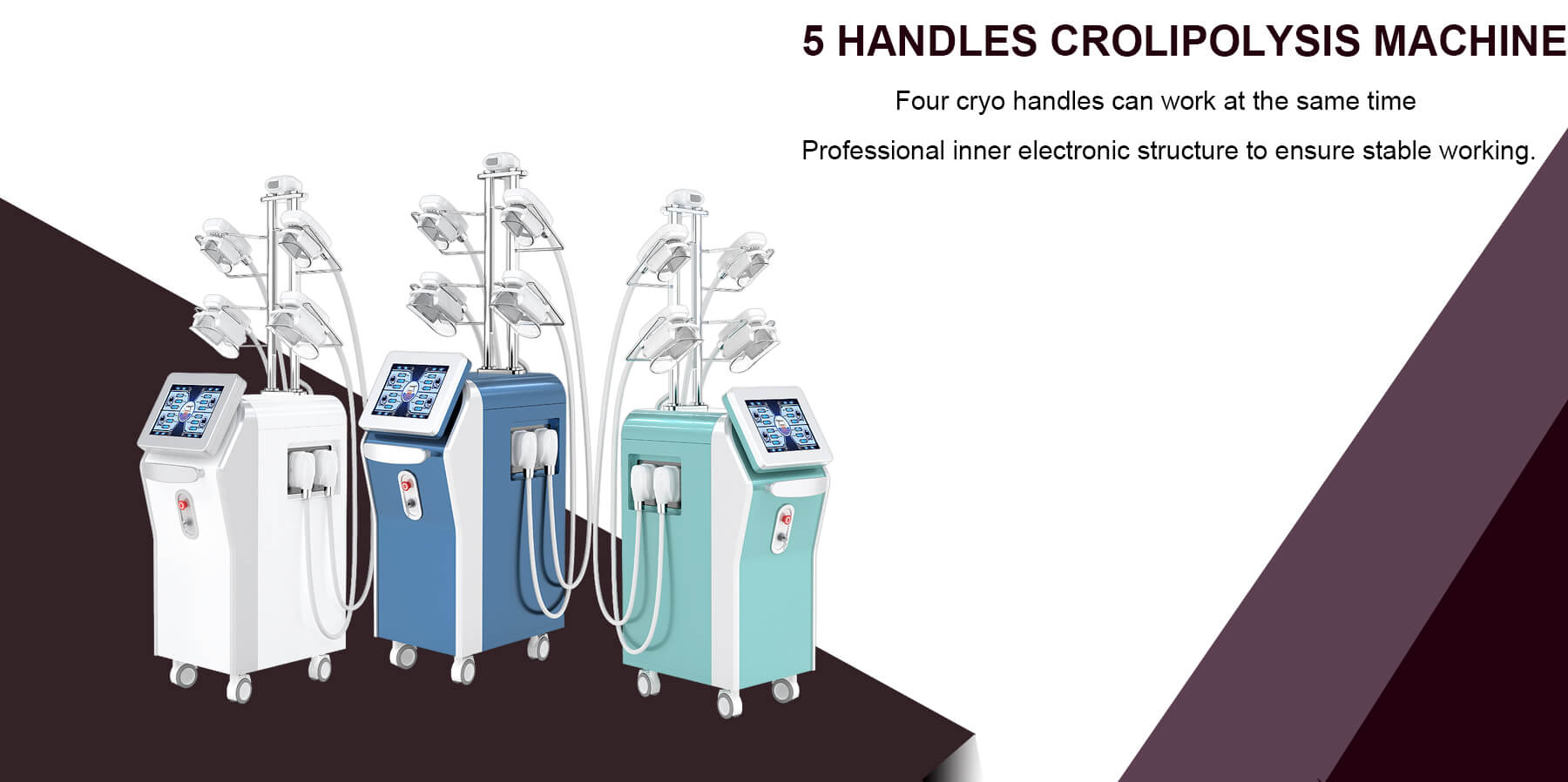 Cryolipolysis Slimming Machine Video
The area to be treated is evaluated and measured by the aesthetician in order to assess the amount of hypodermic fat present and to choose the most appropriate parameters for the area to be treated. A measurement of the skin fold and the abdominal perimeter are also carried out, as well as the taking of photographs which will allow the effect of the treatment to be monitored and its effectiveness to be objectively evaluated. Please see our series of coolsculpting machine for sale installation and treatment videos:
The client lies comfortably in the treatment chair. The cryolipolysis machine for sale aspirates the bead to be treated into a specially designed handle. The fat is heated for 5 minutes and then cooled for 55 minutes. A antifreeze membrane protects it from the cold.
At the end of the session, which is often very relaxing for the client, the cooled area is massaged vigorously to accentuate the anti-fat effects. After activating the handle, the client feels a sensation of intense cold for a few minutes. This sensation quickly disappears. The patient is comfortably seated or lying down during the procedure, which lasts from 1 to 3 hours.
Many clients read, use their laptops, or even sleep during a session. The sensation after the session is that of skin that feels tight, as if tightened, and of a much more compact, less flabby fat volume.
Technical Parameters
Cryolipolysis Slimming Machine
Voltage
220V/50Hz or 110V/50Hz or 110V/60Hz
Cryo output temperature
5 degrees~ -16℃ degree
Vacuum output pressure
0-100Kpa
Cooling liquid
Pure water, with two 9L
Default working time
0-60 minutes
Power consumption
≤400W
Weight
45KGS( NW) / 65KGS ( GW)
Machine Measure
105cm*470*550mm
Outside Package
59*57*131mm
Cryolipolysis Slimming Machine Detailed Advanatges
The cryolipolysis handles
The size of our biggest head is 250*120mm, which is the most suitable and big, can achieve the best effects and save much treatment time;
The head is equipped with 8 pieces thermoelectric cooler, which can achieve -15 centigrade cooling temperature even during the treatment.
The cooling system of cryolipolysis slimming machine
Wind, water, and semiconductor 3 strong cooling systems guarantee to last working for 24 hours.
10L water tank, high power booster pump, ensure good water circulation.
With 4 big copper radiators, 4 big DC fans the heat can be disappeared soon.
Safer
Heart rate test first before the treatment, ensure people are suitable for cryolipolysis treatment.
Heating before cooling, first 3 minutes heated before treatment, to promote blood circulation, avoid the bruise phenomenon after the treatment.
The machine is equipped with an accurate pressure valve, which can adjust the vacuum during the treatment, prevent the skin from injury as the too high vacuum.
Cryolipolysis Slimming Treatment Before & After Pictures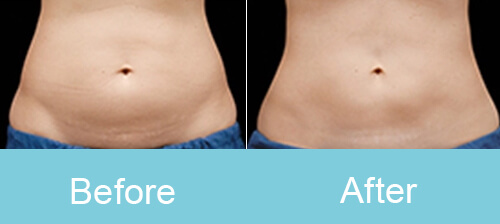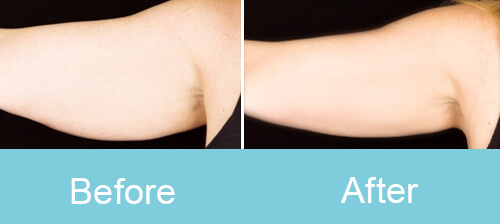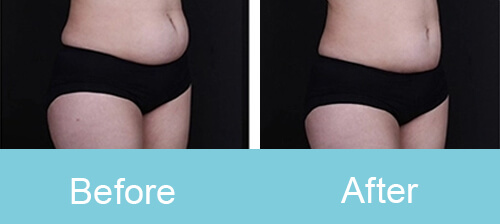 Fat Freezing Machine Reviews:

Why You Can Trust And Choose PrettyLasers's CoolSculpting Machine For Sale?
1.
12 Hours Nonstop Working Cooling System:
The best cooling system can ensure the CoolSculpting machine has 12 hours of nonstop working time. PrettyLasers's Cryolipolysis Slimming Machine consists of three parts cooling system: Water + wind +semiconductor cooling. (Italy imported water pump with unique 8L big stainless water tank and pure copper radiator with 4 big DC fans and 8 Peltiers cooling plates inside each handle ).
2.
5 Cryo Handlepieces Installed on the CoolSculpting Machine:
PrettyLasers's Cryolipolysis Slimming Machine has 5 handles AND 4 handles can work at the same time simultaneously.
3. 
-16°C Cooling Temperature:
The most important factor to influence the slimming results is the cooling temperature of the handle, PrettyLasers's cryolipolysis machine for sale can reach real -16 Celsius degrees. While most suppliers can only reach -10 °C at most.
4. 
Customized Fat Freezing Machine For Sale Color Are Available:
We have many colors available for your choice, you can choose any color you like. Blue, white, turtle blue, grey etc.
5. 
Considerate Complete Training After Purchasing:
With the machine that freezes fat cells, we will send you the USB disk including the instruction manual and operation video. After you receive the machine, we will also provide online training via skype, facetime, WeChat etc.
6. 
Professional Aftersales Service Team Give You Full Support:
If you have any problems during the use of Coolsculpting machine, (prettylasers.com)PrettyLasers professional engineers will get in touch with you and give you full support to get the problems solved asap! More testimonials…
To Whom And For Which Indications Is Cryolipolysis Adapted?
Cryolipolysis is designed to reduce localized adiposity. An ideal client is therefore a person who is not obese (BMI <30) but who wishes to reduce localized and concentrated excess fat such as on the abdomen, love handles, inner and outer thighs, saddlebags, back, or arms.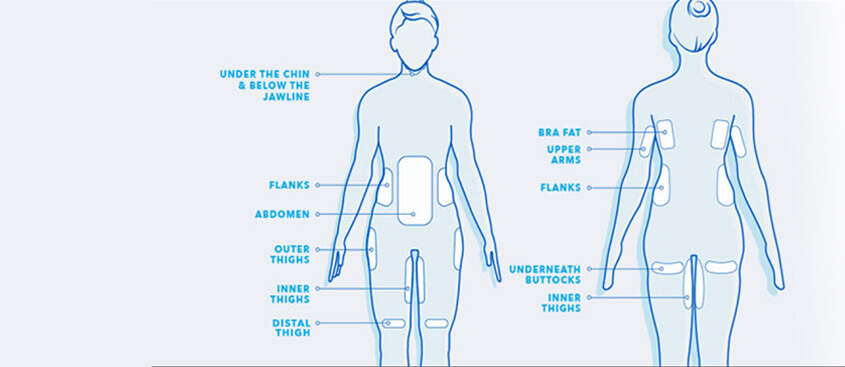 The Number Of Sessions By Cryolipolysis Machine
A second Cryolipolysis session can take place 1 to 2 months after the first session, which further improves the results obtained. These results depend on the age of the fat, the presence or not of cellulite, and the sex of the client (better efficacy in men). The reduction in fat thickness is greater in patients with limited and more discreet fat pads. Some of the fat cells (adipocytes) treated are corrupted and die (apoptosis) because they are sensitive to cold. As long as the client maintains her weight by monitoring her diet and exercise, the results of a long-term session remain stable for most of the time.
How To Improve The Results Of Cryolipolysis?
We list the 9 tips to improve the results of cryolipolysis,
After a Cryolipolysis session and for three months, it is recommended to :
Weighing yourself every day.
Try to lose 50 gr every day.
Three to four days a week, follow a 4P diet, i.e. do not eat bread, pasta, potatoes, and pastries.
These days, eat a diet rich in vegetables and proteins.
Do not drink more than 2 coffees a day (coffee increases estrogen which leads to an increase in calorie storage).
Never drink fruit juices or sweetened drinks, whether they are light or normal.
Replace sweetened drinks with sparkling, lightly flavoured water.
Drink 2 liters of water per day.
Twice a week, take a long walk (ideally two hours).
The best results by Cryolipolysis are observed when the post-treatment period coincides with a slight weight loss of 1 to 3 kilos.
How To Buy the Cryolipolysis Slimming Machine?
PrettyLasers, which specializes in the development of non-invasive anti-aging techniques, has developed a cryolipolysis machine with specialists from the medical and aesthetic world and a team of experienced engineers. If you want to know more details, please directly fill the below form.