Professional E-light IPL Hair Removal Radio Frequency Machine
Professional E-Light system uses three advanced technologies that combine to deliver very effective treatments, without sacrificing comfort. It combines E-light, Optical (IPL) and Radio Frequency (RF) to deliver satisfying, longer-lasting results. With three technologies, clients can enjoy the results they desire regardless of the color of their hair or skin type.
A standard IPL handpiece and RF handlepiece come included with PL-M19,enabling businesses to branch out their IPL hair removal services with 8 additional and in-demand treatments including skin rejuvenation, pigmentation correction, vascular therapy and acne management. And radio frequency for face, neck, eye and body.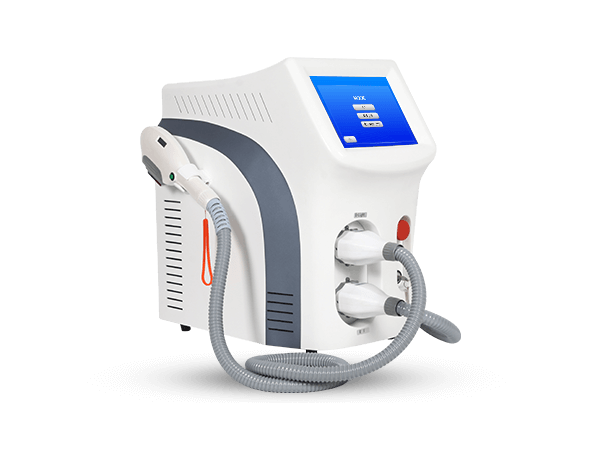 For salons, med spas and wellness clinics looking to lead the way in the latest IPL innovations, PL-M19 is a superior choice in that it slashes hair reduction session times, increases patient comfort throughout and delivers outstanding treatment efficacy from start to finish.
Benefits:
E-Light Technology-

RF + IPL

Operating Interface – Colour touch screen
UK imported lamp
Japanese imported 15000uF capacitor
Interchangeable filter – Many interchangeable durable filter(480nm)/(530nm)/(640nm) – Suitable for option applying to different applications and skin types
Cooling System – Water cooling, forced-air cooling and semi-conductor cooling have excellent cooling result, Cooling Temperature can reach -5℃
Professional and modern design
Elegant appearance, competitive price and perfect after-sale service
Long continuous work time, stable function, shot period of treatment
Easy operation
No down time
Delivery in time without delay
Bigger frequency – With bigger frequency (from 1 to 10 Hz). Which accelerate operation speed and short a lot of time for treatment Intelligence, stable operation simple and beautiful.
Technology
What is ipl hair removal?
Intense Pulsed Light (IPL) is a special type of light, similar to the laser, but with superior performance. The IPL uses a specially designed lamp to generate a source of high intensity light, which through a given filter changes its characteristics for different treatments.
IPL uses a broader spectrum of light and it is less invasive than laser, so can be used in different body parts and different treatments.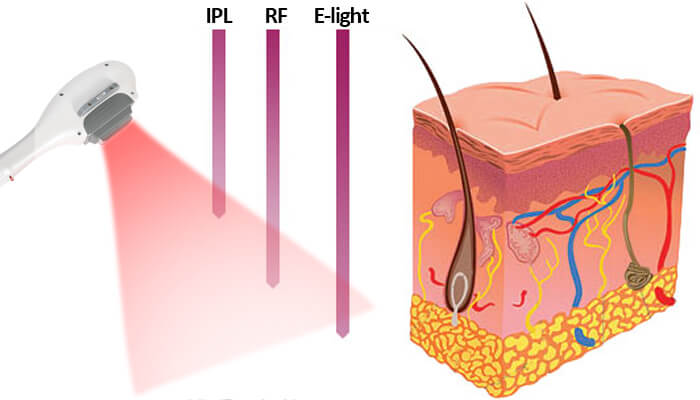 Radiofrequency
Radiofrequency (RF) is a noninvasive technique that raises the temperature of the deep layers of the skin, changing the structure of collagen and allowing skin cells to regenerate.
RF generates an electromagnetic field between two poles, passing through the deepest part of the skin, resulting in cellular movement, raising the temperature. Thus, RF complements IPL, expanding the treatment effect.
Finally, a cooling system makes the treatment more pleasant. The portion of the applicator which is in contact with the skin cools its outermost layers, soothing it and reducing the sensation of heat.
Intuitive Operation Interface
The E-light system is designed to be effective and at the same time easy to use. Through a 10.4 inch touch screen you can select the treatment to apply. The software is very intuitive and is available in several languages.
The following operation interface appears after booting: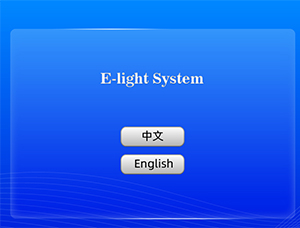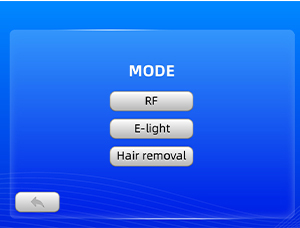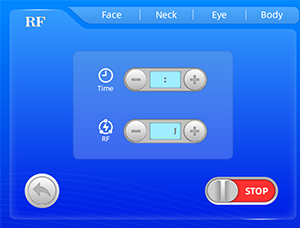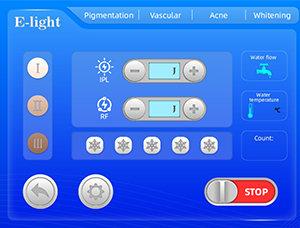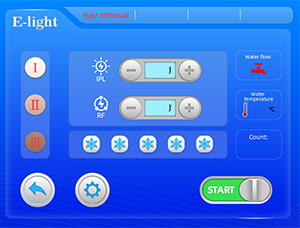 In addition, it is easy to know how many shots have been made because it incorporates a counter, which is available on the screen.
E-light Treatment Handlepiece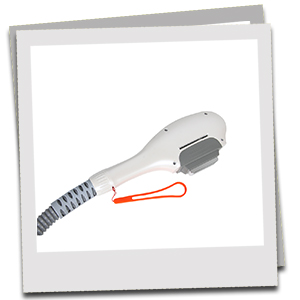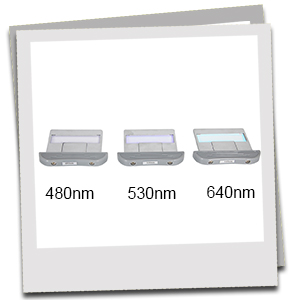 480nm Wavelength:
Red blood: red face, expanded capillary, hereditary and postained red blood;
Acne: acne, folliculitis, acne printing, etc.
530nm Wavelength:
Freckle: freckles, chloasma, elderly spot, leather spot, hepatic spots, etc.
Wrinkle removal.
Whitening and rejuvenation.
640nm Wavelength:
Shallow hair / thick black hair: arm, underarm, size leg, size arm, lip, hair line, etc.
RF Treatment Handle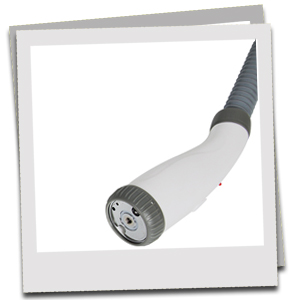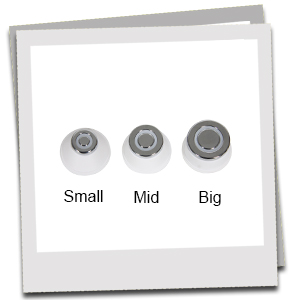 Radio Frequency For Face, Neck, Eye and Body
Small Tips for eye
Mid Tips for face and body
Big Tips for body
Shrink pores; remove wrinkles, lettuce plug
Improve eye bags, remove dark circles
Improve gray skin color, whitening skin
Tighten the doubles and neck wrinkles
Stimulate collagen regeneration, increase blood circle
Chest, waist, hips, leg shaping, systemic anti-aging
After liposucery, the compaction of postpartum relaxation.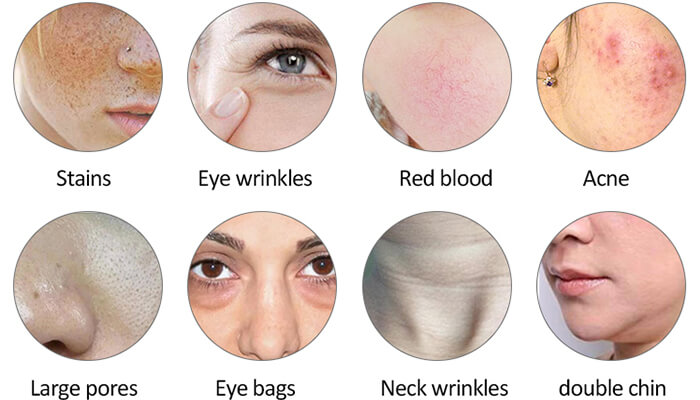 Technical Parameters
E-light System
Power
2000W
Voltage
110/220V
Wavelength
480nm, 530nm, 640nm
Spot Size
15*50mm
RF
2MHz
Screen
10.4inch touch screen
Cooling System
Water cooling, air cooling, semiconductor
Cooling Temperature
-5 ℃
Machine Size
53cm*35cm*56cm
Applications
IPL hair removal
E-Light System is the one of IPL laser hair removal machines. This technology increases the safety and effectiveness of treatments. When selecting hair removal program, a high intensity light is emitted in flashes of short duration. These flashes change into heat and make the hair bulb atrophy permanently.

First, the handheld touches the skin, which begins to cool. Then, Pulsed Light pre-heat the area to be depilated. Finally, IPL and radiofrequency work together on the dermis and epidermis. In a split second, the energy is transmitted through each hair down to its root. The sudden rise in temperature causes the hair to separate from its follicle. Thus you can slow down the hair growth and take care of the skin at the same time.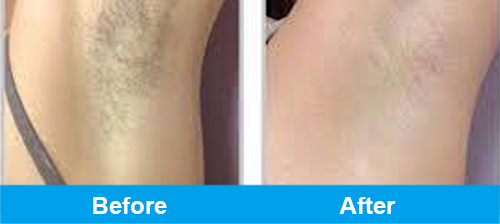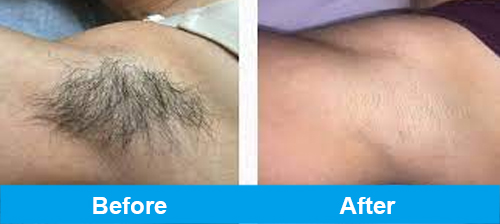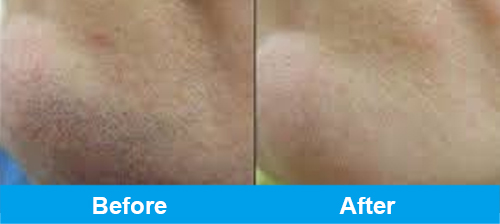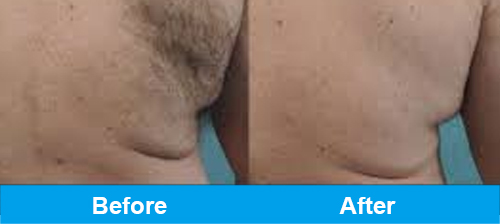 Pigmentation treatment
This pigmentation treatment reduces skin blemisheseven in sensitive areas such as face or hands. The IPL acts on melanin, the pigment that gives color to our skin.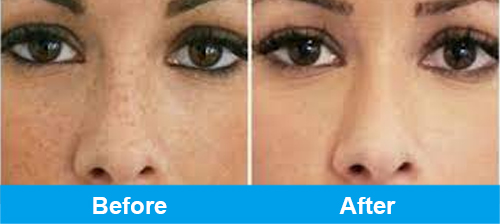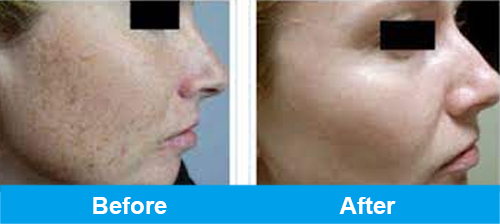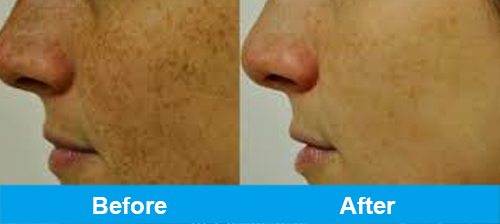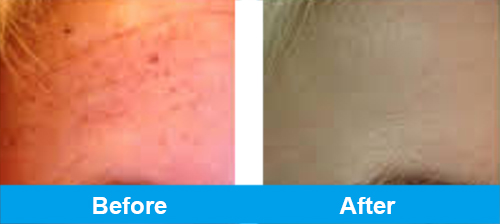 Vascular treatment
Vascular IPL treatment is ideal for targeting surfaced capillaries that is causing the appearance of redness. This includes broken capillaries, spider veins any red spots and rosacea. The treatment works by using light energy as heat to target the surfaced capillaries and cause coagulation. Ultimately this will result in reduced blood flow and therefore lessened redness in the skin.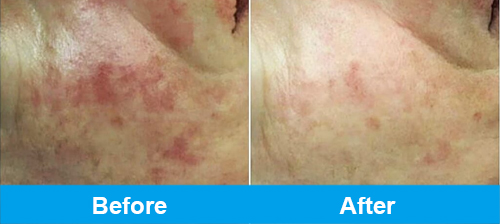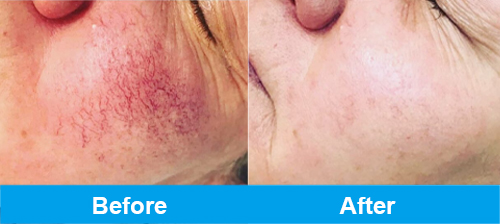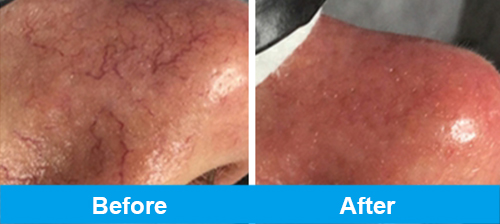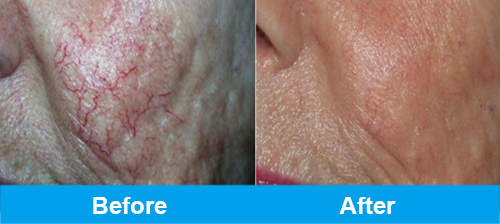 Acne treatment
E- light System acts directly on the sebaceous glands that are secreting fat, reducing acne very effectively in the treated area. In addition, as it stimulates the generation of collagen, the treated area will recover better from the aftermath.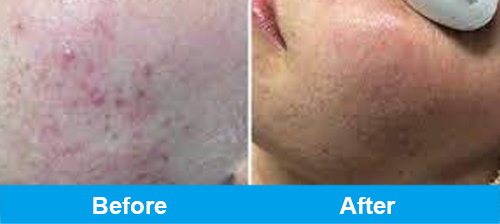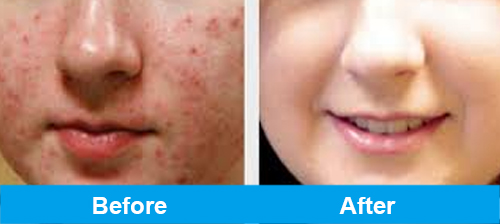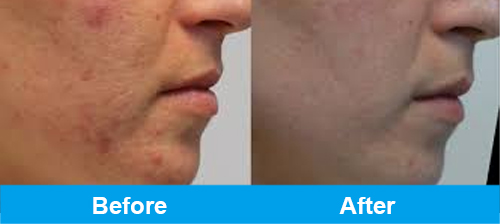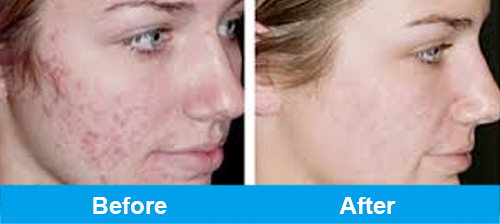 Wrinkle removal
This treatment stimulates skin fibroblasts to generate more collagen, improving their appearance and reducing wrinkles and fine lines.
Photorejuvenation
Pulsed Light is emitted in a wide frequency range, so it can treat several features of an aged skin. Thanks to the Pulsed Light, it is possible to reduce pigmented spots and little veins. On the one hand, it works by reducing the intensity of sunspots. On the other hand, it acts on the superficial capillaries, caused them to collapse so they are no longer visible through the skin. Finally, this treatment stimulates collagen generation, improving skin texture, reducing pore size and fine wrinkles.
You May Also Like:

IPL Hair Removal & Radio Frequency Reviews
How is the E-Light system different from other laser systems?
The E-Light system is the only system that can rejuvenate the skin and get rid of the "Peach Fuzz" (tiny white and blonde hairs) that other lasers miss.
The E-Light technology is also wonderful for rejuvenating the skin of the face,neck, chest and arms.
Professional E-Light system uses optical energy to heat the hair shaft, combined with radio frequency, which heats and coagulates the follicle itself. The radio frequency is safer because it is not affected by skin color.
What areas can be treated with E-Light?
Because this E-Light IPL & RF Beauty system treats hundreds of hairs at a time, it is easy to treat smaller or larger areas such as the back, shoulders, arms, legs, face and neck. Best of all, hair removal with RF energy is a safe, fast, gentle and effective method for hair removal for all skin types, including dark pigmented skin. E-Light produces the desired hair loss without any of the potential side effects seen with other laser systems.
How many treatments will I need?
Skin rejuvenation treatments are administered every four weeks. Age, ethnicity, weight, hormones,diet, medication, metabolism and sun exposure all play a part in your skin's condition. The number of skin rejuvenation treatments depends on the area treated, your expectations and your goals. Usually, 3-5 treatments are sufficient. Hair removal usually requires multiple treatments. For some people 2-3 treatments are sufficient; however, black or white hair responds at different rates. Most clients receive treatments until they achieve their desired results.
How many treatments will I need for vascular?
IPL vascular will vary from person to person however generally 3-6 treatments are recommended. A maintenance treatment may also be needed 6 months after the course of treatments is completed. However some people only require a single treatment, this can be determined on consultation.
Is there any downtime?
No, there is no downtime. There may be some temporary redness however this is expected to pass within an hour and can easily be covered with a tinted sunscreen or makeup.
Are the results long lasting?
Most clients experience long lasting results. For optimum clarity, we could recommend a maintenance session if/when necessary.
What are the benefits of E-Light treatments?
It can remove all unwanted white, gray, blonde, brown, black and red hair.
It works on all skin types.
E-Light provides lasting results.
It rejuvenates the skin of the face, neck, chest and arms.
It is effective on any area of the body where smoother, younger-looking, hair free skin is desired.
Why choose professional E-light System?
RF is effective regardless of the amount of melanin in the treatment area. That is, no matter how dark or light the skin is, the energy will reach the deeper layers of the skin. Side effects are almost nonexistent, in a few cases there is a slight redness that disappears quickly.
It is a painless treatment. The emission of light pulse is modulated, without intensity peaks (which does occur in other hair removal equipment), neutralizing the risk of burns and the sensation of pain or discomfort in the user.
Thanks to the RF, IPL laser output requires less energy to achieve the goal of the treatment. Combining IPL + RF, it is possible to achieve results with much less risk of overheating the top layer of skin. In addition, it is nicer for the user.
The machine has adjustable cooling systems, making the treatment safe and comfortable for the patient. The handheld has a refrigerant that, when it is touching the skin, it eliminates the sensation of heat in the surface and increases the safety and comfort of the treatment. In addition, two other internal systems ensure that the machine remains in the optimum operating temperature.
Non-invasive and non-ablative treatment for skin
RF energy is suitable for all skin type and all skin tone
Significantly less energy required than conventional lasers and IPLs
Superior performance and client comfort with no down time
Quick and easy handlepiece installation
Virtually painless skin tightening technology without surgery
With two handpieces for E-light and RF
Modularized assemble technique and easy for maintenance
With 10.4″ deluxe touch screen
State-of-the-art design
"Plug & Play" technology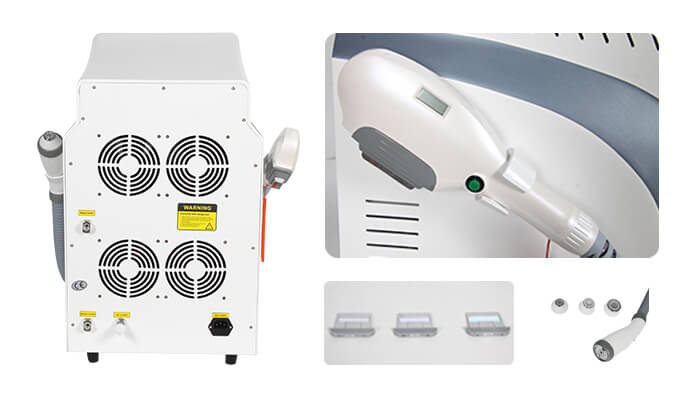 The PrettyLasers Best Price and Quality Guarantee
All customers can rest assured that we deliver the highest quality products tat the most reasonable prices, guaranteed! We guarantee to beat any genuine competitor's quote on our full range of products, so talk to one of our friendly consultants today. Experience our fully comprehensive and personalised customer service and see for yourself why the PrettyLaser is China's premier aesthetic beauty equipment supplier.
How much does ipl machine cost?
The prices of some IPL machines can be as low as 3,000 USD or less, while the newest, high-tier systems may cost as much as 60,000 USD. PrettyLasers's PL-M19 price is very reasonable. And its superior quality will make you and your customers very satisfied. If you want to know more information about IPL machine from IPL SHR E-light Hair Removal Machines Supplier – PrettyLasers. Please fill out the form below and we will get back to you ASAP. Or simply call Phone: +0086 15001300057. You can get the latest E-light IPL & RF System price.