Portable Non Channel Diode Laser
Portable non channel diode laser is the "gold standard" technology for unwanted/excessive hair removal. Clinically proven, laser technology for permanent hair reduction has yet to achieve good safety and efficacy. The laser energy heats up hair follicles to a sufficient temperature for hair removal. At the same time, it delivers a minimal amount of thermal energy to the epidermis.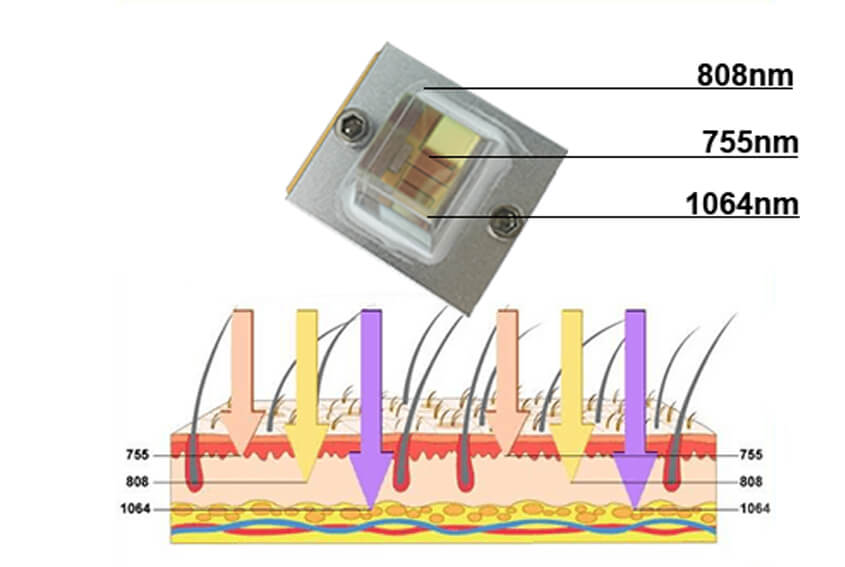 Portable Laser Hair Removal Device
Portable laser hair removal devices features 3 different wavelength (808nm + 755nm + 1064nm). Per wavelength work in the different depth of hair follicle to achieve better efficacy and ensure the safes and comprehensive hair removal treatment.
808 nm

: Golden standard wavelength for all hair types.

755 nm

: laser hair removal for light hair, blonde hair, fine hair.

1064 nm

: Specific effective for dark, tanned skin.
Buy A Laser Hair Removal Device To Start Your Aesthetic Business
Laser hair removal is still one of the most popular aesthetic procedures. The treatment has gained acceptance globally and has become the standard for both women and men of all ages from early teens upward. They want a treatment that is effective, fast and comfortable.
To meet these needs, PrettyLasers developed the portable non channel diode laser which can work continuously for a long time, especially the laser chips are solid and durable. Basically there is no after-sales service. Portable laser hair removal device has no special requirements for water quality. So you can grow your business by offering your patients what they desire.
Benefit From A Rapid Return On Investment.
Attract More Patients
Grow Your Business
In order to provide you with optimal treatment possibilities, the portable non channel diode laser devices come with:
Optimal wavelength 808nm
Large and small spot sizes handpiece for your option.
Strong TEC + Sapphire contact cooling technology
Laser chips imported from Germany.
With PrettyLasers's portable laser hair removal device's solutions, treatment providers can customize treatments according to each patient's hair type, skin type (including tanned and dark skin) and lifestyle – and therefore access a larger demographic.
Portable Laser Hair Removal Devices
Portable non channel diode laser hair removal devices are the expert for laser hair removal for light hair. With 300 watt, 450 watt, 600 watt and 900 watt for your choices. These Portable Non Channel Diode Lasers are one of the most powerful of its class, allowing it to use large or small spot sizes. The high power allows portable non channel diode laser to emit extraordinarily short pulses, effectively targeting hair follicles while protecting the surrounding skin. With the optimal 808nm wavelength, it is more powerful and reliable.
Portable non channel diode laser system is lightweight with a compact design. The systems can thus be used in different treatment rooms or clinics.
If you are interesting in learning more about specific equipment or want to buy a laser hair removal device or other aesthetic devices, fill out the form below and we will get back to you ASAP.
Laser Machine Supplier – PrettyLasers provide comprehensive OEM beauty services according to your needs.