Diode Laser Hair Removal System
Diode laser hair removal system for all skin types. Based on the principle of selective photothermolysis, laser hair removal system targets the entire hair structure, from the hair shaft down to the follicle. Light energy with a specific wavelength is absorbed by the endogenous chromosphere melanin, resulting in the rapid heating and subsequent local thermal necrosis of the follicles' regenerative structures.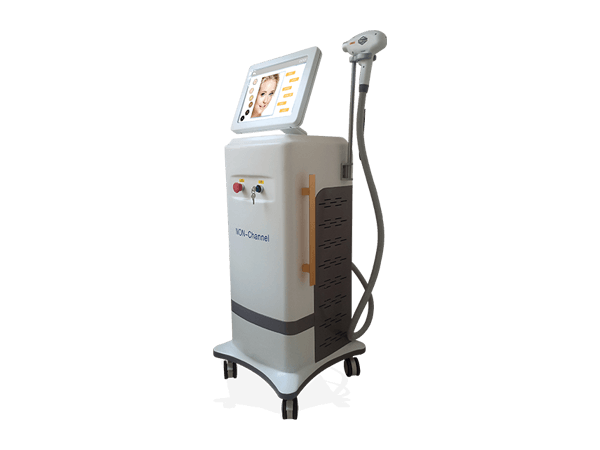 Best Laser Hair Removal System PL-303N
What's the best laser hair removal system? The best hair removal system is to acheive permanent hair reduction, while providing maximum skin protection. Diode laser hair removal system PL-303N provides the optimal 808nm wavelength which has been considered the gold standard technology for permanent hair reduction therapy.
PL-303N is also equiped with advanced TEC cooling technology for virtually painless treatment sessions.
Benefits:
Large spot size for quick treatment.
TEC cooling system.
Plug & Play technology.
Intuitive, user friendly large screen.
I-VI skin tones and tanned skin.
There is no strict requirements for water quality.
Technology
What Are Diode Laser Hair Removal System?
A diode laser hair removal system uses semiconductor technology that produces coherent projection of light in the visible to infrared range. It uses a light beam with a narrow spectrum to target specific chromophores in the skin. Compared to other laser systems such as the Ruby and Alexandrite, the 808nm diode laser wavelength offers the deepest penetration levels and superior melanin absportion.
These unique characteristics makes the diode laser the most suitable technology for laser hair removal, enabling safe and effective treatment of all skin hair types, in all body areas.
How Doese A Diode Laser Hair Removal Systme Work?
Diode lasers use the principle of selective photothermolysis to target specific chromophores in the skin, usually melannin or blood. The lasers damage the chromophores by selectively heating them while leaving surrounding tissue unharmed. When treating unwanted hair, for example, the melannin in the hair follicles is targeted and damaged which resutls in the disruption of hair growth and regeneration. A diode laser system can be complemented by cooling technology, or other pain reducing methods which improve treatment efficacy and patient comfort.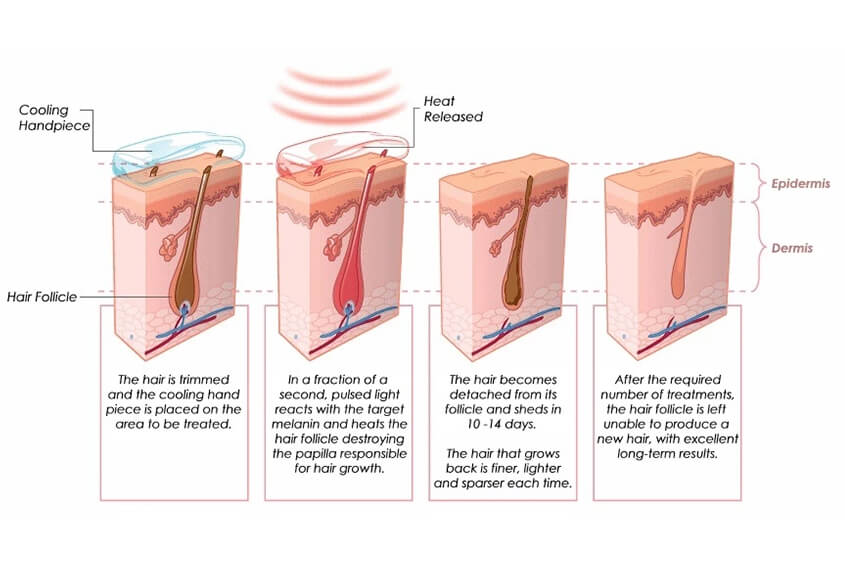 Germany Imported Laser Chips
Germany imported laser chips-every chip power 150 watt.
High peak-power, adjustable pulse duration and a variety of spot sizes allow for rapid treatment of full body areas.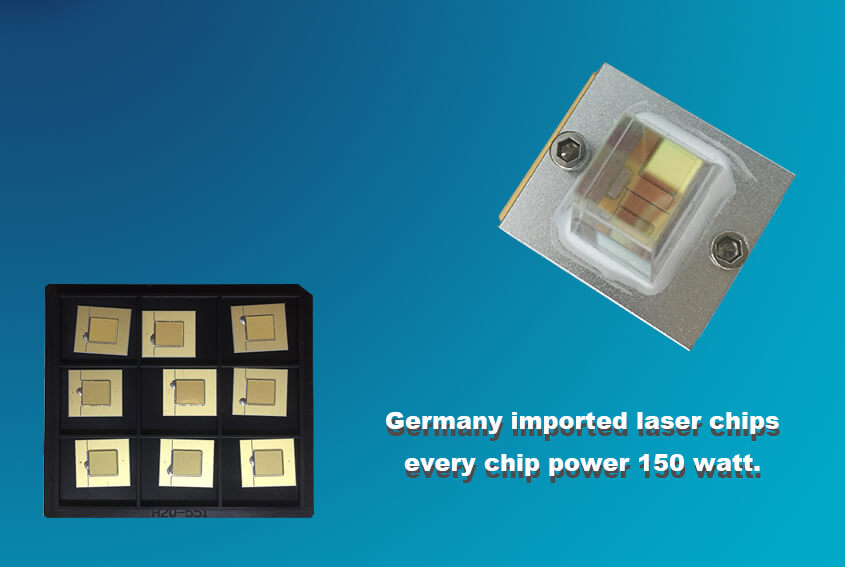 Professional User Operation Interface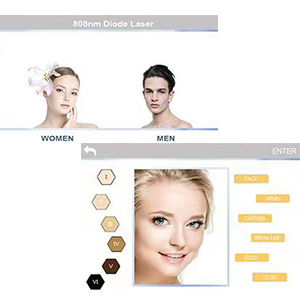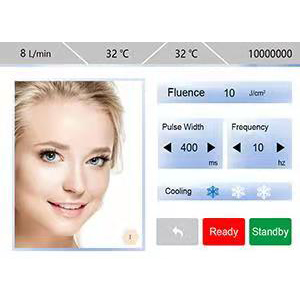 Intuitive treatment parameters settings.
Fast learning and easy operation.
Different treatment area for your option.
Hair removal for women and men.
Strong TEC Sapphire Cooling Technology
Strong TEC sapphire cooling technology
Integrated contact cooling provide epidermal protection for treatment areas requiring precision and higher fluence.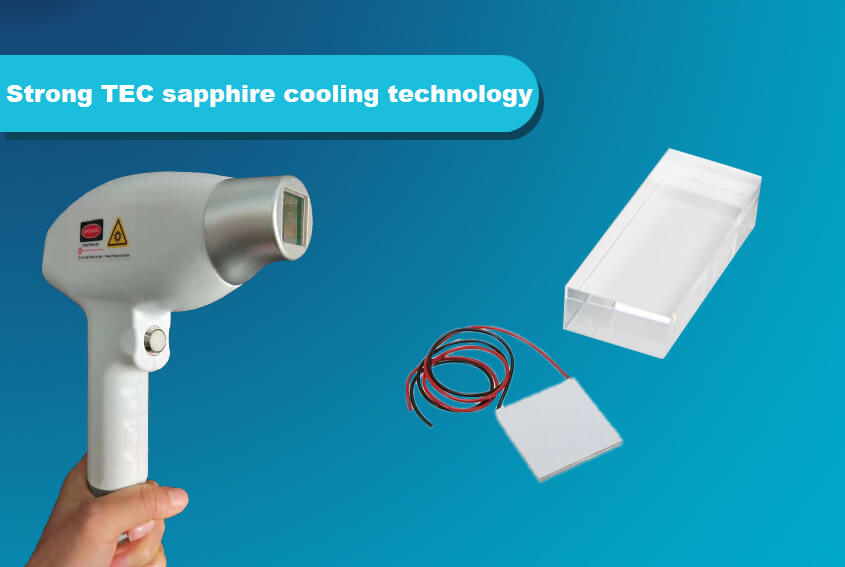 Advantages Of Strong TEC Sapphire Cooling Technology
Patient comfort
By continuously cooling the skin, pain and discomfort are significantly reduced.
Efficay
TEC+Sapphire contact cooling faciliate hair follicle closer to the surface. High fluence enables treatement of areas requiring precision and thin light hair.
Safety
Superior epidermal protection is achieved through TEC + Sapphire contact cooling.
Different Handlepiece Spot Size Optional
Large spot size of 20mm*25mm² provide fast and comfortable treatment.
15mm*15mm² spot size provide s solution for large and small areas requiring higher fluence levels.
10mm*10mm² spot size offer to treat samll areas that require maximum precsion and higher fluence.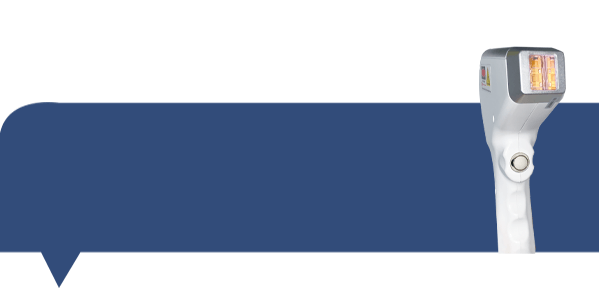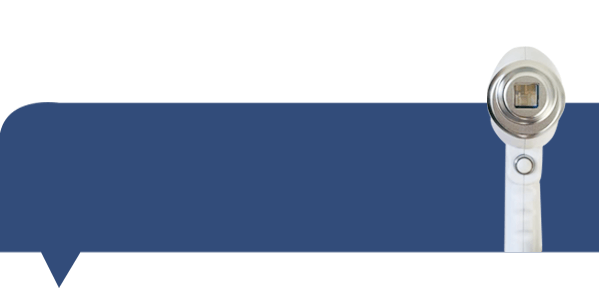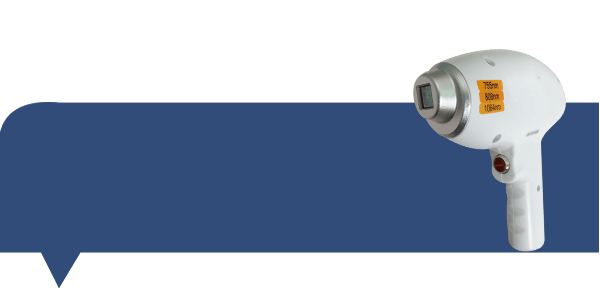 Technical Specifications
Diode Laser Epilation Machine
Wavelength
808nm
755nm, 808nm, 1064nm optional
Working Frequency
1~10Hz
Maximum frequency 20 Hz
Energy Density
1-120J/cm² adjustable
OEM is ok
Handlepiece cooling
TEC+Sapphire
Sapphire OEM
TEC cooling
12V6A
TEC Power OEM
Spot size
15×15mm² or 25 x31mm²
Spot Size OEM
Output Power
600w, 900w
Laser power OEM
Laser Bars
Germany laser Jenoptik,150W/piece
Pulse Width
5ms~400ms
0~1000ms OEM
Output Mode
Pulse Output
Pulse Output
Language
Standard English
Can be made according to customer's requirements
Display
8' color touch screen
10.4' is available
Protective Temperature
55℃ interface select
OEM
Water Pump
DP-60 diaphragm rods 12V
Flow Sensor
3.5L/min flow requirement
Cooling System
240×120cooling line(2pc),18 pcs channel
Compressor plan,TEC plan
Cooling Fan
4pcs fans,speed 3150r/min
12v fans
Case Material
ABS shell/metal shell
OEM Metal Shell
Inter Structure
White zinc hob/color zinc hob
OEM
Water Tank Volume
vertical3.6L/table type 2.5L
OEM
Environmental Moisture
<80%
<80%
Environment Temperature
Air conditioning room,temperature≤28℃
voltage
220V/110V
Applicaitons
For fast, safe, painless and permanent hair removal on all 6 skin types, including dark skin. Suitable for any unwanted hairs on areas like face, arms, armpits, chest, back, bikini, legs…
Applicable to any hair color
Applicable to all skin types.

Laser Hair Removal Results Of Before & After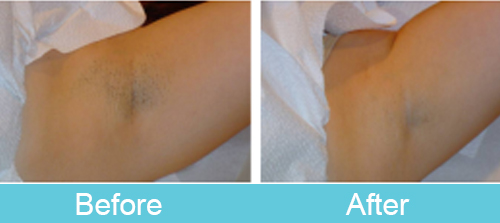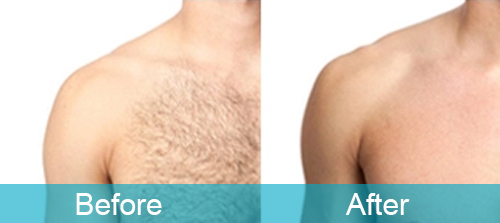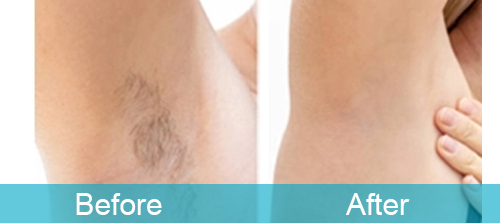 The PrettyLasers Diode Laser Hair Removal System Solution
PrettyLasers diode laser technology has been tested in many of clinics and beauty salons. Our clients benefit from Diode Laser Hair Removal System PL-302N features and enjoy high patient satisfaction. The PL-302N uses high-power diode technology that can deliver high fluence. This is combined with user-select pulse duration, effective contact cooling for high-performance.
The PL-302N also offers 20mm*25mm² spot size which wllows for greater depth of penetration and significantly faster treatment. The PL-303N offers safe treatment of all skin types, including dark skin and significantly reduces side-effects during laser hair removal treatment.

The System use special laser with long Pulse-Width 808nm, can penetrate to hair follicle. Using selective light absorption theory, laser can be preferentially absorbed by the melanin of the hair and then heating the hair shaftand hair follicle, moreover to destroy the hair follicle and oxygen organization around hair follicle. When laser outputs, system with special cooling technology, cool the skin and protect skin from being hurt and reach a verysafe and comfortable treatment! Please look at the follow reviews:
808nm diode laser hair removal system

uses the most advanced technology that penetrates , More assured themechanism performance, clinical results, safety.
Excellent treatment result can be expected at the first treatment and suitable to all types of hair.
High energy – no pigmentation, suitable to all types of hair color and high efficiency.
Long laser width – effective for the hair follicles produce heat accumulation, permanent hair removal.
Safety – almost no skin scattering, no harm to the skin and sweat glands, no scar, no any side-effect.
Strong Sapphire contact cooling system can make momentary epidermal anesthesia, no any pain, increasescomfort during treatment.
Quick – Squared big spot size could prompt the treatment speed, treatment speed and efficiency. Reducetreatment time for original 1/5.
The power module design is suitable for import and export business. It is convenient to maintenance.
Best thermostatic water cycle system guarantee semiconductor pump can't burn cavities due to overheating.
Intelligent LCD screen, user friendly operating interface.
Self-checking and auto-protection mechanism to ensure the stability.
Professional beautician and Dermatologist make perfect therapeutic schedule together.
Diode laser hair removal reviews:
What is the most effective laser for hair removal?
PrettyLasers, whose practice owns more than a wide range of lasers, uses the alexandrite laser for hair removal most often; the diode and nd:Yag lasers are particularly effective as well. Intense pulsed light machines can also remove hair, but only on light skin, and the quality of those machines can vary.
Why do hairs continue to grow after the the treatment?
Hair's growth cycle
This is mainly due to the hair's growth cycle. Hairs in the anagen, or active phase will be affected by the laser. The hairs in the catagen, or dormant stage will be unaffected during the treatment and grows when it goes to the anlagen phase. Undergoing laser also only forces the hair follicles to go dormant; it does not destroy the hair follicle.
 Laser
The laser used during the treatment focused a beam of low-energy light on individual hair follicles underneath the skin. This energy absorbs melanin (responsible for the pigmentation in hair) and heats up the follicle and destroy its structure. The growth cycle of each hair is different, which is why some hair will not be damaged by the laser and continue to grow.
Treatment cycles
At least six cycles of treatment are required to expect a significant reduction in hair, with each session conducted after every four to six weeks. Even then, some hair may regrow and touch-up treatments every six to 12 months. The rate at which the hair regrows depends on the individual, with various conditions affecting the rate of regrowth. This includes: skin tone, hair colour, and where the hair is located. A 10 to 20 percent reduction in hair growth can be expected after each treatment, according to the American Academy of Dermatology. The hairs that regrow usually returns much finer due to most of the melanin removed during the treatment, making them less visible.
What is the diode laser hair removal system price?
If you want to know the diode laser hair removal system price or discussing purchasing aesthetic laser machines or other medical laser machines, fill out the form below and we will get back to you ASAP. Or simply call Phone: +0086 15001300057.
---
Related Products