Scars & Acne Scars
Scars & acne scars are common problems for many patients as they frequently develop after trauma to the skin. Scarring is part of the natural healing process of your skin. As the body repairs the wound, fibrotic tissue replaces the injured skin, forming protective tissue. The type of tissue scar that develops depends on the cause of injury, the depth of the wound, its location, and other variables. Part of the population suffers post-surgery scarring, which is relatively hard to treat. An example is a post-C-section scar on a woman's lower abdomen. Much more common, and most displeasing are acne scars. But these scars can be fixed in some ways like ablative lasers such as the carbon dioxide laser (CO2)10600nm, Professional Fractional Co2 Laser Machine, 1550nm Fractional laser system, PDT led light therapy for the face.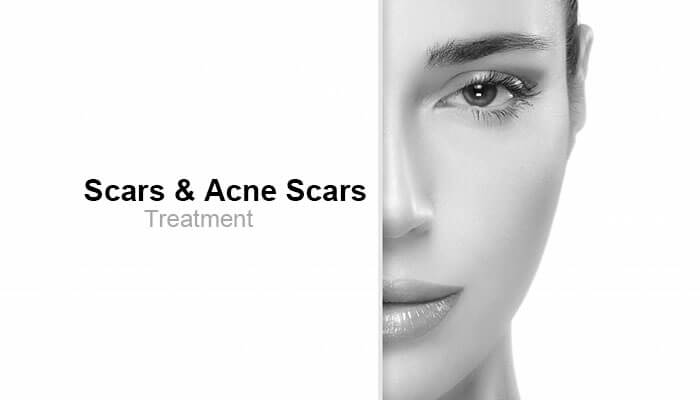 Ablative lasers such as the carbon dioxide laser (CO2), ablative lasers work by destroying the epidermis to a certain depth. Healing times for ablative therapy are much longer and the risk profile is greater compared to non-ablative therapy; however, non-ablative therapy offers only minor improvements in the cosmetic appearance of atrophic and acne scars.
1550nm Fractional laser, Fractional RF, and latest fractional plasma as the safest and non-invasive way without any downtime.
Acne scars can be classified into two main categories:
Those acne scars are caused by a loss of tissue (atrophic scars), and those caused by an excess of tissue (hypertrophic scars). Within these categories, there are four main types of acne scars: ice pick, boxcar, rolling, and keloid scars.
Ice pick scars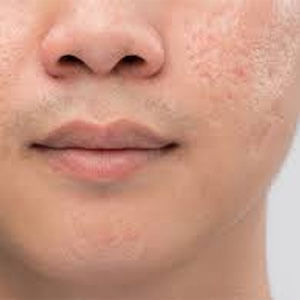 Ice pick scars are deep, very narrow scars that extend into the dermis. The skin looks as if it has been pierced by an ice pick or sharp instrument. The ice pick scars seem to make a small, thin, deep hole into the skin. Some may look like a large, open pore.
Boxcar Scars
Boxcar scars are round or oval depressions with steep vertical sides. Wider than ice pick scars, boxcar scars give the skin an uneven, pitted appearance.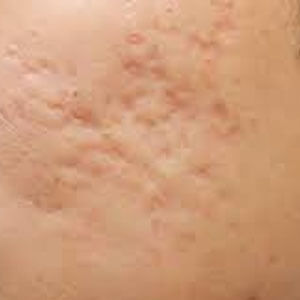 Rolling Scars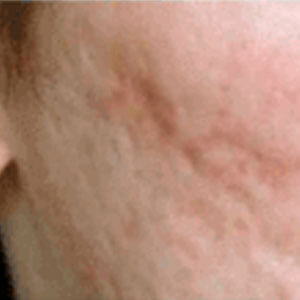 This type of scarring causes rolling or wave-like depressions across otherwise normal-looking skin. Rolling scars differ from boxcar scars in that they aren't sharply defined. The skin itself looks uneven and craggy.
Hypertrophic and Keloid Scars
Hypertrophic scars are raised, firm scars that grow above the surface of the skin. The hypertrophic scars caused by acne are most often found on the torso, especially in men, but they can happen anywhere on the body. Hypertrophic scars are more common after a deep wound or trauma.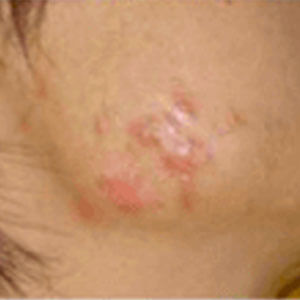 Keloids are a more severe type of raised scar. They differ from hypertrophic scars in that keloids grow larger than the original wound. They can send outraised, lateral shoots that expand much farther than the wound itself, and can continue to grow long after the original wound has healed. Some people are more prone to developing keloids.
---
Acne Scars Treatment
Lasers are used for scars and stretch mark reduction as well as for treatment of a variety of other cosmetic concerns.
Persistent and untreated inflammatory acne lesions may cause various degrees of permanent scarring. Laser resurfacing is one of the most effective ways of reducing and clearing acne scars.
Available laser treatments include ablative and non-ablative skin resurfacing. The choice of treatment depends on the type of scar (box, rolling, or icepick) and on the patient's preferences and expectations in terms of the number of treatments and downtime.
Ablative resurfacing removes thin layers of the skin and is ideal for patients seeking a dramatic improvement in a single session.
Non-ablative resurfacing is ideal for patients who prefer a milder treatment approach that requires several treatments but has less downtime.
---
The CO2 Ablative System
The PrettyLasers CO2 ablative: CO2 ablative technologies dramatically decrease scars, even very deep ones, as well as repair damaged skin and improve skin tone. This is due to their unique pulse technologies and tailored treatment modes.
Acne Scars Treatment Before & After Pictures