Cosmetic Laser  Equipment
Cosmetic laser equipment for hair removal and scar removal offers safe, convenient, pain-free, and effective methods to permanently reduce unwanted hair.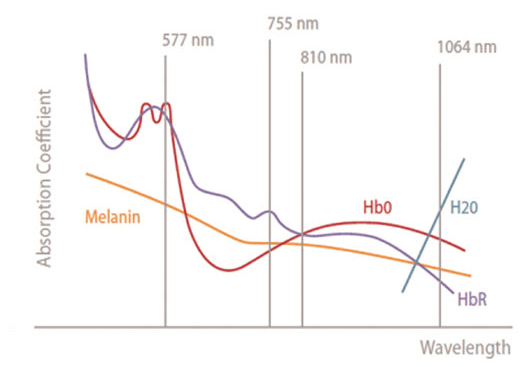 Laser hair removal equipment is an aesthetic & medical procedure that uses a concentrated beam of light (laser) to remove unwanted hair. Based on the principle of selective photothermolysis, laser hair removal targets the entire hair structure, from the hair shaft down to the follicle.
The optimal wavelength
Light energy with a specific wavelength is absorbed by the endogenous chromosphere melanin, resulting in the rapid heating and subsequent local thermal necrosis of the follicles' regenerative structures. Then the unwanted hair can be removed completely and permanently.
To achieve permanent and complete hair reduction, laser hair removal products must be able to effectively treat all skin types, meanwhile providing maximum skin protection. Laser hair removal is most effective for people who have light skin and dark hair. Lighter skin types are mainly treated with 755nm (Alexandrite) or 808nm(Diode Laser) while darker skin types are mainly treated with 1060nm/1064nm. The laser's wavelength, fluence, pulse duration, and spot size determine the effectiveness of the hair removal treatment and also influence the depth of the penetration and treatment speed.
---
Laser Hair Removal 755nm Alexandrite & ND: YAG laser Machine
The Alexandrite wavelength offers more powerful energy absorption by the melanin chromophore, making it ideal for the widest range of hair types and colors- especially light-colored and thin hair. With more superficial penetration, the 755nm wavelength targets the Bulge of the hair follicle and is especially effective for superficially embedded hair in areas such as the eyebrows and upper lip.
Breakthrough hair removal technology using a solid-state laser based on an Alexandrite wavelength allows for even better energy absorption by the melanin chromophore.
The powerful absorption that is possible with the Alex wavelength combined with the contact cooling, treatment coverage, comfort, and low maintenance of the solid-state laser provides an ideal solution for the widest range of hair types and colors- especially light-colored and thin hair.
Laser chips imported from Germany, have a long lifetime–20 million shots
High power–2000W, burn the hair instantly
A cooling device, makes the skin temperature to -5℃~-10℃, the lowest damage to the skin
Replacement of Candela Gentlelase
Laser Hair Removal Machine With Cooling
808nm/810nm diode laser hair removal machine is the golden standard for hair reduction. Light(Laser) at the wavelength of 810nm is absorbed by the melanin in the follicle and greatly reduces the absorption by water and hemoglobin. Hair removal treatment is safe and painless for the epidermis. When laser outputs, the system with special cooling technology, cools the skin and protects skin from being hurt, and reaches a very safe and comfortable treatment.
Professional German military-level Macro channel technology ensures the bar gets even radiation and steady laser output.
Italian-imported water cooling system
The top-quality Italian-imported water cooling system ensures to keep the real working temperature for the handpiece is 0'C. No freezing and foggy on the treatment head guarantee 6 hours of continuous safe working.
USA Medical water filtration system
USA Medical water filtration system ensures the water is without impurity in order to protect the laser emitter and support long use time.
Fiber Laser Hair Removal
Gold standard 808nm (or 810nm) laser diode or semiconductors technology. We can use it for permanent hair reduction of all color hairs on all 6 skin types, including tanned skin or dark skin. Probe built in with excellent contact cooling technology, PAIN-FREE hair removal.
Non-channel laser generator.
No risk of dirty water caused by laser bar burned
Biggest energy transfer.
Light handlepiece.
100% original laser source imported from Germany Dilas company—world-renowned diode laser generator manufacturer, long lifespan and stable output
Professional Fractional CO2 Laser Machine
The fractional CO2 Laser machine PL-FC14 is the latest and most focused technology not only in the United States but throughout the world.
It is the equipment used by dermatologists to deliver effective anti-aging procedures. Such as Skin Tightening, Skin Resurfacing, Scar Remodeling, Skin Rejuvenation, Reduction of Skin Tags and Benign Skin Lesions, Correcting Skin Imperfections, Constricting Pores, and more.
This machine from PRETTYLASERS's co2 laser skin supplier is used to deliver a non-invasive procedure that uses a laser, made of carbon dioxide to remove the outer layers of damaged skin. The power of laser heats and impairs the skin allowing it to trigger neocollagenesis resulting in tighter and smoother skin.
---
Indications
Best for fast, safe, painless, and permanent hair removal on areas like the face, arms, armpits, chest, back, bikini, legs and etc. It also with skin rejuvenation function.
Whether you have light, dark or tanned skin, coarse or fine hair, our hair removal solutions achieve maximum results for all areas of the body with treatments that are safe, quick, and best of all virtually painless.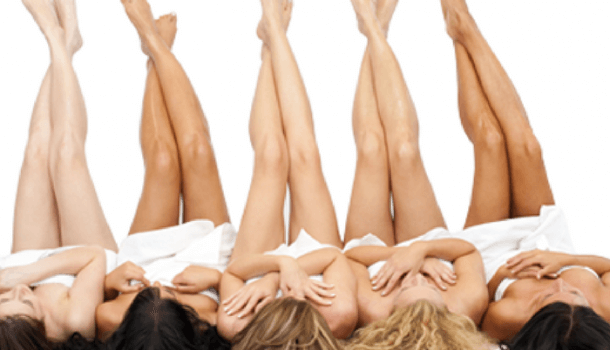 The appearance of the treated area immediately following treatment will vary from patient to patient, depending on the extent of the procedure and the skin type. Side effects are rare and. if they do occur, are typically minor.
They may include redness and swelling around the hair follicle, which are, in fact, positive clinical results and indicate that the follicle has responded to treatment. Most people return to normal activity the right way.
Hair Removal completely and permanently.
Applicable to any hair color.
Applicable to all skin types.
Laser Hair Removal Before And After Pictures
The laser goes through the skin surface to reach the root of hair follicles. Light can be absorbed and converted into heat-damaged hair follicle tissue, so that hair loss regeneration without injury to surrounding tissue.