Skin Rejuvenation Treatment
PrettyLasers provide a wide range of solutions for skin rejuvenation treatment, that you can offer your customers.
Skin rejuvenation
Skin disorders, aging, sun, disease, and even heredity can all lead to skin irregularities on the face and elsewhere on the body. These include textural irregularities like wrinkles and acne scars, pigmentation changes such as freckles, fine lines, sunspots, pigmented lesions, uneven skin tone, skin laxity, or visible blood vessels. In addition, the skin may lose tone, feel less firm and lose the healthy glow that is evident in younger skin. PrettyLasers has a wide range of devices that perform skin remodeling or skin rejuvenation treatments.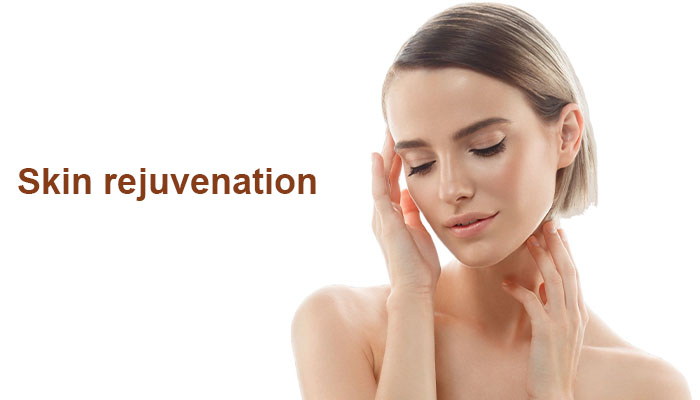 The Advantages Of Skin Rejuvenation
PrettyLasers' skin laser treatments rejuvenate mature skin, enhancing your patients' natural beauty and revealing smoother, younger, healthier-looking skin. The treatments, such as IPL skin treatment, skin laser treatment, and HIFU treatment. That means they are virtually painless and pose no downtime. Additionally, Skin rejuvenation treatment is safe, effective, efficient, and pain-free for all skin types.
How Does Skin Rejuvenation Work?
The energy used by the device creates heat points or micro-injuries in various depths of the epidermis. This energy can be light-based, like IPL or laser or HIFU, or radiofrequency. These injuries are in many cases invisible to the naked eye. They trigger the skin's natural healing processes which include the regrowth of young and healthy collagen and elastin fibers. Skin rejuvenation is often called skin remodeling as it boosts the texture of your skin. Most skin treatments require a series of treatments and a multi-modality approach to achieve excellent results. Most importantly, the patient must be committed to protecting his or her skin going forward so that the results achieved will be longer-lasting.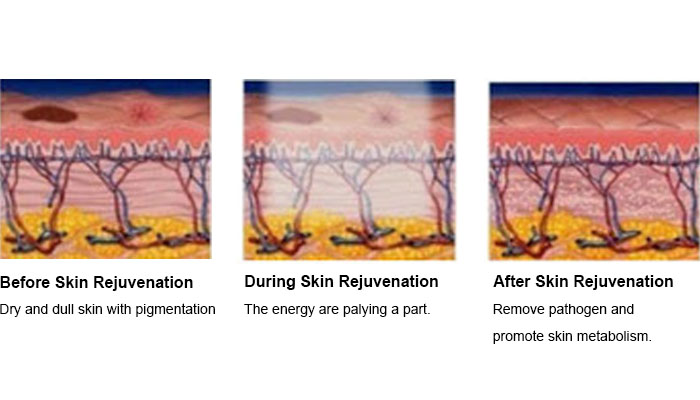 Skin Rejuvenation Solutions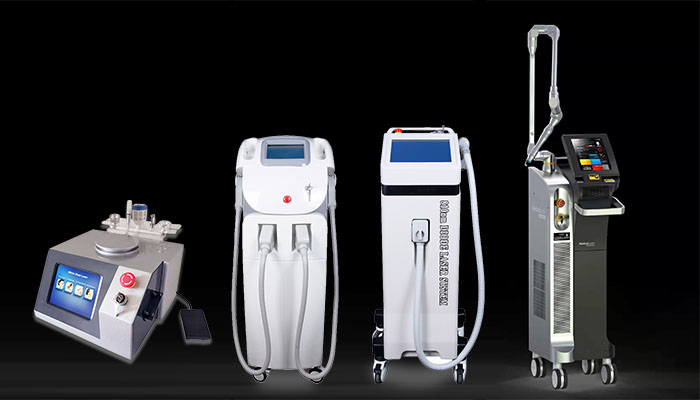 PrettyLasers offers an extensive variety of skin rejuvenation solutions to improve skin damage, texture, tone, wrinkles reduction, skin tightening, and increase elasticity. These range from non-ablative procedures with minimal downtime to ablative technologies with maximum efficacy and so on. It is very beautiful in shape. It's attractive. You and your patients and clients will love it.
The following are some devices for skin rejuvenation and resurfacing treatment:
Laser And Intense Pulse Light (IPL) Treatments -used to remove wrinkles, lighten and eliminate acne scars and skin tightening, and increase elasticity.
Ablative Laser Treatments(Fractional, CO2 Laser)- remove outer layers of skin to smooth lines and wrinkles.
Spider Vein Treatment – remove spider veins and spots
Different treatment modalities are available to treat the different aspects of skin problems. The above method can improve the appearance of fine lines and wrinkles of the entire face or those that develop in specific regions of the face such as the upper lip and around the eyes. These treatments can also be used to address pigmentation disorders, such as sun and age spots, and they can be used to improve the appearance of acne scars or other skin conditions.
RF Skin Rejuvenation
Radiofrequency (RF) energy has been used in medical treatments for over 75 years. This form of radiating waves or electrical currents alone is used for non-invasive skin rejuvenation treatments but can be combined with minimally invasive treatment for greater effect. Radiofrequency (RF) technology is the treatment of fine lines, sagging skin, wrinkles, and cellulite. Our treatments employ Bipolar radiofrequency technology to tighten both the very superficial and deep layers of the skin.  The result is skin shrinkage, new collagen production, and increased blood circulation, all of which provide lifting and tightening effects. You will notice a change in your skin that will appear immediately after the first treatment. The RF treatment is used in conjunction with ultrasound cavitation to tighten the skin after the fatty tissue is liquefied and removed.
RF Skin Rejuvenation Before & After Photos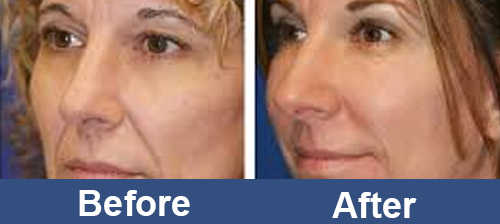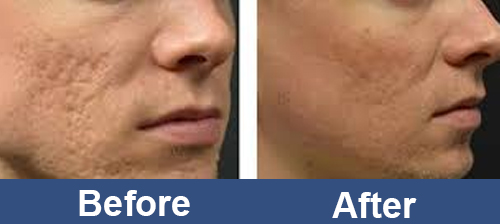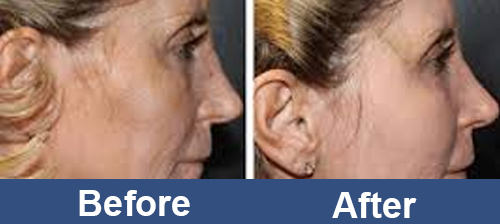 Facial wrinkle elimination, tightening, and lifting
Facial RF head a capacitive coupling electrode is used for transmitting radio-wave energy and generating an electric field for entering into subcutaneous tissue through the skin surface. In the high frequency of 450khz, this electric field changes its polarity 450,000 times per second. To reply to the rapid change in electrodes, the directions of electrical particles in the skin are also changed. By this time, natural electric resistance in the subcutaneous tissue moves and generates heat energy. As the papillary dermis collagen may immediately shrink when the temperature is within the range from 60 to 70 C degrees, after wrinkle treatment, the client may immediately sense the skin tightening effects as it is being lifted and firmed. When collagen is produced continuously, the thickness and density of the skin papillary dermis may be increased to remove wrinkles, eliminate scars, restore skin elasticity, and gloss and make it smooth. While collagen is increased, fresh skin is generated in the position of operation, and wrinkles are removed by a large number of cells. In addition, when the cortex is without elasticity or with a thick horny layer in the area with wrinkles is separated, the surrounding skin will also be renewed.
You might be wondering:
Ablative Laser Skin Resurfacing
With advances in laser technology, Ablative laser skin resurfacing is one of the most effective cosmetic procedures for improving aging skin. It is now possible to significantly improve aged or sun-damaged skin.
The procedure works by delivering an intense wavelength of light to the skin, which removes the outer layers of aged or sun-damaged skin. In addition, the laser stimulates the underlying skin, resulting in collagen formation and an improvement in wrinkles. As the lasered skin heals following the procedure, new skin forms that are smoother and tighter.
PrettyLasers offer advanced professional Ablative CO2 Laser Devices with Imported US COHERENT Radio Frequency Excited CO2 Laser with 30/60W. Both use high-power short-duration pulse technologies to maximize treatment and patient comfort, as well as minimize downtime.
Ablative lasers are used to treat:
Fine to moderate wrinkles
Liver spots or age spots
Uneven skin tone
Sun-damaged skin
Acne or chickenpox scars
Stretch mark
pox pit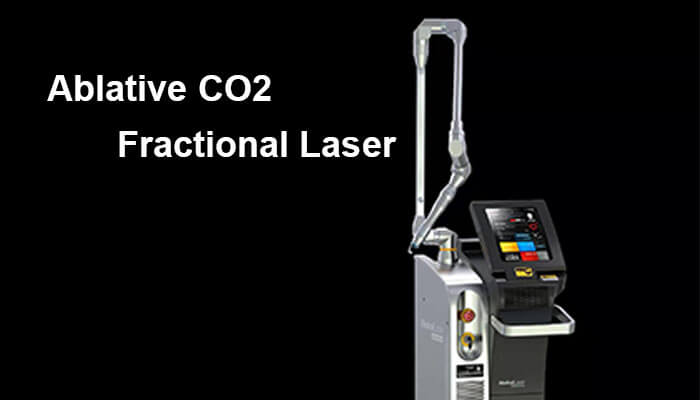 Photorejuvenation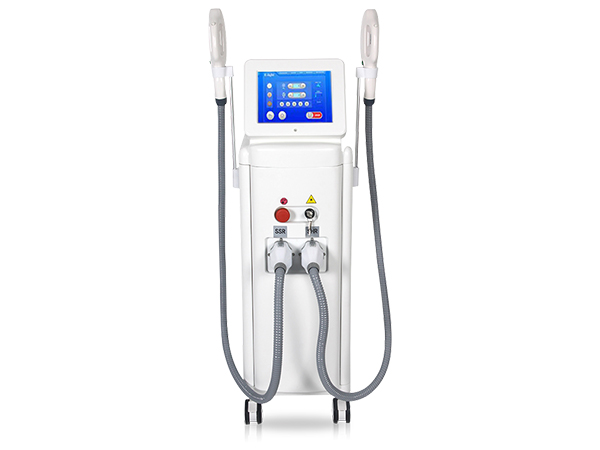 Photorejuvenation is a skin treatment that uses lasers, intense pulsed light(IPL), or photodynamic therapy to treat skin conditions and remove the effects of photoaging such as wrinkles, spots, and textures. Now, we talk about Intense Pulsed Light which treats conditions related to sun-induced skin damage and vascularity issues. IPL uses a broad spectrum of light which is primarily absorbed by melanin and oxyhemoglobin effectively reducing the appearance of sunspots, capillaries, elastosis, and building collagen.
IPL System is still considered the gold standard for photorejuvenation treatments.
HIFU Skin Tightening
High-intensity focused ultrasound (HIFU) is a relatively new cosmetic treatment for skin tightening that some consider a noninvasive and painless replacement for facelifts. It uses ultrasound energy to encourage the production of collagen, which results in firmer skin.
HIFU is most widely known for its use in treating tumors. The first reported use of HIFU for aesthetic use was in 2008.
High-Intensity Focused Ultrasound for the Treatment of wrinkles and skin laxity in facial areas.
HIFU was then approved by the Food and Drug Administration (FDA) in 2009 for brow lifts. The device was also cleared by the FDA in 2014 to improve lines and wrinkles of the upper chest and neckline (décolletage).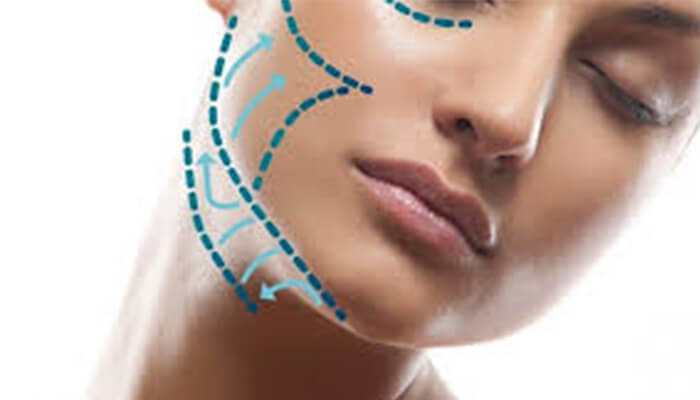 HIFU for skin tightening is known as an optimal treatment for the face as well as other areas of the body where excess fat exists, such as the abdomen, buttocks, neckline, and thighs.
It increases collagen production to tighten the skin and help improve the appearance of fine lines and wrinkles. HIFU is also used to destroy stubborn fat cells while producing firmer skin.
980nm Diode Laser Spider Vein Removal System for Vascular Removal
Laser is a very safe and comfortable technology to remove redness and telangiectasia on various parts of the body. It has non-invasive treatments to solve skin problems without anesthesia. This treatment is only treating red blood cells on skin lesions, and the laser light is absorbed by the treatment tissues, so normal skin tissue is harmless. After the redness removal treatment, there leaves no scar, the laser itself has a sterilized function, and there is no skin allergies problem as well. This laser technology is the most thorough treatment for redness removal until now.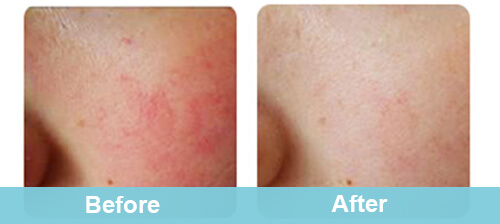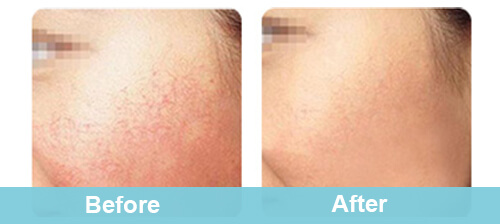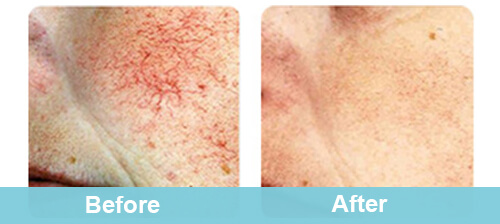 ---
Related Products