755nm Alexandrite Laser Hair Removal And 1064 nm Nd:YAG Laser PL-AY Max
The PL-AY Max with 755 nm and 1064 nm dual wavelengths for laser hair removal, vascular and skin treatments, as well as multiple spot sizes and variable pulse duration is a foundational device for all practices. It is a dual wavelength laser platform that combines the fastest and most powerful 755 nm Alexandrite laser with the 1064 nm Nd:YAG laser for high-performance treatment capabilities in terms of speed, efficacy, ease of use, outstanding performance, safety, and patient satisfaction.
Alexandrite Laser Hair Removal 755nm offers more powerful energy absorption by the melanin chromophore, making it ideal for the widest range of hair types and color-especially light-colored and thin hair. 755 nm: Optimal for skin types I-III. 1064 nm: Optimal for skin types IV-VI. Both 755 nm and 1064 nm wavelengths treat a wide range of indications across multiple skin types – more than just hair removal!
Benefits:
Permanent hair removal technology -the best absorption wavelength of melanin 755nm
Professional Cryogen-based Dynamic Cooling System – the most comfortable hair removal process, stronger than traditional skin contact cooling.
Big spots, high speed – comprehensive improvement brings new surprises.
OEM customization and service are available.
Lighter Handpiece.
Higher Laser Power.
Super Long Life Span.
Skin Rejuvenation.
755 nm: Optimal for skin types I-III
1064 nm: Optimal for skin types IV-VI

Optical fiber output

, made in Japan, to ensure the treatment effect.
With a pulse width of 10-100ms, longer pulse width has a significant effect on light hair and fine hair.
The spot size is adjustable, up to 18mm, which can ensure rapid treatment.
The intelligent temperature control system, and powerful refrigeration system ensure maximum laser life.
lamps made in the UK, to ensure energy stability.
How Does The PrettyLasers PL-AY Max Works?
The PL-AY Max is the gold standard for laser hair removal in all Fitzpatrick skin types. It is a dual wavelength laser platform that combines the fastest and most powerful 755 nm Alexandrite laser with an equally powerful 1064 nm Nd:YAG laser for high-performance treatment capabilities in terms of speed, efficacy, ease-of-use, performance, safety, and patient satisfaction.
For skin rejuvenation treatments, the PrettyLasers PL-AY Max's laser energy stimulates the production of collagen, resulting in skin cell renewal. This process replaces old skin cells with new, healthy skin cells, resulting in healthier, radiant, and younger-looking skin.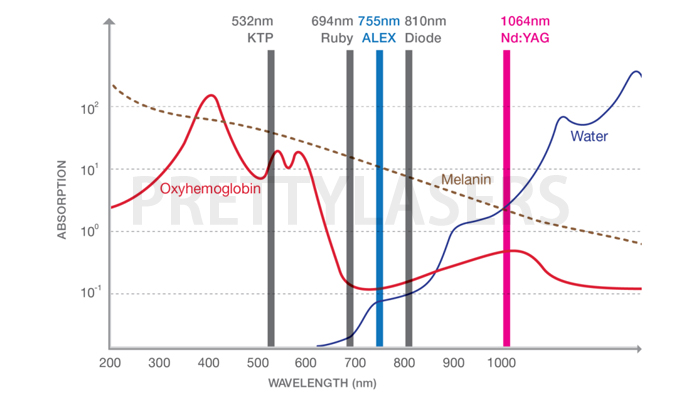 1064nm ND: YAG laser
ND: YAG laser energy is selectively absorbed by the deeper levels of the dermis and allows for the treatment of deeper vascular lesions like telangiectasias, hemangiomas, and leg veins. The laser energy is delivered using long pulses which are converted into heat within the tissue. The warmth impacts the vasculature of the lesions. additionally, the ND: YAG laser can treat at a more superficial level, by heating the subcutaneous skin (in a non-ablative manner), so it stimulates neocollagenesis which improves the looks of facial wrinkles.
The ND: YAG Laser operates at a way higher wavelength than other lasers used for hair removal which suggests that it's been CE approved to be used on individuals with tanned and ethnic skin. Therefore, long pulse ND: YAG Laser is the best laser hair removal machine for dark skin.
Technical Parameters
755nm Alexandrite Laser Hair Removal And 1064 nm Nd:YAG Laser Machine
Monitor
10 inches Digital Real Color LCD
Spot Size
6~18 mm (Adjustable)
Wavelength
1064nm & 755nm
Single Pulse Energy
80~100J@1064nm, 40~60J@755nm
Max Energy Density (Fluences)
500J/cm²@1064nm@6mm diameter

212J/cm² @755nm@6mm diameter

Function
HR(hair removal), SR(skin rejuvenation), VR(vein removal)
Pulse Duration
5-100ms
Pulse Frequency
0.5-2Hz
Pilot Beam
635nm diode 3mw
Laser Fiber
Made by Japan
Power Supply
3000 watts
Weight
120kg
Machine Measure
500mm(W)*1100mm(L)*1150mm(H)
 Technology
Why Choose Alexandrite Laser Hair Removal 755nm?
An Alexandrite Laser is a type of LASER (light amplification by stimulated emission of radiation) that emits high-energy light through an alexandrite crystal. As the light passes through the alexandrite crystal, a beam of light 755 nm long is produced.
Professional Alexandrite Laser Hair Removal 755nm offers more powerful energy absorption by the melanin chromophore, making it ideal for the widest range of hair types and color-especially light colored and thin hair. With more superficial penetration, the 755nm wavelength targets the bulge of the hair follicle and is especially effective for superficially embedded hair in areas such as the eyebrows and upper lip.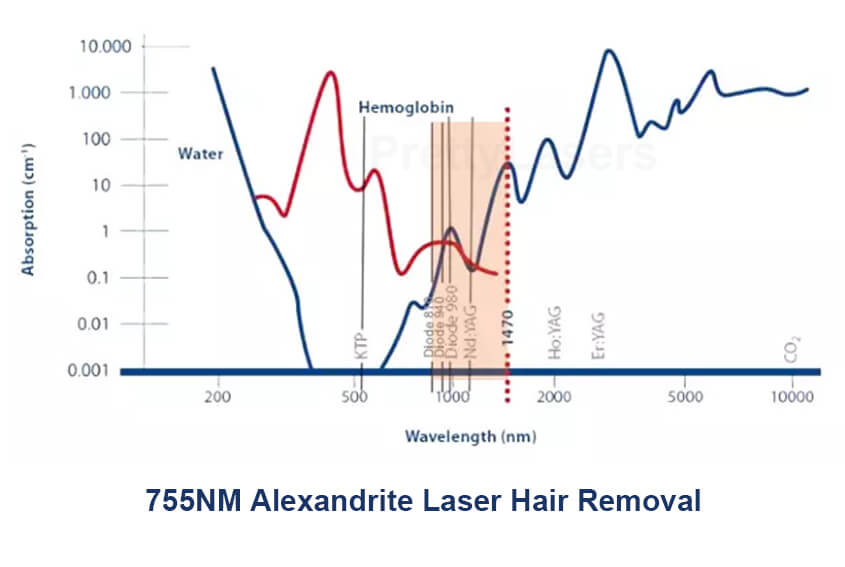 How is it Different from Other Lasers?
What is the difference between the Alexandrite Laser and other lasers? Aside from the color, the wavelength of the light is the only thing that changes.
Such as, the Alexandrite Laser emits a red beam of light that is 755nm. A diode laser, on the other hand, emits an 810nm laser beam and a YAG laser emits a beam at 1064nm.
Alex Laser is considered the most efficient laser for use with all hair and skin types, as the laser does not affect darker skin types as much as other lasers. As with all other lasers, it is best with white and very light skin and has proven most effective with the fine, thin hairs that many of the other types of laser cannot eliminate.
The wavelength of light emitted from the Alexandrite Laser is easily absorbed by the melanin (pigment cells) in your hair, which causes those cells to be heated and ultimately destroyed.
Note: For very dark skin types, the best option is the Nd:YAG laser, as the beam's extra length, will penetrate the hair follicles without affecting the skin pigment as much.
Most Effective Hair Removal Technology Available
The 755nm Alexandrite Laser provides permanent hair reduction for skin types 1 through 4. The system is based on alexandrite technology which is superior to other wavelengths in providing permanent results.
Professional Handle Specially designed for dermatologists
The Handpiece is finely designed, and the laser spot size can be adjusted from 6-18mm diameter a continual handpiece cooling is cool the skin to get down skin temperature, which will enable the treatment much more convenient, comfortable, and efficient. Single treatment result is very obvious and helps to remove the hair in a short time and short session.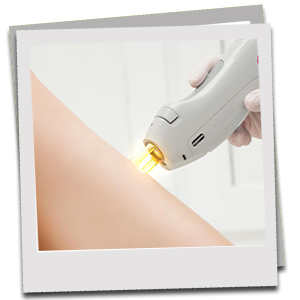 Faster Treatments
With an 18 mm spot size treatments are quick. The underarms can each be treated in less than 2 minutes, even for whole-body hair removal. There are no gels to apply and topical anesthetics are normally not needed, saving even more time. Save labor and high efficiency.
More Flexibility
The 755nm Alexandrite Laser also comes with a 6 mm spot size that allows more flexibility in the areas being treated, such as the nose and ears.
If you want to know more, please CONTACT US

DCD Professional Dynamic Cooling System
The most comfortable hair removal process, stronger than traditional skin contact cooling. The 755nm Alexandrite laser incorporates a skin cooling system for pain relief that effectively manages the short sharp pain that some people feel, most clients do not need further pain relief and if required a gel applied to the skin is effective and sufficient additional laser treatment; and 755nm Alex Laser machine's DCD (Dynamic Cooling Device) cryogen spray is the premium cooling system on any laser currently. This guarantees a more comfortable laser treatment.
Multiple Applications
Also capable of treating pigmented lesions including sun and age spots, freckles, cafe-au-lait, and melasma; and vascular lesions such as leg veins.
More Comfort for Patients
The unique DCD cryogen cooling system offers safe and consistent cryogen spray protection for greater patient safety and comfort. Additionally, this means there are no cooling gels to apply before the treatment.
The 755nm Alexandrite laser is also designed and built for operator comfort to increase fine control and consequently improve application and provide safer more effective laser treatment.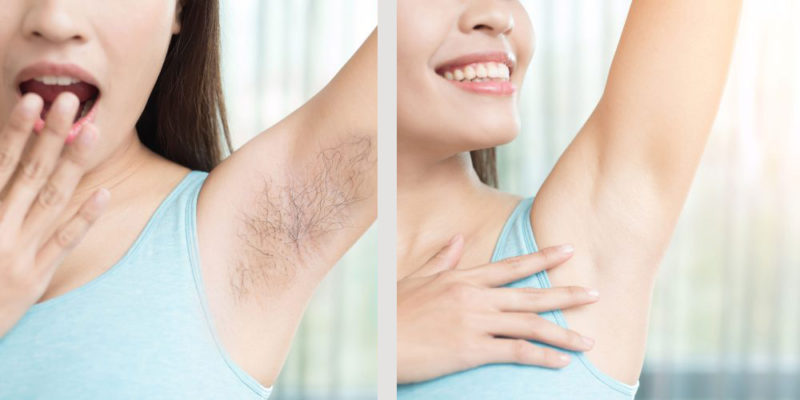 Adjustable Pulse Width 5-100ms
The pulse width can be adjusted from 5-100ms, and the long pulse width can treat the hair follicle more efficiently. So the headpiece slides over the skin at the same time the hair burns off. So a super quick hair removal can be achieved.
Application Ranges
No need to buy multiple lasers to treat multiple targets. PL-AY Max lasers go beyond hair removal to let you treat a myriad of indications:
755nm Alexandrite laser machine mainly use for painless hair removal, it can also do the:
Ota, brown blue moles, freckles, age spots, coffee spots, lentigo, redness, and other skin pigmentation;
Black, blue, brown, and even green tattoo;
Eye wrinkles, face tightening, and other photoaging skin problems;
Assisted with liposuction;
Skin rejuvenation.
 1064 nm Nd:YAG laser
Varicosity Treatment
After the role of intense pulsed laser light effect on the skin, and then there will produce photochemical.
In a specific wavelength of the photon and a certain period of time and energy conditions, it will be maximally absorbed by the small blood vessels hematoporphyrin morpholine so that this small blood vessel coagulate, and at last, it will subside, so as to achieve the purpose of removing the red blood, and meanwhile, it won't damage the skin and is able to stimulate the growth of dermal collagen, increase epidermal thickness and density, so that the small blood vessels are no longer exposed at the same time, and the skin elasticity and resistance are also significantly enhanced.
Hemangioma removal
Blood vein removal
Cure ringworm on the nails
Port wine stains
Venous lake
PFB (pseudofolliculitis barbae)
Nail fungus
Application range large areas of the body tend to recover faster: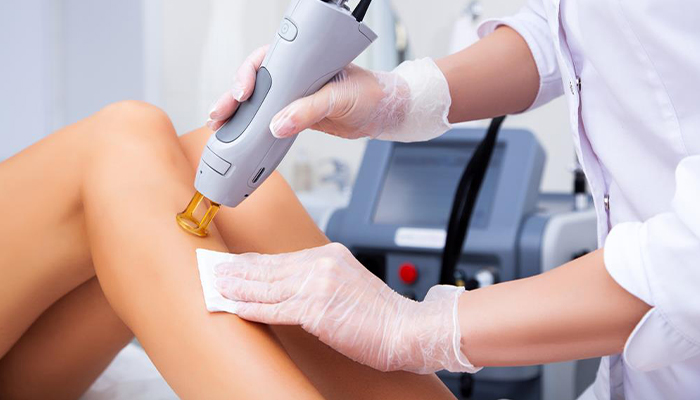 Suitable for any color of hair.
Suitable for all skin types (I, II, III, IV, V, VI.).
Alexandrite laser hair removal—Safe, Fast, High efficiency.
International Hair Removal Standard.
Permanent hair removal.
Alexandrite Laser Hair Removal Treatment Before & After
The 755 nm Alexandrite laser provides permanent hair reduction for skin types 1 to 4. The system is based on alexandrite technology, providing superior results over other wavelengths. Please look at out client's clinic results: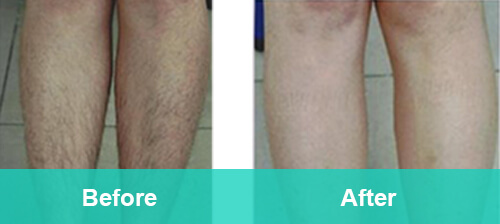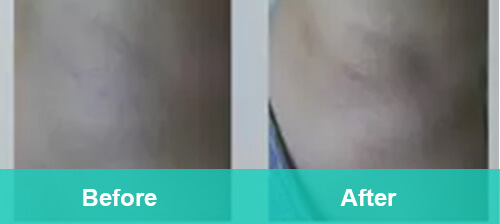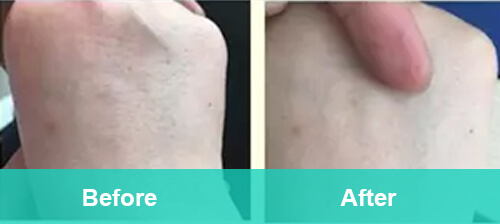 Long Pulse 1064nm ND: YAG Laser Treatments Before & After Pictures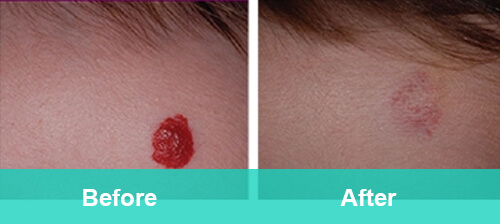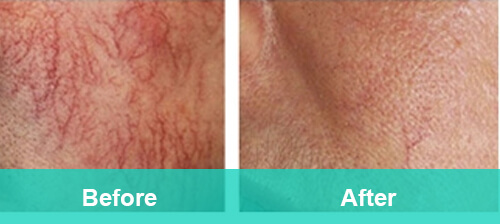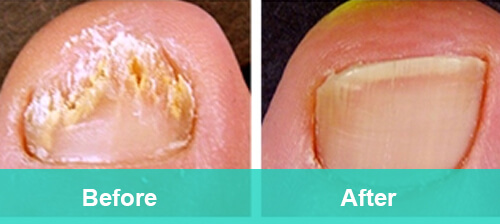 755nm Alexandrite Laser Hair Removal And 1064 nm Nd:YAG Laser PL-AY Max FAQ
Can light hair be removed with a laser?
The laser's heat source is attracted to pigment, like that found in darker hair. Blonde hair does not have enough pigment to attract the laser's heat, making traditional laser hair removal for pale skin unreliable on blonde or even gray hair.
There are specially developed lasers that have proven effective in removing unwanted hair for fair-skinned and blonde-haired men and women. Alexandrite laser manufacturer – PrettyLasers produced a Professional Alexandrite 755nm Laser Machine. The Alexandrite Laser works at a higher intensity than traditional lasers, blasting you with the pigment you need to enjoy permanent hair reduction and removal.
Which laser is better diode or alexandrite?
What are the differences between the Diode and the Alexandrite lasers?​
Both laser types are frequently used for laser hair removal treatment, the Diode being slightly newer on the market than the Alexandrite.
Semiconductor Laser
The Diode laser operates at an 800 or 810nm wavelength. This longer wavelength allows for a deeper penetration into the skin, theoretically avoiding the melanin in the skin's epidermis and therefore targeting the hair follicle directly.
In theory, the longer wavelength helps avoid skin damage and pigmentation changes that can happen with shorter wavelength laser types. The diode laser performs well on coarse, dark hair and is a good choice for back or bikini hair.​
755nm Alexandrite Laser​
​The Alexandrite operates at a 755nm wavelength, a shorter wavelength than the Diode laser, and has been used effectively for laser hair removal treatment on skin types I-IV.
The shorter wavelength makes the treatment theoretically more effective on lighter skins than on darker skins. With its larger spot size, the Alexandrite can cover larger areas quite rapidly, so it is the best choice for larger areas such as the back or the chest.
Alexandrite and Diode lasers provide significant and long-term results when used for hair removal treatment on skin types ranging from I to IV. Both laser types rendered the same type of comparable results, directly after treatment and 18 months later.
Costs of Laser Hair Removal Treatment
There are several factors that will determine the exact cost of your laser hair treatment. Examining all of these factors will give you a general idea of how much your treatment will ultimately cost.
Treatment Area
In general, the larger the treatment area, the more it will cost to have it treated. Removing hair from the legs will probably be more costly than removing it from the upper lip area for example. Some areas require more precise treatment and will cost more. The bikini area is an exact science and treating it will likely cost more than the underarms, such as.
Hair Density and Thickness
The thicker the hair, the more difficult it will be to remove. Men's hair, in general, is thicker than women's, while older adults typically have thinner hair than their younger counterparts. For example, Removing sideburns would likely be more costly than removing arm hair.
Number of Treatments
It is difficult to predict exactly how many treatments it will require to remove all of your body hair, but most people will require about six treatments for successful removal. Some will require as many as 8-10 treatments. Follow-up removal treatments will also factor into the price, as you will need to have the area touched up every six months.
Geographical location
The overall cost of your procedure can vary based on your geographical location.

What is Long Pulse ND: YAG Laser Machine?
Nd: YAG laser is a solid-state laser capable of producing a near-infrared wavelength that penetrates deep into the skin and is readily absorbed by hemoglobin and melanin chromophores.
The lasing medium of Nd:YAG is a man-made crystal that is pumped by a high-intensity lamp and placed into a resonator (a cavity capable of amplifying the power of the laser).
By creating a variable long pulse duration and an appropriate spot size, it is possible to significantly heat deep skin tissues, for instance, large blood vessels and vascular lesions. After absorbing laser energy, the hair follicles and relevant structures are destroyed. Losing nutrition supply, the destroyed hair follicles shrinks so severely that hairs can not regrow anymore.
Meantime the laser could heat the deep hair follicles while not damaging the superficial skin tissue, so it's a most ideal choice for dark skin, especially the type IV-VI.
What are the advantages of the Long Pulse 1064nm Nd: YAG Laser Hair Removal Machine?
The laser is output with fiber, is smart and light, and is easy to operate.
Importantly, more safe for dark skin, than other lasers – the best laser hair removal machine for dark skin.
Multi-functional than other hair removal lasers, not only for hair removal but also for veins removal
Large spot size, quick treatment.
Adequate cooling and shaving are the key factors determining safety.
The probe is cooled by a semiconductor, which could cool the treated area completely, protecting the epidermis from being injured.
Adequate fluence and increasing the gap between sessions from the 2 nd session could be the key to achieving long-term hair reduction with ND: YAG Laser.
Adopts 3000W big power, ensuring stable output under high frequency.
ND: YAG laser-assisted hair removal gives a high rate of patient satisfaction in terms of hair reduction with minimal complication among subjects of color.
Long pulsed and YAG laser machine adopts Canada imported long pulse Nd: YAG laser generator, high stability, long lifespan, and good treatment result.
What is our partner are saying?

I really like the 755NM Alex machine. I consulted many companies when I first bought it. Because there are very few companies that can be researched in the 755nm wavelength, I am very cautious. In the end, I chose PrettyLasers, and the treatment effect is super good. I am very lucky and very happy. – Alexis Caballero
The PrettyLasers PL-AY Max Laser Machine comes packed with a whole list of standard features, all designed to provide you with a competitive advantage in your market and leave more money in your pocket. Some of the outstanding features of the PrettyLasers PL-AY Max Laser Machine, specially designed for skin resurfacing are:
Reliability–The PrettyLasers PL-AY Max Laser Machine gives you one of the most solid performers for speed and reliability for skin laser machines that you can find on the market today. With its versatility, it is the choice of aesthetic cosmetic professionals today.
Wavelength–The machine comes standard as a two-wavelength system. It incorporates a 755 nm Alexandrite and a super 1064 nm Nd:YAG laser, resulting in a system that performs to the highest level, with safety in mind.
Hair Removal – This laser machine gives exceptional results for hair removal, as well as, for numerous skin condition treatments. It can remove many types of skin damage and spider veins, as well as, gives top-notch clinical results, with positive benefits to the patients and the skincare specialist.
How much does a 755nm Alexandrite Laser Plus a long pulse 1064nm ND: YAG laser machine cost?
If you are interested in knowing about long pulse 1064nm laser machine from PrettyLasers (prettylasers.com) or discussing purchasing aesthetic laser machines or other medical laser machines, fill out the form below and we will get back to you ASAP. Or simply call Phone: +0086 15001300057. Or WhatsApp
You Might Be Wondering:
---
Related Products