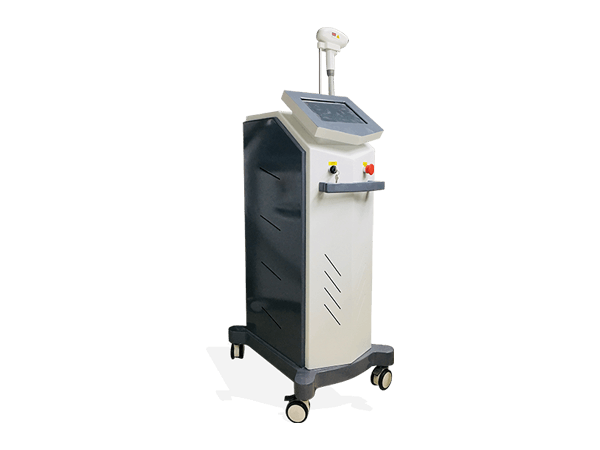 Diode Laser Epilation Machine PL-301D
Stronger, faster, smarter, more durable diode laser epilation machine PL-301D equipped lasted technology non channel chips handle. The water flow will not pass through the chip system, and the chip will never be burned due to the adhesion of impurities in the water. Due to its large spot size and advanced cooling system, epilation treatments are now much faster and pain free – offering a significant improved solution for patients and practitioners alike.
Benefits:
High power-450 watt power to enhance clinical effect.
Life Span-20,000,000 shots can reach, 3-5 times longer lifetime than channel diode laser.
Four Kinds Of Spot Sizes-10mm*10mm /15mm*15mm/ 15mm*20mm /20mm*25mm for your option. Squared big spot size could prompt the treatment speed.
Powerful cooling effect-Real Sapphire contact cooling system,maximum protect epidermis from hurting skin,ensure comfortable experience in whole clinic treatment process.
Self protection System.
How Diode Laser Epilation Machine Works?
The laser epilation machine uses the optimal hair removal wavelength of 808nm diode for deep penetration into the dermis where the hair follicle is located. In treatment procedure, a series of low fluence, high repetition pulses increases the temperature of both the hair follicle and the surrounding, nourishing tissue to 45 degree Celsius. This more gradual heat delivery uses the chromophores into the surround tissue as reservoirs to effectively heat up the hair follicle. This, along with the heat energy absorbed directly by the hair follicle, damages the follicle and prevents re-growth. So diode laser epilation machine is the best diode laser for hair removal.
Technology
Germany Imported Laser Chips
Highest efficient: Due to their high efficiency.
Powerful: High, reliable output power and ideal beam characteristics.
Robust and durable: Repairs and maintenance are rarely required.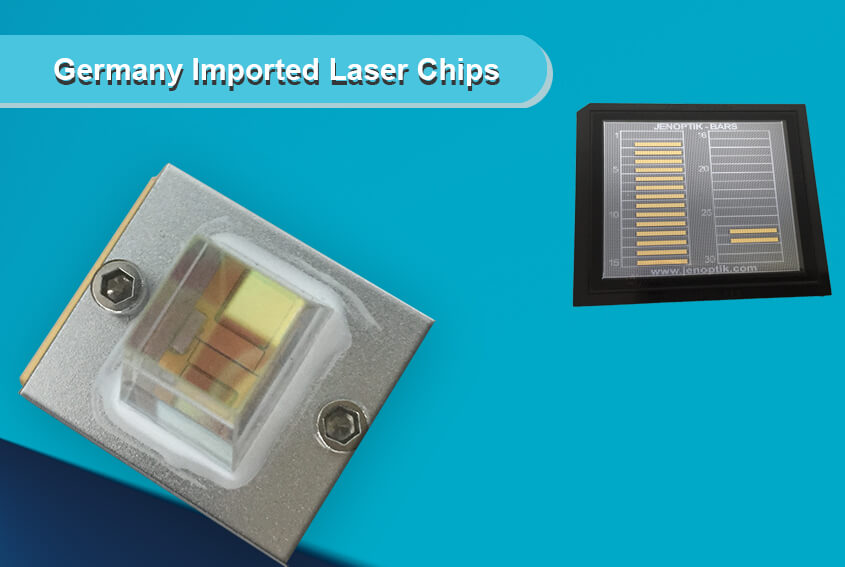 Optimal wavelength 808nm
The classic wavelength in laser hair removal, the 808 nm wavelength, has long been considered the gold standard technology for permanent hair reduction therapy. The 808 nm has a moderate melanin absorption level making it safe for darker skin types. Its deep penetration capabilities target the Bulge and Bulb of the hair follicle while moderate tissue depth penetration makes it ideal for treating the arms, legs, cheeks and beard.
Intuitive Touchscreen
Intuitive color touchscreen- fast learning and easy operation.
Reommended treatments settings.
Customized hair removal treatment.
Hair removal for women and men.
Language : Different for Choice
Different treatment area: Forehead, face, armpit, leg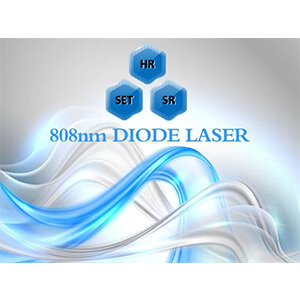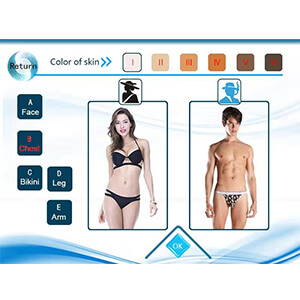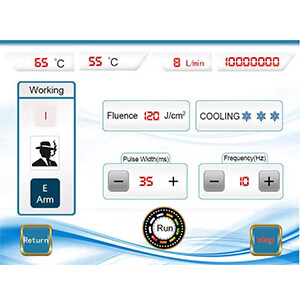 Strong Cooling Effect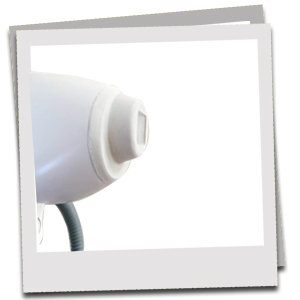 Technical Spcifications
Diode Laser Epilation Machine
Wavelength
808nm
755nm, 808nm, 1064nm optional
Working Frequency
1~10Hz
Maximum frequency 20 Hz
Energy Density
1-120J/cm² adjustable
OEM is ok
Handlepiece cooling
TEC+Sapphire
Sapphire OEM
TEC cooling
12V6A
TEC Power OEM
Spot size
15cm×15cm or 25 x31mm
Spot Size OEM
Output Power
600w, 900w
Laser power OEM
Laser Bars
Germany laser Jenoptik,150W/piece
Pulse Width
5ms~400ms
0~1000ms OEM
Output Mode
Pulse Output
Pulse Output
Language
Standard English
Can be made according to customer's requirements
Display
8' color touch screen
10.4' is available
Protective Temperature
55℃ interface select
OEM
Water Pump
DP-60 diaphragm rods 12V
Flow Sensor
3.5L/min flow requirement
Cooling System
240×120 cooling line(2pc),18 pcs channel
Compressor plan,TEC plan
Cooling Fan
4pcs fans,speed 3150r/min
12v fans
Case Material
ABS shell/metal shell
OEM Metal Shell
Inter Structure
White zinc hob/color zinc hob
OEM
Water Tank Volume
vertical3.6L/table type 2.5L
OEM
Environmental Moisture
<80%
<80%
Environment Temperature
Air conditioning room,temperature≤28℃
voltage
220V/110V
Applications:
With uniform energy distribution, deep heaitng and best diode laser hair removal machine is uniquely effective for long-term hair removal. Getting rid of unwanted hair is an age-old issue, with long-term hair removal being particularly challenging.
PrettyLasers' best diode laser for hair removal uses non-channel technology to offer a simple, one-stop solution for truely effective hair removal.
Simultaneous contact cooling prevents burns and allows for more comfortable treatment and a large spot size handlpiece allows you to treat large areas in less time.
Whether you have light, dark or tanned skin, coarse or fine hair, PrettyLasers' epilation soultions achieve maximum resutls for all areas of full body hair removal treatments that are quick, safe and comfortable. So it is the best laser epilation machine.
Treat all kind of hair color from black hair to light hair removal.
Treat all skin types from white to dark skin.
No pain and shorter treatment sessions.
Effective and safe treatment for

p

ermanent hair removal.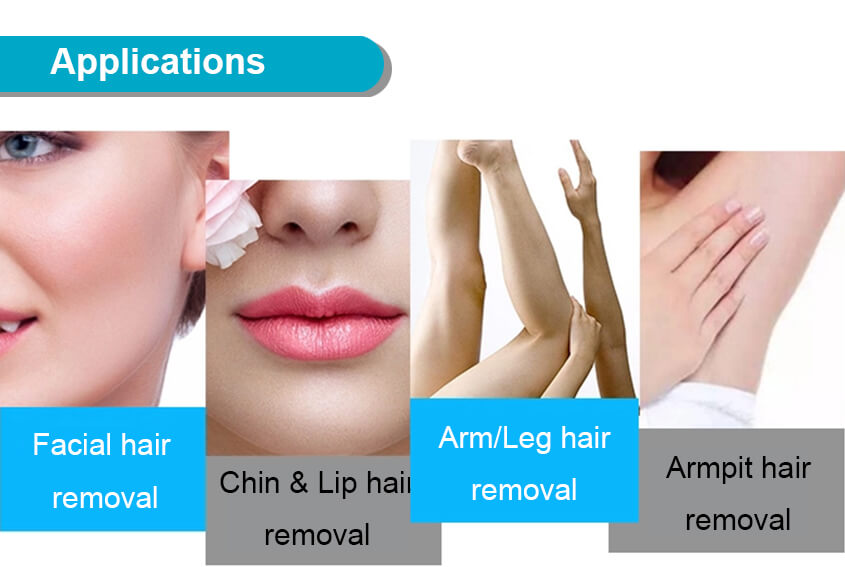 Laser Hair Removal Results Before & After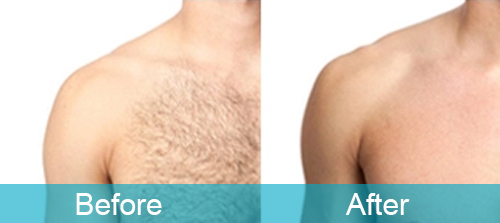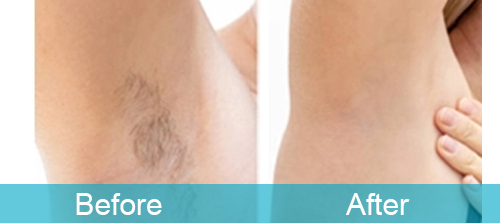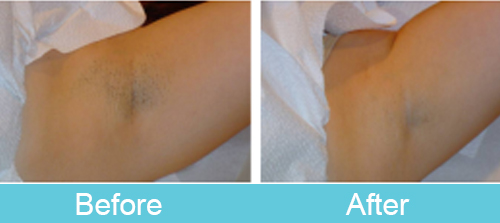 What's the latest technology of Diode Laser Epilation Machine PL-301D used ?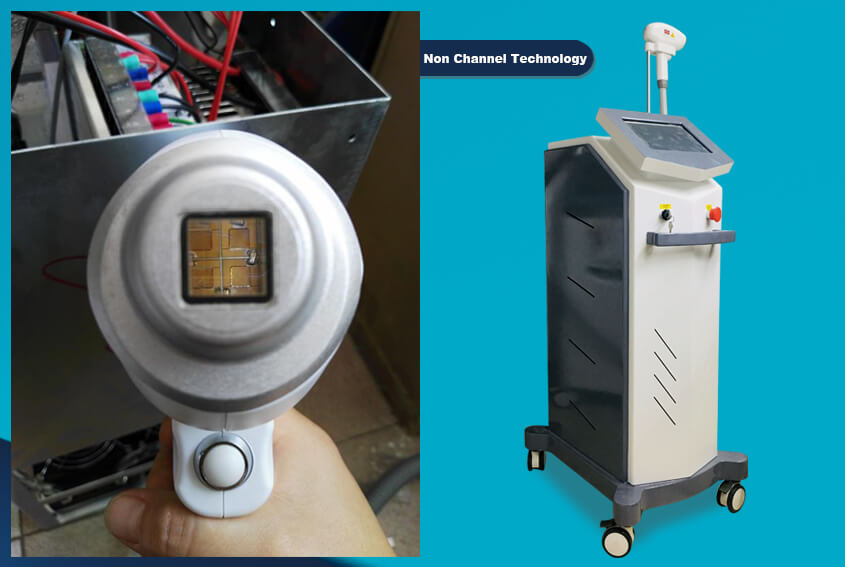 The Lasted technology – Non channel chips handle
The Diode Laser Epilation Machine PL-301D utilizes upgraded technology Non-Channel instead of micro-channel or macro-channel handle .
Because of special chips arrangement non-channel handle can take up the water temperature 55℃, while both micro and macro channels can only take maximum 35℃. The Left picture is the different layout of non-channel for you.
What's more, Non-channel handle support the maximum current 130 A. Micro-channel and macro-channel can only take 60A and 40A respectively.

For that reason the upgraded diode laser ensures longer working hours than other technologies on the market., and you never will have to suffer from the handle-burning problems again and again!
Features
Effective
Steady energy is achived by:
German micro-channel/non-channel laser bars, super energy, permanent hair removal.
Water filter; Copper radiator; High speed DC pump made inItaly; TEC cooling system for best cooling system.
Fast
Multiple Spot Size Optional
The repetition rate from 1HZ to10HZ 1-10pulses per second(adjustable) with mutiple spot sizes: 10*10mm²,15*15mm², 15*20mm², 20x25mm², 25x31mm².
"IN-Motion" Intelligent Mode
(prettylasers.com) PrettyLasers's diode laser hair removal use the "IN-Motion" intelligent mode to bring the fastest treatment speed to 10 shots per second. It's fast especially for body hair removal.
Strong TEC +Sapphire Cooling
Diode laser hair removal system also adopts Thermo-electric cooling (TEC) and real sapphire, which get amazing contact cooling. It is really pain-free laser machine. You will get most comfortable treatment.


Painless, No down time
3-4 times per cycle to permanently removal hair.
Suitable for 6 skin type and any parts of body.
High power and high energy, short treatment time(about 20minutes for arm), shorten the course of treatment.
Easy Operation
TEC Cooling Technology
We are using TEC cooling system for water tanks and TEC for sapphire in hand piece , so you can get 24 hour working with machine.
Intelligent Mode Design
Auto intelligent mode design for users with different presets for different patients, so that safety and efficiency isn't compromised.
How effective is laser hair removal?
Laser hair removal results are guaranteed. The laser hair removal effectiveness lies in how regularly the procedure can be administered. Laser treatment for hair removal is one of the most common cosmetic procedure patronized mostly by women.
How many laser treatments to remove unwanted hair?
A series of 5 treatments that is how many treatments for laser hair removal a person should ideally get.
How long does laser hair removal last on the face?
Laser facial hair removal often lasts as long as eight weeks. After that, you might see some regrowth.
How to prepare for your hair removal treatments with best diode laser hair removal machine?
First of all, you must decide on the area of interest for the procedure. Laser removal can be done in variety of areas of your body such as the face, legs, arms, underarms, bikini line, and a few other areas. Certain facilities will only touch certain areas for this procedure.
Taking care of the skin is the most important thing. Six weeks prior to treatment, avoid plucking, waxing, shaving, or any hair removal to the area the procedure will be performed. During this time, avoiding sun exposure would be beneficial. Exposure can lessen the effectiveness of the procedure and possibly complicate it.
Do you want to buy diode laser epilation machine? please contact PrettyLasers. Contact US Now
---
Related Products