Oxygen Jet Peel Machine PL-99
Oxygen jet peel machine for sale combines oxygen and a liquid such as water, anesthetic, or skin nutrients to create a jet stream of micro-droplets that penetrate deep into the skin. Meanwhile, the oxygen jet peel machine can coordinate the water dermabrasion handle, BIO, Diamond dermabrasion probe, and LED light PDT to better treat the skin.
The jet peel facial is simply a "pressure wash" that uses jet technology to deep clean by infusing saline and oxygen into the skin, leaving it hydrated, exfoliated, and feeling refreshed. There is no pain, no downtime and it feels cool and soothing to your skin.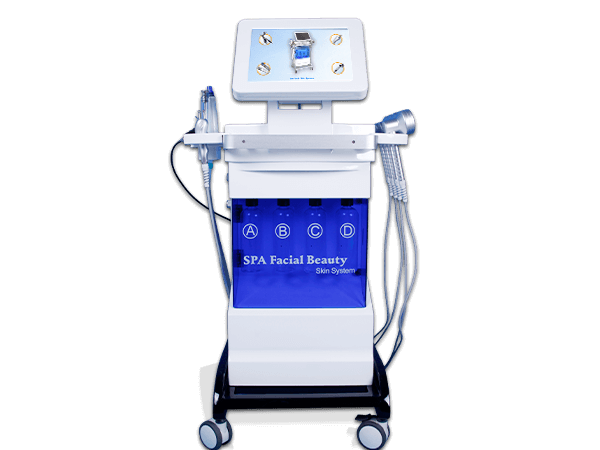 Oxygen jet peel machine for sale gently exfoliates the top layers of dry dead skin cells and cleans out your pores while hydrating and oxygenating your skin at the same time! This treatment is also great for acne patients because it helps kill the bad bacteria in the skin.
Benefits:
Output vacuum 100 Kpa for dermabrasion
Smart operation system 12-inch screen, easy to operate.
PDT light, 4 different colors lights (red/ green/ blue/ orange) – skin whitening & acne improved & anti-inflammatory & relaxing skin.
Improving the texture of the skin, blackhead suction, deep cleansing.
Hydradermabrasion + microdermabrasion + BIO atomizing spray gun +PDT.

Suitable for all skin types

.
Non-invasive, non-surgical treatment.

Microdermabrasion with four bottles can add different solutions once. No need to change the bottle.

ABS is anti-static, Safer, Recyclable materials, More environmentally friendly.
Technology
Oxygen spray gun
It uses the oxygen, together with the active concentrated essence, to do the pure oxygen massage on the skin in order to treat all kinds of pruritus, sensitive skin, neurotic dermatitis, contact dermatitis, eczema, whelk, the sunlight symptom, etc.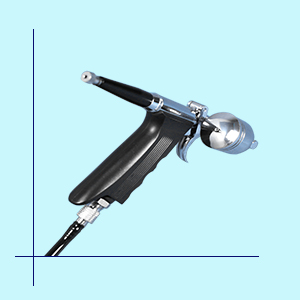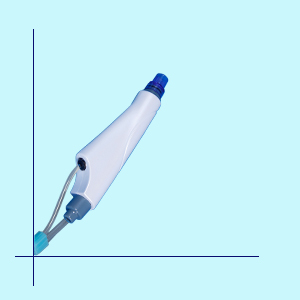 Water dermabrasion probe
Hydradermabrasion (Hydra Facial) – the latest in skincare technology. Hydradermabrasion utilizes the natural healing powers of water and oxygen to effortlessly exfoliate the skin without the use of hard crystals or abrasive textured wands, generating deeply hydrated and healthier-looking skin.
Diamond dermabrasion probe
The diamond dermabrasion applies the theory that vacuum negative pressure can produce microwave vibration. It can treat various skin accordingly, increase circulation of blood and lymphatic system, promote regeneration of collagen fibers, elastic fibers, and skin cells. Besides, it can deeply clean skin, metabolize thick cutin, rejuvenates skin, removes wrinkles and acne, shrink pores tighten skin, dilute pigmentation and improve scars.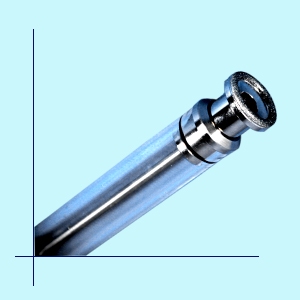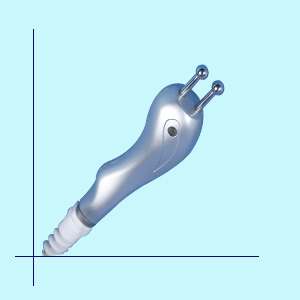 BIO
The BIO working handle has a calming, soothing, and firming effect, shrinks pores, and reduces the swelling excrete by the process of metabolism, It has a great effect on skin lifting and the vessel and nerve will not be damaged.
LED light PDT
Praised as "Magic light", Photon dynamical instrument is a biological active cold light and does not produce high heat. It applies low-energy and unique optical technology to skincare and treatment, natural and gentle; has prominent effects, low fatalness, and no side effects. Its skin nurse specialist is fit for all kinds of skin, especially useful for seriously irritated skin, acne skin, and has notable effect for those in sub healthy state to recover and do skin protection and treatment.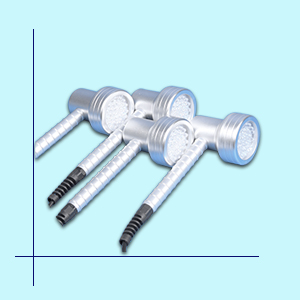 Red light
Red light can enhance the activity of the cells, promote cells metabolism, make skin excrete a large number of collagen protein and fiber tissue to fill in their own, accelerate blood circulation, increase skin elasticity and improve the withered and yellow dark condition of the skin, then achieve the efficacy of anti-aging, anti-oxidation and repairing skin.
Blue light
Blue light has a wavelength as 415mm, the blue light has the effects of restraining inflammation, acne is mainly caused by an acid bacillus, the blue-light can destruct their bacteria with no injury to skin tissue, decrease acne as much as possible, decrease and cure acne during inflammation period in a very short time.
Greenlight
Greenlight has effects of neutralization, balancing, and calming. it can ease the strain, dredge lymph, and is useful in edema elimination.
Orange light
Orange light increases cells' energy in proper sequence. It can accel-er-at-eme metabolism effectively.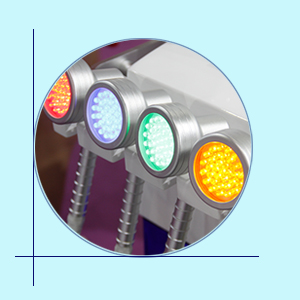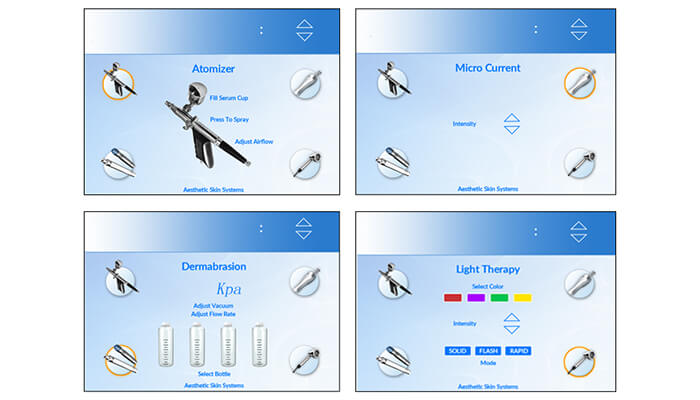 Oxygen Jet Peel Machine's Screen Interface
Advanced Graphical User Interface.
Intuitive operation interface for the fast learning curve and easy treatment delegation.
Technical Parameters
Oxygen Jet peel machine Machine
Max output
250VA
Voltage & frequency
110/220-240VAC;50/60Hz
Screen
12″ Touch screen
Power
250 W
Package
117*65*64cm
Vacuum
100 KPa
Technology
Hydro dermabrasion,diamond handle
Spray mist gun
Bio polar
Photon light
Working handles
Hydra dermabrasion with 8 tips,
Diamond dermabrasion tips,
Spray mist gun 1 piece,
Bio,
Photon lights
Net weight
40KG
Applications
The oxygen jet peel machine offers both cosmetic and medically practical solutions for individuals that prefer non-invasive treatments. The skin will be cleansed with a combination of oxygen, hyaluronic acid, aloe, and saltwater to get the skin prepped and cleansed before the customized solution is introduced to the treatment area. The jetstream can be adjusted in distance from the face in order to make the treatment more comfortable. Once the face has been thoroughly cleansed the handpiece of the jet peel machine for sale will deliver a customized solution to treat skin concerns such as blackheads and militias in a concentrated stream.
Rejuvenate sun damaged skin face, neck, shoulders, back, arms and legs.
Reduce age spots.
Minimize blotchy skin coloring.
Reduce acne and superficial scars from past injuries.
Remove blackheads and whiteheads.
Reduce oily skin.
Improve overall skin health.
Improve aging, loose skin, large pores, fine wrinkles and other symptoms.
Effective anti-inflammatory of oily acne, inflammation reduction and scar elimination treatment.
Improve pigmentary pathological changes,such as freckle, sunburn,senile plaques.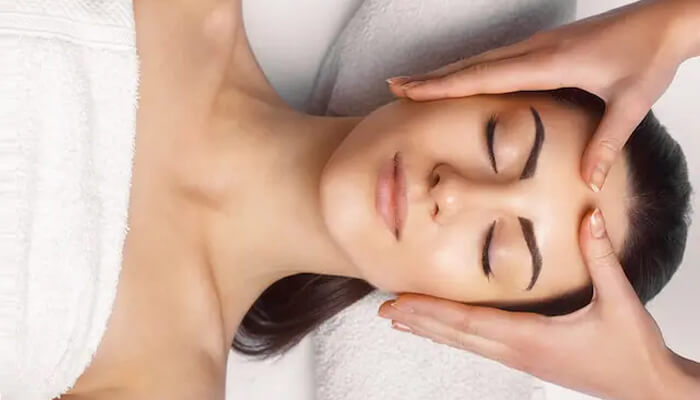 Oxygen Jet Peel Before And After Pictures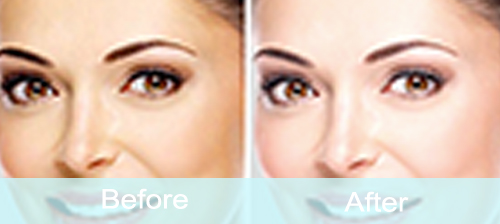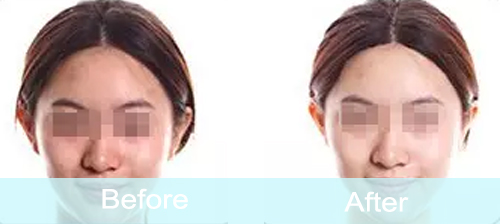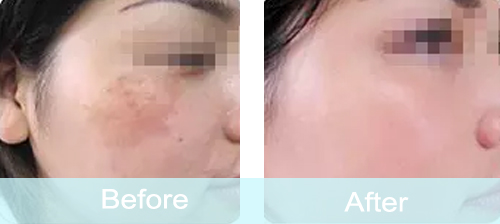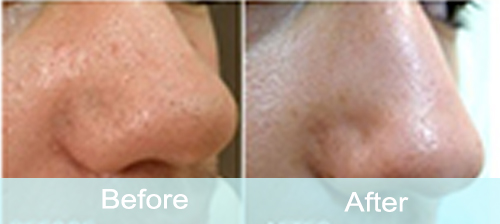 You May Also Like:
Jet Peel Reviews
What is the oxygen jet peel?
The jet peel facial is a virtually painless, skin treatment procedure that dramatically improves the appearance and texture of your skin in a rapid manner and provides a discernible enhancement to the recipient from the very first jet peel facial treatment session.
Different serums address a variety of concerns, but an oxygen jet peel machine is commonly used to exfoliate and hydrate. It can target acne and sun damage and extract dirt and product buildup from pores. It can even act as a delivery system for anesthesia.
Oxygen jet peel facial side effects
There are no serious side effects of oxygen jet peel, but since it uses such high pressure, you might notice redness or irritation following the treatment. Both should subside within a few hours. Despite its name, the facial doesn't actually result in any peeling; if you select glycolic acid or a similar liquid, you might notice some shedding in the days following, but that's really it.
How does the Oxygen Jet Peel work?
The jet peel facial treatment combines 100% oxygen and sterile saline to gently cleanse and hydrate the skin. The combination is delivered much like an airbrush treatment (mini pressure wash) and the effect is amazing.
This gentle cleansing unclogs pores and removes dirt and makeup that can build up on the skin's surface over time. The infusion of oxygen acts like a dose of Vitamin E to refresh the skin's texture.
Jet peel facial treatments are highly beneficial for skin texture improvement, wrinkle reduction, and overall skin rejuvenation. These treatments are also beneficial for minimizing acne breakouts. Jet peel quickly addresses comedone eruptions, resulting in acne breakouts drying up and almost disappearing overnight.
What are the benefits of oxygen jet peel facial therapy?
Leaves no dead or burned skin
Improves perioral wrinkles
Superficial facial peeling
Only natural components
Ideal for various skin types
No pain
Will the jet peel facial treatment hurt?
No, the treatment is not painful at all. The lymphatic drainage step is relaxing and feels like a facial / neck massage.
What are the operating steps of spray oxygen?
Clean skin deeply.
Click the "Spray gun "on as Fig.1 shows,
You can adjust the airflow,
Mix 2 ~ 3 drip SPA essential oil diluted with purified water into a small cup of the o2 sprayer, water should be about 2 / 3 of the cup and then tighten the lid tightly. Oxygen sprayers can only with liquid products, other states' products will cause pinhole jam.
The beautician holds the spray gun, presses the control button to release oxygen, And pulls backward to spray water mist.
Spray oxygen from top to bottom starting from the forehead to the neck, careful not to spray into the eyes or nose, in the spray oxygen process, the beautician can appease, lift up, stretch wrinkles with the other hand, more helpful for nutrition products penetrate the skin, strengthen skin elasticity, spray rate should depend on the guests' absorb state of oxygen.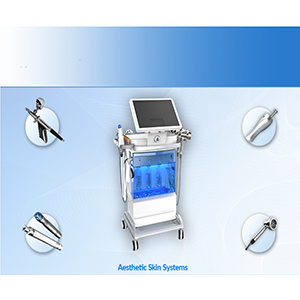 Cautions
The oxygen jet peel machine should be liquid when using an oxygen sprayer.
Avoid spraying into the mouth or nose when spraying oxygen.
Clean the small cup and the pipe inside the sprayer every time use it, to avoid a jam.
Clean method: pour the purified water into the small cup, press the control button and then pull back towards.
Supply nutrients and moisture for the skin rapidly, smooth skin, lightening stains, improve chlorosis, dull conditions, make skin rosy, white, transparent, tender, tightening indeed, with special spa oils will be better.
How to install and use the oxygen jet peel machine for sale?
The installation of the oxgen jet peel machine is simple, if you still don't know " how to install the oxgenjet peel machine ? " please see the video for your reference.
And for better results, we recommend you take different treatment function combinations. This will give you better, more visible results, that last much longer than single treatments. you can visit the operation video:
What to expect after oxygen jet peel facial therapy?
With a superficial and/or deep facial peeling, multi-function for various skin types, and a wide range of applications, Oxygen Jet is the revolutionary approach for skin revitalization; facial resurfacing scars (keratosis, acne, trauma); treatment of hyperpigmentation, and age spots; deep cleansing and intensive moisturizing; stimulation of cells metabolism and oxygenation of lipids, raising cells' immune activity; increasing skin's and hairs oxygen nutrients/growth; transcutaneous delivering of oxygen as well as vitamins and supplements necessary for skin rejuvenation; and hands and décolleté beautification. A unique, painless, neat, and sterile procedure, that does not leave any dead or burned tissue.
When you'll see jet peel facial results and how long they'll last?
There's no downtime after a jet peel facial, and you should see a healthier glow in just one day. However, the benefits are temporary, so it's recommended that you start with a series of treatments, once a week for about four to six weeks, and monthly maintenance treatments after that.
How much oxygen does jet peel cost?
Your cost will depend on your provider's experience, jet peel machine cost, and office location. Be sure to ask if there are any discounts available if you buy a package of treatments.
What is the jet peel machine price?
If you want to know the oxygen jet peel machine price or discuss a series of hydro dermabrasion machines or other medical laser machines, fill out the form below and we will get back to you ASAP. Or simply call Phone: +0086 15001300057