Professional 2-in-1 picosecond laser plus diode laser machine
A professional 2-in-1 picosecond laser plus diode laser machine is the Most Powerful Pigment, Tattoo Removal, and Hair Removal Solution on the Market.
PL-HR01 PLUS treats a wide range of pigment colors and its versatile energy matrix ensures effective shattering of pigment deposits. A diode laser uses semiconductor technology that produces a coherent projection of light in the visible to infrared range. It uses a light beam with a narrow spectrum to target specific chromophores in the skin.
Compared to other laser systems such as the Ruby and Alexandrite, the 800nm diode laser wavelength offers the deepest penetration levels and superior melanin absorption. These unique characteristics make the diode laser the most suitable technology for laser hair removal, enabling safe and effective treatment of all skin and hair types, in all body areas. It also has the largest spot size on the market, which allows you to deliver faster treatments.
PL-HR01 PLUS's ability to treat a wide variety of skin conditions, including tattoo removal and hair reduction provides your customers with an attractive range of aesthetic solutions to improve their lifestyle and sense of well-being.
Benefits:
Powerful – One of the most powerful picosecond laser hair removal machines on the market
2 in 1 – Best combination of settings for maximum versatility

Highest Energy

– The PL-HR01 PLUS energy allows the removal of tattoos with 40% fewer treatments compared to other laser systems. Furthermore, it provides up to 10 times greater energy for both 1064nm, 755nm & 532nm (200 – 2000 MJ) wavelengths.
Deep Reach – for Deep Pigment Shattering: With the PL-HR01 PLUS, you can delight your customers with faster treatments and shorter sessions. The PL-HR01 PLUS offers up to 10 spot sizes, ranging from 2 mm to 10 mm. The larger spot sizes allow you to maintain penetration depth into the dermis and better disperse the embedded ink particles.
One machine has two functions and solves all skin problems.

Four Wavelengths

– Effective Shattering of 9 of the most Popular Ink Colors: The PL-HR01 PLUS enables you to treat the broadest range of tattoo colors, on a wide range of skin types. the PL-HR01 PLUS is equipped with four wavelengths- 1064nm, 532nm, and 755nm – that target 9 of the most frequently used colors ranging from light orange to dark black. 808nm optimal wavelength for hair removal.
Technology
Picosecond Laser Technology
A picosecond is one trillionth of a second!
A picosecond laser emits optical pulses with an extremely short duration of between 1 picosecond and some tens of picoseconds. The nature of picosecond lasers allows for absorption of wave pulses that generate a brief and precise photo-thermal effect within the targeted area – alongside ultra-structural and intrinsic chemical modifications in association with rapid changes in volume. This is also called the photo-acoustic effect, for the popping sound, it creates. Bypassing these waves through the skin in the area of the tattoo or pigmentation, the laser breaks the ink particles – leading to chemical and structural changes in the skin, thus allowing the particles to fracture, and be disposed of by our own body's lymphatic system.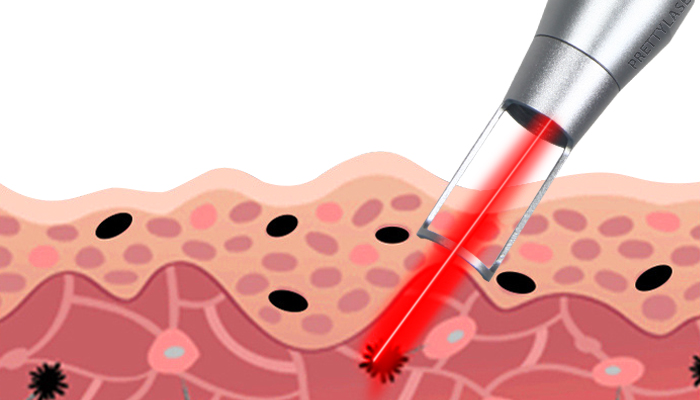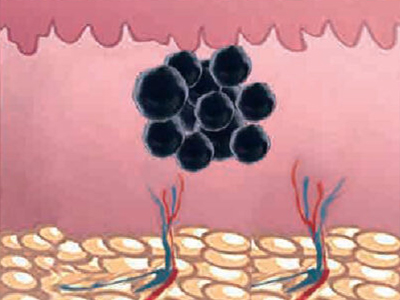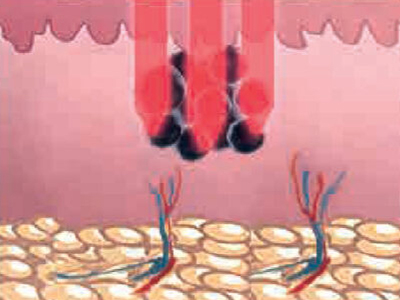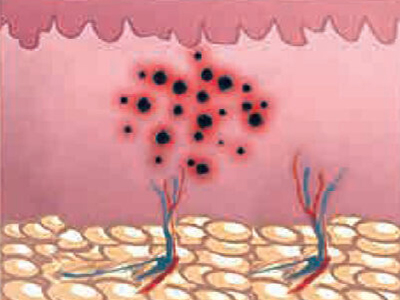 Diode Laser Technology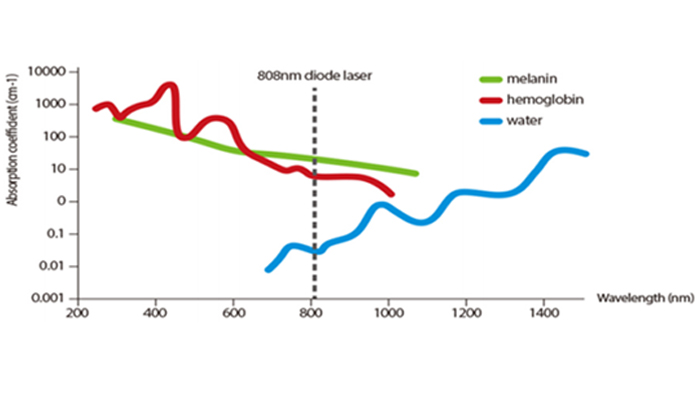 Semiconductor lasers are stacked with ultra-micro semiconductor laser chips. The basic treatment principle is a biological effect. The 808nm laser emitted by this machine is easily absorbed by colored hair follicles without damaging the epidermal tissue. The energy emitted by the light is absorbed by hair and pigments in hair follicles. After being converted into heat, the temperature of the hair follicles is increased. When the temperature rises to a certain level, the hair follicles will be irreversibly damaged. After a period of time, the damaged hair follicles will be removed with the body's metabolism to achieve the purpose of permanent hair removal. Modern design, stable output, short exposure time, good effect of permanent hair removal, high safety.
Applicators
Pico laser applicator
With the aim of fully realizing the capabilities of the PL-HR01 PLUS, PrettyLasers has imported the highly advanced articulated arm from Korea. Creating aligned, focused lasing beams in high sequence, the light, ergonomically-designed articulated arm has an effect that is at once effective.
360° rotatable joint, reduces energy loss and is more convenient.
Light guide arm imported from South Korea, long lifetime.
2~10mm adjustable spot size, improve work efficiency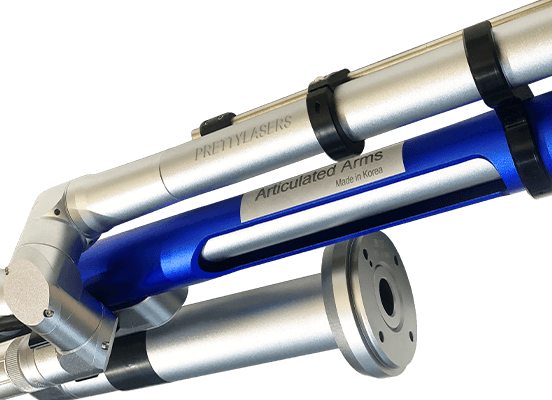 1064nm Wavelength Applicator
Flexible spot size adjustment, ideal for individual tattoo removal, freckle removal, and Mole Removal.
1064nm applicator can change the size of the laser spot up to 10mm using a single applicator. This allows physicians to work with larger spot sizes while maintaining work stability during treatment.
532 nm Wavelength Applicator
The photo-thermal effect, short downtime, ideal for skin rejuvenation and skin tightening
The energy is delivered in a round pattern with a 10 mm spot size.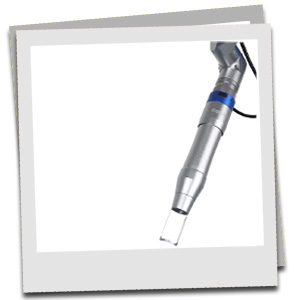 755 nm Wavelength Applicator
Red, yellow, coffee, and other light color tattoo removal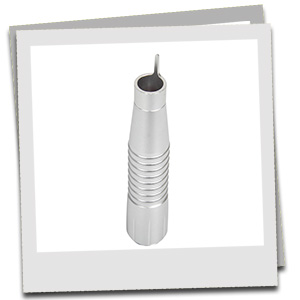 Diode Laser Hair Removal Applicator
808 nm Wavelength Applicator
Complete more treatment sessions in less time with this large spot-size applicator. Treat larger areas faster, while offering patients a safe and highly effective hair removal procedure.
Continuous Contact Cooling is an advanced technology that continuously cools the skin and facilitates range-controlled temperature throughout the entire treatment. The Semiconductor PLUS sapphire tip minimizes epidermal risks while maintaining heat within the dermis where hair follicles are treated. The temperature remains controlled and constant which contributes to the diode's efficiency.
Patients can now enjoy a completely pain-free, cool, and comfortable experience throughout the session.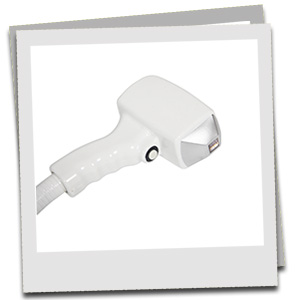 Technical Parameters
Professional 2 in 1 picosecond laser plus diode laser machine
Input Power
2000W
Screen
10.4-inch touch screen
Cooling System
Semiconductor, Water cooling
Voltage
110V/220V
808nm diode laser
Wavelength
808nm
Mode
Single pulse and Continuous pulse
Frequency
1-10Hz
Pulse Width
10-200ms
Temperature
0-40 degree
Energy Density
0-150J/cm2
Spot Size
12mm*12mm
Pico laser
Wavelength
1064nm, 755nm, 532nm
Energy
200-2000mj
Frequency
1-10Hz
Spot Size
2-10mm(adjustable)
Applications
Diode Laser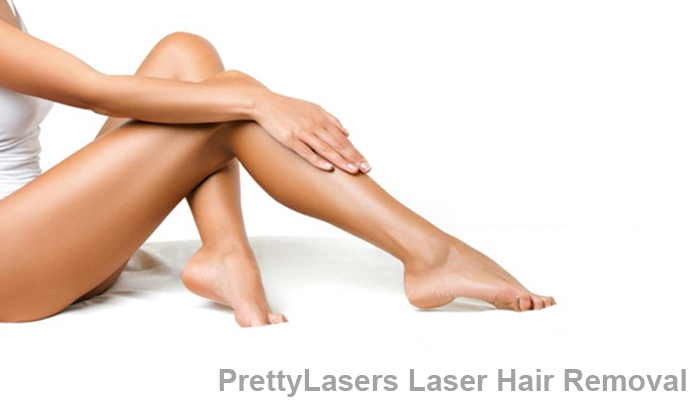 Long-lasting hair removal, better than IPL and E-light;
Effectively remove hair on different parts of the body, such as the face, underarms, back, legs, and bikini line, effectively removing hair of various depths.
Effectively remove hairs of different colors and textures, such as black, auburn, and brown.
Permanent hair removal, suitable for a variety of skins.
Non-invasive treatment method, high safety.
It is painless and non-invasive, does not need a recovery period, and does not affect normal life and work.
Laser Hair Removal Before and After Treatments
From armpits to bikinis and legs to lips, the effectiveness of laser hair removal via Professional 2-in-1 picosecond laser plus diode laser machine.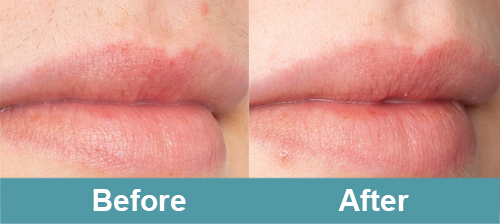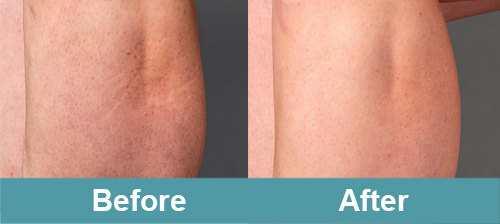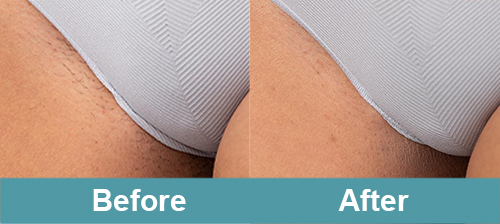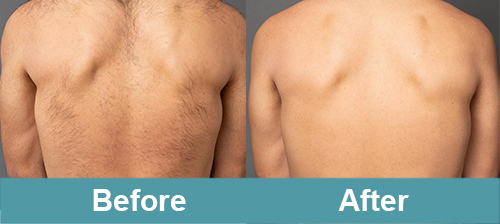 Pico Laser
Remove chloasma, freckles, age spots, brown mole spots, acne marks, laser treatment for acne scars, and other endogenous pigments, wash eyebrows, tattoos, moles, and laser treatment for birthmarks, and remove Ota moles, etc.
Eyebrow Wash
During the treatment, the customer should keep his eyes closed. The operator selects the required laser energy according to the color depth of the treatment area (adjust the energy value, the recommended energy value for the new machine is 35%), and slowly moves the handle from the normal skin near the treatment area to the treatment area to let the customer has a psychological acceptance process. At this time, the frequency can be set to 3Hz, and the head is 1-2 fingers away from the treatment area. The treatment can be performed from the end of the eyebrow or the eyebrow. If there is a phenomenon of color reversion within 5-10 minutes after treatment, it can be washed again. Re-examination after one and a half months, if the pigment has not faded, the second treatment can be performed(If the color becomes light and does not absorb energy, it can be operated with activated carbon liquid to help absorb energy).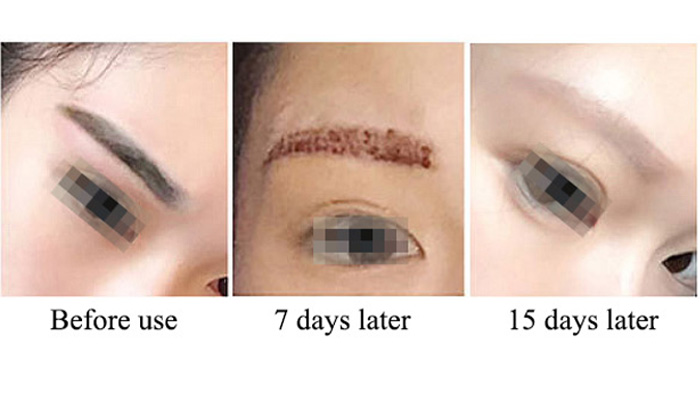 Laser Tattoo Removal
The frequency can be set to 3Hz-5Hz, and the distance between the tip of the handle and the treatment area is 3-4 fingers, and the treatment is performed with high energy as close to the focus point as possible. Common black and blue tattoos, choose 1064nm wavelength, in the case of red or coffee, choose 532nm wavelength, the treatment interval is 45-90 days, and the tattoo treatment is cycled until it is washed (if the color becomes light and does not absorb energy, it can be operated with activated carbon liquid. To help absorb energy).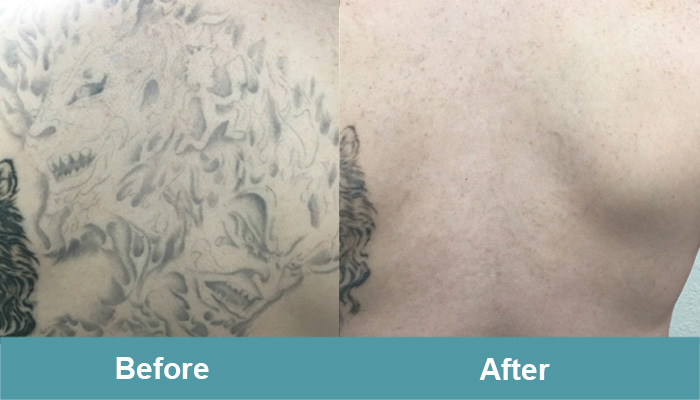 Freckle Removal
How to remove freckles permanently?
Facial freckles can be treated with activated carbon. The frequency is set to 3Hz, the recommended energy is 60%-80%, and the 1064nm wavelength is used. The head is 40cm away from the skin for treatment. After finishing the whole face, if there are some areas with heavier spots, you can skip the activated carbon and use the focused energy, but there should be no bleeding, just slightly red. About 7 days after the operation, if the color becomes darker, it is recommended to use a depigmentation cream to help decompose the pigment. (Focus: the point with the loudest blasting noise.)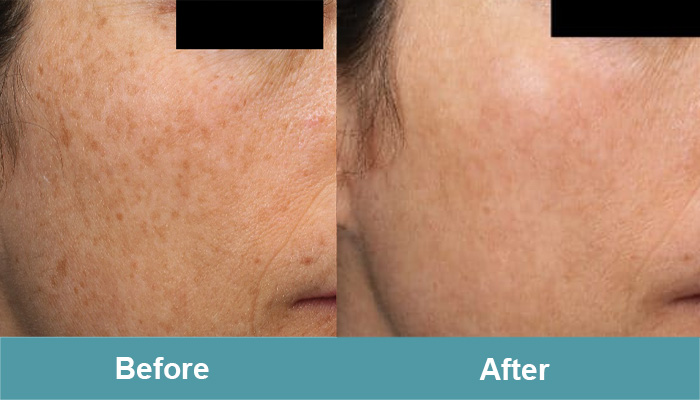 Moles Removal
How to remove moles?
The frequency can be set to 3Hz-5Hz, and the distance between the head and the treatment area is 3-4 fingers, and the treatment is performed with high energy as close to the focus point as possible. Choose 1064nm wavelength, the treatment interval is 45-90 days, and the treatment is cycled until it is washed (if the color becomes light and does not absorb energy, it can be operated with activated carbon liquid to help absorb energy).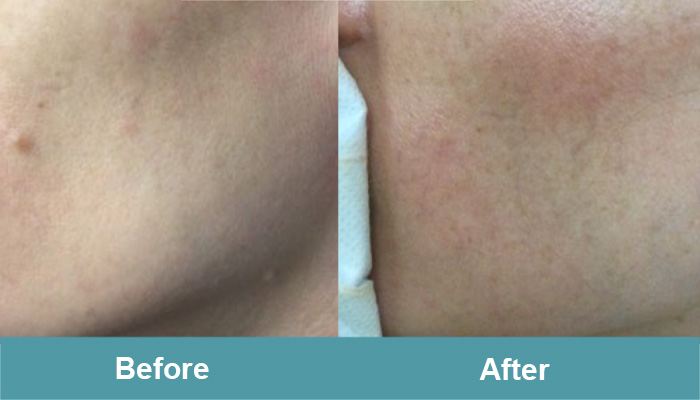 You May Also Like:
FAQ

Why Choose The PrettyLasers' Professional 2-in-1 Picosecond Laser Plus Diode Laser Machine?
360° rotatable joint, reduces energy loss and is more convenient
Constant temperature system – intelligent AI chip, precise temperature control ensure a constant temperature of 4 ℃
Output speed – Frequency 1~10 Hz controllable, pulse output
Safety Performance – When the ratio between the energy value and the frequency value does not comply with the safe output energy density, the system will automatically adjust the safe state.
The high energy levels of PL-HR10 PLUS allow pigment/tattoo removal with fewer treatments compared with other competing laser systems.
No consumables
Intuitive, user-friendly large screen
Its three wavelengths – 1064nm, 532nm, and 755nm – target the most frequently used tattoo colors ranging from light orange to dark black.
808nm for hair removal
Why Choose a Picosecond Laser Tattoo Removal Machine?
A picosecond laser selectively destroys the target pigment without damaging healthy, normal tissue. This allows rapid clearing of the abnormal pigmentation with minimal collateral damage to surrounding tissue.
Picosecond lasers used for tattoo removal require fewer treatments, cause fewer side effects, and result in reduced post-procedural downtime compared to nanosecond Q-switched lasers. They can clear some tattoos that are refractory to other forms of laser therapy, and there is a reduced risk of causing scarring and hypopigmentation.
The additional cost and reduced availability of picosecond lasers compared to Q-switched lasers currently restrict their widespread use.
How To Get Rid of Acne Scars?
Although dermatologists have a potent arsenal of treatments for inflammatory acne lesions, the scarring residue of acne still remains hard to overcome. However, PrettyLasers' professional 2-in-1 picosecond laser plus diode laser machine can provide the solution.
A Q-switched laser that generates picosecond-domain pulses was recently introduced and has already demonstrated its effectiveness in removing unwanted tattoos. Picosecond laser has been developed to produce wavelengths of 532 nm and 1,064 nm. The new lens array helps deliver all the laser energy into highly focused areas in a square grid. Therefore, the picosecond laser can exploit laser-induced optical breakdown of dermal tissue to achieve skin rejuvenation and treat acne scars.
Good cosmetic results were produced by combination therapy using picosecond-domain pulses and subdermal minimal surgery technique for atrophic acne scars. If you're ready to banish your acne scars permanently, please send an email to the picosecond laser tattoo removal machine supplier or schedule a consultation online.
Acne Scars Treatment Before and After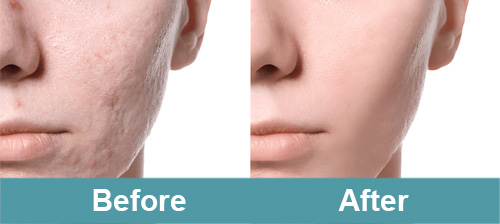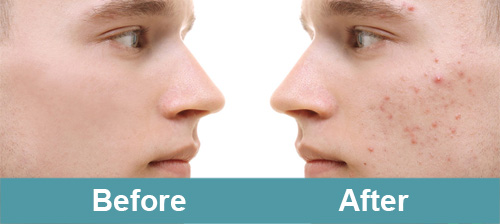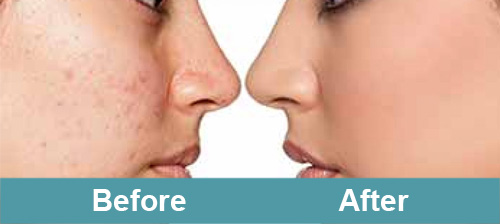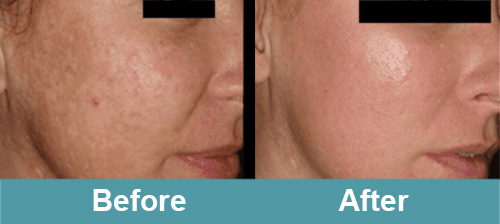 What Benefits Your Clients Can Get From Laser Hair Removal Machine?
With a professional laser hair removal machine, your clients can take advantage of the following:
Instantaneous results – most clients can see permanent hair reduction in approximately three to seven sessions.
Precision – The treatment selectively targets dark, coarse hair without harming the surrounding skin. It is clinically safe and effective on a wide range of skin tones with zero to minimal downtime.
Speed – Your clients can save time since the procedure only lasts around fifteen to twenty-five (18-28) minutes. Offers a unique pain reduction mechanism.
Long-term solution – most patients notice lasting results with laser hair removal. Some may need touch-ups, but it becomes manageable and easy to maintain over time.
What Is Diode Laser Hair Removal Treatment?
Diode laser hair removal treatment operates at a rapid repetition rate at longer wavelengths, resulting in faster treatment of the desired body part. It is the treatment of choice for the removal of dark, terminal hair.
What Are The Side Effects Of Diode Laser Hair Removal? Does it hurt?
The patient may experience erythema, swelling, skin discoloration, and scarring which may be prevented with proper aftercare. Hair loss may also occur. Very rarely, some patients may develop urticaria. Because the procedure utilizes a sapphire cooling tip, it reduces the heat sensation, resulting in relatively painless treatments.
How Many Diode Laser Hair Removal Treatments Are Needed?
Typically, eight sessions at an interval of four weeks are recommended for significant hair reduction.
How Long Do Diode Laser Hair Removal Results Last?
The initial results of laser sessions usually last for about two to eight weeks, but it all depends on how fast the hair grows. After completing the treatment regimen, hair may appear thinner and lighter relative to the baseline. It also grows less densely and frequently. One to two sessions of yearly maintenance or touch-ups are recommended thereafter.
Can You Have Diode Laser Hair Removal After Botox?
Ideally, diode laser hair removal should be done prior to botox or patients need to wait for a month.
How Long Is Diode Laser Hair Removal Treatment?
Each session lasts about 15-25 minutes, depending on the size of the treated area. Hair removal on a small area, such as the upper lip, only requires a few minutes. Larger areas such as the chest and back will take up to an hour or more.
What Is The Difference Between Diode Laser Hair Removal and IPL Hair Removal?
The main difference between the treatment methods outlined above is the way the light source is released. Diode lasers emit a single wavelength while intense pulsed light utilizes a broad spectrum of light energies.
IPL devices deliver 420-1200 nm light energies and utilize filters to refine the energy output. Red and fair hair colors are ideal candidates for IPL treatments using shorter wavelengths, while longer wavelengths can be used on light to medium skin tones with darker hair. Practitioners should not use IPL devices on patients with Fitzpatrick Skin Types 4-6. This makes the diode laser more versatile and accommodating than IPL.
How Long To Wait Between Laser Hair Removal Treatments?
In most cases, an interval of four weeks is recommended. To ensure efficacy, the targeted hair must be in the anagen phase, or when the hair is actively growing.
What are the Benefits Of Laser Hair Removal Machine For Your Spa Business?
Investing in laser hair equipment can add substantial value to your spa business. The most obvious advantage is the opportunity for higher sales and profits. If you already have an established clientele, it can take as early as four to five weeks to reap the benefits. Newer businesses can expect a return on investment in about two months.
When purchasing a laser device, It is necessary to make sure you get the right fit for your client demographic. Offering the latest technology can refresh your brand and allow you to reach a broader segment of the population that will most likely need your services while retaining your existing clients.
How To Buy A Professional Laser Tattoo Removal Machine From Picosecond Laser Tattoo Removal Machine Factory?
If you want to purchase a professional laser tattoo removal machine and laser hair removal machine for a Skincare Clinic from pico laser tattoo removal machine factory, fill out the form below and we will get back to you ASAP. Or simply call Phone: +0086 15001300057