Laser Hair Removal Equipment
Laser hair removal equipment is a more effective solution for permanent hair reduction. The home laser hair removal equipment uses state-of-the-art diode lasers with strong TEC+Sapphire contact cooling technology to remove unwanted hair and with greater speed and comfort than other methods.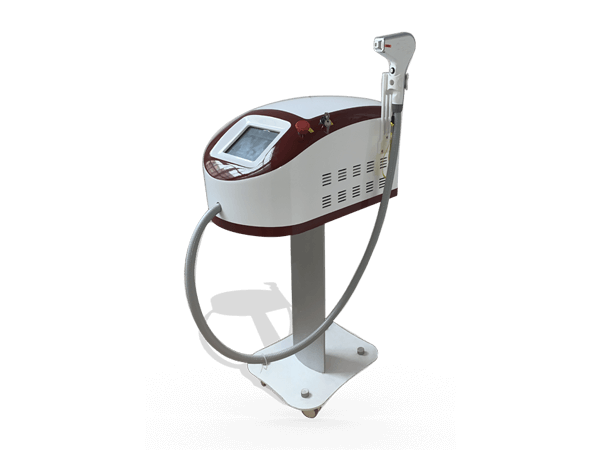 Laser hair removal equipment PL-O3 offers you six kind of hanpieces for your option depending on your needs. Hair removal equipment PL-O3 uses strong TEC +Sapphire contact cooling technology in combination with diode laser light to allow rapid and comfortable treatemnt of large areas.
Benefits:
Professional design of inner handpiece structure- greatly enhances efficiency than traditional handpiece in the aesthetic laser market.
The alarm protection system of water flow and water temperature-stop all working immediately in case of any risk, protecting people & machines against any risk at the first time.
User-friendly software design-simple parameters setting and easy operation.
High efficiency – Germany imported laser chips.
Joules laser hair removal
Diode Laser Hair Removal Equipment Treatment Theory
Diode Laser hair removal works by destroying the root of the hair follicle. During treatment, flashes of light are distributed over the skin and absorbed by the melanin in the hair follicle. The energy from the laser heats up and damages the hair follicle, successfully stunting the cells that stimulate regrowth. It is important to note that hair grows in a cycle, and that hair removal is only effective during the active growth stage.
Every hair goes through three stages of growth: the anagen phase, catagen phase, and telogen phase. The anagen phase, also known as the growth stage, is the duration in which your hair actively continues to grow. The catagen phase, also known as the transitional phase, is when the hair follicle shrinks and detaches from the papilla, a structure at the base of the follicle. The telogen phase, also known as the resting phase, is when the old hair is released and falls out. When the old hair sheds, the hair follicle re-attaches to the papilla and re-enters the anagen phase, repeating the cycle.
Each hair in your body can be at a different stage in the growth cycle at any given time. Thus, to target the hair during the anagen phase, multiple laser treatments are necessary to target the numerous hair follicles during their growth stage. And all the hairs are not in this phase at the same time.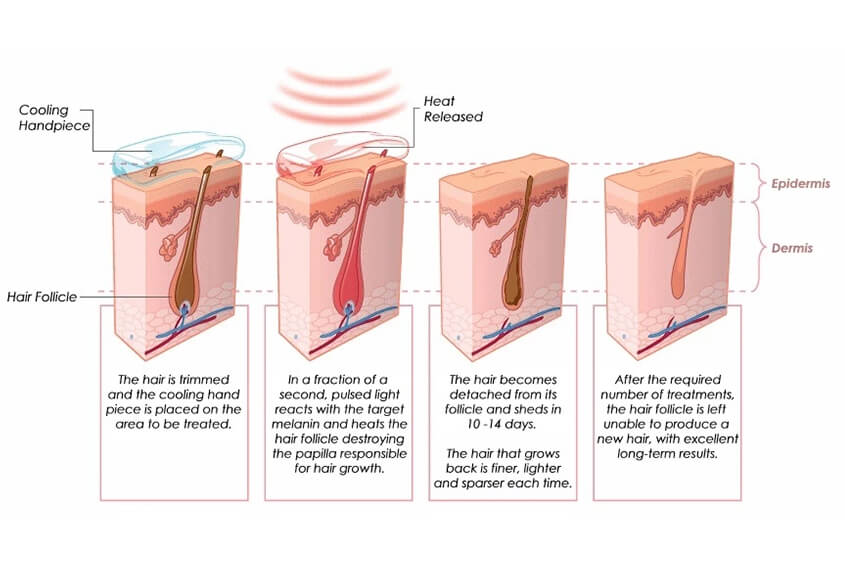 Treatment:
Our hair removal treatment will destroy these hair follicles in a matter of minutes. You will save time, and you will save yourself from a lifetime of shaving. Seriously, Our portable non-channel diode laser hair removal machines as one of the best ways to get rid of unwanted hair.
whether you have light, dark or tanned skin, coarse or fine hair. PrettyLasers' hair removal solutions achieve maximum results for all areas of the body with treatments that are safe, quick, and comfortable.
Hair removal

, permanent hair reduction, depilation.
Permanent Facial hair removal, armpit hair removal, bikini line hair removal, male back hair removal, full-body hair removal, permanent chest hair removal, chin hair removal, permanent underarm hair removal…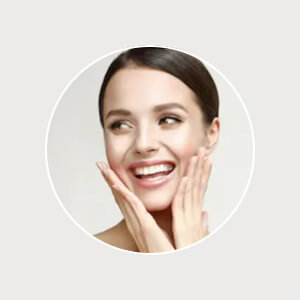 Facial hair removal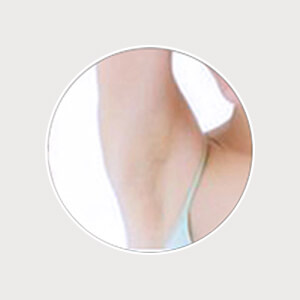 Underarm Hair Removal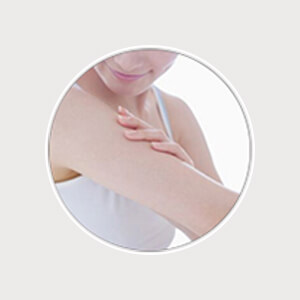 Arm Hair Removal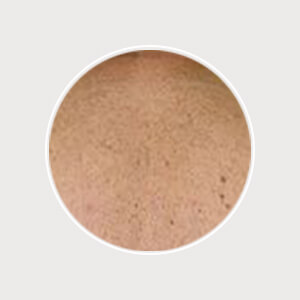 Full Back Hair Removal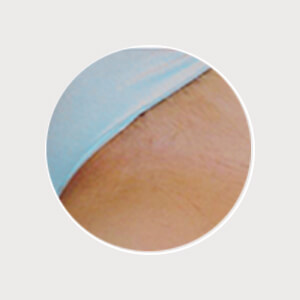 Bikini Hair Removal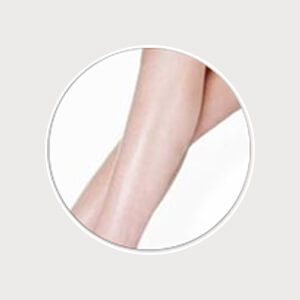 Leg Hair Removal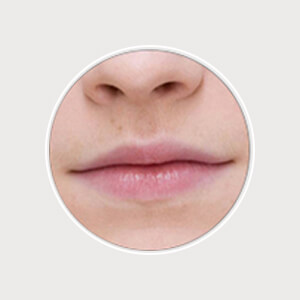 Lip Hair Removal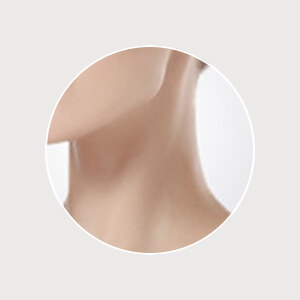 Neck Hair Removal
Technology: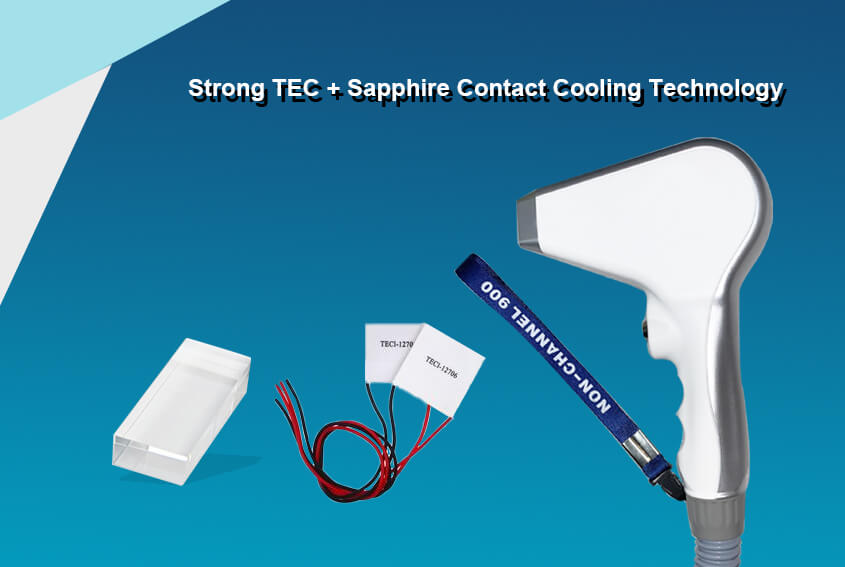 Strong TEC + Sapphire Contact Cooling Technology
Hair removal equipment PL-O3's strong tec +saspphire contact cooling technology provides further comfort, virtually eliminating the cool gels. The TEC+Sapphire handpiece cools the skin during treatment, preventing superficial burns while maintaining heat within the dermis where hair follicles are treated.
Germany imported laser chips
Germany imported laser chips-every laser chip is 150 watts, which provides high laser power, long lifetime, and high reliability.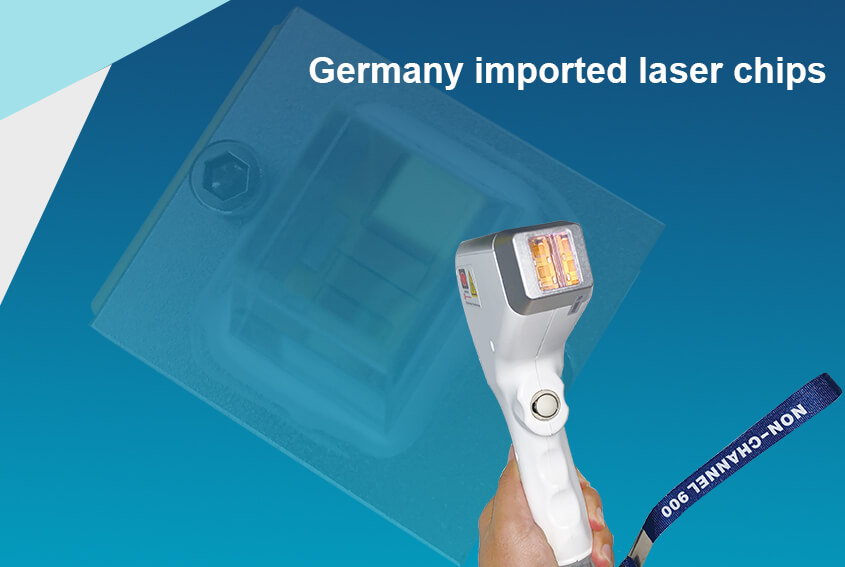 Portable Laser Hair Removal Machine Inner Structure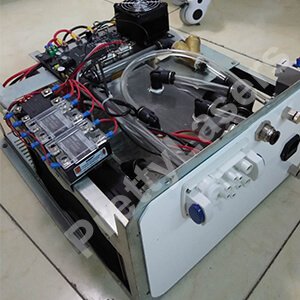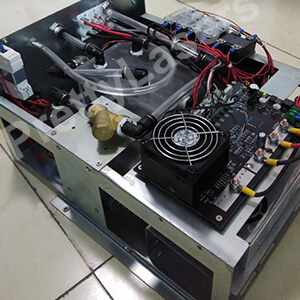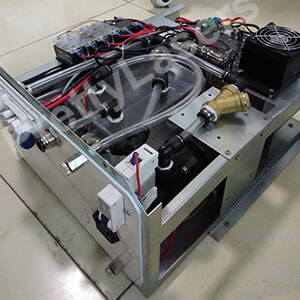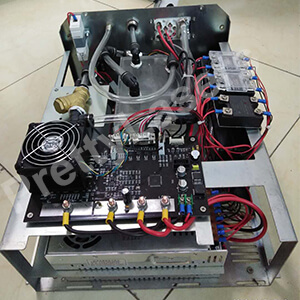 Different Handpiece Spot sizes for your option
The spot size of 10*10mm is designed to treat small areas, such as permanent facial hair removal, that require precision and higher hair removal laser fluence.
TEC + Sapphire Spot size of 15*15mm provides a solution for large and small areas requiring higher fluence levels.
25* 31mm spot size designed to treat body hair removal and treat more sessions in less time, allowing you to quickly treat larger areas while offering your patients the fast and most effective hair removal possible.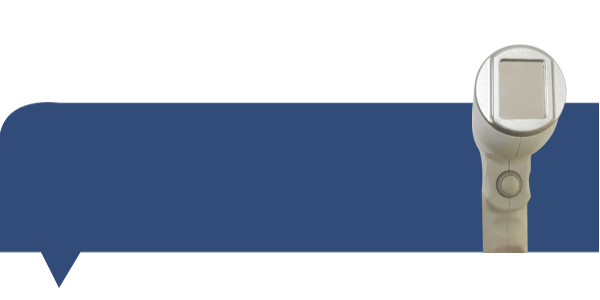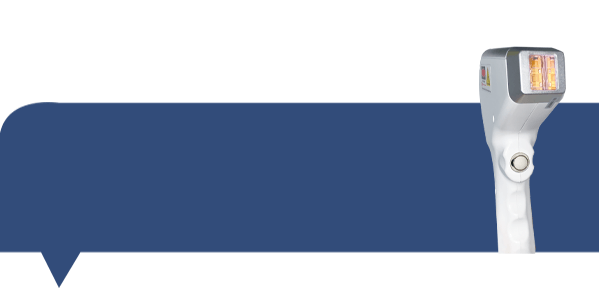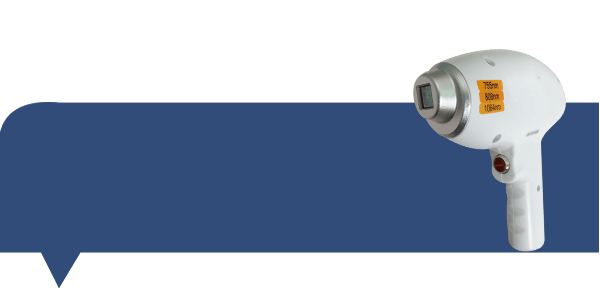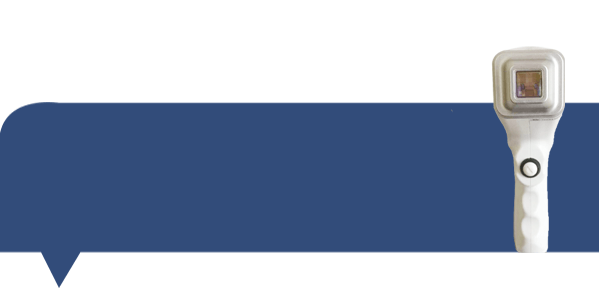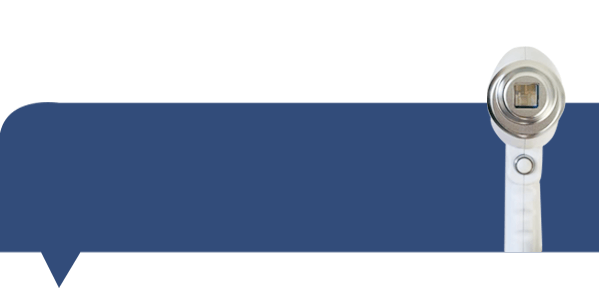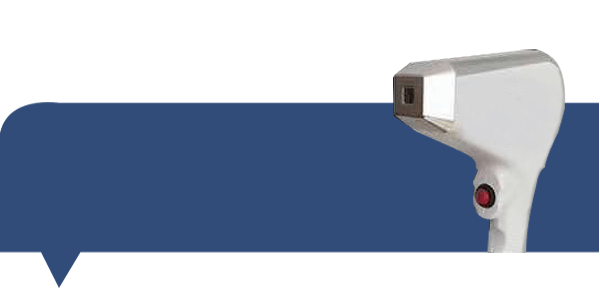 Advanced Color TouchScreen
User-friendly Interface
Esay to operate.
Recommended treatment parameters settings.
Customizable Treatment.
The screen can add your own logo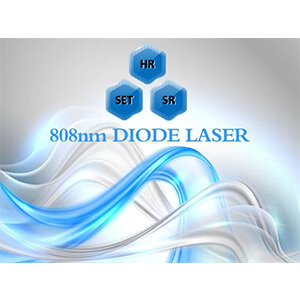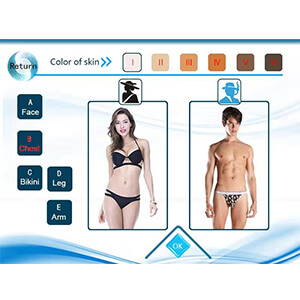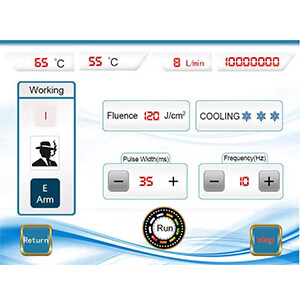 Technical Specifications
Laser Hair Removal Equipment
Wavelength
808nm
755nm, 808nm, 1064nm optional
Working Frequency
1~10Hz
Maximum frequency 20 Hz
Energy Density
1-120J/cm² adjustable
OEM is ok
Handle piece cooling
TEC+Sapphire
Sapphire OEM
TEC cooling
12V6A
TEC Power OEM
Spot size
15cm×15cm or 25 x31mm
Spot Size OEM
Output Power
600w, 900w
Laser power OEM
Laser Bars
Germany laser Jenoptik,150W/piece
Pulse Width
5ms~400ms
0~1000ms OEM
Output Mode
Pulse Output
Pulse Output
Language
Standard English
Can be made according to customer's requirements
Display
8' color touch screen
10.4' is available
Protective Temperature
55℃ interface select
OEM
Water Pump
DP-60 diaphragm rods 12V
Flow Sensor
3.5L/min flow requirement
Cooling System
240×120 cooling line(2pc),18 pcs channel
Compressor plan,TEC plan
Cooling Fan
4pcs fans,speed 3150r/min
12v fans
Case Material
ABS shell/metal shell
OEM Metal Shell
Inter Structure
White zinc hob/color zinc hob
OEM
Water Tank Volume
vertical3.6L/table type 2.5L
OEM
Environmental Moisture
<80%
<80%
Environment Temperature
Air conditioning room, temperature≤28℃
voltage
220V/110V
Laser Hair Removal Equipment Treatment Results Before & After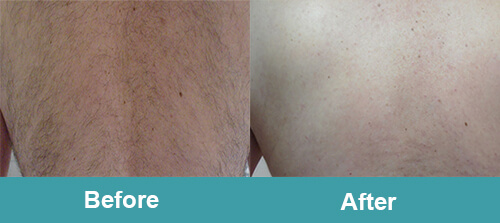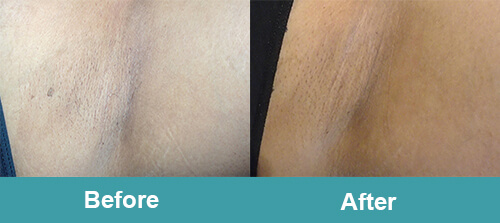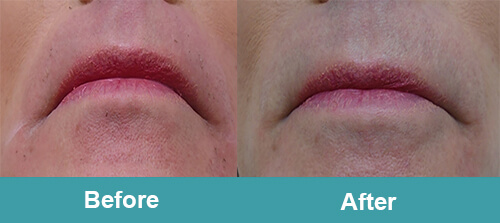 Advantages: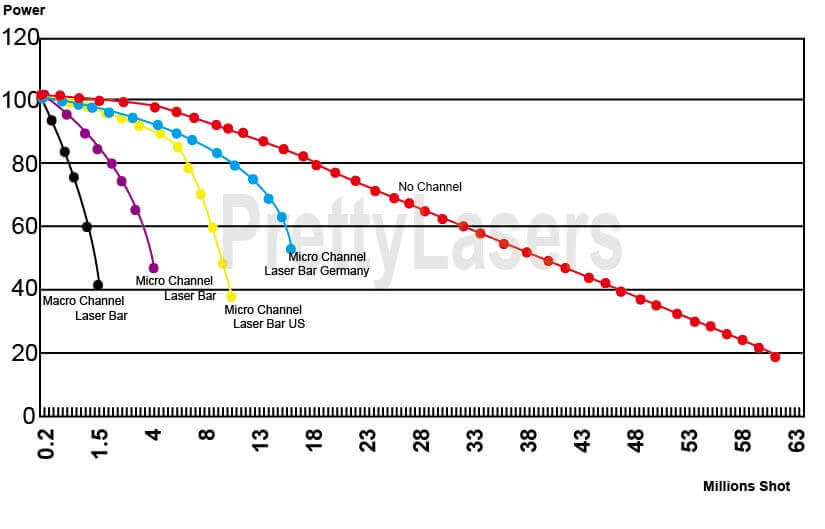 Extremely Long Lifespan
PrettyLasers is the only supplier that adopts VCSEL(Vertical-Cavity-Surface-emitting Laser Diode) technology, the laser will emit from the surface instead of the edge, which makes the Mini model with an extremely long life span and pretty high energy output. As a real test report, 90 million shots are available, which is 5-10 times than laser from the USA, Israel, and Germany, as our partner's feedback, it can be used for 5 to 10 years.
Powerful Cooling Contact
Patients always enjoy the course due to the powerful contact cooling system, long time operation even can maintain 0℃.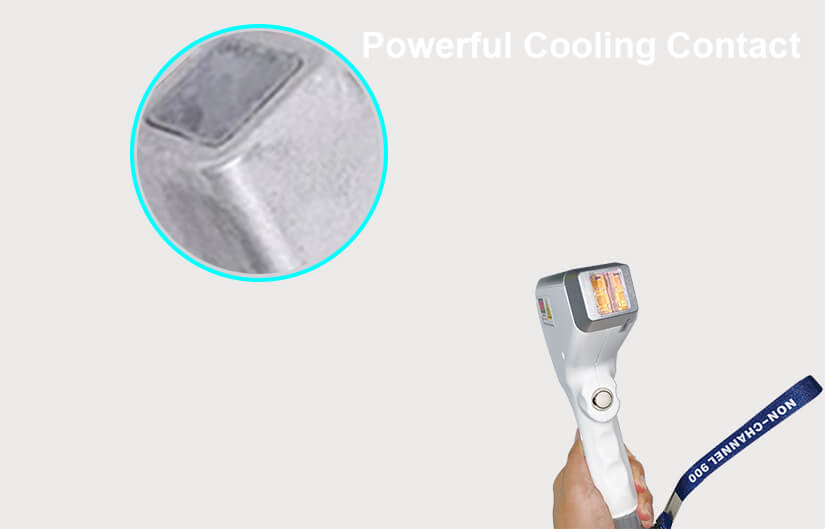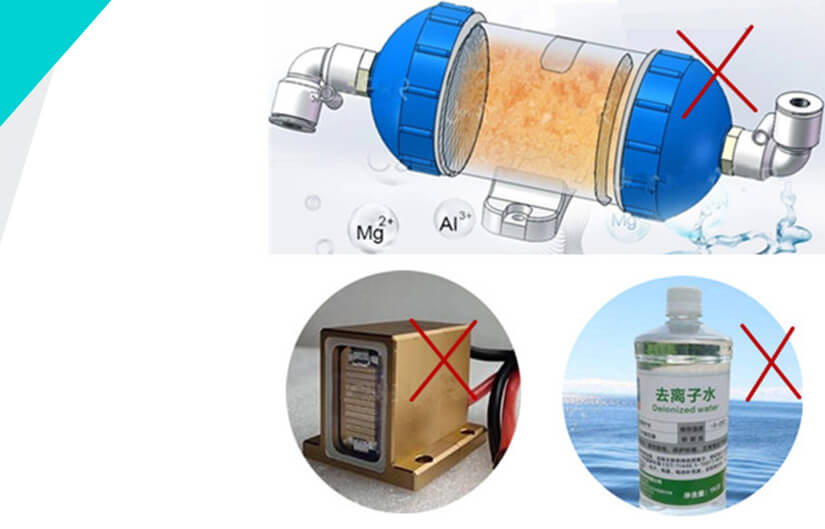 Minimum Aftersale Concerns
Different from the traditional Laser bar, there's no laser bar, no need for deionized water, filter, and no concern for laser burning.
You May Also Like:
Maximize the benefits of the customers
24 hours non-stop working which means you can do more patients a day.
No working environment limit
It can work under 85℃ high temperature due to the laser chip not sensitive to the temperature change.
Who can get laser hair removal?
Laser Hair Removal For Male And Female
Female and male alike. Most females seek to remove hair from their underarms, bikini lines, and legs, while males are more interested in treating hair on their backs and necks.
Suitable For All Skin Types And Hair Colors
When hair removal lasers were initially introduced, the procedure was originally intended for patients with light skin and dark hair. However, newer technologies, like portable laser hair removal machine PL-O3, safely and effectively treat patients of all skin types and hair colors.
Will hairs be completely removed with one single laser hair removal treatment?
One single treatment of laser hair removal will not remove all the hairs, because hair has three growth phases, the active phase, transitional phase, and resting phase. When laser hair removal treatment is applied, it only acts on the hair follicle cells that are on the root of hairs in the active phase, depriving their ability to grow permanently. As for the hairs in their transitional or resting phase, the laser cannot reach their follicle cells directly, so only hairs can be temporarily removed.
How many treatments of laser hair removal are needed?
When using laser hair removal treatments, due to the different growth phases of hairs, one single treatment will not remove hairs completely, and several treatments are required. In general, a complete course of laser hair removal needs 3-5 treatments, with 4-6 weeks in between each treatment. The effectiveness and number of treatments required depend on an individual's hair color, unique properties, and growth phase, and may vary from person to person.
Does hair removal of different areas require the same number of treatments?
No, depending on the area of hair removal and condition, a different number of treatments will be applied, also laser of different energy levels will be used. This is because hairs in different areas have different thicknesses, densities, and the ability to regrowth.
In general, the denser the hairs, the thicker the hairs shaft, the higher energy level of the laser light is required, and the more treatments are needed.
What can you expect?
Laser hair removal requires multiple treatments. This is because the laser works best when hairs are in an early growth stage, and all the hairs are not in this phase at the same time.
OEM/ODM Solution For Diode Laser Hair Removal System:
1. Solution for laser sources, including laser diode chips, laser stacks and handle
2. Solution for electronic parts, including laser diode drivers, control board and LCD screen
3. Solution for standard OEM systems and also customize whole machine

---
Related Products