Medical Grade Diode Laser Hair Removal Equipment PL-118
Medical diode laser hair removal technology is based on the selective dynamics of light and heat. With slight pain, this is the most effective permanent hair removal, the safest, quick, and permanent technique for hair removal now. that will maximize your clinic's business potential. Advanced diode laser solutions that will maximize your clinic's business potential.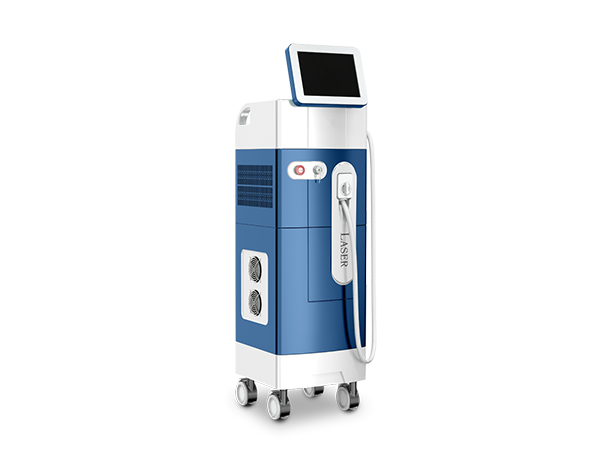 PrettyLasers' PL-118 medical grade laser hair removal machine has been validated in many clinical studies and clinics. Our clients benefit from the PL-118 features and enjoy high patient satisfaction. The PL-118 produced by medical laser supplier – PrettyLasers uses high-power diode technology that can deliver high fluence. It also has the other advantages as follows:
Benefits:
Multi-Application Platform
Germany import Laser Bar
Totally painless treatment, permanent result
Up to 10hz in motion treatment
24 hours non-stop continue working
Germany imported filter
Clinically proven in extensive clinical studies
Medical CE approval, ISO9001:2008.
Easier installation: Plug & Play Connector
Advanced flash computer calculator: xenon lamp computer calculator system always show how many flashes you have used
Application
Most Effective Permanent Hair Removal
Safe And Effective For Skin Type I-VI
Medical grade laser hair removal machine provide highly effective, reliable, and safe permanent hair removal treatments for a variety of challenging skin concerns.
Provides faster, more comfortable treatments
Suitable for all skin types, even tanned skin
Hair reduction
Permanent hair removal treatment
Remove hair on different parts of the body effectively. Such as armpit hair, beard hair, lip hair, hairline, bikini line hair, body hair, and other unwanted hair.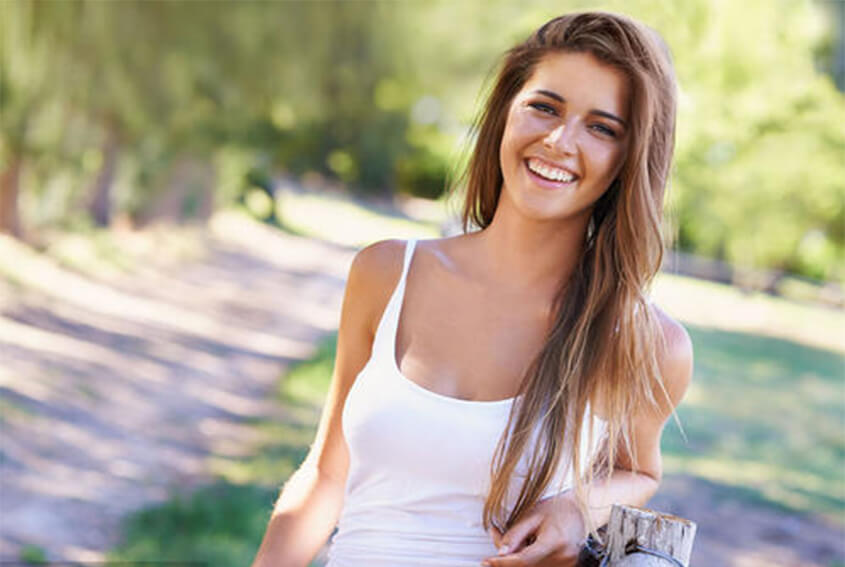 Professional hair removal equipment Specifications
| | |
| --- | --- |
| Fuse | Max10A |
| Frequency | 1~10Hz |
| Net Weight | 50KG |
| Spot Size | 12*12mm or 12*24mm |
| Input Power | 2000W |
| Temperature | 0~40℃ |
| Pulse Width | 10~200ms |
| Handle with 6 bars | 600W |
| Energy Density | 0~150J/c㎡ |
| Package Size | 115cm*53cm*56cm |
| Mode | Single Pulse and continuous pulse |
| Cooling System | water cooling +wind cooling+ Semiconductor |
| Laser Type | High Quality 808nm Semiconductor Laser Beam Source |
| Electrical Requirement | AC 220V 10% 50Hz; AC 110V 10% 60Hz |
| Output | 808nm Treatment of handle out direct output mode(handgun type) |
Medical Diode Laser Technologies
Semiconductor Cooling:
Semiconductor cooling system is the best stable cooling system to perfectly match laser equipment protecting laser bar and increasing the continuous working period of the machine to 24 hours continuous work. Preventing the burning risks.
Four kinds of cooling system
Air + Water + Peltier + Semiconductor Cooling, Semiconductor is the latest cooling method that is widely used in many beauty laser machines. This new method can confirm diode laser in a more suitable working environment and control it in low temperature even for a long time continuously working.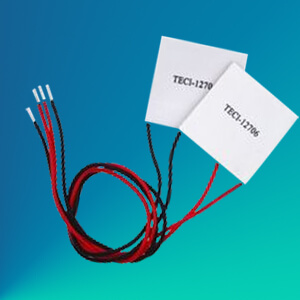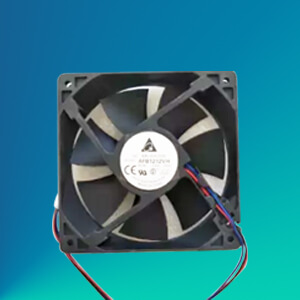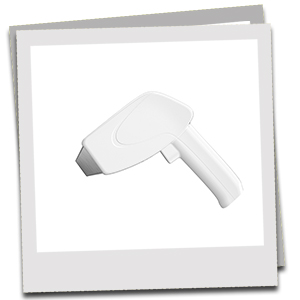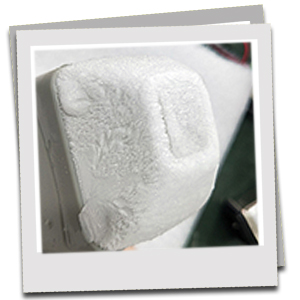 808nm Diode Laser Handlepiece
The diode Laser handle piece cooling method effectively damages the hair follicles while avoiding injury to the surrounding skin. The sweeping in-motion delivery technology keeps the laser in constant motion ensuring full coverage.
If you want to know more the details, please feel free to CONTACT US

Humanzied Operation Screen display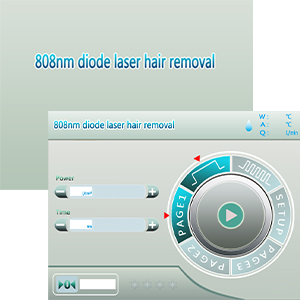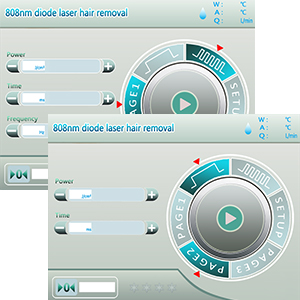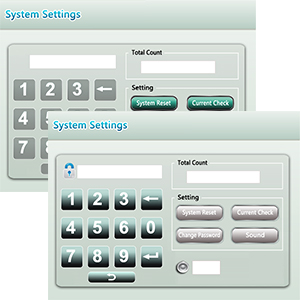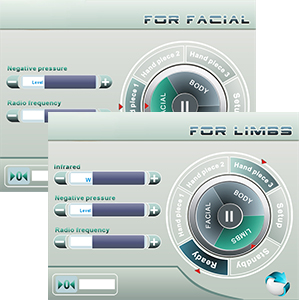 At this touchscreen, there are three treatment functions: Fast Mode, Normal Mode, and Skin Rejuvenation Mode.
Fast Mode: It is FHR ( Fast Hair Removal) mode, this mode is suitable for public treatment, such as full-back hair removal, leg hair removal,  easy to start treatment, and is most popular with beauticians in a beauty salons, spa centers, clinics, etc.
Normal Mode: It is standard hair removal mode, according to the different individual to have a targeted treatment, designed for doctor and professionally trained operator using in the medical clinic, surgical hospital, etc.
Skin Rejuvenation: It is an additional function of skin rejuvenation with low energy shooting to make the face smooth, tender, and younger.
Most Effective Permanent Hair Removal Before & After
Laser hair removal is permanent. The hair will not grow again after laser treatment. Laser epilation is effective for the whole body including the face, neck, arm, legs, and body. Laser hair removal also works for fine hair, but can not remove white hair. Because there is no melanin in the white hair.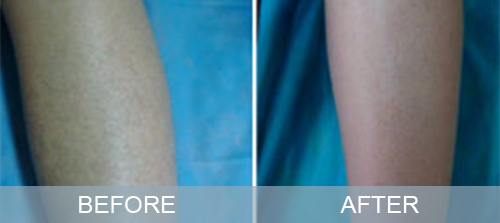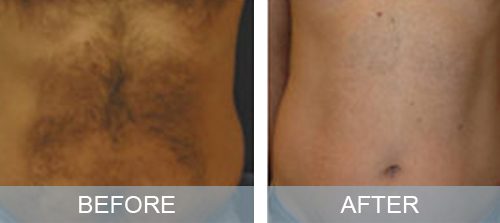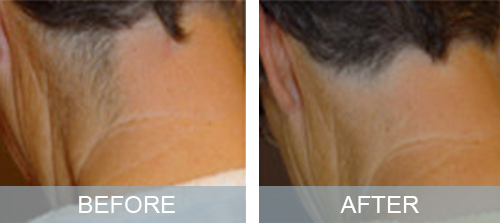 FAQ
Is hair removal with medical-grade laser hair removal machine PL-118 really painless?
Medical diode laser PL-118 uses laser's FHR method, which is the only clinically proven method of laser hair removal that is virtually painless. The unique heating and energy delivery method effectively damages the hair follicle while preventing injury and pain to the surrounding tissue. At the same time, semiconductor cooling system cools the skin surface, preventing superficial burns and the sensation of pain.
---
What are the features of the professional hair removal equipment PL-118?
8 years of clinically proven effectiveness
FDA cleared for skin types I-VI and tanned skin
Gold Standard 810nm Diode
Intuitive and user-friendly color touch screen
Easy to operate
No downtime
Fast, cool treatment for the patient
If you want to know more, please send us an email:info@prettylasers.com Or want to know the price of a laser hair removal machine, click here.
---
How to fill water and outlet water?
In the back machine, there are connectors, one is for the connector "water in" for fill water, and the other ones are "outlet water" and "overflow" connector.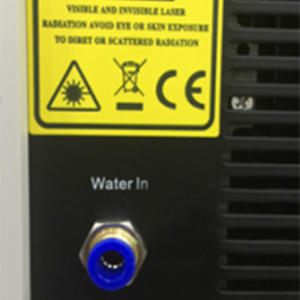 1. When filling the water, use the pipe with the cup, it is for the connector of the water in, meanwhile, use the short pipe insert the connector of "water overflow"; when the water overflow connector has the water overflow it, means the water tank is full, it needn't fill the water anymore.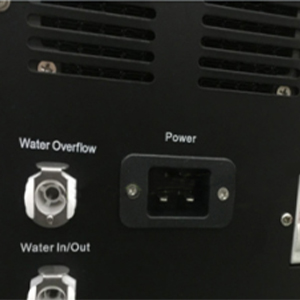 2. If you want to push out water from the water tank of the diode laser machine, insert the pipe to "Water in/out", if you want to water out of the water tank quickly, can insert a pipe into the connector of the water "Water in".
---
How to start or turn on medical grade laser hair removal machine?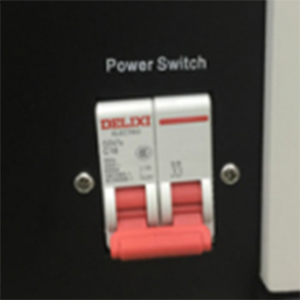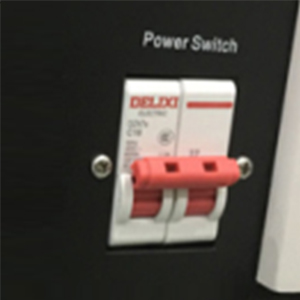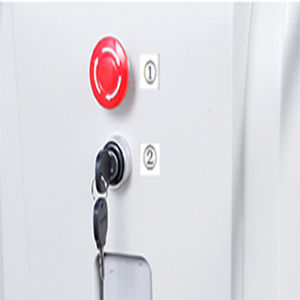 1.It is named emergency button.
2.Keys for the start the machine.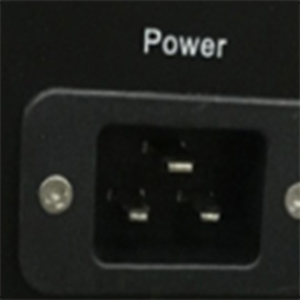 Here insert power line.
How to open the machine?
Firstly, insert the power line.
Secondly, turn on the switch.
Thirdly, turn on the emergency button and keys of button in clockwise.
---
Why do all beauticians prefer an 808nm medical grade laser hair removal machines?
Long laser width, Effective for the hair follicles produce heat accumulation, Permanent hair removal.
Skin-Touching cooling system can make momentary epidermal anesthesia, no any painless during hair removal treatment.
Self-checking and auto-protection mechanism to ensure stability.
Quick – Squared big spot size could prompt the treatment speed, treatment speed, and efficiency.
High energy, no pigmentation, excellent treatment results can be expected at the first treatment and suitable to all types of hair.
Safety, Almost no skin scattering, no harm to the skin and sweat glands, no scar, no side-effect.
The best thermostatic water cycle system guarantee semiconductor pump can't burn cavities due to overheating.
A strong Sapphire touch cooling system can make momentary epidermal anesthesia, not any painless during hair removal procedures. More testimonials…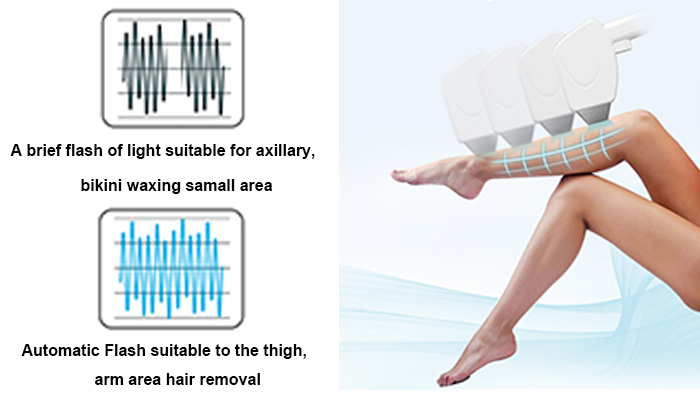 ---
How to choose the best professional hair removal equipment technology?
How to choose the best professional diode laser hair removal equipment technology? This is a very interesting problem. However, you need to know what is the best laser hair removal machine? Hair removal is one of the most commonly sought-after beauty treatments for decades now. Women, and now, even men, prefer to go in for some reliable hair removal machines that are both efficient as well as economical.
There are so many lasers on the market at wide variations in price it is very confusing for clinics. Essentially there are 6 things you need to look for in choosing a laser to compete profitably in the laser hair removal market.
1. Pulse duration:
A very short pulse duration will achieve better results particularly with lighter finer hairs and it will also make the treatment more comfortable. To achieve a very short pulse duration you need a very powerful laser.
2. Power:
For permanent results, you need high power to heat the base of the follicle to 70 degrees at which point the hair is destroyed. A minimum of 1800 watts is required to do so but the higher the better.
3. Cooling:
The ability to cool the skin surface whilst delivering high power laser into the skin requires sophisticated cooling technology which surprisingly not many manufacturers have mastered. By keeping the skin surface consistently cool protects the skin and allows delivery of high power down the follicle with minimum discomfort.
4. Wavelength:
Choose a wavelength with maximum absorption in melanin the target or conductor which delivers heat to the base of the follicle. Maximum melanin absorption is around 755-800nm so either 755nm (Alexandrite) or 810nm (Diode) are the gold standards. 755nm is limited to lighter skin types, Diode is suitable for all skin types( as long as you have good cooling and pulse duration).
5. Fast Treatment Speed:
Fast treatment speed saves treatment time and improves clients' satisfaction. IPL hair removal is slow, it takes a long time for big area hair removal such as the back. Medical Diode Laser PL-118 treatment frequency is up to 10Hz. With In-motion SHR technology, PL-118 could slide fast on our skin. Diode laser hair reduction treatment speed is 2 to 3 times faster than IPL. It takes around 10 minutes to 30 minutes by diode laser treatment.
6. Safety and effectiveness:
Diode laser is more safe and effective because laser is constant 808nm wavelength. IPL equipment is a wide spectrum range from 400nm~1200nm. For permanent hair removal, the IPL system needs 6~12 times. Diode laser epilation machine only needs 3 to 5 times.
For fair-skinned persons, the Alexandrite laser is usually regarded as the best laser for hair removal. The persons with dark skins an Alexandrite laser would present a very high risk of burning therefore Nd: YAG laser is more suited to skin types 4–6.
Although at times, it is the skin type of the client that decides the most suitable hair removal machine; however, the Medical Grade Diode Laser Hair Removal Equipment PL-118 is one of the popularly used laser hair removal machines.
---
What does Diode Laser PL-118 mean for your practice?
Diode Laser PL-118 is an all-in-one, multi-package that gives you the most complete and effective laser hair removal solution available today. By incorporating the optimal laser wavelengths, technologies, and skin rejuvenation, Diode Laser PL-118 allow practitioners to treat the widest range of patients and hair types all year round, administer treatments quickly and comfortably, and achieve the best possible clinical results.
---
What is the difference between portable Diode Laser & vertical Diode Laser?
PrettyLasers (prettylasers.com) provides portable diode laser types of equipment and vertical diode laser types of equipment. Portable diode laser equipment can save beauty salon space and shipping costs. The system can thus be used in different treatment rooms or offices. FLEXIBLE, TRANSPORTABLE LASER SYSTEM. Vertical diode laser types of equipment could work continuos longer time and be professional for clinics. The portable laser machine also has a matched trolley. Clients could choose different shapes according to their demands.
---
What is the best for hair removal?
IPL was popular in the past as it was a lower-cost technology however it has limitations on power and cooling so treatment can be less effective, carry a higher potential for side effects, and is more uncomfortable than the latest diode laser technology.
The PettyLasers laser is the world's most powerful diode laser for hair removal. With that power, it is also the fastest procedure with full legs treated in 10-15 minutes. It also can deliver each pulse incredibly quickly (unique short pulse duration) which makes it as effective on lighter finer hair as it is on darker thicker hair so you will achieve maximum results in fewer treatments than with an IPL laser saving time and money.
In addition, PrettyLasers has a very sophisticated integrated skin cooling technology that ensures the surface of the skin is kept cool, comfortable, and protected throughout allowing maximum energy down into the hair follicle for optimal results.
---
How much does laser hair removal hurt?
Laser hair removal is designed to target hair follicles with tiny high-heat laser beams. While you may not feel the heat, you may feel like your skin is being snapped with a rubber band.
You may also experience mild discomfort after the procedure, such as redness and irritation similar to a mild sunburn.
The procedure may also feel painful to some degree. How painful depends on the part of the body that's undergoing laser hair removal. The more sensitive the skin is to begin with, the more painful it'll likely be.
To minimize pain, your provider may rub a cooling gel into your skin prior to the procedure. Depending on the body part and your pain tolerance, you can adjust the laser hair removal machine treatment parameters.
---
Our professional and effective services:
PrettyLasers have professional groups of sophisticated designers, so OEM beauty laser and ODM service are supported.
Your brand name can be added to the medical-grade laser hair removal machine.
We have different language editors to meet different customers' demands.
PrettyLasers have professional ways to teach you how to use the machine optimized to meet your goal.
Diode Laser can be promised to arrange shipping within 5-7 working days after payment.
We have professional engineers to offer you the aftersale service for the whole life of the professional hair removal equipment.
2 years warranty.
---
Related Products