Professional Q-Switched ND: YAG Laser Machine
Pico Laser Skin Therapy System PL-306
Pico laser tattoo removal machine delivers 755nm energy in picoseconds; the delivery is so quick that it spares the skin from high thermal damage while optimally targeting unwanted pigment, wrinkles, acne scars, and pores with less downtime than traditional lasers. And its optional 532nm and 1064nm add-on for tattoo removal capabilities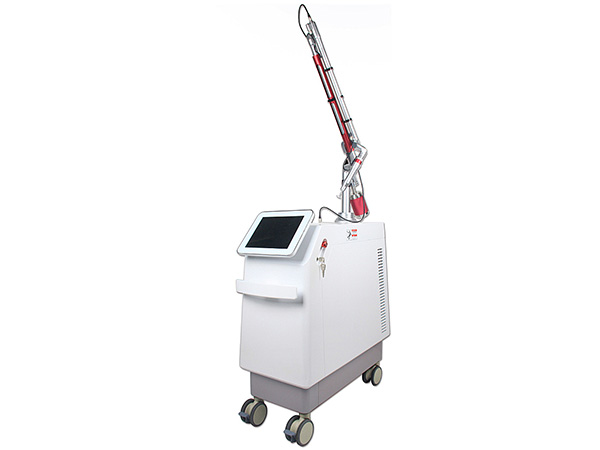 The picosecond laser with ultra-short pulse width can effectively produce photo-mechanical effects and break the pigment particles into small fragments. Best Q-Switched Laser tattoo removal machine with Double Pulse technology offering up to 2,000 MJ per pulse, an extraordinarily short pulse width of 10 ns. PL-306 combines the high power Q-Switched Nd: YAG 1064nm and 532nm wavelength. PL-306 is unmatched in its power and versatility for treating a wide range of aesthetic dermal indications and permanent tattoo removal. Therefore, PL-306 is the best laser tattoo removal machine.
Benefits:
On the front- it is available to print the client's logo or brand.
On the back – marked illustration for each interface.
Korea joints arm – Korea imported 7 joints arm to ensure stable energy.
Larger color touch screen.
Weight balance hammer keeps the arm always safe2-10mm spot size is offered for different treatments (2-10mm).
For screen display – it is available to put the client's logo or brand at the startup of the machine.
Import Lambda lens – Inside placed USA Lambda lens for better results.
Optional 532nm and 1064nm add-on for tattoo removal capabilities.
Treat black ink in darker skin type patients using the 1064nm delivery.
The

755nm wavelength

is able to target black, blue, and green tattoo inks.
How Laser Tattoo Removal Works?
The
Q-Switched Nd: YAG laser
delivers light of specific wavelengths in very high peak energy pulses which are absorbed by the pigment in the tattoo and result in an acoustic shockwave. The shockwave shatters the pigment particles, releasing them from their encapsulation and breaking them into fragments small enough for removal by the body. These tiny particles are then eliminated by the body.
Since the laser light must be absorbed by the pigment particles, the laser wavelength must be selected to match the absorption spectrum of the pigment. Q-Switched 1064 nm lasers are best suited for treating dark blue and black tattoos, but Q-Switched 532nm lasers are best suitable for treating red and orange tattoos.
The amount of energy (fluence/joules/jcm2) is determined prior to each treatment as well as the spot size and treatment speed (Hz/hertz).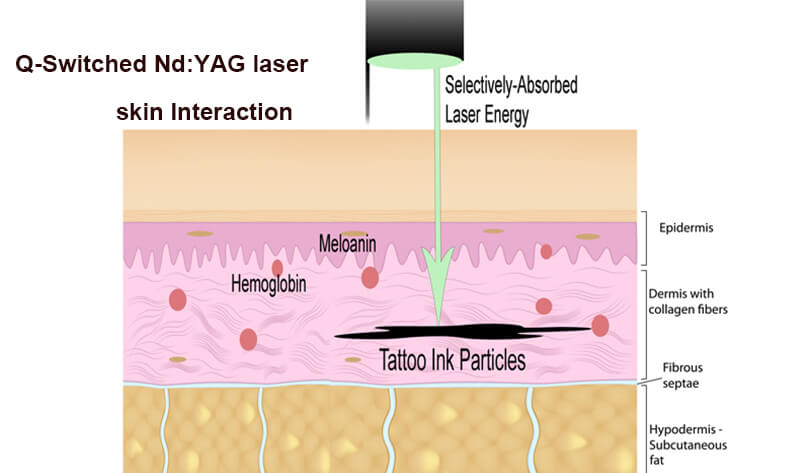 During the treatment process, the laser beam passes harmlessly through the skin, targeting only the ink resting in a liquid state within. While it is possible to see immediate results, in most cases the fading occurs gradually over the 7–8 week healing period between treatments. In the days and weeks following a laser treatment, the body's immune system flushes away the shattered ink particles, causing the tattoo to fade. Over a series of treatments, more and more of the ink shatters, leaving the skin free of ink.
Applications:
Pigmented Lesions
The high-power Q-Switched Nd: YAG 1064nm laser treats deep pigmented lesions, while the 532nm wavelength addresses superficial pigmented lesions.
Tattoo Removal
Unwanted dark and multi-colored tattoos can be safely and effectively eliminated with PrettyLasers's range of permanent tattoo removal treatments. Using a combination of laser wavelengths that target different ink colors, high-intensity light beams break up the ink particles in the tattoo, revealing clear, ink-free skin with minimal risk of scarring or hypopigmentation.
Successful multi-color tattoo removal requires a high-powered laser that can deliver enough energy within the absorption spectrum of a wide range of colors. The high-power Q-Switched Nd: YAG 1064nm laser is ideal for treating darker ink colors (black, blue, and green), while the 532nm wavelength is effective for brighter ink colors (red, orange, and yellow). The treatment mechanically breaks down ink particles without causing thermal damage, causing the tattoo to fade with minimal risk of scarring or hypopigmentation.
755nm wavelength
755nm treatment head – High absorption value of melanin, used for epidermis, sunburn, subcutaneous pigment, chloasma, tattoo, etc. Skin rejuvenation. stimulate the proliferation of collagen, eliminate acne, and fine lines, shrink pores, etc.
Veins Treatment
PrettyLasers's vascular treatments offer effective, non-invasive solutions that close these veins and reduce or eliminate their appearance.
Tattoo Removal (Tattoo removal on the whole body, Eyebrow removal, and lip-line removal)
Pigmented lesions: Sunspot, Ota's nevus, Melasma, Age spot, CALMS, Nevus, Zygomatices coffee spot, age spot, freckle, etc.
Veins Treatment.
Technology
The Pico Laser
Using the light blasting effect, the high-intensity laser penetrates the epidermis and can reach the pigment clusters in the dermis layer. Because the energy has a short time of action and the energy is extremely high, the pigment clusters will quickly expand and explode after absorbing the high energy in an instant. After the particles are swallowed by macrophages, excreted, and the pigment gradually fades and disappears.
The picosecond laser with ultra-short pulse width can effectively produce photo-mechanical effects and break the pigment particles into small fragments. Compared with nano-scale Q-switched laser, picosecond laser only needs lower energy to achieve the effect.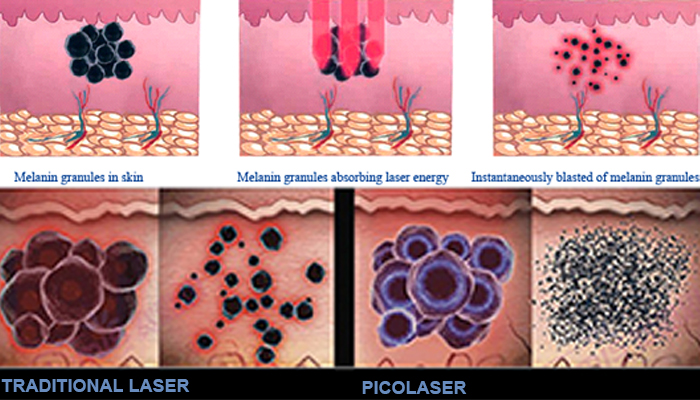 It takes less number of treatment courses to achieve a better treatment effect. Stubborn green and blue tattoos can also be effectively removed.
For treated but incomplete tattoo removal, a picosecond laser can also treat.
In the mechanism of pigment particle destruction, there are mainly photothermal and photomechanical effects. The shorter the pulse width, the weaker the effect of converting light into heat. Instead, the photomechanical effect is used, so picoseconds can effectively crush the pigment particles, resulting in better pigment removal.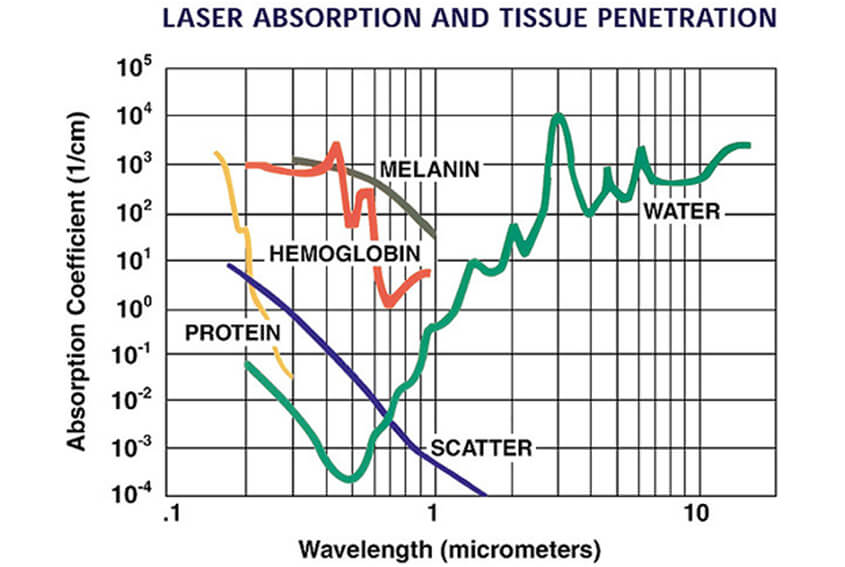 Distinct Wavelengths
The Pico laser makes tattoo removal even easier. The 755nm wavelength is able to target black, blue, and green tattoo inks, while the optional 532nm wavelength offers effective treatment of "sunset colors"—red, yellow, and orange—which is typically hard to correct. You'll also be able to:
Use turbo mode to better treat recalcitrant tattoos with shortened pulse width
Tailor treatments using variable spot sizes
Treat black ink in darker skin type patients using the 1064nm delivery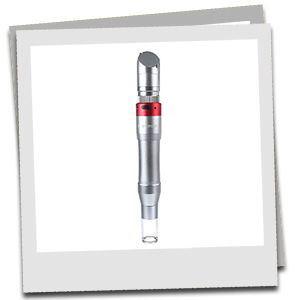 532nm wavelength
Getting rid of freckles, eyebrow tattoos, failed eye line tattoos, lips lines, pigment, telangiectasia in shallow red, brown, pink and etc. light color
1064nm wavelength
Get rid of freckles, yellow-brown spots, eyebrow tattoos, failed eye line tattoos, tattoos, Birthmark and Nevus of Ota, pigmentation and age spots, nevus in black and blue, scarlet red, deep coffee deep color, etc.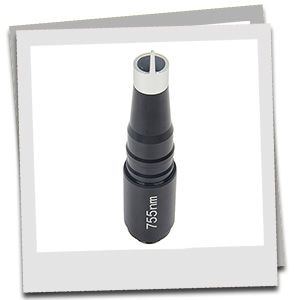 755nm wavelength
The 755nm wavelength is able to target black, blue, and green tattoo inks.
Pico Laser Tattoo Removal Machine Features:
Quick recovery makes no effect on daily life.
Using the world's most advanced ABS insulation material, anti-interference capability, and a more stable unit.
Korea imported 7 joints arm to ensure stable energy.
Instruction light: net imports of infrared indicator to spot more accurate treatment has greatly enhanced point utilization, and cost saving.
Weight balance hammer keeps the arm always be safe
Permanent tattoo removal machine with CE approved
Intensive laser explosion with stable function.
Top-level laser source- Double Lamps Double Laser Bars
Precise treatment under the guide of semi-conductor red light.
200mj-2000mj high-power energy
No need for anesthesia, no cross-infection, and no scar with permanent tattoo removal.
Newly cooling system, together with the auto sensor for water pressure, water temperature & water circulation, ensures the machine is working continuously.
Technical Specifications
Pico Laser Skin Therapy System PL-306
Input Power
2000W
Screen
10.4inch touch screen
Cooling System
semiconductor, water cooling
Voltage
110V/220V
Wavelength
1064nm, 755nm, 532nm
Frequency
1-10Hz
Working Mode
Continuous Mode and Single Pulse Mode
Energy
200-2000mj
Type
Picosecond Nd: Yag Laser Tattoo Removal
Spot Size
2-10mm(adjustable)
Package Size
107cm*90cm*46cm
Pico Laser Tattoo Removal Results Before & After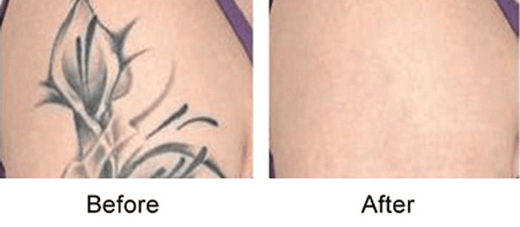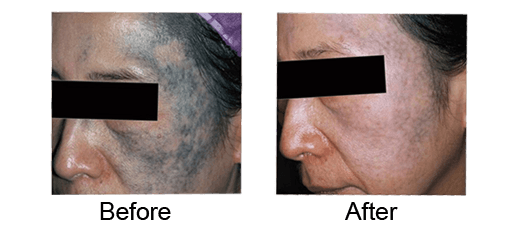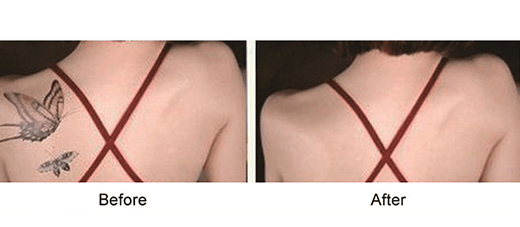 Reviews:
What is Q switched Nd YAG laser?
Nd: YAG laser is applied to kinds of pigmentation treatments. and could achieve obvious lightening of pigmented lesions and ink tattoos. Nd: YAG is short for Neodymium-doped Yttrium Aluminum Garnet.The best pico Laser tattoo removal machine uses crystal rods to produce laser energy.
The light motivates by Nd: YAG laser travel at a wavelength of 1064/532 nm. The laser directly destroys the melanin or pigment in the target area. Yag laser has great results on birthmarks, moles, hyperpigmentation, and tattoos.
Some questions you may ask before starting the process of tattoo removal with a tattoo machine:
Your overall health
What colors does your tattoo include that you want to be removed
How deep is the ink in your skin
How old is the tattoo
Are you prone to scarring or have you had any scar keloid
What medications are you currently taking
How long will it take to remove my tattoo?
The duration of the permanent tattoo removal process is a concern for virtually all patients.
It's not unusual for the body to take over a year to completely eliminate ink. Setting expectations clearly upfront allows for patients to be satisfied throughout the experience – rather than feeling as if they were misled.
To allow the skin enough time to heal between treatments and the body's immune system to flush away ink, we recommend a minimum of six weeks between laser sessions – and eight weeks for darker complexions. Stacking the treatments too close together can cause damage and permanent side effects to the skin and doesn't allow the body enough time to remove the ink that was shattered at the most recent session. For ideal results, we recommend waiting three months between treatments.
Ultimately, as a tattoo removal practitioner, you cannot know precisely how many treatments a tattoo will need to be fully removed. However, you should assess the patient's tattoo for how easily it should remove.
We generally suggest speaking in terms of treatment ranges with patients. Tattoo removal treatments fit along a bell curve – most patients will need between 5 and 8 treatments, some will see complete removal in 3 or 4, and others may need 10 or more treatments if there is significant scarring or layered tattoos. We suggest telling patients where they are likely to fit along the bell curve based on the unique factors of their tattoo.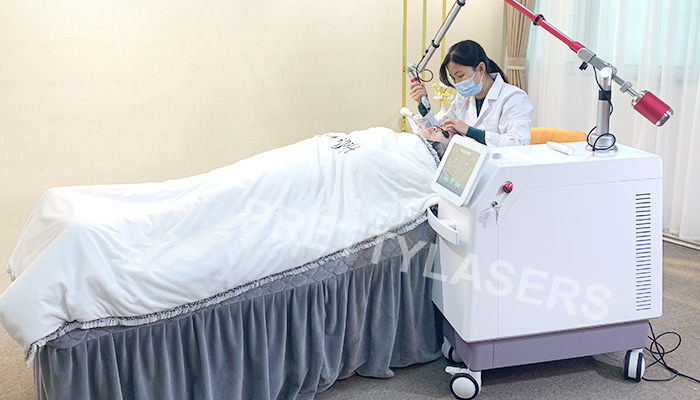 The speed of removal depends on the patient and their tattoo.
The following factors affect the rate of removal:
Fitzpatrick skin type
Tattoo layering (if the tattoo is a cover-up)
Location on the body
Ink colors
Amount of ink (vividness of tattoo, if it was professionally applied)
Pre-existing scarring
Will Is the tattoo removal with a tattoo machine completely?
In most cases, yes. However, a complete removal is sometimes a hard thing to predict, due to all the unregulated tattoo inks on the market. The F.D.A. does not regulate tattoo inks and a lot of tattoo ink manufacturers and artists make and mix their own inks. Sometimes these mixes have metals and other foreign additives, for effect. These unknowns are why 100% removal is hard to predict or promise.
It has been treated many times. Will it leave scars if continued treatment?
The technology only needs to use generally laser doses to achieve effective treatment, tissue accepts lower dose stimulation, and the traumatic is relatively reduced, and it is not easy to generate wounds to cause scars.
What To Expect?|Laser Tattoo Removal Aftercare
The laser tattoo removal treatment creates a superficial skin wound. Some patients may experience bruising or swelling. There is immediate whitening of the treated area, which usually lasts for several minutes. Many clients then develop blisters, crusts, or scabs within 8 to 72 hours, which may last for 1 to 2 weeks or more.
The treated areas may be pink or pale after the scab separates. Scarring, which can be hypertrophic or even keloid, can occur but is exceptionally rare. Reduced or excess skin pigment in the treated area can occur and is temporary except in very rare cases. Healing is usually complete within 4 -6 weeks, although this may vary.
For the next 24 hours: A cold compress and elevation are recommended to help reduce discomfort and inflammation.
Avoid for the next 24 hours: Physical activity, hot showers, and saunas for.
Apply for the next 3 days: Aquaphor, Elta MD Post Balm, Neosporin, Polysporin, or A&D Ointment with a bandage. Any of these ointments will work. Change the dressing daily.
Avoid for the next 1-2 weeks: Direct sun exposure, hot tubs, pool water, and saltwater until the tattoo is healed.
Keep the treated area clean and dry while it is healing. Clean the area with antibacterial soap if needed and then pat the area dry. AVOID HIGH-PRESSURE WATER HITTING THE TREATED AREA.
Some scabbing, blistering, light bleeding, and itching may occur. Immediately after treatment, there may be erythema (redness) and edema (swelling) at the treatment site. This usually lasts 2 hours or longer.
The erythema may last up to 10 days
Do not pop blisters. If you do blister, continue to apply one of the recommended ointments until the blister has popped naturally.
Do not pick at the scab or allow the skin to become scraped, as this may result in infection and scarring. Shaving should be avoided in the treated area until it is completely healed
You may notice that blistering may occur in some treatments and not others. If blistering does not occur, it does not mean that your most recent treatment was less aggressive or your treatment is not working.
Sometimes your body will react, while other times it will not. Regardless, the treatment is working.
You may take only Tylenol to help with discomfort. Please avoid aspirins, ibuprofen, and naproxen because they may increase the risk of bruising and/or bleeding.
Shaving should be avoided in the treated area until it is completely healed (5-10 days).
Please apply sunscreen every day to the treated area after the tattoo has completely healed (5-10 days), even if clothing covers the treated area. Sun will travel through your shirt or pants. The use of sunscreen every day on the area will also help the ink absorb and help with itching.
No active tan, self-tanner, bronzers, or spray tan 4-6 weeks before and after treatment.
Massage the treated area 5-10 minutes daily after the treated area has healed (5-10 days). Daily massage will help ink absorb.
Remember, not all tattoos will clear 100%. Your tattoo may just fade.
Please call your primary care physician if an infection occurs.
If you have any questions or concerns, please don't hesitate to contact our office.
Remember: Drink lots of water!
Will there be anti-black problems with picosecond laser treatment?
Pico laser utilizes the focus energy probe of "honeycomes instant lens", can reduce tissue excessive stimulation, plus the instantaneous high energy of the pico laser (Q-switch) to crush the pigment particles, decrease heat injury, protect tissue melanocytes from excessive stimulation, which can significantly reduce the stimulation of normal cells and lengthy flush.
Our Services
1. Your inquiry related to our products or prices will be replied to in 24 hours.
2. Well-trained and experienced staff to answer all your inquiries in fluent English
3.OEM&ODM, any of your customized products we can help you to design.
4. Distributorships are offered for your unique design and some of our current models
5. Protection of your sales area, ideas of design, and all your private information
If you want to buy the best laser tattoo removal machine or discussing purchasing aesthetic laser machines or other medical laser machines, fill out the form below and we will get back to you ASAP. Or simply call Phone: +0086 15001300057
---
Related products