Fat Freezing CryoPad Body Shaper Slimming Machine For Home Use
Fat freezing home use cryopad machine by PrettyLasers is changing the cryolipolysis treatment by providing the most lightweight, safest and most effective body shaping treatment solution available. Cryopad features a unique cooling technology approved freezing slimming. You can use it anywhere on your body where there is stubborn fat, except for the face. It can help eliminate fat and flab from the arms, thighs, tummy, and love handles. Once the fat is removed, you end up with a toned and sculpted figure.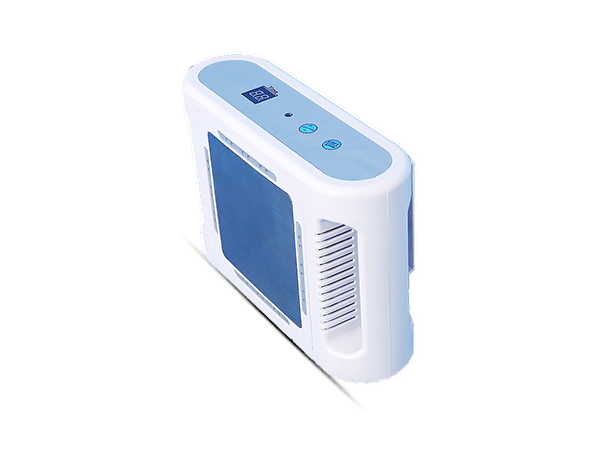 The home use mini cryolipolysis slimming machine is the best cellulite removal specialist for body slimming. With default working time 25 ~ 30 minutes, it effectively to remove fat. And 60 watt, It is much more powerful and reliable. The PL-CTL88 is lightweight with a compact design. The system can thus be used in different treatment rooms or offices.
Benefits:
Cooling technology approved freezing slimming: most popular way for losing weight in the market.
Non-surgical medical cosmetic technologies. more safe than liposuction, special design for handpeice, no any pain feeling when finished the treatment.
Modern body sculpting and at-home cryolipolysis.
Long term results.
Safe and precise cooling function for comfortable treatment procedure.
Single treatment can reduce 20-30% reduction in the fat layer.
Shorten the treatment time .User-friendly interface.
Medical CE,ISO13485 quality control series approved.
Ideal for use on thighs, waist, arms, back and bottom.
Affordable, non-invasive, safe and easy to use
Treatment Principle
Cryo lipopad Slimming System (Fat Freezing)
Through cooling technology, triglyceride in fats will be converted into solid in particular low temperature. it uses advanced cooling technology to selectively target fat bulges and eliminate fat cells through a gradual process that does not harm the surrounding tissues,reduce unwanted fat, When fat cells are exposed to precise cooling, they trigger a process of natural removal that gradually reduces the thickness of the fat layer. And The fat cells in the treated area are gently eliminated through the body's normal metabolism process, to eliminate unwanted fat. Precisely controlled cooling is applied through the skin to the fat layer, and eliminate local fat.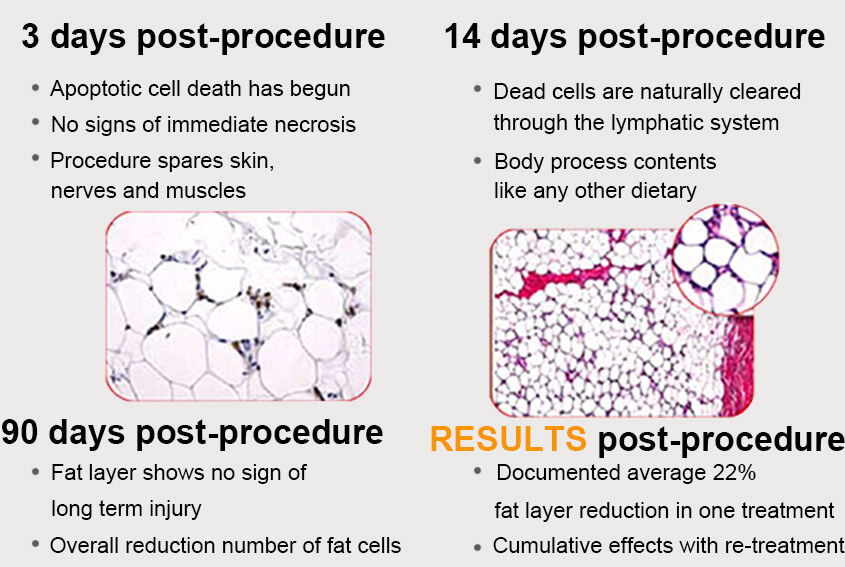 LED Therapy
Wavelength 423nm can be perment into skin 1mm, anti-inflammatory, antiseptic has good auxiliary function.
Indications
Replace even beyond the liposuction surgery.
Tighten loosen skin.
Enhance the rate of metabolism,accelerate the discharge of body waste and moisture.
Repair stretch marks.
Relax muscle,relieve muscle spasm,relieve muscle pain.
Body weight loss(rapid elimination of fat,waist and abdomen shaping, shaping the buttocks shape, leg type).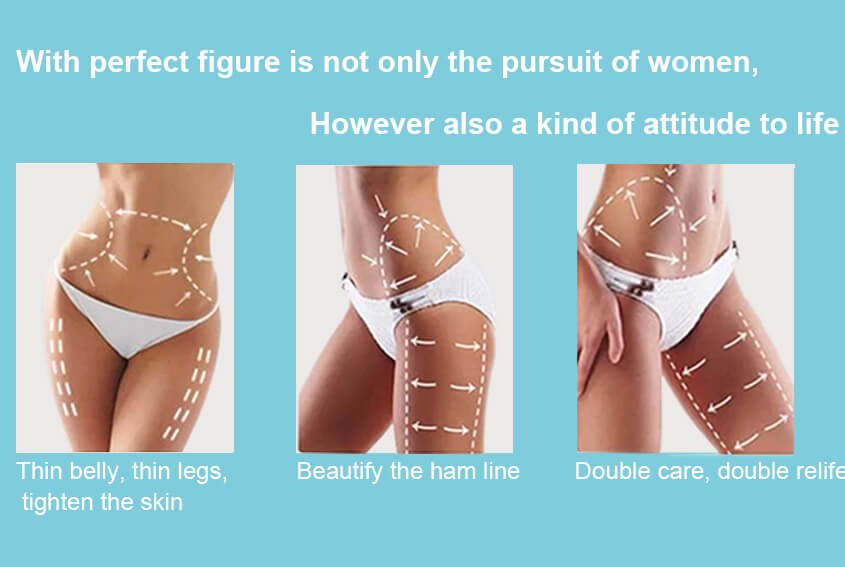 Technical Parameters
Fat Freezing Home Use CryoPad Body Shaper Slimming Device
Voltage
AC110V-240V; 50Hz/60Hz
Cooling device output temperature
-13 ℃ degree~ 5℃ degree
Treatment Area
90mm x 90mm
Cooling nature
CPU Air cooling
Default working time
25-30 minutes
Power consumption
≤65W
PDT Diodes Light
24 PCS
Environmental requirements
20°C to 40°C Non-condensing Humidity Below 75%RH
Anti freeze membrane size
120mm x120mm
External power supply
12V / 8.5A
NW. / GW.
2.5kgs/2.7kgs
Package Size
25cm*17cm*12.6cm
How To Use Home Use Cryolipolysis Device?
1. Mini Cryo With a marker select the area you want to treat (any use anywhere!) Most popular areas are the hips 'love handles', tummy, inner and outer thighs and arms.
2. Apply the glycerin membrane sheet on the same area.
3. Place the Mini Cryolipolysis Device on top of the glycerin membrane sheet to start the treatment.
4. Simply choose from two settings:
Setting 1 lasts for 30 minutes to tone.
Setting 2 lasts for 60 minutes to eliminate fat cells.
We highly recommend to use Setting 2 for best results.
5.After using the Mini Cryo, massage the treated area in circular motions for at least 1 minute.
6. ALWAYS ensure that your Mini Cryo is plugged into the power at all times during use. Please be clear that it is not chargeable or battery operated; it must be plugged in securely.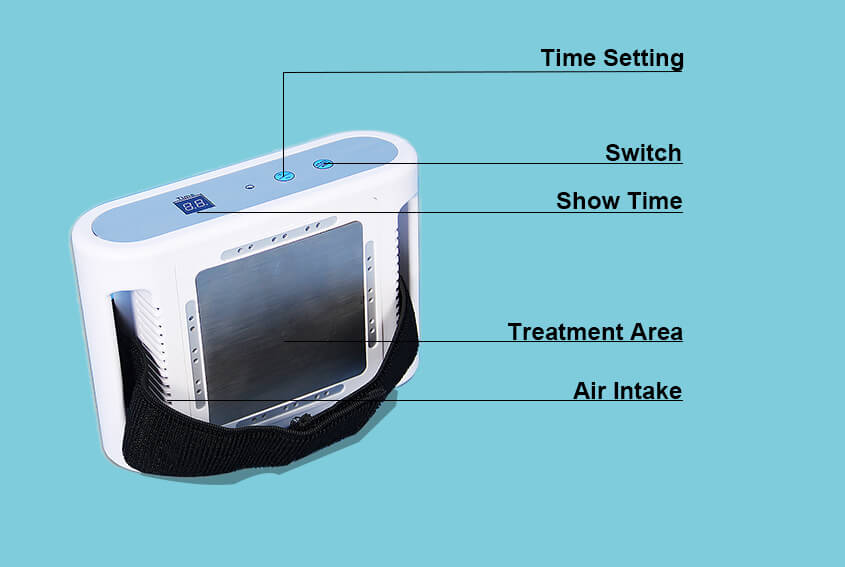 Note: Remember, treat the area with just 1 application a month…You can treat multiple areas, but make sure that you only treat each area ONCE, then WAIT 30 days before treating it again. No need to use every day. For continuous results, use once every month!
Results will be seen within 4 to 8 weeks! Simply keep using each month for best and continuous results.
Treatment Parts
Back
Waist
Belly
Arms
Thighs
Buttocks
Treatment Setting
Each treatment 25-30 minutes.The mix interval time between two treatments is 15 days,four treatments as a full course.
According to the cellulite style and treatment part size,the treatment times can be increased to six or eight as a course.
For the cellulite on the waist,it needs several courses on multiple different parts.
Skin Antifreeze Membrane
Qualified antifreeze should be used during the treatment to avoid frostbite. When the packaging is opened, please use the membrane within 1 time. We offer 2 bags: 12cm * 12cm antifreeze membrane with the cyopad device.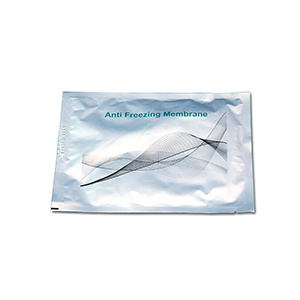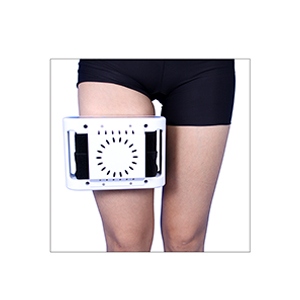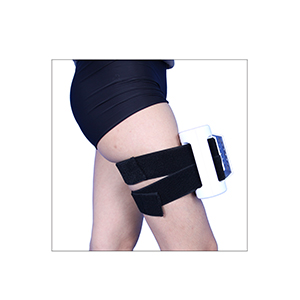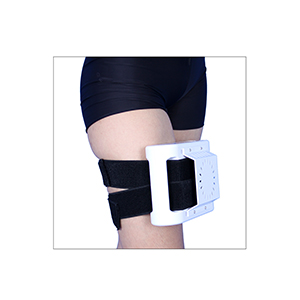 Contraindictions
People with following diseases:
Varix, throid, cancer, falling sicknees, Liver problems, Raynaud's disease, severe cold urticaria, cryolipolysis globulinemia, cold fiber hypoproteinemia, severe frostbite, a serious disease of sugar and the old age, young children, frail and so on frozen on tolerate the treatment.
Infectious desease, Pfever, acute disease, abnormal immune system.
Pregnant women, (women after birth less than 5 onths) women at the abdomen during menstrual period.
Hemorrhagic disease, truma, vascular rupture, skin inflammation, skin disease.
Anemic, erythroid, aplasia or hemorrhage.
Any heart disease high blood pressure, tumor disease, asthma, vein thrombosis.
Medical Plastic parts or parts with metal inside.
Tips:
1.The treatments in the full course should be on the same treatment part.
2.Different parts can be treated at same time,max four treatment parts at same time.
3.The treatment can only remove the extra fat.
4.The substantial weight loss should be taken into consideration,such diet and regular exercise
Effective Treatment Before & After Pictures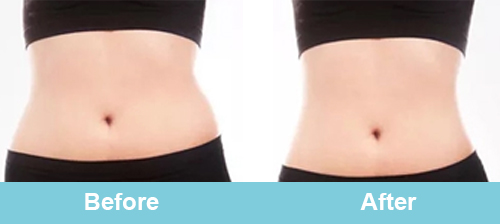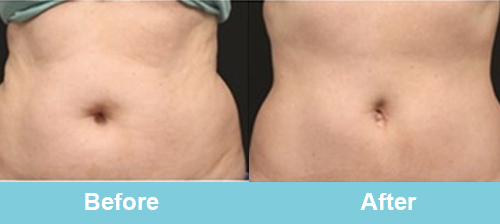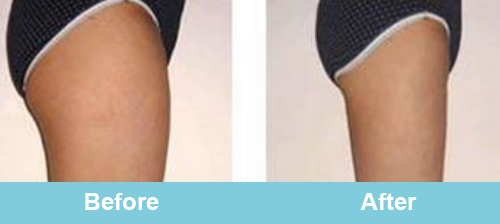 What Are The Operation Tips Of Cryopad?
Three hours before the treatment, customers must not eat or drink anything. That is very important. It is related to the treatemnt result.
Before the treatment, please ensure the machine in good condition. Let the portable mini fat freezing cryolipolysis body slimming machine work for 10 minutes. If there is enough ice on the plates, then can start the treatment.
Must use the anti-freeze membrane during the treatment.
Do not eat spicy food or sea food in the following days after operation. suggesting to eat some vegetables and fruit.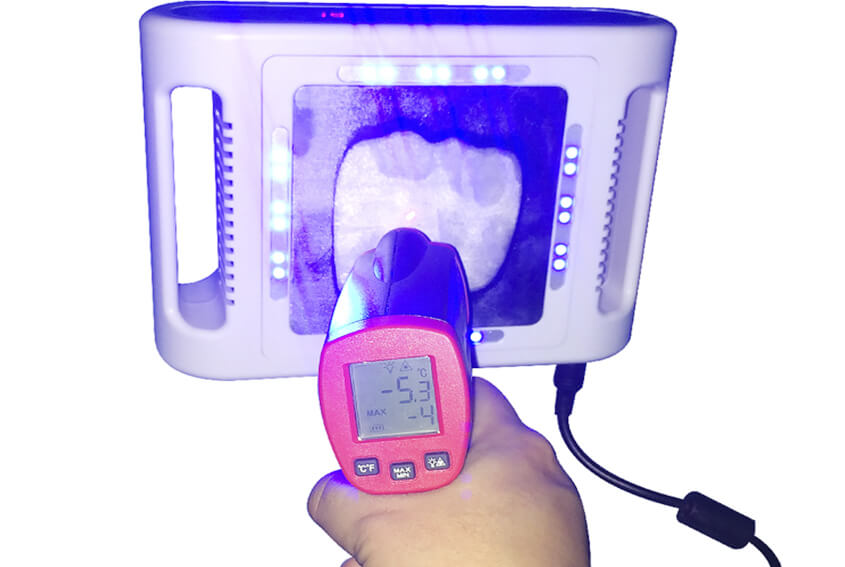 What Areas Of The Body Can I Use Mini Cryolipolysis Machine?
Anywhere OTHER TAHN on your head, eye, neck (throat), breats and genital area.
Will One Sheet/membrane be used for one area or Can We Use The Same Pad For Additional Sessions?
1 sheet = 1 treatment.
How Often Do You Use The Mini Cryo?
No more than once every 4 weeks on the same fat freeze treatment. Therefore once you've treated the specific area, you must wait 30 days before treating it again. Though you can treat multiple areas.
Medical Conditions That Stop You From Using Mini Cryo Are:
Do not use MINI CRYO if you are pregnant, under the age of 18, have any heart-related illnesses.
How Much Does a Coolsculpting Machine Cost?
If you want to know a coolsculpting machine cost, please click here to or send us an inquiry to request a latest price.
How To Buy The Portable Mini Fat Freezing Cryolipolysis Body Slimming Machine?
If you are interesting in learning more about the portable mini fat freezing cryolipolysis body slimming machine or discussing purchasing aesthetic laser machines or other medical laser machines, fill out the form below and we will get back to you ASAP. Or simply call Phone: +0086 15001300057