Cryolipolysis Machine Price
The cryolipolysis machine price tends to vary a great deal among different configurations. Patterns of coolsculpting machines are different. So the criolipolise machine price is different. PrettyLasers have mini cryolipolysis machine, cryolipolysis at home machines, single handle, double handles, four handles, and six handles cryolipolysis machines for sale options are available to you. So the cost of Zeltiq cryolipolysis machine and the results obtained are also likely to be tailored to your needs. Many customers request the latest cool sculpting machine cost before buying a body sculpting machine.
How much does a professional coolsculpting machine cost?
The cost of coolsculpting machine is one of the most frequently asked questions but the price is not the only factor you need to consider. Do not compromise on the quality of service when trying to pinch pennies. Get a realistic cost estimate before purchasing buy the Zeltiq cryolipolysis machine. Discuss with the supplier of the coolscuplting machines the configurations of the best body sculpting machine you will likely need.
Here are ideal coolsculpting machine prices for your reference:

​
Cryolipolysis Machine Costs
Cryolipolysis Machine
Configurations
Prices & Costs (USD)
Inquiry For Latest Price
Standard 5 Cryo Handle pieces, 4 Cryo Handlepiece can work at the same time.
$4,700~$5,400
 
2 Cryo Handle pieces
$4,000~$4,500
4 Cryo Handlepieces +Cavitation+Six Polar RF
$3,700~$4,350
2 Cryo Handlepieces + Cavitation + Six Polar RF
$3,350~$3,600
4 Cryo Handle pieces
$2,800~$2,950
4 Cryo Applicators (4 Cro Applicators works together or separately)
$5,200 ~ $5,700
5 Cryo Applicators (2 Cro Applicators works together or separately)
$5,000 ~ $5,800

PL-C59

4 Cryo Handles (4 works together)+1 Cavitation + 1 Shock Wave Handle + 1 RF
$4,800 ~ $5,400
2 Cryo Handles +1 Tripolar RF+ 1 Cavitation+1 Shock Wave+6 Lipolaser Pads+1 Vacuum RF
$5,200~$5,700
Double Cryo Handles
$2,800 ~ $3,200

PL-28

Double Cryo Handles + Five Polar RF+Three Polar RF+Cavitation
$3,000 ~ $3,400
1 main machine
$700
1 main machine
$200~$250
Characteristics, advantages, and applications of cool sculpting machine
PrettyLasers will give you an in-depth analysis of the characteristics, advantages, and applications of coolsculpting machines for cryolipolysis treatment. The profit of Zeltiq cryolipolysis treatment is very impressive for beauty shops or spas, it is because the machine is affordable, and the operating cost is low. A professional cryolipolysis machine may cost only $5,000 to $6,000, but for each treatment, the fees can be $1,000 to $2,000 per treatment, or even $2,000 to $3,000 for each body part. As long as we have dozens of customers in the beauty salon, we can recover the cost and make money fast. We will introduce you to the best special-purpose Zeltiq cryolipolysis machine and treatment cost.
Cryolipolysis machine is very popular in the European and United States, it's the leading fashion and trends for face lifting and body slimming, the champion model on most of the exhibition, such as Germany, Italy, once experience it, you will fall in love with this machine. Let's firstly know cryolipolysis.
What is cryolipolysis coolsculpting?
Cryolipolysis Cool Sculpting is an FDA-cleared, non-surgical, fat-freezing treatment that is proven to work in eliminating fat cells as a body contouring method. The results are long-lasting and noticeable. There are no needles, no supplements, non-surgery, and No downtime. Specific treatment areas include the mid-section lower and upper back, inner and outer thighs, arms, and under the chin.
CryoSculpting technology safely delivers precisely controlled cooling to gently and effectively target the fat cells underneath the skin while leaving the skin itself unaffected. A vacuum is used to pull the fat away from the body between two cooling plates. The area is cooled to a precise temperature for 35 minutes. Your other cells such as skin, blood vessels, and nerves are not damaged at this temperature.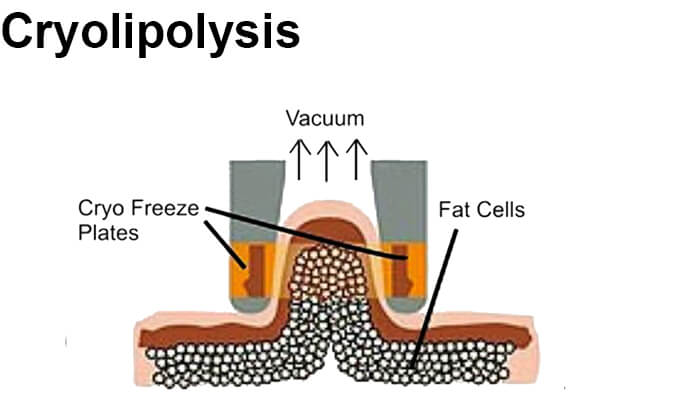 The treated fat cells are crystallized (frozen), then die. Over time, your body naturally processes the fat and eliminates these dead cells for good with the chances of returning being negligible.
The fat cells that remain, condense over the weeks following the treatment & the fat layer is reduced. Dual Frequency Cavitation explodes cellulite into small pieces to excrete through metabolism.

 Why choose the Zeltiq cryolipolysis machine?
The Zeltiq cryolipolysis device is safe to use and has very strong security checks. Epithelium & Skin chose the Zeltiq Coolsculpting process because it offers the highest level of care. Different changeable cryolipolysis handles, for different target parts. PrettyLasers's four cryo handles work same time, for two target areas or two different clients. That can help earn more each day with more treatments.
The FDA (US Food & Drug Administration), following a number of clinical studies, approved the Coolsculpting process. Subsequently, its patented technology was awarded a CE certification in 2010. It is the only technology based on the patented method of cryolipolysis that can safely target and eliminate stubborn fat in the love handles, abdomen, saddlebags, thighs, stomach, or arms.
The Zeltiq cooling process works by extracting heat from the tissue area, thereby avoiding the risk of cold burning that is sometimes experienced by patients using a different treatment protocol and clinic.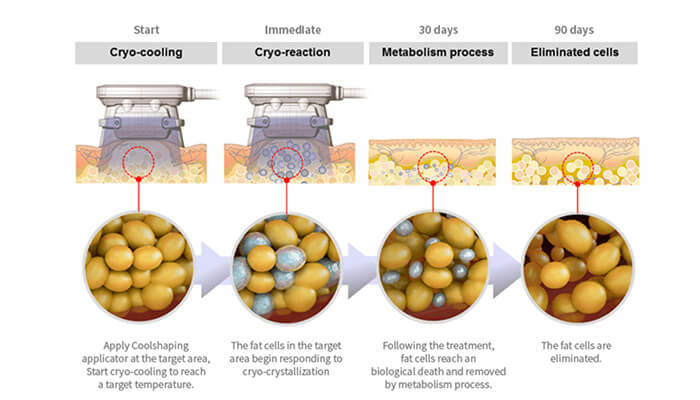 With the Coolsculpting fat-freezing procedure, the process guarantees apoptosis, operating at a constant temperature between -9°C and -10°C, throughout the duration of the treatment. This element is essential to the apoptosis process. Zeltiq has developed and patented a
technology
known as "Freeze Detect" which provides protection for the skin and, as a result, avoids the risk of burn. The machine will stop automatically, should it detect variations in the temperature of the treated area. Zeltiq's process only targets the fat cells underneath the skin and has built-in safety checks to leave the skin unaffected.

Another advantage of using the Coolsculpting process is the critical distance between the sidewalls of the applicator. Studies have shown that this is key to ensuring uniform cooling. Finally, the Coolsculpting compression system decreases blood flow to the treated area and enhances cooling across the whole of the treatment area. Treatment display on each size handle, to show the real treatment pressure and temperature.
The cool sculpting machine cost in the aesthetic market varies from one supplier to another. There are a lot of factors that are considered while deciding the price for the body sculpting machine. The aesthetic supplier will provide you with an approximate cost for the cryolipolysis slimming machine. One of the best aesthetic manufacturers in China for cryolipolysis machines is PrettyLasers, which produces the best cryolipolysis slimming machine, offering the best affordable cost for the treatment.
Don't let the price of cryolipolysis machine be the only factor
The cost of a body sculpting machine is one of the most frequently asked questions but the price is not the only factor you need to consider.
Do not compromise on the quality of the machine when trying to pinch pennies. High-quality components with the best inner structure design, to reach a high-level performance. Get a realistic cost estimate before buying a cryolipolysis machine. Discuss with the supplier the configurations of the machine you will likely need.
Please rest assured that PrettyLasers superior quality will make you very satisfied. We have a total of over 300 workers, 15 production lines, all products are checked by QC 3 times to make sure of good quality. We have a series of strict standards during all the processes, our engineer will strictly control each detail to ensure provide our customers with the perfect body sculpting machines.
Here is the PrettyLasers production lines video in our factory. You can visit it.
We value your time, and we value price transparency. We're not in this industry to be greedy, but we are here in this space to offer the best CoolSculpting Machines in the Chinese factory. Our prices are fair, competitive, and worth the investment.
How much does CoolSculpting cost?
Coolsculpting costs vary between body parts. The cost of cryolipolysis treatment tends to vary a great deal among different body parts. The cool sculpting cost is based on the area of the body being treated. The smaller the treatment area, the lower the cost. Treating multiple areas can also increase costs. Many clinics ask you to come in for a consultation before quoting a price for coolsculpting.
Other things that factor into the total cost of CoolSculpting treatment include where you live, your provider, and any follow-up appointments you might need.
Your treatment provider
The cost of coolsculpting will be impacted by the professional performing the procedure. It will be more costly to be treated by a doctor instead of an esthetician, medical assistant, or nurse. The experience level of the provider will also impact the cool sculpting cost.
The size and number of treated areas
A treatment under your chin will cost less than a procedure on your stomach. Talk to your provider to see if they can give you some kind of a discount if you are being treated in several areas. Each area of the body will count as an individual area. If the area of the treatment is the thighs, each thigh will count as one so you will have two areas of treatment. Your best bet is to have a budget for two treatment cycles.
Location of procedure
If you live in an area with higher costs of living, definitely the cool sculpting cost will be more expensive than if you live in a location with a lower cost of living.
Number of required treatments
The more sessions required, the more costly the procedure will be. To achieve the best results, you may be required to have more than one session. You need to be clear with exactly what your estimates include because it varies between providers.
Size and number of applicators
Different areas of the body require different sizes of applicators. Depending on how pinchable your tissue is and where you carry your weight, you may be required to use different sizes of applicators which could also add up to the cost of the procedure. There may be instances when you may need to use different sizes of applicators. PrettyLasers have 5 Cryo handle pieces for your option to satisfy your customers' different requirements and four Cryo Handlepiece can work simultaneously.
When you meet with your provider, make sure to ask them what costs your procedure includes. Will they charge you per arm, per session, and others? Some clinics may offer financing options so do check it out with the provider.
In most cases, you only need one CoolSculpting treatment per area. However, some people might need a follow-up treatment if they want additional results after several months. Treatment takes a few hours or less, with no required downtime.
You may also want to ask about the cost differences between specific areas of treatment, especially if you choose to have CoolSculpting performed on more than one area of your body. PrettyLasers list the coolsculpting cost for your reference:
Cost of CoolSculpting for arms
CoolSculpting is an option for removing stubborn fat in the upper arms. You may ask coolsculpting near me. Smaller areas may cost around $650 per treatment. With the procedure, each arm is treated, so your total cost for the session may be about $1,300.
Each treatment for the arms can last about 35 minutes on average. Only one session is typically required to achieve the desired results.

Cost of CoolSculpting for stomach
The stomach is perhaps one of the most common CoolSculpting treatment areas. It can be difficult to get rid of excess fat cells in this area due to age, as well as life events like pregnancy.
The estimated cost of CoolSculpting for the stomach area is $1,500 a session. Some providers recommend two treatments for the stomach area.
Each treatment takes between 35 and 60 minutes. Results are permanent, but some people choose to have additional sessions to remove even more fat cells.

Cost of CoolSculpting for thighs
The cost of CoolSculpting areas of the thigh varies. For example, one dermatologist in clinic charges $1,500 per outer thigh and $750 per inner thigh. Treating these areas on both legs can cost $4,000 or more.
Each treatment can take as little as 35 minutes. Like CoolSculpting for the arms, you can get permanent results in one session for your thigh treatment.

Why Choose PrettyLasers Manufacturer?
Each machine will accept strict quality tests before they leave the factory, which is guaranteed by our engineer in the whole procedure. PrettyLasers have a total of over 300 workers, 15 production lines, all products are checked by QC 3 times to make sure of good quality.
High quality of Coolsculpting machines
Competitive and fair price
Good quality service
Health, convenience, and multi-function of our machines
OEM or ODM is available
100% QC inspection before shipment
And our professional engineers & beauticians will provide lifelong tech-support
Two years warranty
About After-sales Service:
If any operation problems occur within the guarantee period, we shall provide online service after receiving the buyer's notice in 24 hours.
When you encounter problems in use, you can feedback on the problems. We provide the manual of precautions for use. You firstly check the machine problem by yourself and then provides videos or pictures. We provide solutions. If necessary, we have video guidance and our engineers are present.
Within the warranty, If the parts are broken, we will provide them free of charge, if you send back the equipment for repair, we will be responsible for the repair, including the changes of accessories.
If there are any questions about our products, shipping, package, etc. Please feel free to contact us. We will try our best to solve the problems and make a promise of good quality service for you. We can offer you the best after-sale service and technical support. If you have any questions about operation or technology problems, we will reply to you in 24 hours.
PrettyLasers is a reputable supplier of cryolipolysis machines that offers dedicated aesthetic machines and cutting-edge technologies in China. If you are someone who wants to look very best and looking for exceptional Coolsculpting machines then opting for PrettyLasers is the right option. Our engineers are highly experienced in non-invasive fat removal and anti-aging cosmetic machines and we are here to help you achieve your aesthetic goals without surgery or liposuction. We will provide a more favorable price to the buyers who have already cooperated with us. Your satisfaction is our pursuit. For more details to know about coolsculpting machines please feel free to contact us.
You Might Be Wondering:
If you want to buy the coolsculpting machines or know the cool sculpting machine cost or other medical laser machines, fill out the form below and we will get back to you ASAP. Or simply call Phone: +0086 15001300057