Pigmentation
Life cycle and hormonal changes can affect the distribution of color (melanin) in our skin, leading to the appearance of all kinds of pigmented lesions. These include moles, freckles, age spots, or melasma which is a dark, patchy facial discoloration condition. Generally speaking, these spots mean that you suffer from various degrees of damaged skin. Whether it is caused by sun exposure, genetics, or other factors, the result is uneven, blemished skin tone. Pigmented skin lesions differ from vascular lesions, which are not caused by sun damage and appear differently under dermatoscopy. They can be either raised or flat and are usually a cosmetic rather than a medical concern. Intense Pulsed Light (IPL) which targets the melanin is effective in treating benign lesions and clearing them.
How Does Pigmented Lesion Removal Work?

PrettyLasers's light-based, laser, and IPL treatments remove the appearance of spots and skin hyperpigmentation by targeting the melanin in the darkened area and dispersing it. The tiny fragments of the pigment are then cleared by the lymphatic system through a natural process. This results in the clearing of all of the pigmentation layers which in turn reveals even-toned, unblemished skin.
The treatments are specially designed for patient comfort and are safe and effective for all skin types and colors, including dark skin.
The Pigmentation Procedure
During treatment, Intense pulsed light is applied directly to the complete area of the lesion. The skin cells containing excess melanin absorb the intense laser energy, heat up, and degenerate. Meanwhile, the surrounding skin tissue is unharmed. After treatment, as the area heals, the immune system flushes away the dead skin cells and reveals lighter, unblemished skin.
Procedure time depends on the size of the lesion treated. An age spot can take a single second to treat, while a large birthmark or nevus can take up to a few minutes. Patients may experience slight discomfort during the procedure, but the side effects are minimal.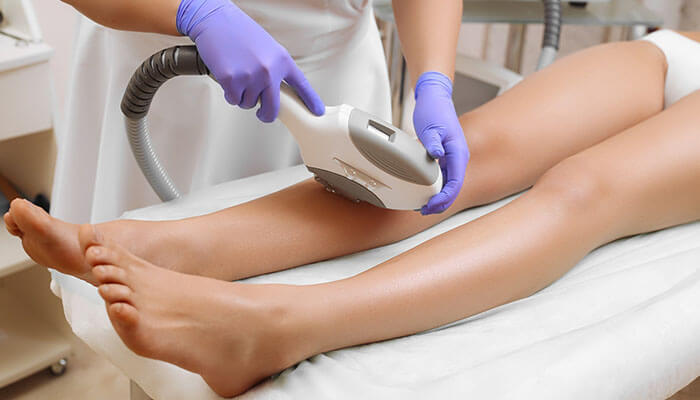 Typical Results For Pigmentation Treatment
Most pigmented lesions can achieve complete removal after an adequate number of sessions. Some small lesions (such as freckles or age spots) may take a single treatment to remove – others can take six or more treatments, depending on a variety of factors.
Pigmentation Lesions Before & After Pictures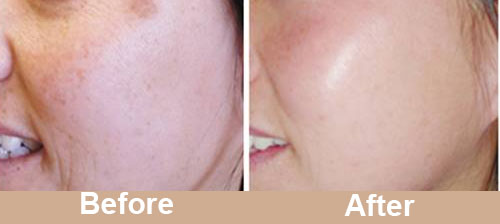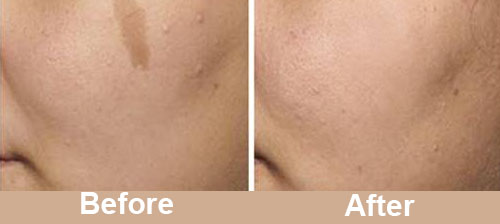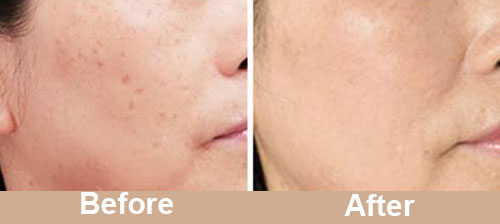 Advantages For Physicians
Optimal treatment safety and efficacy using IPL machine which facilitates achieving the desired clinical results with enhanced patient comfort.
The Universal IPL handpiece allows for filters and spot sizes to be changed in seconds during treatment, reducing treatment time and eliminating the need for additional handpieces.
Treatment parameters for a wide range of clinical indications ensure ease of use and a fast learning curve.
 Fast, easy, and profitable procedures can treat a variety of common skin blemishes, even on sensitive areas such as the face or neck.
---
Related Products