Professional 808nm Aesthetic Diode Laser Commercial Equipment
Aesthetic laser equipment is particularly effective for hair follicle melanocytes without injury to surrounding tissue. The laser light can be absorbed by the hair shaft and hair follicles in the melanin, and converted into heat, thus increasing the hair follicle temperature.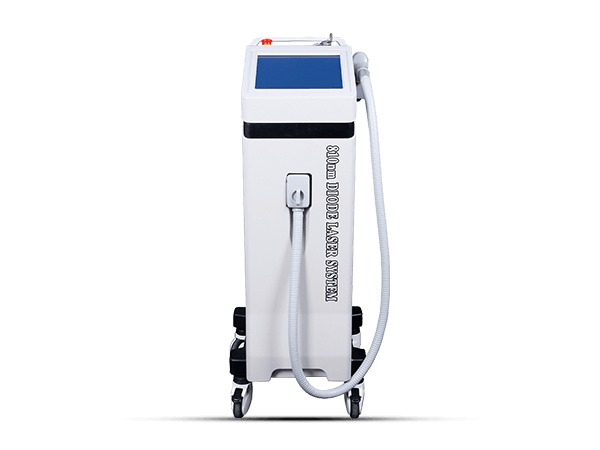 When the temperature raises high enough to irreversibly damage the hair follicle structure, which disappears after a period of natural physiological processes of hair follicles and thus achieves the purpose of permanent hair removal. 808nm aesthetic laser hair removal equipment is mainly for the removal of all kinds of color but mainly for light hair for black color. eg, III & V category. Laser hair removal commercial equipment PL-110 achieves the safest, most effective, and most comprehensive hair removal treatment available today. Best laser hair removal professional equipment can attract more patients. Grow your business.
Benefits:
With sapphire crystal on the treatment head that can be used forever without replacement
Powerful semiconductor cooling, air cooling, water cooling can ensure a longer working time.
Water cycle & water temperature checking system and powerful abstractor extend the service life and safety for the machine.
Virtually painless
Proven safety record
All skin types
Laser Depilation Applications
Diode Lasers are useful for removing unwanted hair from the face, leg, chin, back, arm, underarm, bikini line, and other areas. Just before the procedure, your hair that will be undergoing treatment will be trimmed to a few millimeters above the skin surface. Usually, cooling gel is applied to the skin before the laser procedure, in order to better treat the unwanted hair. The laser equipment will be adjusted according to the color, thickness, and location of your hair being treated as well as your skin color.
Remove unwanted hair completely and permanently.
Depilation.
Applicable to any hair color and all skin types.
Removal Area: Lip Hair, Beard, Chest Hair, Armpit Hair, Back Hair, Arm Hair, Leg Hair, Unwanted Hair outside the Bikini Line.
It also has a skin rejuvenation function.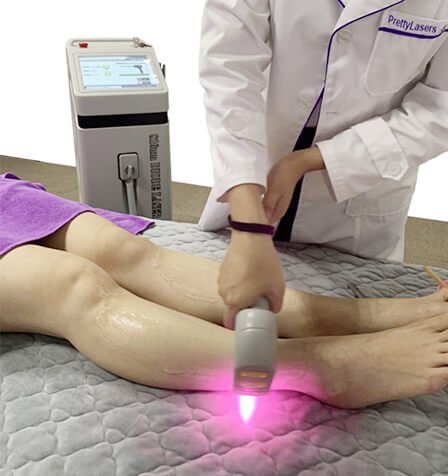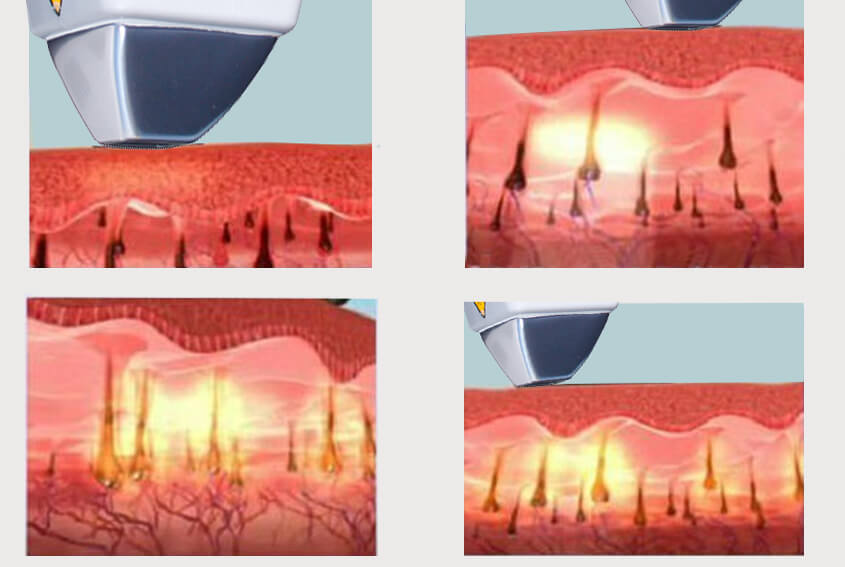 Diode Laser Hair Removal Theory
Based on the selective light absorption theory, we let the diode laser generated by the laser hair removal machine pass through the skin surface and penetrate the hair follicles by adjusting the wavelength, energy, and pulse width to realize the hair removal purpose. In the hair follicle and hair shaft, there is plentiful melanin spreading between the follicle matrix and moving to the hair shaft structure. Once the melanin has absorbed the energy of the laser, it will show a sharp rise in temperature and lead to destroying upon the surrounding follicle tissue. In this way, the unwanted hair will be removed completely.

Diode Technology
810nm wavelength:
The classic wavelength in laser hair removal, the 810nm wavelength, offers deep penetration of the hair follicle with high average power, a high repetition rate, and a large spot size for fast hair removal treatment, in this way, can save half the treatment time. The 810nm has a moderate melanin absorption level making it safe for darker skin types. Its deep penetration capabilities target the Bulge and Bulb of the hair follicle while moderate tissue depth penetration makes it ideal for treating the arms, legs, cheeks, and beard.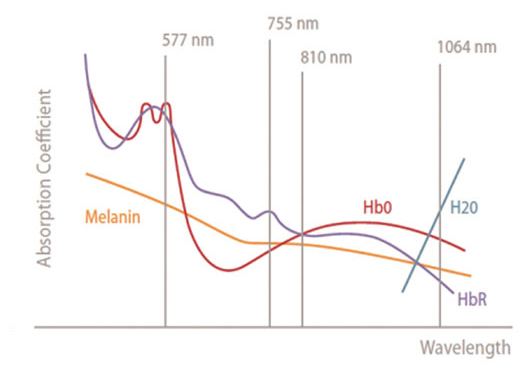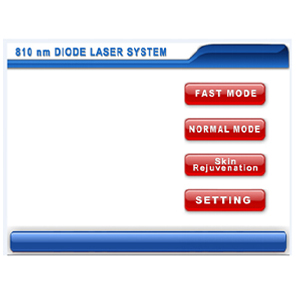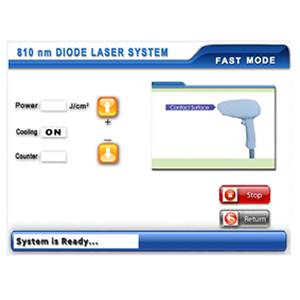 Full Visualization and Control
Visualization and control touchscreen provides three different modes, allowing physicians to control the hair removal treatment speed and skin rejuvenation.
Power

– The power of FHR mode is adjustable from 5-10J/cm²
Cooling – The water cooling is default "on" after the device runs.

Counter

– Show current shooting numbers of handpiece, automatically be cleared.
Features
Diode Laser Bars imported from Germany.
Strong sapphire crystal cooling technology.
Advanced flash computer calculator: xenon lamp computer calculator system always show how many flashes you have used.
Easier installation: "Plug & Play" technology, no need technician.
Minimum energy loss: ceramic silver-gilt lumen reflects diffuse light onto laser rod to produce strong power.
Medical CE approval, ISO9001:2008.
Professional design of inner handle piece structure: greatly prolong the diode laser stack life and enhance efficiency than traditional handle piece in the market.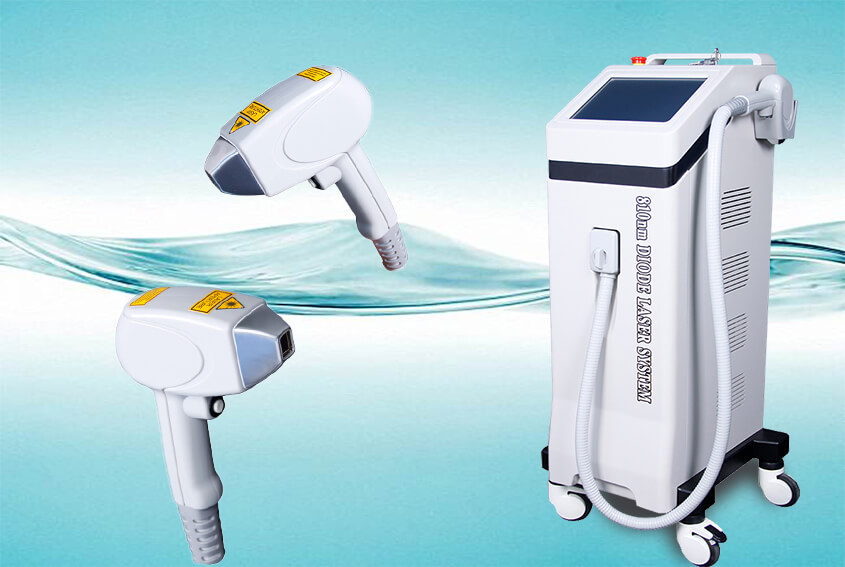 Diode Laser Hair Removal Specifications
| | |
| --- | --- |
| Fuse | Max10A |
| Frequency | 1~10Hz |
| Spot Size | 10 * 12mm² |
| Gross Weight | 60KG |
| Input Power | 2000W |
| Temperature | 0~40℃ |
| Pulse Width | 10~200ms |
| Handle with 6 bars | 600W |
| Energy Density | 0~150J/c㎡ |
| Package Size | 115*56*53 cm |
| Mode | Single Pulse and continuos pulse |
| Cooling System | water cooling +wind cooling+ Semiconductor |
| Laser Type | High Quality 808nm Semiconductor Laser Beam Source |
| Electrical Requirement | AC 220V 10% 50Hz; AC 110V 10% 60Hz |
| Output | 808nm Treatment of handle out direct output mode(hand gun type) |
Aesthetic Diode Laser Equipment Video
How to assemble aesthetic diode laser equipment and treat unwanted hair? Here is the 810nm diode laser system video for hair removal:
Do you have any questions about the diode laser hair removal machine PL-110, please?
Let us know by leaving a quick comment right now. Or CONTACT US
What should I do pre-treatment for diode laser hair removal?
Laser depilation is commonly used to remove unwanted hair on the face, neck, armpits, chest, back, genital area, arms, legs, fingers, toes, and feet. Prior to laser treatment, meet with a dermatologist to learn about the process, the side effects, and whether you are a good candidate for the procedure. If you decide to undergo laser hair removal treatments, follow your doctor's pre-treatment instructions carefully.
Pre-treatment instructions
4 weeks before
1. Do not wax, tweeze, bleach, or use hair removal creams or electrolysis on the treatment area. These activities can reduce the effectiveness of the treatment. The laser needs to be able to identify the hair follicle. During this time period, shaving is acceptable.
2. Avoid direct sun exposure. If unavoidable, use a minimum of SPF 30.
You MUST stay out of the sun. Any tanning of the skin can result in pigmentation in the areas you laser.
If you are prone to nervousness, you should avoid caffeine for 24 hours before your session.
On the day before your treatment, you should shave with a clean, new razor. By shaving, the lasers will be able to locate the follicles. Using a clean, new razor ensures there are no lingering bacteria that could cause contact dermatitis after your laser treatment. (Contact dermatitis is a delayed-type of allergic reaction of the skin resulting from skin contact with a specific allergen.)
Hair Reduction Before & After Photos
Laser hair removal is permanent. The hair will not grow again after laser treatment. Laser epilation is effective for the whole body including the face, neck, arm, legs, and body. Laser depilation also works for fine hair, but can not remove white hair. Because there is no melanin in the white hair.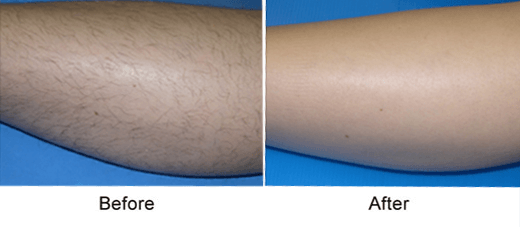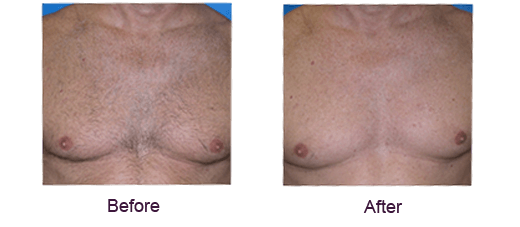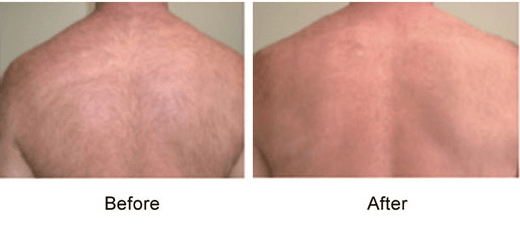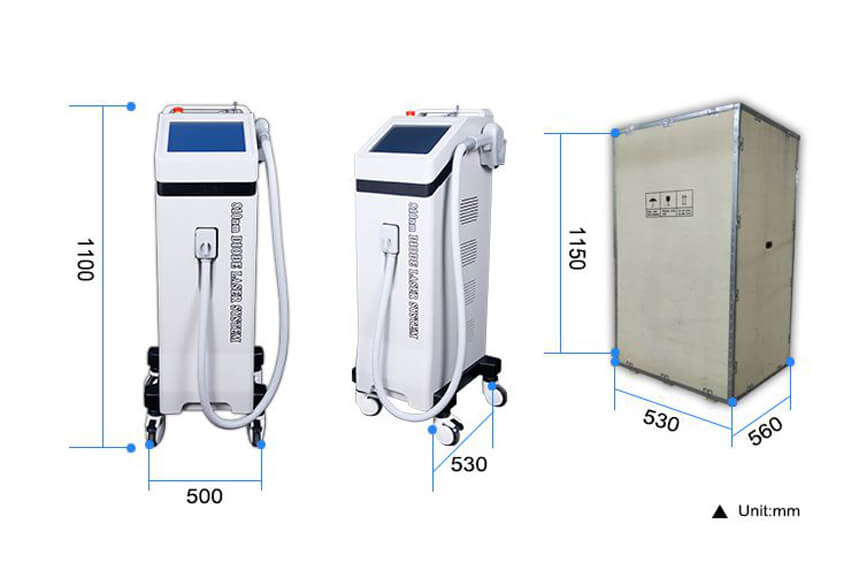 Wooden Box Package To Protect Laser Machine For Sale
We use wooden case to pack vertical aesthetic laser machine for sale PL-110, inside wooden case,  we have added foam to avoid machines touching with the case. The foam also makes the packing more stable.
Measured in kind prevail. The data is for reference only.
The suggested shipping method: DHL, TNT, UPS, and air cargo. The tax varies for different countries. You could calculate the tax fee with the diode laser machine HS code.
If you want to know more about the details of aesthetic laser equipment, please directly CONTACT US

Diode Laser Hair Removal FAQ
What to Expect During Diode Laser Hair Removal?
Before the hair removal procedure, your hair that will be undergoing treatment will be trimmed to a few millimeters above the skin surface. The best laser hair removal professional equipment will be adjusted according to the color, thickness, and location of your hair being treated as well as your skin color.
Depending on the laser or light source used, you and the technician will need to wear appropriate eye protection. It will also be necessary to protect the outer layers of your skin with a cold gel or special cooling device. This will help the laser light penetrate the skin.
Next, the technician will give a pulse of light to the treatment area and watch the area for several minutes to make sure the best settings were used and to check for bad reactions.
The diode laser treatment procedure is in 5 minutes to 30 minutes. You may smell anxious burnt because the laser destroys the hair follicle. The skin around the hair becomes red. We call it the end-point for laser hair removal. The hair growth cycle is Anagen, Telogen, and Catagen. The 808nm diode laser only works on the Anagen period. We could not remove the hair during Telogen and Catagen period. So laser hair removal is not a single procedure. A whole course for permanent hair removal needs 3 to 5 times. The interval during every laser hair removal treatment is 28 days.
When the procedure is completed, you may be given ice packs, anti-inflammatory creams or lotions, or cold water to ease any discomfort. You may schedule your next treatment four to six weeks later. You'll get treatments until hair stops growing. More testimonials…
---
How much does Diode Laser Equipment cost?
Diode laser equipment price varies for different brands. The most famous brands are Lumenis lightsheer diode laser machine. Alma diode laser equipment is also a famous brand. While the price is high for most of the medium spas and clinics. So how to choose a reliable, moderate price and best laser hair removal professional equipment from China supplier? Let's see the aesthetic diode laser reviews:
Half the treatment time
The classic wavelength in laser hair removal, the 810nm wavelength, offers deep penetration of the hair follicle with high average power, a high repetition rate, and large spot size for fast treatment. A high repetition rate of short pulses is delivered deep into the dermis, achieving high average power and therapeutically effective heat build-up, with virtually no pain.
Fast speed saves half the treatment time of patients and improves clients' satisfaction. IPL hair removal is slow, it takes a long time to remove hair from big areas such as the back. Laser hair removal commercial equipment PL-110 treatment frequency is up to 10Hz. With in-motion technology, aesthetic diode laser speed is 2 to 3 times faster than IPL. It takes around 10 minutes to 30 minutes by diode laser treatment. Laser depilation treatment is more effective and safe because laser is a constant 810nm wavelength. IPL(intense pulsed light)is a wide spectrum range from 400nm-1200nm. For a whole course of permanent hair removal, the IPL machine needs 6-12 times. Diode laser epilation equipment only needs 3 to 5 times.
Advanced cooling system
A cooling system is very important for removing hair by aesthetic diode laser for hair removal. A strong cooling system makes hair treatment safe, effective, and comfortable. A laser machine for sale adds a cooling head on the handpiece to strengthen the cooling results. PL-110 handpiece use sapphire crystal contact cooling.
High peak power and long lifetime
High peak power makes aesthetic diode laser hair removal treatment more efficient.PL-110 uses 600W high-power Germany imported laser bars. The energy output can be up to 166J/cm. PL-110 has a stronger hair removal result compared to other brand diode laser devices. The German laser bar has a longer lifetime than China-made laser bars.
Handle and energy density
Actually, the most important thing is the handle piece with the energy. Diode laser energy density means the average energy on the spot size, for example, spot size 12mm*20mm=2.4cm², the total energy output is 48J~168J, so the energy density is 20J~70J/ cm² adjustable. Skin endurance is not over 40J/cm², what you use on treatment is always 30~40J/cm², but as time goes by, what you set 30J may not be the real 30J anymore. higher energy use to prolong the using lifetime by compensating the energy attenuation. A much higher cost is needed to adopt higher energy on a diode laser because the related laser bar, cooling, system all need to improve.
If you are interested in buying aesthetic laser equipment or learning laser hair removal machine costs or other medical laser machines, fill out the form below and we will get back to you ASAP. Or simply call Phone: +0086 15001300057 And you will get the latest aesthetic laser hair removal machine price.
---
You Might Be Wondering:
---
Related Products