How much is a professional Q-switched laser tattoo removal machine?
How much is a professional Q-switched laser tattoo removal machine? This question is often asked by our customers. So, currently, PrettyLasers supplier would like to introduce the professional Q-switched laser tattoo removal machine. Laser tattoo removal is an FDA-approved treatment procedure that is widely used for about twenty years as it is proven to be safe and effective. Especially the professional Q-switched Laser Tattoo Removal Machine is the most effective tattoo removal device.
PRETTYLASERS' Professional Q-switched Laser Tattoo Removal Machines as follows offer the best laser tattoo removal solution quickly and safely.
Many people have found that they are able to get fantastic results with tattoo removal by our laser tattoo removal machines. When they first started learning about the process that is used for tattoo removal, they felt nervous that they would be left with scarring or even a ghost image.
While we cannot promise specific results without actually examining your tattoo, we are happy to say that the vast majority of people who have used our laser tattoo removal treatments feel extremely satisfied with the results. In many cases, they cannot even tell that they had a tattoo after their treatment sessions.
If you want to know the price of a laser tattoo removal machine please CONTACT US

It is good for our clients to understand what is laser tattoo removal.
Laser tattoo removal
Laser tattoo removal is also called laser surgery and laser skin rejuvenation. It is a low-risk option with minimal side effects. A certified medical professional removes the tattoo by using ND: YAG laser machine.  Certified medical experienced laser tattoo removal doctors use Q-switched laser technologies to ensure the safe and successful delivery of the treatment procedure.
Tattoo removal lasers break down tattoo ink using bursts of laser energy. Different ink colors need different laser tips and parameters. Tattoo removal lasers produce specific wavelengths of light that have been proven to be absorbed by certain colors of tattoo ink while avoiding damage to surrounding skin tissue and chromophores (such as melanin and hemoglobin). When the laser energy is applied for the right length of time, at the right level of energy, and at the proper wavelength, the tattoo ink is selectively targeted.
Each wavelength affects how tattoo removal works and corresponds to a certain range of tattoo ink colors, which is why different types of tattoo removal lasers are available. The most popular wavelengths used for tattoo removal are 1064nm and 532nm, which can both be achieved with a Q-switched Nd: YAG laser.
532nm wavelength – get rid of freckles, eyebrow tattoos .failed eye line tattoos, body tattoos, lips line, and pigment, in red, brown, pink, and light color. etc.
1064nm wavelength – get rid of freckles, yellow brow spots, yellow tattoos, failed eye line tattoos, body tattoos, birthmarks and nevus of Ota, pigmentation and age spot nevus in black and blue, scarlet red, deep coffee, and deep color, etc.
1320nm wavelength – shrink pores removal, blackhead removal, skin tightening, skin whitening, and skin rejuvenation.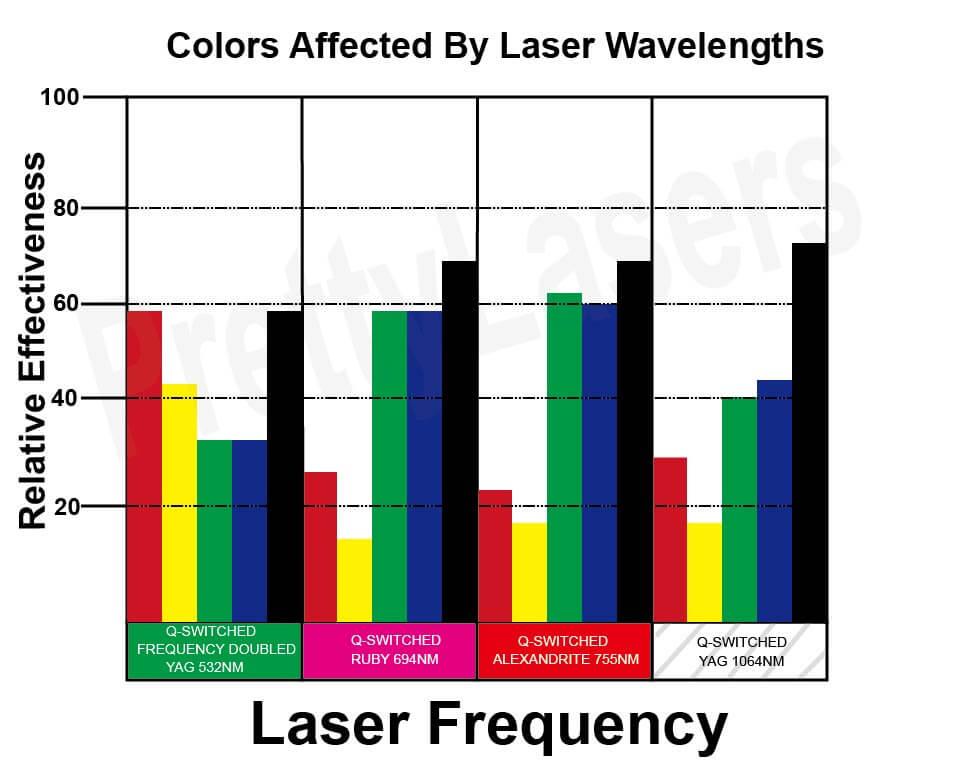 755nm honeycomb laser head: High absorption value of melanin, used for epidermis, sunburn, subcutaneous pigment chloasma, tattoo, etc. Skin rejuvenation, stimulate the proliferation of collagen, eliminate acne, and fine lines, shrink pores, etc.
1320nm black doll skin rejuvenation,anti-aging, skin tightening, pore shrinking, and deep cleaning.
Subsequently, the tattoo ink will be gradually removed by your immune system.
Working Principle Of  LaserTattoo Removal Machine
How Does Laser Tattoo Removal Work?
Utilizing the explosive effect of the ND: YAG LASER, the laser tattoo removal machine permeates the epidermis into the dermis and takes effect on pigment mass, and is absorbed by pigment. Since the nd YAG laser is extremely short in nanoseconds and comes with super high energy, the pigment mass would swell quickly and break into small pieces, which will be eliminated through metabolism. In this case, the pigments become lighter gradually and finally disappear.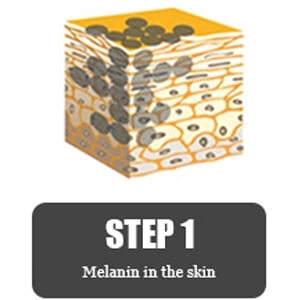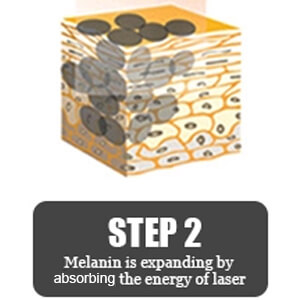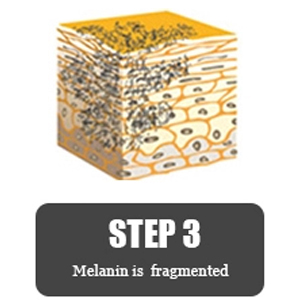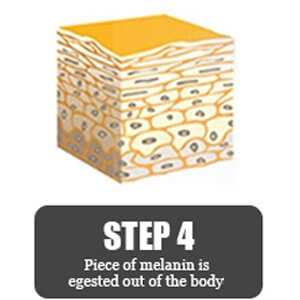 The tattoo needs a different wavelength to clear all the colors. The single laser wavelength can't remove all tattoo colors. Usually, we use 1064nm and 532nm to treat tattoo colors.
Every tattoo ink pigments have very specific light absorption capabilities. Generally, PrettyLasers's Q-switched ND: Yag Laser Tattoo Removal Machines with 1064nm and 532nm remove almost all types of tattoos.
Q-Switched Nd: YAG Lasers for Laser Tattoo Removal Technology
If it is to be used for laser tattoo removal, the Nd: YAG laser must be a Q-switched laser, meaning that it produces exceptionally brief, powerful pulses of energy that last a few nanoseconds at most. The briefness of the pulse is essential for tattoo removal so that the tattoo ink is shattered while the surrounding tissue remains unharmed.
The PrettyLasers' Nd: YAG Q-switched laser energy is up to 0-1500mj/1-2000mj for your option. It is more effective and safe. And the frequency is 10 Hz. In this case, your patients will be treated more quickly. Saving your patient's treatment time. Attracting more customers to remove tattoos.
Q-switched Nd: YAG lasers are an excellent choice for tattoo removal because the 1064 nm wavelength produced is absorbed well by black tattoos and other tattoo colors. When the 1064 nm beam is frequency-doubled by a KTP crystal filter, the light starts to travel at a second wavelength, 532 nm. The 532 nm wavelength is very effective on red, pink, orange, and other bright colors.
Together, the two wavelengths of an Nd: YAG laser can treat nearly the complete spectrum of tattoo colors for quality ink shattering and removal – that's why Q-switched Nd: YAG lasers are the tool of choice for most tattoo removal practitioners.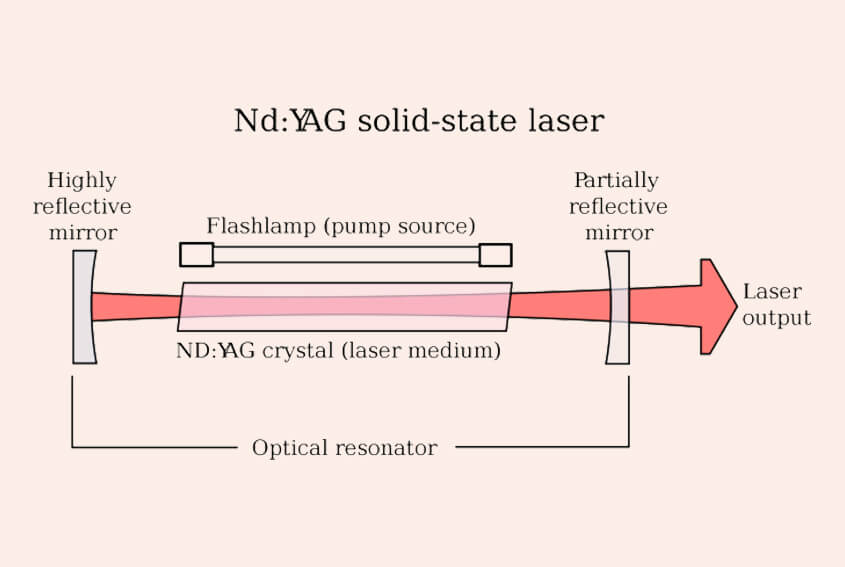 What Are The Functions Q-Switched ND: YAG Laser Tattoo Removal Machine?
The Nd Yag laser machine can emit three different kinds of laser, which are 532nm, 1064nm, and 1320nm in wavelength respectively. These lasers are designed to penetrate the skin and stimulate the regeneration of deep skin cells, which is safe and effective for removing tattoos.
Treatment Scopes of Laser Tattoo Removal
532nm wavelength: get rid of freckles, eyebrow tattoos, failed eye line tattoos, body tattoos, lips lines, and pigment, in red, brown, pink, and light colors.etc
1064nm wavelength: get rid of freckles, yellow brow spots, yellow tattoos, failed eye line tattoos, body tattoos, birthmarks and nevus of Ota, pigmentation and age spot nevus in black and blue, scarlet red, deep coffee and deep color, etc.
Laser tattoo removal is not the only function of the Nd: YAG laser machine. It can also do laser skin rejuvenation. Laser skin rejuvenation is also called laser carbon facial.  Its wavelength is 1320nm: shrink pores removal, blackhead removal, skin tightening, skin whitening, and skin rejuvenation. To learn more about how to rejuvenate skin with Nd:  YAG laser tattoo removal machine, please see the video:

What are the benefits of Carbon Laser Facials?
Reduces fine lines and wrinkles
Tightens dilated pores
Reduces acne, scars, and post-acne discoloration
Removes dead skin cells from the superficial epidermal layer
Stimulates collagen growth
Improves skin texture
Clears pores to help reduce blackheads and whiteheads
What is the cost of professional VS home treatment?
If you are planning to remove your tattoos through professional treatment, then the cost you should keep in mind is between $200 and $500.
The number of treatments that you will get depends on the size, color, etc. of the tattoo.
Your skin color also matters in this case.
If you have a small tattoo that is dark in color, you might have to pay for just a few treatments.
But if you are having a huge colorful tattoo, it might cost you thousands of dollars.
Here is the Picosecond laser & Q-Switched Nd: YAG Laser Prices as follows:
Picosecond laser & Q-Switched Nd:YAG Laser Price (per palm-sized tattoo)
Picosecond Laser
$390
Q-Switched Nd: YAG Laser
$370
Laser Tattoo removal price varies due to the size of the tattoo, the Position of the tattoo, the Colours present in the tattoo, Your skin type, and color, and the Technology used. Here is a reference price list for tattoo removal treatment.
Laser tattoo removal price list
Tattoo Size
1 treatment
4 treatments
2cm ×2cm($1 coin or smaller)
$ 65
$ 240
5cm × 5cm
$120
$ 440
8cm ×8cm (business card)
$ 179
$ 685
10cm ×6 cm
$200
$740
12cm ×8cm
$220
$ 820
1/4 A4 page
$225
$890
21cm ×15cm (1/2 A4 page)
$300
$1200
21cm ×22cm (3/4 A4 page)
$380
$1500
21cm ×30cm (A4)
$420
$ 1670
But if you choose to remove your tattoo on your own at your home, you will save thousands of dollars.
All you need to do is to buy the best laser tattoo removal machine.
Normally, a good tattoo removal machine will cost you around $1000-$2500. This is PrettyLasers's price list as follows:
Laser tattoo removal machine price list
Tattoo Removal Machine
Features
Reference FOB  Price & Cost 
Contact Us

The unique protective device for laser lamps ensures a longer lifespan
Electromagnetic compatibility.
Italian water pump, high flow rate.

1-4 Pieces US $1,950
5+ Pieces  US $1,400

 

Shop Now

High laser energy, with output at a very short pulse width.
High-quality Q-switch Nd: YAG Laser source.
One-button design to switch from 1064nm to 532nm in wavelength.

1-4 Pieces

US $6,750


5+ Pieces  

US $5,350

 Shop Now

Built-in aiming laser in red light.
No injury to normal tissue.
Remove pigmentation without side effects or scars.

1-4 Pieces

US $2,000


5+ Pieces 

US $1,650

 Shop Now
This is greatly cheap compared to professional treatment.
Most of the machines available for the general public are the same as the ones available in the doctor's office or the spa near you.
Hence, you will get almost the same treatment and you will save a hell lot of money as well!
Why Choose The ND: Yag Laser Tattoo Removal Machine?
Getting a new tattoo is as simple as it seems but your main headache is to get your old tattoos removed. For this purpose, you need to have to choose the best laser tattoo removal machine. PrettyLasers's ND: Yag laser tattoo removal machine is a great tool to get your tattoos removed. It is a great device that has power and rapid energy that easily breaks melanin which can remove your freckles, acne marks, etc. in addition to tattoos.
There are tons of these machines available to be bought but to get you the best tattoo removal machine, we have several tips that you can consider before buying.
The ND: YAG laser machine is equipped with an emergency close key, which is installed to shut down the machine in case of any abnormal situation.
Equipped with a counter, it can directly show the frequency to the operator.
The tip has a red indicator light, which is conveniently added to aim at the target area, making the operation more accurate.
Nd YAG laser is an adjustable spot size and equipped with a color touch screen, making it easy to operate.
Portable laser tattoo removal has a special monitor that can monitor the water flow and temperature in real time.
When the water flow and temperature are abnormal, the machine will alarm automatically.
The particular technology of warm-up without sparkle, fulfilling CE requirements.
The advanced technology of counter-reaction and resonant soft switch.
Adoption of 16 bits SCM and veneer structure more reliable performance.
Safe and efficient treatment.
What are the advantages of Q-Switched laser treatment?
Effective Clinical Results
Expect a tailored program and laser setting for each individual for more effective clearance of pigmentation, pimples, or marks with the PrettyLasers' Q-Switched laser treatment.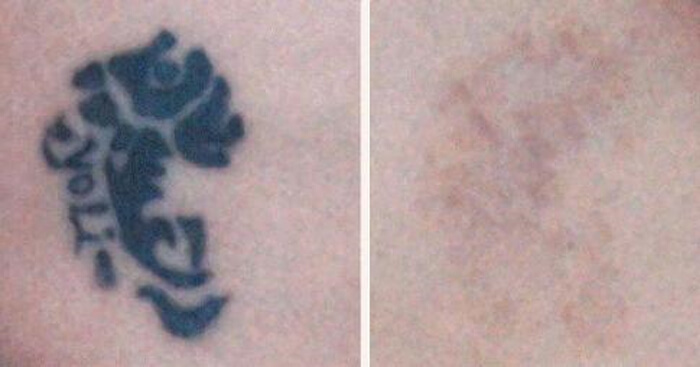 Time-Saving
PrettyLasers's Q-Switched laser treatments last for about 12-15mins and are done once every 3-4 weeks. This saves time compared to other suppliers' laser treatments which only last for 1-2mins each and you would be advised to do these treatments up to 3-7 times a week.
Cost-effective
The cost of a PrettyLasers Q-switched laser treatment done in a clinic averages between $250 – $300. Other laser treatments might seem cheaper (as low as $30/treatment) due to a lower cost per treatment but in fact more expensive in total. The shorter duration (1-2mins/treatment) and increased number of treatments (30-50 treatments) required for a no-frills laser treatment will amount to a higher cost for a similar result.
Safety
Everything should be done in moderation. The risk of side effects from other laser tattoo removal treatments is greatly increased due to the increased number of sessions you would have to go in order to see similar results. These side effects include hypopigmentation (white patches on the skin) and hyperpigmentation (darker pigments due to over-stimulation of the skin).
Is laser tattoo removal safe?
Laser tattoo removal is safe and effective. The laser selectively targets the pigment of the tattoo without damaging the surrounding skin.
Is laser tattoo removal suitable for anyone?
Before treatment commences all clients receive an initial free consultation that includes questions on their general health and any medication they take. If you are fit and healthy, answer questions honestly and follow recommended aftercare you should be fine.
How many Treatments will I need?
Several treatment sessions are normally required, and each session actually only takes minutes, — the number of sessions depends on the amount and type of ink used and how deeply it was injected. Four to Six-week intervals between sessions are required to allow pigment residue to be absorbed by the body.
What should I do after treatment?
Following treatment, we recommend applying Aloe Vera gel to the treatment area as often as required. A shower or bath the day after treatment is okay, but the treatment area should not be scrubbed. Your skin might feel slightly sunburned for a couple of days and the treated area may remain red for a few weeks. The site might also form a scab, which should be handled gently. After healing, the site will gradually and continually fade.
Are there any side effects?
Most of our clients do not report any side effects, but there are a few possible inconveniences you may encounter. Do keep in mind that while these effects are possible, they are few and far between.
Hyperpigmentation
During your treatment, pulses of different light wavelengths are produced to remove the ink pigments. This may also alter your skin's natural pigment, also known as melanin. This results in hyperpigmentation, the abundance of color on the skin in the treated area. This is a harmless condition where the treated area is darker than the surrounding skin. This darkening happens when there is an excess of melanin, a brown pigment that forms deposits in the skin and produces your natural skin color. If you are concerned about this, there are cosmetic products available to help even out your skin tone. We currently do not have any products, but we are able to recommend you some.
Hypopigmentation
The reverse may occur on the treated area, where the treatment clears your skin's natural pigmentation. This is known as hypopigmentation, where the treated area is lighter than your normal skin color. This condition may take some time before your skin's pigment appears as it was again.
Based on what we understand from our clients, both hyperpigmentation and hypopigmentation tend to be more bearable than the actual tattoo. Unless one knows where to look, the difference will not be obvious.
Blistering
The treatment process will involve the heating up of ink particles in your skin, which may cause the tiny blood vessels around your tattoo to burst. This will result in superficial blisters that contain both water and pigments. Blisters are an indication that your healing process has begun, although they are not aesthetically pleasing and tender to the touch. Take care not to burst your blisters, and they should heal completely between three to 14 days.
Lack of complete pigment removal
As mentioned above, while we have achieved full removal results with most of our clients, there are some other factors that come into play when it comes to removing your tattoo. We will do our best to lighten the ink pigments if a complete disappearance is not possible.
Keloids
Keloids are an overgrowth of scar tissues that form around a wound, typically after the wound has healed. Keloid scars, which are areas of raised, thickened skin, can appear three to six months after treatment, but they are extremely rare. With the advances in our treatment technologies, permanent scarring is rare and happens less than 2 percent of the time. If scarring does occur, it is usually subtle and can be minimized with Vitamin E oil or silicone patches. Be advised that you have to wait for your skin to fully heal before applying any cosmetic products.
To remove the chances of scarring after treatment, you have to drink plenty of water and stay hydrated, get enough sleep and rest, and quit smoking. Taking on these measures will improve your body's immunity, thereby aiding in your skin repair and enhancing the speed in dissolving your pigments.
It is imperative to avoid your treated skin from direct exposure to the sun. UV (ultraviolet) radiation will increase the chances of scarring due to greater sensitivity and harm your skin's pigmentation.
Infection
The risk of infection is low if you abide by our aftercare instructions. This is because laser removal treatments do not break the surface of your skin. However, if you burst your blisters or scratch the treated area, there is an increased level of infection. If you suspect that you have been infected, contact us immediately.
Getting the best laser tattoo removal machine can be sometimes confusing.
But if you follow proper guidelines, you might be able to get the most suitable machine for removing your tattoo.
Once you get the machine, you need to be patient and careful during the treatments.
How much is a professional laser tattoo removal machine?
If you are interested in learning more about the best laser tattoo removal machine or discussing purchasing aesthetic laser machines or other medical laser machines, fill out the form below and we will get back to you ASAP. Or simply call Phone: +0086 15001300057 Or WhatsApp
Learn More About Laser Tattoo Removal Articles: