How does HIFU therapy work in skin tightening?
How does HIFU therapy work in skin tightening? This interesting question is getting more and more attention. Hifu skin tightening is a beauty method that many people choose. Step past the age of 30, the skin appears many signs of aging and over time, the traces of time increasingly and visibly make women extremely worried. Therefore, the high-tech beauty treatments that bring the best effect to improve aging, skin tightening and skin rejuvenation are sought by many.
What is HIFU? What is HIFU skin tightening?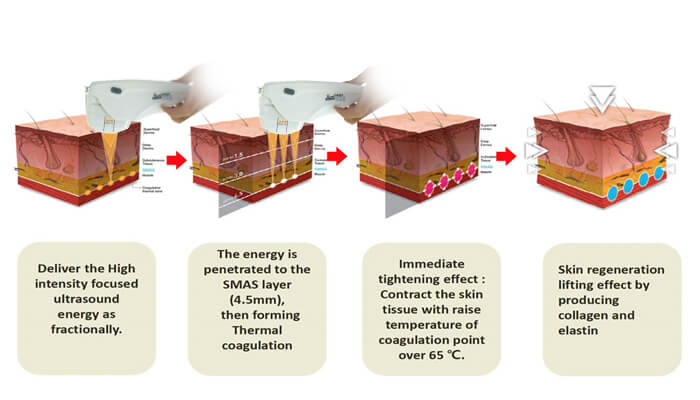 Skin Tightening Technology
Many female have heard about skin tightening technology called Hifu. However, in particular, what is the technology and what is special about them? Accordingly, Hifu stands for the English phrase "High Intensity Focus Ultrasound". The above phrase is interpreted as high-intensity focused ultrasound.
Skin Tightening With Hifu Technology
Accordingly, Hifu is a technology that uses high-intensity focused ultrasound to go deep into the dermis about 3.0 – 4.5mm to spread energy and gently tone muscle tissue. At the same time, improving fine lines, wrinkles, filling skin, making the skin more youthful and smooth. Skin tightening with Hifu technology is becoming more and more popular today. This is also one of the modern and advanced high technologies being applied widely and popularly.
Many other non-invasive fat reduction technologies, such as Radiofrequency and lasers, energy is highly absorbed or scattered near the skin surface, limiting penetration into subcutaneous fat tissue and delivering temporary results. Ultrasound energy can be used to penetrate through the skin layers and into the targeted fat tissue without harming skin or surrounding tissues.
Is Hifu skin rejuvenation technology good?
As one of the modern beauty technology, but is Hifu good? What do they really stand out for? This is also the common question of many people. If you're still not familiar with the above technology, some of the good reviews below are suggestions for women.
Hifu skin rejuvenation machine brings many outstanding advantages:
Skin rejuvenation by Hifu has the best ability to remove wrinkles: Accordingly, the above technology helps to revive broken collagen, thereby eliminating wrinkles in the nasal passages, the corners of the mouth, crow's feet and improving significant wrinkles.
The Skin tightening in the deep layers from the inside: With the principle of affecting the deep layer of the dermis and increasing collagen and elastin to help increase skin elasticity as well as make the skin bright and ruddy, smooth.
Skin stretching: Hifu technology regenerates and improves sagging skin, helping to tighten skin effectively.
Skin Lifting: The lifting capacity of Hifu is highly appreciated. The effects of the above technology have the effect of lifting the facial muscles, dissolving chin fat and helping V-line face more without surgery.
Precise depth treatment.
For clear and outstanding effect.
Perform gently, does not take too much time, does not need much relaxation.
Safe, non-invasive.
The effect is maintained for a long time and is not affected by time.
It can be said that using Hifu skin rejuvenation machine helps to improve many skin problems, typically wrinkles and aging. At the same time, the ability to lift muscles and tighten the skin helps women own beautiful, attractive skin for long.
Hifu technology improves the issues of aging, wrinkles, sagging skin, skin tightening and skin rejuvenation.
Hifu skin rejuvenation can be said to bring many outstanding advantages and fast. Therefore, with wonder if Hifu is good, the answer is yes. This is a high-tech skin rejuvenation method that is commonly applied today. This method uses the Hifu machine or the portable Hifu skin rejuvenation lift machine depending on the situation of each person.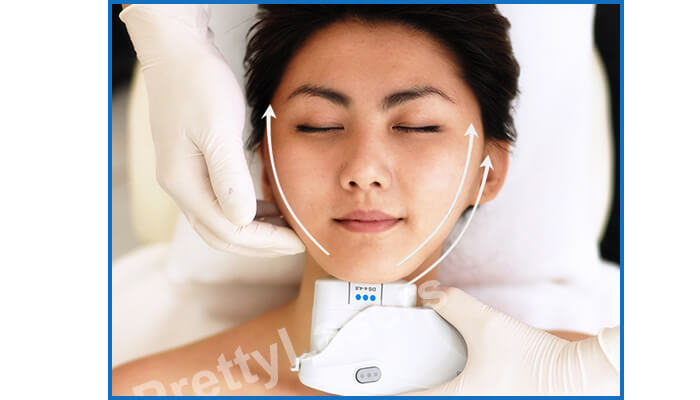 Hifu skin tightening suitable for whom?
Female in the age of skin aging, particularly those over 30 years old, are most suitable for using Hifu technology. In particular, specific cases such as:
Face Lift
Use in face lift, lift chin fat and create V-line chin.
Fear Of Surgery, Invasion
Where women want beauty, rejuvenation but fear of surgery, invasion.
Mild and Moderate Aging Skin
Cases of aging facial skin, appearance of crow's feet, wrinkles, sagging skin, sagging, etc. are mild and moderate, not too deep. For the above technology, the case of skin aging is too deep will not promote the full effect.
The mechanism of action of Hifu brought about the effect that surprised many people. At the same time, they are also suitable for many people, so it is becoming a popular method applied in beauty today.
Other Skin Rejuvenation Methods
Besides skin rejuvenation with high technology, typically Hifu, there are many other methods. For example: IPL Skin Rejuvenation, 980nm Diode Laser Skin Rejuvenation, 808nm Diode Laser Skin Rejuvenation, RF and so on.