HIFU Vaginal Treatment Guidelines
HIFU Vaginal Treatment Guidelines carefully before operation, and follow the instructions strictly for treatment. The vaginal HIFU is a more authoritative and high-end anti-aging shrink technology after private CO2 laser. This technology has replaced the various functions of private CO2 laser by no bleeding, surgery, scars and trauma, and better solved the vaginal relaxation problems.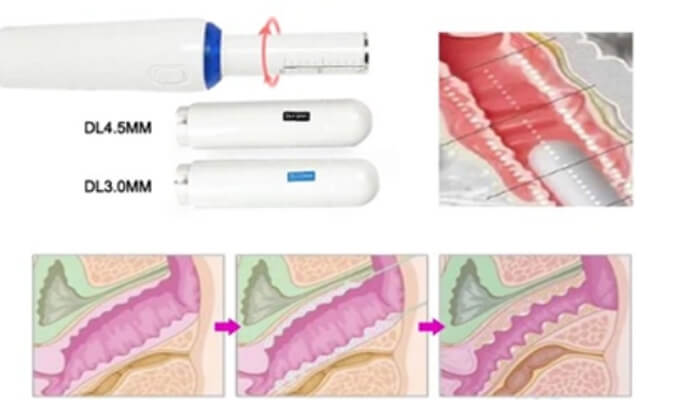 HIFU with its unique high-energy focus ultrasound directly access to the vaginal SMAS layer, enhance the SMAS layer fascia suspension, to solve the problem of vaginal relax- ation comprehensively. It locates the ultrasonic energy to the submucosal 4.5mm SMAS layer accurately, grow and strecth the muscle, to achieve the best effect of vaginal shrink.
Acting on the collagen layer of subcutaneous 3mm, make collagen reorganization and newbornn, to restore the elasticity of the skin. while the energy is passing through the epidermis, so no worries about mucosal injury and infection caused by infection. The operator uses the probe to go deep to vaginal, and working on SMAS layer evenly about 54-216 lines (about 135-5400 points), to get the best effect of contraction of the vagina.
HIFU Vaginal Treatment Guidelines
There are two different sized working heads of HIFU vaginal machine.
| | | |
| --- | --- | --- |
| Working head | Picture | The depth of efficacy of the treatment |
| 3.0mm Working head | | Energy directly to the submucosal tissue to accelerate cell activity to make collagen neonatal recombination, increase mucosal elastic compact vaginal muscle. |
| 4.5 mm Working head | | Energy directly to the fascia layer so that the fascia layer thermosetting, resulting in tension and enhance the effect of lifting the fascia to the fascia, so that the muscles from deep to shallow to improve the muscle structure to support the mucous membrane, better help group muscle layer recovery Flexibility is more compact Picture The depth and efficacy of the treatment of the skin) |
How To Operate The HIFU Vaginal Machine?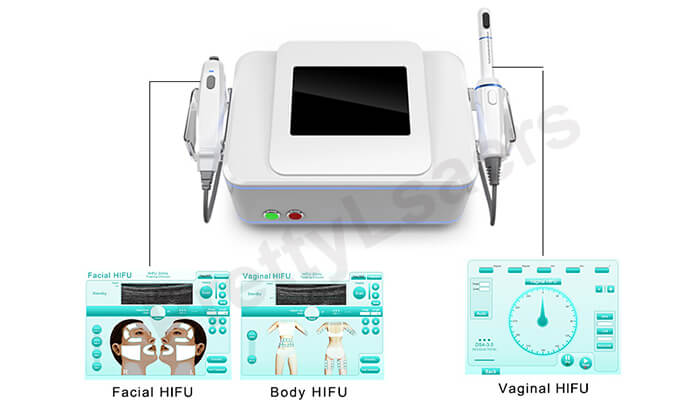 Clean the probe up and then wipe it dry with disinfector before treatment.
Assemble the handle with the rotating holder and then link the cable to the host.
Supplying the power, opening the switch, and then start the machine.
Selecting a suitable probe and install it on the handle, parameters of probe will be shown on screen.
 Choosing "ROTATING".
Selecting "F.AUTO" if automatic mode needed.
 Applying ultrasonic conductor to the area where the probe energy transmitted. (the black area).
Put an protective cover and then apply some lubricant products on the outside surface of the cover.
Click "START" to work.
Put the handle into the end of vagina. "0" degree upward, if it is automatic mode, only once button on the handle, it will finish a circle and then reset to original.
Pressing the button on handle, it will shoot a line.
Repeat the previous step until it finished. The handle will reset.
When it all finished, turn off the power and take off the cover, clean the probe and handle up with detergent.
---
Related Products